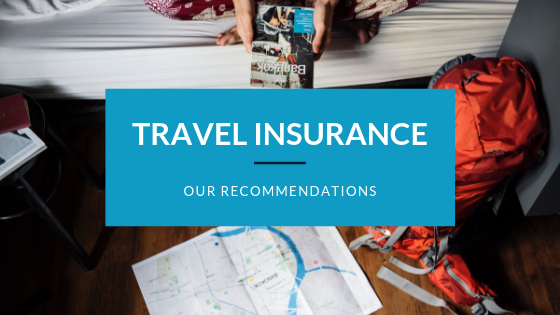 You've probably heard that it is essential to take out travel insurance before heading out on your adventure. It will give you peace of mind during your adventures and is crucial if you find yourself in a bad situation. Not only will travel insurance cover medical issues when backpacking, but it will also help if you're faced with theft and travel cancellations. Whether you're backpacking in Europe or going on a hiking adventure in South America, read on to learn about the best travel insurance to help you decide on the best policy.
So what is the best travel insurance for backpackers?
Your costs will vary depending on which country you're from, where you're travelling to, and what type of backpacking travel insurance coverage you want. It's best to select coverage that will protect you from the most common travel risks. Now that you've read about the different factors, it's time to start getting a travel insurance quote from different companies.
By far, the most-used travel insurance for backpackers is World Nomads. It's been called the backpacking travel insurance created 'by travellers for travellers' and recommended by Lonely Planet and Contiki. 24-hour support, 150+ activities covered, online claims possible. You can buy a policy before your trip or while you're already on the road.
Just to be fair, here are some other backpacker travel insurance options if you'd like to do more research.
What to expect from the best backpacking travel insurance
The best travel insurance for backpackers should cover the following basic categories.
Medical and Healthcare cover
The most important thing that backpacking travel insurance covers is medical coverage. You could find that without travel insurance you will be unable to receive medical attention should an emergency arise. The travel insurance company will also help foot the bill.
Make sure your policy includes 24-hour emergency service. In case of a medical emergency, an assistance company will give real-time help and make all arrangements for you including repatriation.
Some other international travel insurance policies will provide only basic coverage but will exclude what they call high-adrenaline activities, from diving & hot-air ballooning, all the way to motorbiking, bungee jumping, and more. If you're planning to partake in such activities while travelling, make sure your coverage includes them. Otherwise, you'll need your provider to extend the policy. Most will do so for a small increase in your premium.
Possessions cover
The best backpacking travel insurance should provide protection in the event of your possessions being lost, stolen, or damaged. Possession coverage normally has an upper limit on the total claim as well as an upper limit per item.  If you are taking anything expensive with you, make sure that you can claim it on your insurance policy.
Your policy will often include international travel insurance on your money and documents within certain boundaries. Therefore, it is worth reading your policy carefully to determine what things are covered and what is not.
Another common mistake while travelling is to rely on airline compensation schemes for lost luggage. Airlines are only required to reimburse a small amount of money per kilo of luggage lost.
This is unlikely to cover the cost of replacing the contents of your luggage especially if you are carrying expensive clothes.
Finally, remember that any theft needs to be reported to the police within 24 hours. The international travel insurance company will ask you to provide proof of this before it pays out on any stolen possessions.
Personal Liability Cover
The best backpacking travel insurance will include a section on personal liability cover. This covers costs incurred by you if you injure someone or damage their property and you are subsequently sued. You may think that you would never do something like damage someone's property. However, this protects you for costs for accidental damage or if you are wrongfully accused of causing injury or damage.
Cancellation Coverage
Some policies will provide you with a level of cover if you need to cancel part of your trip. You should arrange for this part of the cover to start on the date that you book your holiday.
Personal Accident Coverage
This is hopefully an area of your policy which you will never have to take advantage of. However, in the unlikely event of death or permanent disability, the best backpacking travel insurance company will cover certain costs.
Some policies will give you support with legal expenses. This is important if you pursue compensation for damages and loss of earnings after a personal injury.
Backpacking travel insurance advice
It's good to find a company that lets you sign up and claim online. This way you can start your coverage while already on the road, or extend your coverage if you decide to extend your trip.
Declare anything which you may think affects the policy for example health conditions. This may raise the premium but if you do not declare everything relevant you might not be covered by the best backpacking travel insurance.
You may have some degree of travel coverage from other sources such as credit-cards or private healthcare insurance. However, these are rarely enough to give you comprehensive coverage abroad. Be sure to read the policies carefully before deciding not to purchase additional travel insurance.
Be aware that it is unlikely that backpacking travel insurance will cover you in case of alcohol or drug-related injury or damage.