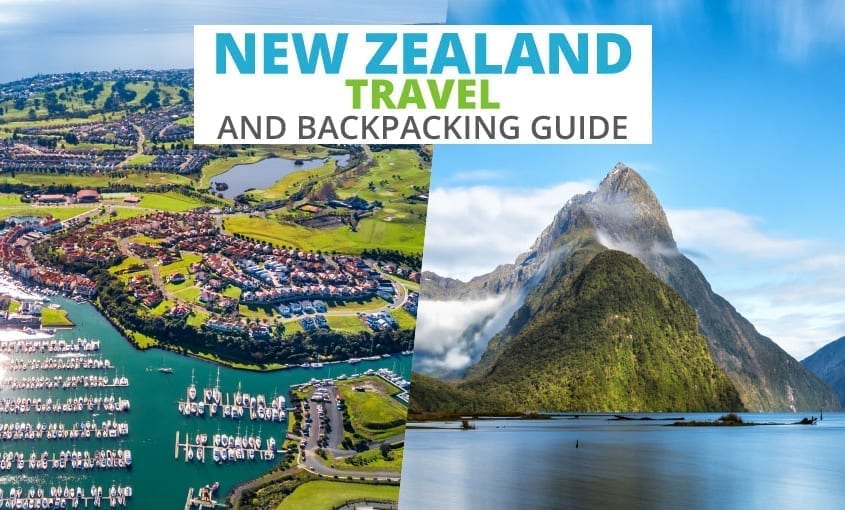 Backpacking New Zealand
Looking for important travel information while backpacking in New Zealand? Here you will find information on working in New Zealand, entry visas, New Zealand hostels, and much more.
Table of Contents
Facts About New Zealand
New Zealand is an excellent backpacking or budget travel destination either as part of a larger Australia based tour or on its own. The countries small stature means that travel costs can be kept to a minimum to allow you to really make the most of your budget.
Natural sights range from thick forest reserves to beautiful sandy beaches via everything from glacial mountains to volcanic geysers. Much like Australia, the population is cosmopolitan and very friendly and open to tourists so you have no excuse to make a trip here something to remember for a lifetime.
Currency: New Zealand Dollar (NZ$) = 100 cents
Time Zone: GMT + 12
Language: English
Telephone Services: Country code +64, International access code 00
Emergency Numbers: 111 for all services
Climate in New Zealand and the best time to go
When deciding the best time to visit New Zealand, weather plays a small role. New Zealand is lucky enough to benefit from an excellent climate, ranging from the subtropical north to the more temperate south you won't find much bad weather anywhere in the country.
In the north, there are no significant seasonal changes in climate which are generally hot and dry. In the south, there are distinct seasons which since New Zealand lies in the southern hemisphere are opposite to European or American seasons. The mountain areas are high enough to receive permanent snow on the peaks and colder winters.
Things to do in New Zealand
Wellington
The capital of New Zealand is the city of Wellington; inhabited by about 345,000 people it lies right on the southern tip of the North Island. The city is well known for it's cosmopolitan festivals to various arts and these monthly occurrences have secured Wellington as New Zealand's city of culture.
As well as the countries numerous bohemian restaurants and cafes the city houses the country's government, visitors might, in particular, be interested in seeing the Beehive which houses the executive wing of parliament or the wooden Government Building.
Other attractions include the Te Papa museum and the Mansfield Memorials, the latter being the birthplace of famous Kiwi author Katherin Mansfield. Being the capital, Wellington offers excellent shopping particularly in Cuba Street and offers a large range of budget accommodation centred around the Mt Victoria region.
Auckland
Wellington is in some ways surpassed by the larger city of Auckland, at over 4 times the size and boasting a population of around 1.5 million it is easy to see why. Despite the heavy population of the area it is remarkably surrounded by some of the most beautiful scenery in the country including plenty of natural beaches and harbours, of particular interest is the volcanic Waitakere Ranges which boast an impressive 250km of scenic walking trails.
The city itself is famed for its impressive bridge and harbour with only the proximity of Sydney preventing it from becoming more internationally known. Other sites of interest include the Sky Tower casino; the Auckland Museum which boasts a fantastic Maori exhibit and the cosmopolitan Karangahape Road.
Shoppers should head to Parnell and Newmarket and those looking for excellent beaches will enjoy Kohimarama or Mission Bay. Mission Bay also has a variety of restaurants, with lovely views over the beach/harbour and is only a short bus ride from Central Auckland.
Also recommended for wining and dining are Parnell and Ponsonby. Before leaving the city it is practically obligatory to climb the dormant One Tree Hill volcano for some fantastic views of the surrounding country.
The Northland peninsula divides the Pacific Ocean and the Tasman Sea and is one of the few mainly Maori areas of the country. Travelling to this part of the country is the easiest way to get a deeper understanding of the Maori culture.
As well as the culture the fantastic sub-tropical weather makes it known as the winterless north, its abundant sandy beaches, palm trees and citrus fruits only strengthen its appeal to tourists. Highlights include the Otamatea Kauri & Pioneer Museum dedicated to the impact the mighty Kauri tree had on early pioneering culture. Also worth seeing are the historic towns of Pahia and Waitangi as well as the excellent Ninety Mile Beach.
Unique Activities in New Zealand
A good way to get an idea of things to do in New Zealand is to scan the activities offered by Get Your Guide or Viator. They work directly with local tour operators, so you won't have to scour the internet or roam around town trying to find the best deal.
How to Travel Around New Zealand
To find flights to New Zealand or for short flights within the country, we recommend using a few different flight comparison search engines. Kiwi is a new favourite among travellers. On average, we have found the cheapest flights to New Zealand with them compared to the other websites out there.
Of course, it is always worth checking Skyscanner to guarantee you're getting the best deal. Both websites offer great flexible search options, allowing you to search the whole country of New Zealand to find the cheapest airport to fly into, and also see prices for a full month if you're flexible on travel dates.
Travel within New Zealand
The size of New Zealand may mean that air travel is a somewhat expensive option to choose but there are several companies running domestic flights within New Zealand. The biggest is Air New Zealand which runs flights under its own name or as one of 27 smaller wholly-owned subsidiaries which are part of the Air New Zealand Link, Qantas also offers New Zealand domestic flights as well as a flight between New Zealand and Australia. Qantas in particular offers a coupon-based Kiwi Airpass which can make travelling within New Zealand as cheap as NZ$40 a flight.
Train travel in New Zealand
Tranzrail operates New Zealand's 4000km or so of the railway network. Fares are affordable and trains are modern with air conditioning and a buffet car on every service. There is a notable lack of sleeper carriages even on overnight services although as the distances aren't usually too great this shouldn't really be seen as a problem.
Bus travel in New Zealand
The main intercity bus service is run by Intercity Coach Lines. It is advisable to make reservations for seats in advance either online or at bus stations however it is possible to just hop on a bus at times.
The InterCity Flexi Pass is an excellent way to explore the country. It's an hours-based bus pass designed for backpackers, and can easily be redeemed across the entire InterCity network, and topped up with extra hours as needed. The site has many other travel passes available so it is easy to find one which caters for your needs exactly.
KiwiCoach Pass New Zealand offers hop on, hop off bus passes as well as fixed itinerary pass options for independent travellers. Pre-book your coach sectors before arrival in New Zealand or book-as-you-go up to 24 hours before your day of travel.
Backpacking Tours in New Zealand
Though part of the fun of backpacking New Zealand is exploring on your own, there are situations, especially when venturing off the tourist trail, when it does make sense to go with a guide or a small group. For these times, a popular option among backpackers is G Adventures. They hand-select local guides to ensure authenticity and quality. This is especially a good option for those travelling New Zealand alone who would like to meet up with like-minded travellers. Their most popular trips in New Zealand are their 7-day Best of the North Island tour and their 15-day South Island Multisport tour.
New Zealand Hostels and Budget Accommodation
Finding good but inexpensive accommodation is essential while backpacking New Zealand on a budget. New Zealand has plenty of hotels and motels ranging from affordable budget accommodation to luxury 5-star resorts. Hotels and motels have a separate grading system but even un-graded establishments are normally serviceable if basic.
Guest-house, private hotels and bed and breakfast style accommodation is becoming increasingly popular in New Zealand, not least because of its affordability. It is even possible to rent lodgings above a pub or in a farm-stay guest house which are generally conveniently sited near good fishing, skiing or riding areas.
The Youth Hostel Association runs nearly 60 hostels throughout the country, mainly in cities or other populated areas. It is possible to reserve in advance and the rates are generally affordable. There are also Backpackers' Hostels located throughout the country which are available for as little as NZ$14 a night. These rooms also often include prepaid telephone credit and discount coupons for local travel.
Like many backpackers, we have had good results finding hostels while backpacking New Zealand on HostelWorld. They have the largest inventory of hostels worldwide, and with over 10 million reviews and ratings from other travellers you know exactly what to expect.
Another good way to find accommodation in New Zealand is by checking hotels.com and  booking.com. With both sites, you'll not only find hotels, but also homestays, hostels, and other unique accommodation. We have discovered some great finds and have appreciated the ability to book ahead. You can use their advanced filtering to narrow your results by budget, location score, overall review score, and amenities. Many of the places on booking.com also offer free cancellation, which takes the pressure off the planning phase of your trip.
Entry Visa Requirements for New Zealand
A valid passport and a return ticket are required by all visitors to New Zealand except Australian Nationals who do not require a return ticket. A visa is not required by British nationals for a stay of up to 6 months, EU and US nationals do not require a visa for a stay of up to 3 months. Any extension to these durations of stay requires a visa which is available from the local New Zealand Consulate or High Commission.
Health and Safety in New Zealand
Medical and dental care in New Zealand is widely available and doctors are trained to a very high standard. The overall quality of health provision is easily the equal of any Western European country. There is a reciprocal health agreement with the UK which allows free treatment for British Citizen in an emergency. Non-emergency treatment will be expected to be paid for so it is still worth taking out travel insurance.
There are no vaccinations recommended for travel to New Zealand, the tap water is safe to drink and food is considered safe. Only normal everyday precautions need to be observed.
Work Permits and Backpacker Jobs in New Zealand
There are many different options for backpackers and travelers who have decided they want to work in New Zealand. Most travelers either come to New Zealand with the intention of working there for a few months, or some may decide along their trip that they want to work as they go to earn some pocket cash. Whatever your situation, we've laid out a few different options for backpacker jobs in New Zealand.
New Zealand Work Permits for Foreigners
New Zealand offers Working Holiday Visas for people aged 18-30. This visa is meant for traveling and working in New Zealand for up to a year. For UK and Canadian citizens, you can stay for up to 23-month visas. All that is required is that you have enough money to pay for a return ticket. And you are mainly planning to travel and explore New Zealand, with work being a secondary goal.
Au Pair in New Zealand
If you want to get to know the country while also working with children in New Zealand, au pair position might be right for you. It requires applicants to have good knowledge of English, be between the ages of 18-30 years old, and to be able to cover your own travel cost.
Most au pair positions include room and board with the host family and pay a weekly salary. Being an au pair means you will be included as part of the family and your primary responsibility will be childcare. However, there is free time to explore New Zealand.
Au pair link is an agency that matches au pairs with host families and has a very professional evaluation process. Otherwise, individuals can check job boards and manage the process on their own.
Volunteering in New Zealand
Most volunteer positions in New Zealand center around conservation and wildlife. There are also opportunities for working in underserved communities. GoAbroad has a helpful list of the top volunteering positions in New Zealand.
Working at Hostels, Hotels, and Restaurants in New Zealand
Many hostels, hotels, and restaurants are usually seeking short-term workers, and international visitors are a great source for this. It's worth asking around or finding the direct job sites of any places that you would like to work.
Farm Jobs in New Zealand
The popular website Wwooff offers lots of options for working on Organic Farms in New Zealand. This could be a good way to reconnect with the natural world while also having accommodation. Popular options are fruit picking jobs in New Zealand to be a part of the world-famous wine industry.
Teaching English in New Zealand
Teaching English is a great way to make some money while visiting New Zealand. i-to-i and TEFL are the main companies where you can find a placement. Most don't require certification but will require a certain amount of training hours.
Useful Links to Find Backpacker Jobs in New Zealand
Useful Links for Backpacking in New Zealand
---
There you have it, the ultimate New Zealand backpacking guide. We hope you have found all the information you need for backpacking around New Zealand.
Next up:
Liked this article? Share it with others who might be after the same information!