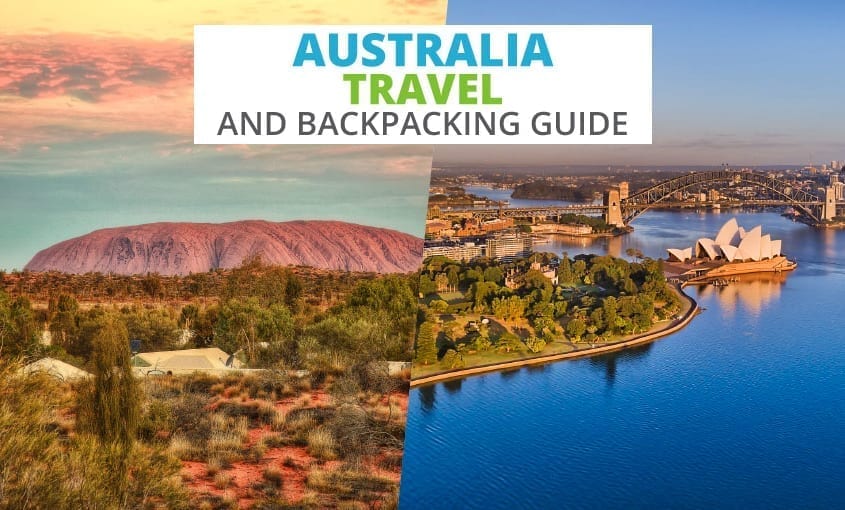 Backpacking Australia
Looking for important travel information while backpacking around Australia? Here you will find information on working in Australia, entry visas, Australia hostels, and much more.
Table of Contents

Facts About Australia
Most travellers have a misconception about Australia, people picture a country populated by beer swilling alligator hunters who are all called Bruce. In actuality nothing could be further from the truth. Australia is an incredibly cosmopolitan country whose sheer size offers the backpacker years worth of travel. Furthermore the Australian population is remarkably progressive, friendly and laid back, these factors coupled with breathtaking scenery and fascinating indigenous wildlife has seen the number of tourists travelling to Australia rising every year.
Currency: Australian Dollar (A$) = 100 cents
Time Zone: Covers 3 timezones from GMT + 10 to GMT +8
Language: English
Telephone Services: Country code +61, International access code 0011
Emergency Numbers: 000 for all services
Climate
Australia lies in the southern hemisphere so the seasons are the opposite of those in Europe or America. While the countries in the northern hemisphere are having their winter Australia is having its summer. Furthermore Australia has two distinct climatic zones depending on location. The tropical zone in the north only experiences two distinct seasons, the summer which is wet and the winter which is dry, throughout the year this region experiences very warm temperatures. The temperate zone lies in the south, below the tropic of cancer and experiences four distinct seasons with warm days and mild nights in the summer and spring and cooler but still sunny days in the winter. The only snowfall you are likely to see in Australia is confined to the mountains in the south east.
Things to see and do
Canberra is the capital of Australia, although many people think it is Sydney. Sydney has much to offer to visitors, a sprawling metropolis where travellers can spend weeks just exploring. The Rocks is one of the most visited areas of the city being the site that both Sydney and the country of Australia were founded. It is easily the oldest area of Sydney and is found at the foot of the world famous Sydney Harbour Bridge. In this area you can find an excellent selection of cosmopolitan cafes and restaurants in buildings which have been preserved from the colonial era. Attractions in this district of the city include the Museum of Contemporary Art and Cadman Cottage which is the oldest building in Sydney and was originally built as a barracks in 1816. Close by right on the water is the world famous Sydney Opera House, this buildings distinctive geometry has lead to it being lauded as one of the wonders of the modern world. After visiting The Rocks, the opera house and Sydney Harbour Bridge there is still plenty more sites to see including the zoo, the Royal Botanic Gardens and the 19th century Fort Denison. Then of course there is always Bondi beach which is one of the most famous beaches in the country and offers all of the sunning, surfing and swimming you would expect from an Australian beach.
One of the most famous sites in the country is of course Ayers Rock or Uluru which is an icon of Austrlia's aborigine heritage. This enormous 3.6 km long outcrop reaches 348m high and looks particularly impressive against the surrounding flat country. The rock is sacred to the Angangu Aborignes and is subsequently surrounded by caves which sport ancient examples of aboriginal rock art. It is possible to climb the rock, and indeed this was once a great tradition but the the aborigines who have now been granted ownership of the land prefer visitors not to climb it, many visitors are respecting this wish and as an advocate of responsible travel we would highly recommend doing the same.
Another prime tourist attraction is one of Australia's great national treasure and takes the form of the Great Barrier Reef. The fantastic coral reef extends most of the way along the Queensland coast and is located about 50km off the coast. The southern stretch has a whole myriad of islands which provide resorts facilities or camping grounds close to the reefs. Those looking for a little bit of adventure in their trip shouldn't pass up the chance to go scuba diving around the reefs. Although this is quite expensive it is definitely an experience of a lifetime and we advise any one who gets the chance to seize it.
Travel
Australia is so big that the most accepted form of inter-city travel is by air. There is a number of domestic airlines operating in Australia, the main ones being; Qantas Domestic, Virgin Blue, Impulse Airlines and East-West Airlines. There are other smaller regional domestic airlines including; Hazleton Airlines, Eastern Australia Airlines, Air North, Kendell Airlines, Sunstate Airlines and Australian Regional Airlines. These carriers all offer a range of seasonal discounts and promotions and can be quite affordable even to the budget traveller. Qantas offer a "Boomerang Pass" which is in fact confusingly more like a coupon system. Travellers must buy at least 2 coupons before departure to Australia and more can be added once inside the country. These coupons come in two flavours, the £100 single zone pass and the £150 multi-zone pass. The coupons can be redeemed on any flight within the zone restrictions. For more information you should contact Qantas directly. There is a similar pass available for travel within New Zealand.
Although air travel is the normal method of long distance travel Rail Australia run a very modern rail service which could save you a bit of money. The main service of interest to travellers is the coast to coast twice weekly "Indian Pacific" although there are several more frequent and shorter services available. Trains are modern and air-conditioned and most services feature sleeper facilities. There is an Austrail flexipass available for non Australian residents, which allows unlimited travel for a period of up to 29 days depending on the price of the pass. The pass however can't be used on the Indian Pacific or on the Ghan service and must be purchased outside Australia.
The major bus operator in Australia is Greyhound, which run a range of inter-city routes in very comfortable and well equipped buses. Although this is the cheapest way to travel, be warned that the distances are huge so you could be in for some long journeys. There is a range of passes available, travellers using the Aussie Explorer pass choose a set route and then have a certain time period to complete the route with as many stops as you want. If you require more flexible travel then the Aussie Kilometre Pass allows you to buy a set distance which you can use up on any routes in any way you see fit.
If you are travelling to Australia, and you want to have a bit more freedom than a coach or plane, then you may want to consider buying or renting a car. If you do decide to buy a car, then make sure that you are prepared for all eventualities. Australia is huge country, and it is possible to drive for hours before you see another person. You need to make sure that when you breakdown in Australia, you are able to get back on your way again as soon as possible. RACQ offer breakdown cover in Australia. They have many different levels of cover to choose from. Make sure you take a look before you set off to drive in Australia.
Accommodation
There are literally thousands of hotels and motels in Australia ranging from un-graded cheap motels to 5 star luxury hotels. The standard is very high and is at least the equal of Western Europe. In major cities you should be able to find somewhere without an advance booking fairly easily. The grading system is run by The Australian Hotels Association which can be contacted for more information.
Bed and Breakfast or guesthouse style accommodation is very common and is often a lot more affordable than staying in a hotel. Accommodation in this sector ranges from guest houses on farms to rooms above pubs. Obviously the standard varies quite considerably but generally the accommodation is basic but comfortable. For more information contact The Bed & Breakfast Association of South Australia.
There are plenty of hostels in Australia, especially around the cities and more densely populated areas. Most hostels are run by the Australian Youth Hostel Association but there are several smaller hostels particularly ones belonging to institutions not affiliated with the International Hostel Association.
Health
Medical and dental care in Australia is widely available and doctors are trained to a very high standard. The overall quality of health provision is easily the equal of any Western European country. There is a reciprocal health agreement with the UK which allows free treatment for British Citizen in an emergency. Non emergency treatment will expected to be paid for so it is still worth taking out travel insurance.
There are no vaccinations recommended for travel to Australia, the tap water is safe to drink and food in considered safe. Only normal everyday precautions need to be observed.
Useful Links
The Australian Government issues ETA visas to some nationalities online
Australian Youth Hostel Association operates hostels throughout the country
The Bed & Breakfast Association of South Australia has information on guesthouse style accommodation in Australia
The Australian Hotels Association operates the grading system for hotels in Australia
Greyhound operates an excellent inter-city bus service and offers a range of travel passes
Rail Australia operates the rail network in Australia
Qantas Domestic are the largest domestic airline and offer a "boomerang pass" for reduced price travel
Virgin Blue offer domestic routes throughout the country
Impulse Airlines are another domestic airline operating throughout Australia
Hazelton Airlines is a smaller domestic carrier operating in the New South Wales area
Touraters.com offering real experiences and real ratings for tours across Australia. An essential word-of-mouth guide to Australian tours and activities.
Living in Sydney offers advice for young people who want to move to Sydney including prices and neighbourhood guides.
Entry Visas for Australia
All visitors to Australia require a passport valid for the duration of their stay. Members of the EU and US nationals are eligible for a special electronic visa called an ETA valid for a stay of up to 3 months. These ETAs are machine readable and invisible to the human eye, they can be obtained from airlines, travel agents or in some cases online at www.eta.immi.gov.au. Visitors countries not eligible for ETAs or those wishing to stay longer than 3 months will have to apply for an ordinary visa which is available from your local Australian High Commision.
Addresses
Visa and immigration related enquiries should be directed to the nearest Australian High Commission:
High Commission for the Commonwealth of Australia 
Australia House 
The Strand 
London 
WC2B 4LA 
Tel: (020) 7 379 4334 
Fax: (020) 7 413 0653 

If you require British representation while abroad you should contact the nearest British Embassy or Consulate:
British High Commission 
Commonwealth Avenue 
Yarralumla 
Canberra ACT 2600 
Australia. 
Tel: + [61] (2) 6270 6666 
Fax:+ [61] (2) 6273 3236 

Tourist Information is dispensed by the Australian Tourist Commission:
Australian Tourist Commission 
Gemini House 
10 - 18 Putney Hill 
London 
SW1S 6AA 
Tel: (0181) 780 2227-9 
Fax: (0181) 780 1496.
Australia Hostels
Hostels are a cheap form of accomodation, and so they are essential to backpackers and other budget travellers. We have compiled a list of hostels in Australia to help you plan your journey. If you are looking for a hostel in Australia, you've come to the right place.

New South Wales Hostels
Sydney Hostels
Tasmania Hostels
Victoria Hostels
There you have it, the ultimate Australia backpacking guide. We hope you have found all the information you need for backpacking around Australia.