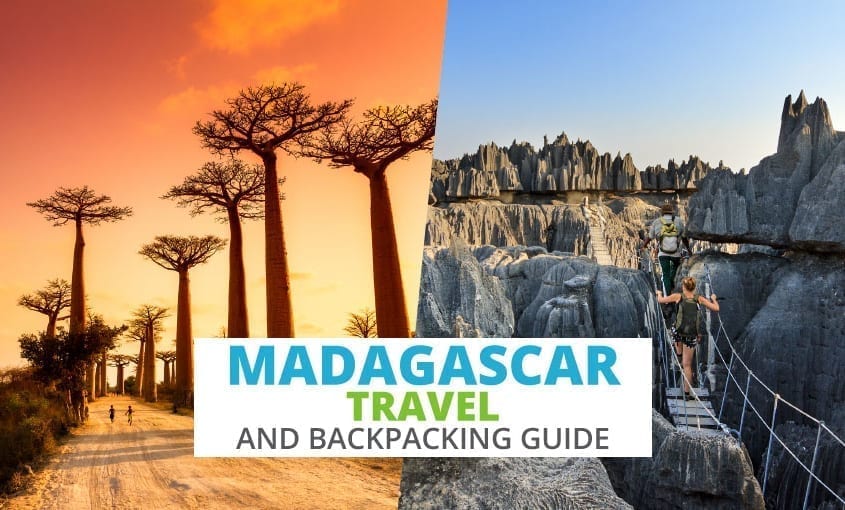 Looking for important travel information while backpacking in Madagascar? Here you will find information on working in Madagascar, entry visas, Madagascar hostels, and much more.
Table of Contents
Facts About Madagascar
Madagascar is a beautiful, large island located in the Indian Ocean, off the South-East coast of Africa and separated from the mainland by the Mozambique Channel. It is the fourth largest island in the world and is perhaps most famous for its spectacular nature and wildlife. Indeed, it is surprising to note that 80% of its plant and animal species cannot be found anywhere else in the rest of the world, and the country itself is home to 5% of all the plant and animal life there is in total globally.
Though Madagascar is one of the world's poorest countries, it has a thriving tourism industry because of its unique landscape of rainforests, mountains and crystalline rocks, and the unusual creatures that live there such as lemurs and fossa. Madagascar is also rich in culture, evidenced in its vibrant history and customs.
The inhabitants of Madagascar are called the Malagsy and they are renowned for their friendliness and overall hospitality. Their pleasant demeanour is just one reason why tourists love their time on the diverse island, and explains the old Malagasy proverb: "They who drink the water from the Manangareza river always come back to Madagascar".
Lastly, it is a common misconception that most Malagasy people speak French. Only well-educated people in the country have any knowledge of the French language. If you are only planning on visiting the capital city, you will probably be able to communicate with most people at a basic level using French. However, if you are planning on travelling around the country and visiting remote areas, you really need to learn a few basic Malagasy phrases. You should bear in mind that very few people in Madagascar speak English well enough to hold a proper conversation.
Currency – The Ariary (gradually replacing the Malagasy Franc which is still used in some places)
Time Zone – GMT + 3
Language – French, Malagasy and English
Telephone Services – +261 (International dialling code)
Emergency Numbers – 17 (Police)
Climate in Madagascar
The climate in Madagascar is varied depending on which part of the island you visit and the time of the year.
Generally, the coasts are hotter and wetter, with average temperatures ranging between 21°C and 26°C. On the East and North-West coasts, there are winds all year round and heavy rains, particularly from May to September (which is winter time for Madagascar). Though the central plateau remains unaffected, it still gets monsoon winds from April to October. The driest part of Madagascar is in the South which has a desert climate from not getting much rain.
The best time to visit Madagascar, particularly for viewing wildlife, is between September and November, when much of the island remains unaffected by rains, winds and extreme temperatures.
Top Things to do in Madagascar
Madagascar's tourist industry relies heavily on its many unique protected national parks. For those who are unsure about travelling alone, there are frequent tours which take place, particularly from Madagascar's capital of Antananarivo, referred to as "Tana" by the locals.
Since Madagascar isn't yet quite established on the tourist trail, it may make sense to explore the country with a guide or a small group. For this, you can check out G Adventures. They hand-select local guides to ensure authenticity and quality. This is especially a good option for those travelling alone and who would like to meet up with like-minded travellers for an incredible adventure. Their most popular is their Classic 8-day tour where you'll see the Baobab-Allee and Tsingy National Park.
Perinet Park
Particular wildlife hotspots for nature enthusiasts include the Perinet park in Mantadia, a nature reserve only three hours away from Antananarivo, which covers around 810 hectares of area. This park consists mainly of rainforest in which you will find many unique creatures such as the Indri, the largest of the lemurs but without a tail. Lemurs are perhaps the most famous animals of Madagascar as there are over 40 species of them within the country alone. This park also holds a world record for the number of frog species it is home to, and also contains other creatures such as birds and reptiles.
Ranomafana National Park
Another beautiful natural park to visit is the Ranomafana National Park, which has a spectacular white river running through it called the Namorona River. It is the walking place of choice for both residents and tourists alike. Most of Madagascar's rainforests are located high up on the plateau. However, there is one remaining lowland rainforest which is the Masoala National Park, east of the town of Maroantsetra. It boasts its own diverse array of plants and creatures, and is directly on the coastline.
Nosy Be
For those who are more interested in beaches, you will find plenty of clean unspoilt ones all around the coast. Perhaps the best place to go, is Madagascar's most famous holiday resort of Nosy Be, which is about an hour away from the capital of Antananarivo. Nosy Be is a picturesque island that is surrounded by other smaller islands. It contains great sands and exotic perfume plants.
Ile Ste Marie
Another relaxing place to go is Ile Ste Marie, a tropical island located off the east coast of Madagascar. This could be described as every beach lover's paradise with its miles of white sandy beaches, palm trees, coconuts, lagoons and coral reef. It is also perfect for watersports enthusiasts with diving, fishing, surfing and swimming all on offer.
Antananarivo
Finally, those who prefer town life or would like to see the best of Madagascan culture, the capital of Antananarivo is unmissable. Antananarivo is a city on three levels which has a distinctly French flavour. It is full of markets, bars and contains sites such as Le Rova (The Queen's Palace), the National Museum of Geology (which contains wonders such as an impressive large skeleton of an elephant bird), and various botanical gardens.
Antsiranana
It is also worthwhile going to northern Madagascar's largest city of Antsiranana. Here you will find interesting colonial architecture, an abundance of markets full of bargains, and many restaurants which are perfect to relax in after all the exploring you'll do. Furthermore, as well as great restaurants and shops, the city has genuine natural beauty, being surrounded by mountains and with scenic views of the bay.
An unmissable demonstration of Malagasy culture can be seen by attending Hira Gasy, a popular form of entertainment unique to Madagascar since 1789 when the people of Madagascar would perform for the king in return for food. A Hira Gasy performance has several themes such as weddings and trade, expressed through acting, dancing and singing. You can see these performances if you are part of an organised tour or during a festival. It is also very likely that you will stumble across a traditional performance in a town or village.
Unique Activities in Madagascar
Since popular places in Madagascar can get crowded during tourist season, it is wise to reserve tickets and activities ahead of time. GetYourGuide sells entrance tickets to museums and landmarks at face value so you can avoid the lines and save that precious time for more exploring.
Viator is another popular travel website that helps you book things to do in Madagascar. They work directly with local tour operators in Madagascar, so you won't have to scour the internet or roam around town trying to find the best deal.
How to Find Cheap Flights to Madagascar
Because Madagascar is an island, the only way to gain access is by boat or plane. Fortunately, there are many easy transport links to the country. The best way to get to Madagascar is undoubtedly by plane: there are numerous flights that go to Madagascar from many parts of the world.
For example, Air Madagascar, the island's own airline operates four direct flights between Paris CDG and Antananarivo (Madagascar's capital) each week, and it is therefore easy to get a connecting flight.
In order to find the best flights to Madagascar we recommend using a few well-known flight comparison search engines. These websites offer powerful search options, like entering flexible dates and airports in order to find the cheapest flight to Madagascar.
Our go-to flight search engine is Skyscanner, which we love for its extremely flexible search options. Our favourite way to get travel inspiration is their "Everywhere" feature. Simply enter "Everywhere" as a destination, and it will then list all available flights from your departure city in order of price. This also works when entering the entire country of Madagascar as your destination. Skyscanner will search all possible airports in the country in order to find the cheapest option.
Kiwi is another new favourite flight search engine among savvy travelers. Kiwi works by combining flights from different carriers in order to get the best deal. Also, if there is a better ground or ferry option for the route you're searching, Kiwi will include that in the search results. On average, we have found the cheapest flights to Madagascar with them compared to the other websites out there.
How to Travel Around Madagascar on a Budget
Madagascar is quite large so, even within the island, travel by plane is probably the best option, especially for long distances. Air Madagascar serves 29 domestic airports located throughout the island.
Train travel in Madagascar
For those who wish to travel by train, Madagascar has three rail lines, which are not as reliable. Currently, only two of the railways are active: these are from Antananarivo to Antsirabe, and Fianarantsoa to Manakara.
It is worth bearing in mind, however, that because the networks are quite old, breakdowns are frequent. Generally, the trains aren't very efficient or comfortable, but they are cheap and a great way to admire the Madagascar landscape. Most natives travel locally around the country by taxi, with frequent service in all main regions.
Taxi-Brousse in Madagascar
If you are backpacking around the country, the likelihood is that you will have to travel by taxi-brousse at some point. There will usually be numerous vehicles headed for the same destination but departing at slightly different times. It is therefore advisable to give the respective vehicles a quick check before you make your final decision. You will undoubtedly be placed under pressure by drivers trying to make you choose their taxi-brousse but just ignore them and take your time. Some of the vehicles will be in terrible condition and it is not uncommon for mirrors or windows to be missing. Pick a vehicle which does not look too bad, even if this means waiting slightly longer to depart.
The roads in Madagascar are relatively unsafe but you have to put your faith in the driver. Bear in mind that the speeds may seem dangerous to you but the drivers are familiar with the roads and the conditions. Before you board the taxi-brousse at the station, your driver will automatically take your backpack and place it on the roof. Every piece of luggage is tied together with ropes along with sacks of rice and boxes of chickens. However, if it is not too bulky, insist on taking your backpack in the vehicle with you. It is common to see items falling off the top of vehicles and theft is a problem at taxi-brousse stations.
If you do end up placing your backpack on top of the taxi-brousse, make sure you get out as soon as possible when you arrive at your destination. The driver will climb up on to the roof and throw the backpacks on to the ground and, if you are not there to claim it, someone else could run away with it. Never place money or valuables in a backpack that is at risk of being transported on top of the vehicle.
It is important to make sure that you carry your passport with you at all times during your travels around Madagascar. This is particularly important whilst you are travelling in a taxi-brousse. Your vehicle will stop several times during the journey to be checked by the local police force. More often than not, a policeman will notice your presence and ask to see your passport. If you do not have it to hand, you will have to pay a fine. Although most policemen in Madagascar are friendly, some are not so accommodating and failure to show your passport could lead to an unpleasant situation.
If you decide to take a taxi in Madagascar, keep your bag at your feet at all times. Do not leave it sitting on your lap because thieves will be able to smash the window and steal it in a very short space of time. Furthermore, always agree on a price with the taxi driver before starting your journey. This will avoid a potentially tense situation at the end of your ride.
Madagascar Hostels and Budget Accommodation
Finding good but inexpensive accommodation is essential while backpacking Madagascar on a budget.
We have had good experiences finding hostels in Madagascar on HostelWorld. They have the largest inventory of hostels worldwide, and with over 10 million reviews and ratings from other travellers, you know exactly what to expect.
Another good way to find accommodation in Madagascar is by checking booking.com. You'll find hotels, homestays, hostels, and other unique accommodations. They have the most reviews and advanced filtering of any accommodation-booking site, so you'll be sure to find a great place in your budget. Many of the places on booking.com also offer free cancellation, which takes the pressure off the planning phase of your trip to Madagascar.
If you are backpacking with another travel companion, we highly recommend booking a rental via VRBO. With a vacation rental in Madagascar, you'll have more space, your own kitchen, and you'll get a better feel for how the locals live. Plus, the cost of a vacation rental can be split among your group, oftentimes making it cheaper than doing individual hotel rooms. 
If you're looking to save even more money while backpacking in Madagascar, there are plenty of creative ways to get free accommodation in exchange for work. For example, one of our favorite ways to stay in amazing locations for free is by signing up as a petsitter with Trusted Housesitters. The site connects responsible animal lovers with petsitting opportunities in Madagascar and all over the world. It's a win-win for both sides – travellers can stay in amazing locations for free, and homeowners can rest easy knowing that someone is watching over their place.
And lastly, CouchSurfing is a great community that connects travellers with local hosts in Madagascar. You can stay for free with verified hosts, who will usually take some time to show you around the local spots.

Entry visa requirements for Madagascar
Visas are required for all those entering Madagascar from abroad with foreign passports. The process for getting a Visa is very easy and usually completed within 24 hours, provided the conditions are met. For example, all passports must be valid for at least six months after the return date, and you will be required to submit photographs and a handling charge.
Visa requirements for Madagascar can vary widely depending on your country of origin and can change over time. To avoid any unpleasant surprises, be sure to check the latest visa requirements while you're still planning your trip.
Alternatively, it is also possible to get a Visa at the airport on arrival, though for peace of mind it is easier picking one up in advance.
Volunteering and backpacker jobs in Madagascar
Since Madagascar is a poor country with limited facilities, the authorities are very keen on getting volunteers from abroad. However, there are many opportunities for volunteering in Madagascar, and some of these can be found on the Volunteer Abroad website. For example, it is possible to get involved in a Conservation project in a nature reserve. Alternatively, for those who don't like long walks and much physical effort, it is possible to teach English in the main cities of the island, such as Antananarivo.
Health & Safety in Madagascar
As with travel to all other countries abroad, it is vital that you get travel insurance before you leave for Madagascar. Even for short trips, our go-to travel insurance provider is World Nomads, which is also recommended by Lonely Planet, HostelWorld, and other major travel companies.
Madagascar is truly one of the most beautiful countries in the world. Its wildlife and climate are two attractive features and the people, on the whole, are very welcoming and friendly. However, even the shortest trip can be instantly ruined if your safety is compromised at any point. It costs a lot of money to travel to the country and you will be devastated if you have to cut your trip short following severe illness or involvement in a dangerous situation. Here are some tips to make sure you stay safe and well during your trip to Madagascar.
Health care issues in Madagascar
Madagascar is generally considered to be a very safe place to visit. However, there are various precautions you must take. For example, Madagascar is a malarial region, particularly in coastal areas, so it is important to try and prevent insect bites by wearing long sleeves and carrying repellent. It is also advisable to take anti-malarial tablets before you visit.
Cholera is present in some of Madagascar's water, particularly during the rainy season from December to April, so it is advisable never to drink unpurified water. Bottled water is widely available as an alternative. Basic hygiene should also be strictly observed at all times.
In case of a medical emergency, most of the hospitals are located in Antananarivo. If complex surgery is required, however, you will probably have to be evacuated to South Africa. As with travel to all other countries abroad, it is vital that you get travel insurance before you leave. Even for short trips, our go-to travel insurance provider is World Nomads, which is also recommended by Lonely Planet, HostelWorld, and other major travel companies.
Before leaving home
There are some basic things you can do before leaving on your trip to help safeguard your health and safety. Firstly, check that your travel vaccinations are up to date and consider investing in vaccinations for some of the nastiest diseases, including rabies.
Make sure your luggage is as difficult to rob as possible. Invest in suitable locks and clearly mark your name and address on the side of your baggage. Make several copies of your important documents, including your passport, airline tickets, credit cards and travellers' cheques, and leave all valuables safely in the UK.
Hygiene in Madagascar
It sounds obvious to say that you should thoroughly clean your hands after going to the toilet. However, whilst you are staying in Madagascar you will need to wash your hands throughout the day in order to stay safe and well. The money used in Madagascar can be extremely dirty so you should clean your hands whenever you handle it. Furthermore, cleaning your hands should become a habit whenever you shake hands with somebody.
Invest in dry soap before you leave the UK. This negates the need for water and can be used at any time during the day. Furthermore, stock up on wet wipes before you arrive in the country and use these at numerous points throughout the day.
Water safety in Madagascar
It is never safe to drink the water in Madagascar. Before drinking it or using it for cooking or washing hands, you will need to use some form of purification product. A product called 'Sur Eau' is readily available across the country and costs approximately thirty pence for a full bottle. Add the appropriate amount to a bucket of dirty water before stirring well and covering for half an hour. The water will then be clean and ready to drink. However, if you want to be doubly sure that the water is clear of numerous nasty diseases, you could boil it for approximately twenty minutes. Let it cool down and even consider filtering it through a sieve if you have one at your disposal.
You can also buy water purification tablets prior to leaving home. Unfortunately, these tablets can make the water taste rather disgusting, so think about purchasing some water neutralising tablets at the same time. These should remove the smell and taste caused by the iodine or chlorine.
Food safety in Madagascar
During your stay in Madagascar, you need to be particularly careful when it comes to eating. Even if you are staying in the most luxurious hotel, remember that the water used to wash the fruit and vegetables is still dirty. Never eat fruit or vegetables that have not been peeled, cooked or washed thoroughly with a solution which can treat dirty water.
If a posh restaurant serves you a well-cooked zebu steak with chips, do not give in to the temptation to eat the sliced tomato on the side of the plate. Avoid food that may not have been refrigerated or kept inadequate conditions. You should always be wary of cold buffets offered by some of the country's top hotels.
Street food can, perhaps surprisingly, be one of the safest options during your stay in Madagascar. Even the smallest of rural villages will have tiny street stalls which grill skewers of meat on demand. However, a certain degree of caution and common sense should still be utilised and you should certainly stay away from food that has not been freshly cooked, including samosas and spring rolls.
If you are preparing food in your own accommodation, try to stick to basics which will not upset your stomach. Your stomach will obviously be accustomed to food from home so be very careful, particularly at the beginning of your trip. Rice, noodles and pasta should be available in most towns and villages, and remember to thoroughly boil any water before using it to cook food.
Finally, never even consider eating ice cream in Madagascar. Whilst it can look tempting and just the thing needed to cool you down after a hot day, it is an extremely risky food. Homemade ice cream is the worst offender but factory-made ice creams can also cause horrible stomach upsets if they are not stored properly by shops and supermarkets.
Staying in a rural village
During your travels in Madagascar, you may end up spending some time in a rural village. Upon arrival, you should introduce yourself to the local mayor and the 'president of the people'. The president is usually responsible for individual residential roads whilst the mayor is responsible for the wider community. You may then be introduced to the local people as well as officials such as teachers and the police.
At this point, you should try to take the mobile phone numbers of some of the town officials. Try your best to get the number of a policeman and attempt to form some sort of friendship. You will then feel comfortable relying upon the force if you encounter a dangerous situation during your stay. If you do not make formal introductions upon arrival, you may be viewed with suspicion by the local people and this can lead to dangerous situations.
If you plan on staying in the village for more than a few days, make sure your accommodation is located next to the accommodation of a local, preferably one who speaks some English. This local will be able to help you with basic problems including electricity or water issues and will also deter anyone looking to cause trouble. There is nothing worse than finding yourself in a dangerous situation with nobody around to help you.
Obey common sense during your stay. Always check that you have locked all doors and windows and, if your accommodation is in a locked compound, ensure the outer gate is always secured, particularly at night.
It is never a wise idea to leave your accommodation after dark and you should only do so in a real emergency. If you do need to travel in the evening, take a rickshaw. Rickshaws are available in most small villages and towns. You should also alert a local person and ask them to raise the alarm if you do not return within a sensible space of time.
Never walk or hike in rural areas without a local person accompanying you. Remote areas can be particularly dangerous in Madagascar as 'zebu bandits' patrol the hills and mountains. These bandits are a particular problem in central areas of the country. If you do go for a walk with a local who is aware of the safe areas in the region, never have any valuables on display. Even the decision to wear a humble watch can lead to a dangerous encounter.
Safety in large cities
The safety issues you will encounter in Madagascar are similar to those found in any other country. Pick-pocketing is a real problem in large cities and you should always be careful when carrying a rucksack. Thieves will not think twice about slashing your bag with a knife and stealing the contents. Consider carrying your rucksack on your front so that you can see it at all times. Wear a money belt under your clothes and make sure it is not at all obvious.
Here are some tips to help you avoid robbery during your stay in a city:
Keep your valuables in the hotel safe and put them in a sealed envelope. You will then be able to see if anyone has tampered with the envelope.
Make sure you lock all doors and windows. Consider wedging a chair under the door handle as soon as it gets dark. Put an object on your windowsill so that you will hear if anyone enters your room through the window at night.
Carry a small wallet containing some cash in case you are forced to give it away in a tense situation.
Never walk in a large city by yourself. Try to stick with other people and, if you decide to make a purchase in the street, nominate one person to keep watch at all times.
Carry a personal alarm and do not hesitate to set it off if you feel vulnerable. It will deter thieves and alert others of your need for help.
Antananarivo
Whilst some visitors to the capital of Madagascar fall in love with the city, others become the victims of crime and leave with an extremely bad impression. There are certain areas which should be avoided at all times. The Avenue de l'Independance is populated by beggars and children well-rehearsed in the art of picking pockets. Avoid this road after dark and keep your wits about you if you need to go there during the day. Do not walk down the street eating food or drinking anything as this is bound to attract unwanted attention from beggars.
Traffic is also a major issue in this area and taxis and other vehicles will not bother stopping for you, so take your time whilst crossing the road. If you need to go out at night anywhere in the city, always take a taxi and never leave the hotel on your own. Another area to avoid is the taxi-brousse station. This is a hectic area which will make you feel extremely vulnerable. The area around Antaninarenina and Isoraka is plagued by beggars and should be avoided at night.
Tulear
Many tourists are attracted to the magnificent market located in Tulear. This market is famous for selling lambas but also attracts beggars and opportunistic thieves. Always make sure you keep your money out of sight and do not flash your cash around whilst making purchases. The taxi-brousse station is also fairly dangerous so hail a taxi as soon as you get off the vehicle.
Useful links for travel in Madagascar
Air Madagascar – The best way to get to Madagascar by plane.
Kiwi

and

Skyscanner

– Flight comparison search engines to find the cheapest flights to Madagascar and within the country

GetYourGuide

and

Viator

–

a collection of local tours and activities in

Madagascar

. Also offers Skip the Line tickets for crowded attractions

G Adventures

– small guided backpacking tours in Madagascar, great for solo travellers or for those interested in a more adventurous trip which would require a guide

HostelWorld – #1 hostel search website to find accommodation while backpacking Madagascar. Thousands of hostels and millions of reviews from fellow travellers
Booking.com

– commonly used booking site for Madagascar. Hostels, hotels, and other unique accommodation with advanced filtering and millions of reviews

World Nomads Travel Insurance

– Comprehensive travel insurance for long and short trips when backpacking

Madagascar

The Foreign and Commonwealth Office – Travel advice about travelling to Madagascar.
---
There you have it, the ultimate Madagascar backpacking guide. We hope you have found all the information you need for backpacking around Madagascar.
Liked this article? Share it with others who might be after the same information!