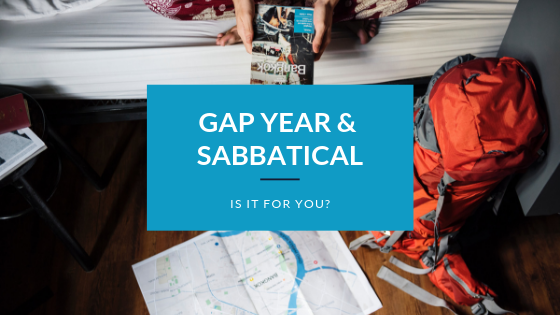 A gap year or sabbatical (sometimes called an adult gap year) is a great way to experience a new place while learning valuable life skills. Read on to learn more and determine if taking a gap year or sabbatical is right for you.
What is a Gap Year?
A gap year most often refers to the year between secondary school (high school) and university, where some people travel or volunteer before attending University. Some students choose to secure their acceptance at a University first and then defer attendance, while others take their year break first and apply later. Both scenarios can work as long as you use your gap year with intention. In fact, doing a gap year may help clarify your goals before diving into an area of study. You will just need to demonstrate to the university that it was a valuable use of time.
What is a Sabbatical?
Sabbaticals often refer to taking a break from your career after already gaining some experience. They are a great way to step outside your routine job to be creative or learn a new skill. It's best practice to arrange for a Sabbatical with your current employer to ensure job security when you return. You don't necessarily need to quit in order to travel the world. Luckily more and more companies are seeing the benefits of offering 1-6 months Sabbatical for their employees.
Is Gap Year or Sabbatical the right choice for you?
With a well-planned gap year or sabbatical, you can see new parts of the world while developing valuable skills. There is often an element of personal development with a typical gap year or sabbatical. You can volunteer for a social cause, learn a new skill, or simply work in a discipline that is different from your job back home. There are many organizations which run volunteer or sometimes low paid jobs abroad in countries all over the world. This kind of holiday can be a more rewarding experience than just taking an extra long relaxation-based holiday.
Benefits of Taking a Break from Your Routine
You get to spend a significant amount of time in a different culture from your own. Your world view will be expanded which is invaluable in this time of globalization and intercultural exchange.
Many employers value the team-based and interpersonal skills that projects abroad develop. Additionally, many gap year projects involve volunteer work which can look very attractive on a CV. You will quickly develop a strong sense of independence during your time abroad. You will acquire life skills such as adaptability, confidence, and cross-cultural communication.
Last but not least, you will most likely experience tremendous personal growth. Without the frame of reference of friends, routine and habits from back home you will learn more about yourself. You may be travelling on your own, you will have to navigate a new culture and may even have to learn a new language. These are all things that you would be hard-pressed to immerse yourself in back home.
Drawbacks of Taking a Gap Year or Sabbatical
Gap years and sabbaticals should be seen as an investment in yourself. However, this investment may not see tangible or immediate results.
Taking a break like this may mean you will not be earning money or advancing your studies and/or career back home. For students, this can mean that you will have more debt than others after finishing any university course you attend. For those in a career, you may feel that you will fall behind compared to peers who do not take a sabbatical. They may achieve a promotion or learn a new skill in the time you are gone. However, the life skills you will acquire while on your sabbatical will pay off in the long run.
Some university faculties don't recommend gap years unless they are related to the subject you are studying. In particular, a lot of scientific faculties discourage taking a break from studies or career as technical skills often deteriorate if they aren't used for a year. This may mean that you will find doing your course more difficult as you will be out of practice.
Choosing to do a gap year or sabbatical is always a personal choice, but we can wholeheartedly recommend taking the leap! Don't wait until you are retired to fulfill your dreams of traveling the world.
How to Choose a Gap Year Program
To get the most from your gap year program you need to make sure your placement is a good fit. By doing plenty of research before you decide, you can ensure that your time abroad will be what you want it to be.
When you are choosing your gap year program, keep in mind what it is you want to accomplish. For example, if you will be attending University after your gap year you may want a project that is relevant to your degree. If you will be starting your career after a gap year, a language-based gap placement is attractive to employees across all kinds of fields.
Research the Origin of the Gap Year Company
Although most companies organize these trips for profit, spend some time researching who else benefits. Additionally, consider what you will gain out of the placement and the impact it will have on the local culture.
Find out why the company exists, what it aims to accomplish, and how long the organization has been around for. Make an effort to get in contact with previous participants to find out what they thought of the experience.
Understand the Gap Year Candidate Selection Process
Ensure you know how much the gap year program costs before you commit to it, make sure you are aware of any hidden fees such as the cost of any required courses etc. Find out what the recommended budget for extras is and how much money you should take with you. In addition, make sure you know the schedule for payment. Most companies will ask for a deposit upfront and some ask for extra installments at key points of the training process.
Check who is eligible for the Gap placements and how successful applicants are selected. In particular, understand the age range that is eligible, the number selected for each gap year program, and what the interview procedure involves.
Ask about Logistics
Make sure you know whether the placement requires any visas or work permits. Find out about any inoculations you may require before going and read up on any other health precautions you should take. Also find out what, if any, kind of training you will receive before your placement starts.
Find out how the company will support you while you are abroad and what provisions are in place in case of an emergency. Before you leave, find out who is responsible for travel arrangements.
Wrapping up and Returning Home from your Gap Year
After your placement, it is popular to spend a few weeks doing some independent backpacking. Plan in advance how you want to spend your free time and which sites you want to visit. 
As your gap year comes to a close, find out if the organization will have any further contact with you such as a debriefing. Find out if you will receive any certificates or qualifications and whether your experience could be of use to future participants. It is always worth writing a short report to the organization on how your placement went. This feedback helps organizations ensure they maintain high standards on the placements they offer.
Costs of a Gap Year
You can travel relatively inexpensively, especially if you choose a longer-term program stationed in one place. However, there will still be expenses to consider, and most likely you will be earning less compared to back home. However, because most programs are in developing countries, you will also be spending less. You can read more about budgeting for your year abroad in our article Gap Year Costs.
Useful Links for choosing a Gap Year Program
Liked this article? Share it with others who might be after the same information!