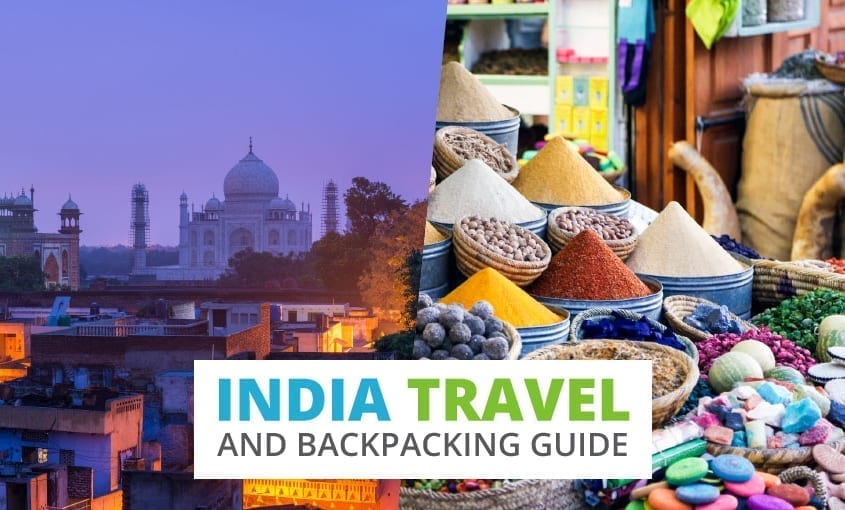 Backpacking India
Looking for important travel information while backpacking in India? Here you will find information on working in India, entry visas, India hostels, and much more.
Table of Contents
Facts About India
India's colourful and diverse culture is like nothing you can experience in the Western World. Home to approximately a sixth of the world's population the sheer size of India means you could spend months travelling and still barely scratch the surface of what the country has to offer.
The most frequently visited part of India is undoubtedly the Delhi area and the other two major cities of the "Golden Triangle", Jaipur and Agra. However, those not wishing to be too adventurous or those who are visiting India for the first time might find relaxing on the more European flavoured beaches of Goa.
It should be noted that due to the risk of paramilitary, terrorist and criminal activity the FCO advises against travel to the contested areas of Kashmir and Jammu. They also advise staying clear of the India-Pakistan border due to consistent skirmishes between Pakistani and Indian troops.
Other regions of the country, however, are generally safe as long as a high level of alertness is maintained against pickpocketing and other criminal activities. In general, it is best not to travel the streets alone after dark and women should be respectful of local dress customs.
Currency: Rupee = 100 paise
Time Zone: GMT +5.3
Language: English, Hindi, Urdu
Telephone Services: Country code +91, International access code 00
Emergency Numbers: In Deli: Police 100, Fire 101 for other locations contact your hotel
Climate in India
When deciding the best time to go to India, weather should play a large part. Most regions of India experience hot tropical weather. During winter the evenings are quite cool but the days are hot and dry. The summer months are hot, dry and dusty and many travellers find it uncomfortable to travel at this time of the year.
Most regions are subject to monsoon rains between June and September. The Himalayas experience much colder, damper weather in the winter and higher altitude places are usually covered in snow.
Things to do in India
Delhi
Delhi, the country's capital often first strikes travellers as a crowded noisy and polluted city. Travellers are hassled almost constantly by beggars, shoe shiners and other citizens desperate to earn what amounts frequently to under a pound. Although there are still plenty of redeeming features in Delhi.
There are numerous monuments including the impressive Mughal Red Fort, the looming solid stone tower of the Qutub Minar and the India Gate, built to honour the 90,000 Indian soldiers who died during the first world war.
Most travellers also spend time visiting the various mosques and temples present in Delhi, some of the most remarkable ones are the Bahai Temple, the Jama Masjid Mosque and the Birta Mandir. It is important to remember when visiting these holy places to respect local customs, particularly that of removing footwear when entering a temple.
Delhi also boasts several beautiful gardens such as the Lodi Gardens famed for its ponds and fountains and the Mughal Gardens which is situated in the Indian Presidents official residence. You will find plenty of shops, restaurants and museums throughout Delhi and the city is also ideally situated for visiting the Taj Mahal at Agra and Jaipur.
The Taj Mahal
Agra is home to the most famous tourist attraction in India, the Taj Mahal. This Moghul monument was built as a mausoleum in memory of Emperor Shah Jahan's second wife who died during childbirth.
Taking over twenty years to build it is one of the most magnificent structures in the world and should be top of any tourists list. Although bear in mind that if you are not a Muslim you will not be able to enter the Taj Mahal on Fridays.
You will, however, be able to see Agra's other main tourist attraction, the Agra Fort. This huge defensive structure is built out of red sandstone and it's walled contain mosques, gardens and various other chambers. Not all of the buildings are open to the public but this is still a site worth seeing.
If you are still at a loss for things to do you could visit Akbar's Mausoleum which is a truly unique combination of decorative styles from many of the world's religions.
Jaipur
The third corner of the "Golden Triangle", Jaipur is often known as "the pink city" for its pink-tinged old buildings and walls. Most of the attractions are within the 'pink city' although today Jaipur extends considerably around the old town. There are seven gates into the old city all of which are still intact and within its walls, you can find such delights as the Johari Bazaar, a jewellery market, the Iswari Minar Swarga Sul, which is a huge minaret overlooking the city and the Hawa Mahal or "Palace of the Winds".
Goa
Many travellers are most comfortable in Goa due to the rather prevalent European Colonial culture. In addition, there is a large Roman Catholic presence and a much more Western feel to Goa than elsewhere in India. Of interest to tourists are numerous Goan forts, the most impressive of which is the riverside Aguado Fort as well as Christian religious sites such as the Convent of Santa Monica. Most tourists, however, come for the gorgeous beaches at locations such as Anjuna, Bogmalo and Miramar.
Kanha National Park
A truly unique site is the Kanha National Park, the largest and most remote of India's parklands the forest and grasslands cover nearly 2000 square kilometres of land. There is a myriad of wildlife in the park including tigers, leopards and sambar. Visitors can embark on elephant safaris through the national park which is famously the setting for The Jungle Book. The best time to travel is during the hotter months as wildlife sighting are far more frequent during these times.
Unique Activities in India
Another good way to get an idea of things to do in India is to scan the activities offered by Get Your Guide or Viator. They work directly with local tour operators, so you won't have to scour the internet or roam around town trying to find the best deal.
If you know your schedule ahead of time, a great insider tip is to buy tickets for major tourist attractions ahead of time. Tiqets has entrance tickets and skip the line passes for major tourist spots in India like Delhi, Goa, and Gurgaon so that you can avoid the lines and save that precious time for more exploring.
How to Travel Around India
If you're flying to India or plan to take short flights within the country, we recommend using a few different flight comparison search engines. Kiwi is a new favourite among travellers. On average, we have found the cheapest flights to India with them compared to the other websites out there.
Of course, it is always worth checking Skyscanner to guarantee you're getting the best deal. Both websites offer great flexible search options, allowing you to search the whole country of India to find the cheapest airport to fly into, and also see prices for a full month if you're flexible on travel dates. 
Travel within India
The sheer size of India means that unlike most countries internal flights are something worth thinking about. The internal domestic airline is Air India which operates routes to 70 different cities throughout India.
What's more, there are several discount passes available to foreign nationals. The most attractive is the Discover India Pass which allows unlimited travel on Indian Airlines routes for 15 or 21 days. The prices start at $500 for a 15-day tickets so if you want to cover large distances fast to see many different regions this is a great way to do it.
Also available are "India Wonderfares" which are cheaper 7 days tickets offering unlimited travel within 4 regions; North, South East and West. Most of these tickets stipulate that no destination can be visited more than once so make sure you plan your route carefully to avoid having to pay for some of your flights.
Train travel in India
The rail system is operated by Indian Rail, and is the second largest network in the world. It covers over 7000 destinations and represents a great way to get around on a budget. There are frequent express trains between all major cities and local buses link up to cover smaller towns not serviced by the rail network.
There are six classes of travel all of which are relatively inexpensive so most travellers opt for the second-air conditioned class, which is relatively comfortable and cheaper than first-class travel whilst retaining the main benefit (the air conditioning).
Bus travel in India
Buses are run by a host of local companies and can be quite useful, if uncomfortable. At this time there doesn't seem to be any central source of information on buses in India so the best bet is to consult local tourist office or tourist information facilities on arrival in India. In general, transport is cheap but many of India's cities are extremely congested so buses are probably best reserved for short local journeys outside of main cities like Delhi or Jaipur.
Backpacking Tours in India
Though part of the fun of backpacking is exploring on your own, there are situations, especially when venturing off the tourist trail, when it does make sense to go with a guide or a small group. For these times, a popular option among backpackers is G Adventures. They hand-select local guides to ensure authenticity and quality. This is especially a good option for those travelling alone who would like to meet up with like-minded travellers. Their most popular trips in India are their 15-day National Geographic Mysteries of India tour, or their 15-day Uncover India-Delhi to Goa tour.
Entry Visa Requirements for India
All visitors entering India require a valid passport for the duration of their stay and a visa. Tourist visas are available from your nearest Indian Consulate or Indian High Commission. Foreign Nationals who are arriving on either multiple visas or a long term visa are advised to register with the nearest Foreigners Regional Registration Officer within 14 days of arrival. It is an offence to overstay your visa and you will be fined if you are caught out-staying your visa.
Health and Safety in India
Malaria is present throughout the year in most parts of India so caution should be observed. Vaccinations are recommended for Polio and Typhoid. These vaccinations can be obtained from your GP and shouldn't cost more than ₹40.
The tap water in India is untreated and is not safe to drink, you should also avoid dairy products as these are not pasteurised. Fruit and vegetables should be peeled before consumption and caution should be observed when purchasing food from street vendors.
As with travel to all other countries abroad, it is vital that you get travel insurance before you leave.
Foreigner Work Permits and Backpacker Jobs in India
Since India is still considered a developing country in many parts it is often difficult for foreign nationals to find work here. Most who visit India and other Asian countries on gap years do so once having built up enough resources to fund the trip by working in the UK or in Europe beforehand and take part in volunteer projects to feel part of the development process of this country.
As is the case with other Asian countries, job and volunteer opportunities are mainly focused on teaching English, usually in schools. The organisations below are just a handful of companies that welcome volunteers every year to take part in their projects.
Volunteering in India
i-to-i
Volunteers with i-to-i in India go to Bangalore, Calcutta, Santiniketan, or Jaipur. There is a range of opportunities available, in each place, there are placements for teaching English, but also in journalism, in hospitals, at media centres, and community and conservational-based programmes. Volunteers are usually provided with accommodation which is self-catering. Some, but not all, of i-to-i's schemes are paid and usually last for twelve months; TEFL training is usually given.
Latitude
Latitude is an organisation specifically aimed at gap year students wanting to travel and make a difference to people in their year out. Latitude projects in India focus on teaching English, work in schools, and care work. Teachers of English are needed in the Tibetan Community, not only in schools but also in monasteries and community centres. As well as the usual placements as English language assistants in schools, volunteers also work in drama, music, and sports classes.
Latitude organises training for those wanting to do work in schools. Care work can range from placements in orphanages and hospitals, to centres for mentally and physically disabled children and adults. Volunteers are provided with food and accommodation by Latitude but are expected to pay for all flights and insurance etc.
Project Trust
The Project Trust currently offers three opportunities for volunteer placements in India. Volunteers can go to Samska, Sanghamitra, or Arthik Samata Mandal, all jobs are in primary and secondary schools as teachers, office workers, and helpers in running extracurricular activities such as drama and music. Programmes usually last for twelve months. Volunteers must be aged between 17 and 19 and a half years old and are expected to raise ₹3850 themselves to fund their project, this includes all expenses for living costs, travel, donations etc.
Projects Abroad
Projects Abroad runs one month or more long programmes where volunteers spend eighteen hours each week teaching English to schoolchildren, taking part in animal care, or even work in the local media. Accommodation is provided either with host families or living with other teachers in local hostels.
Interserve
Interserve organises missionary programmes for Christians to travel to parts of Asia to teach, care, and take part in church work. Projects can last up to ten months and you are expected to pay for travel, insurance, and accommodation etc.
Useful Links to find Volunteering Programs in India
Projects Abroad has all kinds of information for those teaching English in a foreign country
I-to-I organise working holidays throughout the world
Project Trust is a voluntary organisation which teaches English to children
India Hostels and Budget Accommodation

Modern Western-style hotels are available in large cities and popular tourist charges and prices, whilst not cheap are lower than in most of Western Europe. You can find more information at the website of the Federation of Hotel and Restaurant Associations of India. There are also often tourist bungalows available in tourist hotspots, most providing kitchen facilities and a general canteen.
For cheaper budget accommodation there is a variety of Hostels spread out throughout each region. The department of tourism moderates these and you will generally be provided with a bed with a mattress, bed linen and a wardrobe with a lock. The standard of hygiene varies so it is often advisable to bring your own lightweight sleeping bag when staying in a hostel.
We have had good experiences finding hostels on HostelWorld. They have the largest inventory of hostels worldwide, and with over 10 million reviews and ratings from other travellers, you know exactly what to expect.
Another good way to find accommodation in India is by checking hotels.com and booking.com. With both sites, you'll not only find hotels, but also homestays, hostels, and other unique accommodation. We have discovered some great finds and have appreciated the ability to book ahead. You can use their advanced filtering to narrow your results by budget, location score, overall review score, and amenities. Many of the places on booking.com also offer free cancellation, which takes the pressure off the planning phase of your trip.
Useful links for Backpacking in India
Air India are the domestic airline in India.
Kiwi and Skyscanner

– Flight comparison search engines to find the cheapest flights to India and within the country

GetYourGuide

and

Viator –

a collection of local tours and things to do in India. Also offers Skip the Line tickets for crowded attractions

Tiqets

– Website selling entrance tickets and skip the line tickets for major tourist spots in India

G Adventures

– guided backpacking tours in India, great for solo travellers or for those interested in a more adventurous trip which would require a guide

HostelWorld

– #1 hostel search website to find accommodation while backpacking in India. Thousands of hostels and millions of reviews from fellow travellers

Booking.com

– commonly used booking site to find accommodation in India. Hostels, hotels, and other unique accommodation with advanced filtering and millions of reviews

Travel Insurance – read our comprehensive overview of Travel Insurance and some recommended providers for your backpacking trip to India
---
There you have it, the ultimate India backpacking guide. We hope you have found all the information you need for backpacking around India.
Next up:
Liked this article? Share it with others who might be after the same information!