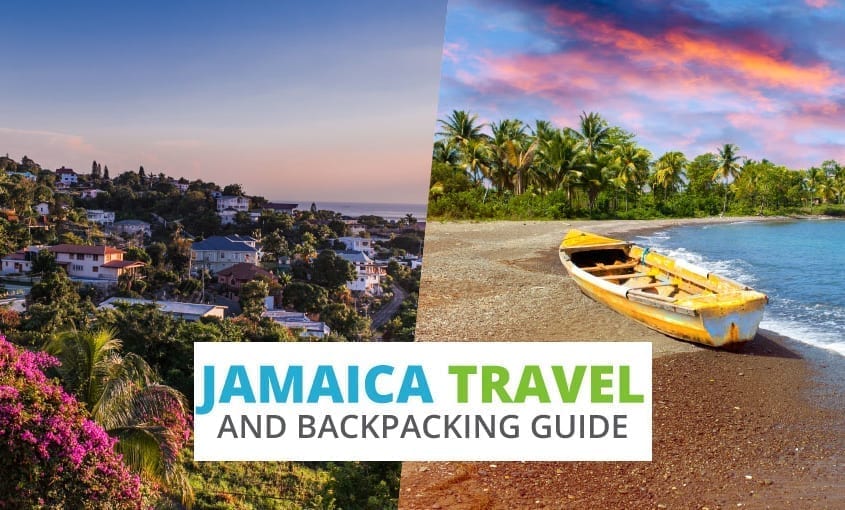 Backpacking Jamaica
Looking for important travel information while backpacking in Jamaica? Here you will find information on working in Jamaica, entry visas, Jamaica hostels, and much more.
Table of Contents
Facts About Jamaica
Part of the Great Antilles and situated in the Caribbean Sea, Jamaica is the 3rd largest island in the Caribbean, being some 234 kilometres in length and 80 kilometres in width, and one of the most populous English-speaking nations in the world. It is also a hugely popular tourist destination due to its laidback reputation, fantastic climate and the vibrant culture found in urban areas like Kingston, Montego Bay and Portmore.
A brief history of the island starts with the South American Taino peoples, who became the island's first settlers somewhere between 4000 and 1000 BC. Fragments of Jamaica's distant past are few and far between and, as such, many stories begin with Christopher Columbus, who claimed the island for Spain in 1494. Renamed as Santiago, the country would be used by Columbus as his private family estate. However, Jamaica's relationship with Spain was cut short when William Penn, an English admiral, captured the island in 1655. Secured and renamed the British West Indies Crown Colony of Jamaica, it prospered thereafter as a sugar exporter. Decisive moments in Jamaica's subsequent history were the Abolition of Slavery, which took place in 1834, and the independence movement, which concluded with full independence from Britain in 1962.
Despite this decisive shift though, Jamaica is still connected to Britain as a constitutional monarchy, with the Queen represented by a Governor-General, nominated by a Prime Minister and the Cabinet. The complexion of the island also displays signs of its British heritage, most notably in the three counties of Surrey, Middlesex and Cornwall.
Population – 2.651 million (2005 estimate)
Language – English
Tel Services – Country Code +876
Currency – Jamaican Dollar
Time – GMT +5 hours
Climate in Jamaica
Remarkably, Jamaica possesses two types of climate. On the windward side of the Blue Mountains, there is a tropical climate, while on the leeward side it is more semi-arid. That said, the temperatures are consistently warm throughout the year, and the rain generally falls between May and October (an average of 196cm annually). Although the weather is a big draw for visitors, it is worth remembering that Jamaica is part of the Atlantic hurricane belt and has suffered in the past courtesy of Hurricane Charlie in 1951, Hurricane Gilbert in 1988 and Hurricane Ivan in 2004.
Average temperature in Jamaica

| Period | Celsius |
| --- | --- |
| January-March | 26 |
| April-June | 27 |
| July-September | 28 |
| October-December | 27 |
Things to do in Jamaica
Jamaica is practically a byword for relaxation, in large part due to the 50 or so public beaches on offer. The most popular of these are Bluefields Beach in Westmoreland Parish, Doctor's Cave Beach Club in Montego Bay and Hellshire Beach near Portmore. However, wherever you go on the shoreline, you're guaranteed a beautiful view of the clear blue seas.
The geography of Jamaica is dominated by the Blue Mountains and a hike up to the peak is one of the great activities unique to the region. Looking out at some 7,402 feet, it is possible to see Cuba on a clear day, and there are a number of groups who provide walking or biking tours up to the top.
The natural beauty of Jamaica is also on show in Kingston's Hope Botanical Gardens, covering some 50 acres next to the University of the West Indies and even encompassing a small zoo. Other popular spots for visits include the National Gallery of Jamaica in Kingston, which hosts the work of local artists like Kapo Reynolds and hosts some international art exhibitions, and the extremely popular Bob Marley Museum, also in Kingston and dedicated to the reggae star who was heavily involved in the-then fractious politics of Jamaica until his premature death in 1981 at the age of 36.
Sport is an integral part of Jamaican culture and, in particular, cricket. The island has a pedigree in the game, having produced such luminaries as Courtney Walsh, George Headley and Michael Holding. Should you want to see a game or two, try Sabina Park Stadium, which is home to the Kingston Cricket Club and used by the West Indies cricket team as a Test match venue. It is also employed by the Jamaican cricket team in the island competitions, the Carib Beer Cup and the KFC Cup.
As you might expect, there are plenty of festivals and events going on in Jamaica from month to month. These include International Reggae Day in Kingston and the Emancipation Jubilee in Ocho Rios. During such celebrations, you can see first-hand the unique and extremely influential music of the island, with dancehall music back on the way up courtesy of artists like Buju Banton and Beenie Man. Also, be sure to check out some of the fantastic cuisine, made up of a mixture of Spanish, African, Indian, Asian and English influences, and responsible for dishes like jerk chicken, curry goat and Jamaican patty.
Tours and Activities in Jamaica
Another good way to get an idea of what to do is to scan the activities offered by Get Your Guide or Viator. They work directly with local tour operators, so you won't have to scour the internet or roam around town trying to find the best deal.
How to Travel around Jamaica
Getting to Jamaica is no problem. There are five airports on the island, including Norman Manley International Airport, Tinson Pen Airport and Sir Donald Sangster International Airport. The latter is the best choice if you are coming via plane, with Air Jamaica offering a service to London-Heathrow and Thomas Cook Airlines travelling from London-Gatwick and Manchester. For flights, we like using Skyscanner to find the best deal because of their flexible search. For example, you can view prices for the entire month to find the cheapest day to fly, or you can just put Jamaica as your destination in order to find the best airport to fly in to.
If you're flying to Jamaica or plan to take short flights within the country, we recommend using a few different flight comparison search engines. Kiwi is a new favourite among travellers. On average, we have found the cheapest flights with them compared to the other websites out there. Of course, it is always worth checking Skyscanner to guarantee you're getting the best deal. Both websites offer great flexible search options, allowing you to search the whole country of Jamaica to find the cheapest airport to fly into, and also see prices for a full month if you're flexible on travel dates. Another flight search site that can be hit or miss but still worth checking out is Opodo. For our past few trips, it was on their site that we found the flight that we ended up booking.
Travel within Jamaica
Once on the island, you'll find cars and scooters are widely used to get around. However, if you do choose to rent your own mode of transportation, be warned that the roads are bumpy and other drivers can be unreliable, to say the least. The drink driving limit is also strict, being 0.035 (as opposed to 0.8 in the UK).
Alternatively, you'll find taxi and bus services, and even trains available to get where you need to go. A popular option for tourists is the service provided by the Jamaican Union for Travellers Association (JUTA), composed of cars, buses and coaches connected to the Tourist Board and offering special routes for visitors.
Small Group Adventure Travel
Though part of the fun of backpacking is exploring on your own, there are situations, especially when venturing off the tourist trail, when it does make sense to go with a guide or a small group. For these times, a popular option among backpackers is G Adventures. They hand-select local guides to ensure authenticity and quality. This is especially a good option for those travelling alone who would like to meet up with like-minded travellers. Their most popular trips in Jamaica is their 8-day Jamaica Encompassed tour.
Health and Safety in Jamaica
As with any trip abroad, it's crucial to take out travel insurance for your trip. Superficially, Jamaica is well stocked with hospitals, particularly in Kingston. However, the quality is mediocre and prices are exorbitant, so be wary about using their services.
Before arriving on the island, be aware that dengue, leptospirosis and malaria are all major risks, along with the traveller's perennial foe, diarrhoea. As such, avoid dams and rivers and be sure to use mosquito repellent. Routine vaccines (influenza, polio, chickenpox etc.) are also necessary.
Entry visa requirements for Jamaica
If you are a UK or a US citizen, a passport is the only thing you'll need to enter Jamaica. Anywhere in the Commonwealth is also fine, with the exception of the Cayman Islands, Sri Lanka, Nigeria and Pakistan.
Foreigner work permits and backpacker jobs in Jamaica
According to law on the island, non-Jamaicans must apply for work permits, which are dealt with by the Minister of Labour. If you are a citizen from a Commonwealth country, this can be done after arriving but, if this is not the case, your application must be completed prior to arrival.
Bar work and helping out in the tourist trade are the two obvious choices. Should you feel more altruistic though, volunteers are always needed in the Blue Mountains.
Official Language of Jamaica
English is the official language of Jamaica and is spoken throughout the country.
Jamaica Hostels and Budget Accommodation
Jamaica is naturally well stocked with lodgings for visitors. The range of prices is large but it is possible to find a good price. However, if you are backpacking, you'll want to avoid the higher prices in Kingston. Instead, try areas like Negril and Ochos Rios. The former has a few hostel type set-ups, for example, Jamaica Tamboo and Errols Sunset Cafe and Guesthouse on the Beach, both on Norman Manley Boulevard and offering rooms for approximately $15-25 per night.
We have had good experiences finding hostels on HostelWorld. They have the largest inventory of hostels worldwide, and with over 10 million reviews and ratings from other travellers, you know exactly what to expect.
Another good way to find accommodation in Jamaica is by checking hotels.com and  booking.com. With both sites, you'll not only find hotels, but also homestays, hostels, and other unique accommodation. We have discovered some great finds and have appreciated the ability to book ahead. You can use their advanced filtering to narrow your results by budget, location score, overall review score, and amenities. Many of the places on booking.com also offer free cancellation, which takes the pressure off the planning phase of your trip.
There you have it, the ultimate Jamaica backpacking guide. We hope you have found all the information you need for backpacking around Jamaica.
Next up:
Liked this article? Share it for others who might be after the same information!