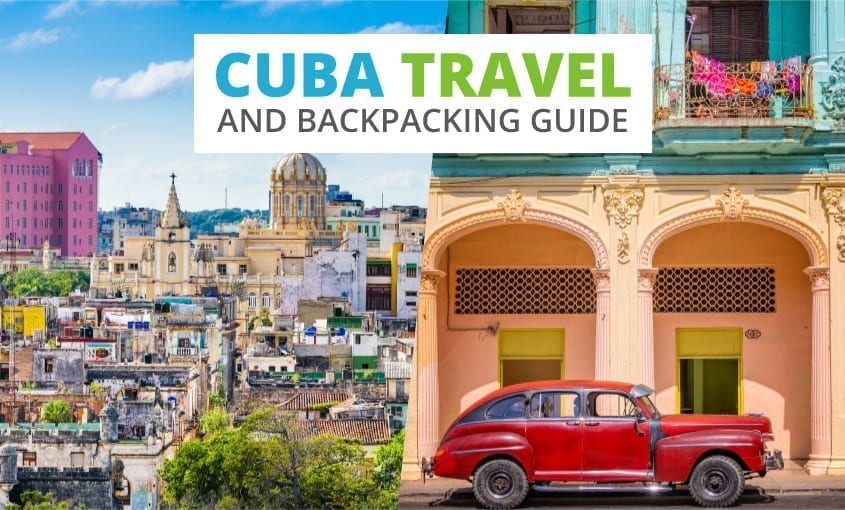 Backpacking Cuba
Looking for important travel information while backpacking in Cuba? Here you will find information on working in Cuba, Cuban entry visas, Cuba hostels, and much more.
Table of Contents
Facts About Cuba
If you have decided to go backpacking in Cuba, congratulations, you are in for a traveler experience that is quite unique and incredibly rewarding! That said, Cuba is also a very special destination, unlike any other in the world, and there are things you need to know before traveling here. 
Lucky for you, everything you need to know before your journey is gathered in this article about backpacking in Cuba!
Although typically considered as a single territory, the Republic of Cuba is an archipelago of islands, consisting of the island of Cuba (which is part of the Greater Antilles), the Isle of Youth as well as around 4000 other smaller islands referred to as the Cuban Keys. 
The island is located in the Northern Caribbean just 100 miles south of Miami, and is connected to the Caribbean Sea, the Gulf of Mexico and the Atlantic Ocean.
Being the largest island and most populous country in the region, Cuba also enjoys one of the most diverse cultures thanks to its rich history. The earliest inhabitants were the Guanajatabey people, who were later supplanted by the Taino and Ciboney peoples (commonly known as the Arawak).
Cuba's Fascinating History
The recorded history of Cuba only begins with Christopher Columbus, who claimed the island for Spain on October the 28th 1492. 
In the face of concerted resistance from the Taino peoples, this arrangement was only consolidated by 1514 with the establishment of the first Spanish settlement in Baraoca on the eastern part of the island.
Later Santiago de Cuba was named the capital for a short while before Havana took its place and has stayed as the capital until today! 
Aided by a huge influx of African slaves, the island prospered as an exporter of sugar, tobacco, and coffee for a period, staying in Spanish hands for a staggering 388 years. Up until the pro-independence movement was strengthened by Jose Marti in the 1890s, climaxing with the Spanish-American War and formal independence for Cuba in 1902.
The modern history and culture of Cuba have been shaped in large part by the relationship with the US in the first half of the 20th Century. Then by Fidel Castro's communist regime after he and his comrades succeeded in the revolution in December of 1958.  
This dramatically changed the path of Cuba's future, as international relations and trade with the US became impossible and the then Soviet Union became Cuba's main trade partner. 
The collapse of the Soviet Union in the late 80ies hit Cuba hard as the country was (and still is) subject to strict international sanctions directed by the US, and its main trade partners disappeared leaving the economy in chaos. Followed by the more recent pandemic, domestic reforms, and finding itself on the US list of states that support terrorism since January 2021, there is a mix of reasons why today's Cuba is a country with challenges. 
Cuba Today
In the last couple of decades, there has nevertheless been a long list of careful reforms in Cuba, and as the country has opened up to the outside world, tourism has flourished making it an extremely popular place to visit.
During the last few years however, as a result of tightened sanctions by the US, the pandemic, and a variety of domestic reforms, Cuba in 2023 is facing a lot of challenges. The inflation is high, commodities scarce, and everyday life is difficult for most Cubans. 
One of the most important factors to improve the economy and quality of life again in Cuba is the tourist industry which is again growing as the limitations of the pandemic has been removed. 
So by choosing Cuba as your next destination, you are not only giving yourself an incredible travel adventure, you are also contributing greatly to rebuilding an amazing island nation after years of hardship. 
With its unique history, culture, traditions, and current state there is nowhere on the planet quite like Cuba, and if you decide to go backpacking in Cuba, it is a destination that you will not forget any time soon!
Language – Spanish
Currency – Peso
Time – GMT -5
Climate in Cuba and the best time to go
When determining the best time of year to visit Cuba, weather certainly plays a role. Cuba has a semi-tropical climate due to its proximity to the Tropic of Cancer. 
Temperatures and humidity can be very high, especially in the summer months, but trade winds generally take the edge off. 
There are only two seasons in Cuba, the wet and the dry season. The dry season runs from November through April, and the wet season from May through October. The best time to travel to Cuba is during the dry season, which is typically between November and April.
May and June are the wettest months, and it is worth remembering that Cuba is in the Caribbean hurricane belt and has historically suffered from some fierce hurricanes. From the Great Havana Hurricane of 1846 to modern natural disasters like Hurricane Allen in 1980 and lastly Hurricane Ian in September 2022. 
August through September is the period with the highest hurricane risk although the risk really is not very high, and this period is also the cheapest month to visit Cuba. So if the weather does not scare you this is a budget-friendly time to travel the island. 
Normally you will only have to endure afternoon rain showers in this part of the wet season and still get to enjoy the Caribbean climate and Cuban culture for the rest of the day.
Things to do in Cuba
Cuba is famous for many of its exports, for example Cuban Cigars, rum, and coffee. But when going to Cuba itself, you are in store for vibrant cities, beautiful beaches, breathtaking nature, and unique culture. There is no shortage of amazing things to do in Cuba, but here are the top bucket-list items when backpacking Cuba.
Visit the Fascinating Capital, Havana
Cuba enjoys over 4 million visitors annually (pre-pandemic), partly due to the capital city of Havana which has an incredibly diverse and particular atmosphere that is like being in six different decades at the same time. Partly also due to the paradisiacal beaches of Varadero, the biggest resort area in the Caribbean region. 
When you visit Havana, the three main city districts of the city to know about are the Old City, Central Havana, and more modern Vedado, the high-end part of Havana. You also have Miramar to furthest to the west, which is like the Hamptons of Havana with large mansions, hotels, business centers, a golf club nearby, and a marina to enjoy. 
As a backpacker, the best areas to stay will be in Old or Central Havana, where there is a myriad of cheap casa particulares to rent, and you are within walking or bicycle taxi distance to most of the interesting sights, bars, and restaurants. 
In addition to exploring the old city, Habana Vieja, one of the major attractions in Havana is El Capitolio Nacional, a stunning white building that was recently refurbished and reopened for the public. 
Originally the seat of the pre-revolutionary government, it was completed in 1929 and looks like a replica of the White House in the US even though the inspiration for the architect was the Pantheon in Paris. 
Now it houses the Cuban Academy of Sciences, and as it stands in beautiful neo-classical style, you can visit for a guided tour to see the incredible interior, and the Kilometro Zero point for Cuba marked by a replica 5-gram diamant embedded in the floor inside!
Even more imposing is the incredible Christ of Havana across the bay, recalling the Christ the Redeemer statue in Rio de Janeiro and looking over the city skyline from the other side of the bay. Also worth a visit are the 16th-century Castillo del Morro just beside the Statue of Christ, the 18th-century La Cabana fortress, and the 760-hectare Lenin Park. 
On the cultural front, make time for the Museum of the Revolution in the old Presidential Palace if you want to learn about the revolution from the Cuban perspective, as well as the National Aquarium and the Casa de Las Americas museum.
Although a bit touristy, taking a tour with a Classic American Car around all the districts of Havana is a wonderful way to get an overview of the city. You will start off through Central Havana, along the Malecon, through the parks and wide streets and mansions of the more modern Vedado. Further towards the high-end district Miramar before you return on a scenic route down the venerable El Prado Avenue, to Parque Central on the verge between Old and Central Havana. 
It needn't all be sightseeing either, as you'll find a number of beaches approximately half an hour outside the city. Take the bus out from Parque Central, or get yourself there in a taxi. The most popular of eastern beaches are Bacuranao, Playa Santa Maria, and Guanabo. When the sun sets though, head back to Old Havana for restaurants or Vedado for the best clubs in the capital.
Habana is brimming with great places to eat, for an authentic and cheap Cuban dinner, you can go to Cafe Cristo on the corner of Parque Cristo in Old Havana. This is a tiny venue that serves chicken and rice for under three dollars, often accompanied by live music and the staff singing along!
If you want to treat yourself to a fancy dinner one night in a stunning venue, go to Paladar La Guarida in Central Havana and get a table on the rooftop. The food here is amazing, the views of the city unsurpassed, and the service excellent – but it is a bit pricy.  
Finish off the night on an airy rooftop, or on the dance floor at Casa de la Musica in Galiano Street with live salsa music, just be aware that there is a certain dress code here, so dress up a bit and leave your shorts and flip-flops in your backpack!
Colonial Gem Trinidad
On the southern shores of Cuba around four hours from Havana is Trinidad, the best preserved colonial old city on the island, and at one point the wealthiest town in Cuba!
Trinidad was the capital of the "sugar aristocracy" in the period when Cuba was one of the most important sugar-producing nations in the region, a period when the city grew significantly and every person of power and wealth moved here. 
Then Cuba suddenly was priced out of the sugar trade as other nations could do the job cheaper, almost overnight the city turned into a quiet backwater that had nothing to offer. It was more or less forgotten, and left behind in the development while other parts of Cuba prospered, which is why the Trinidad old city has hardly changed even today. 
The historic part of Trinidad today is almost identical to what it looked like centuries ago with crooked narrow streets, low colorful houses, and old colonial architecture. You will encounter old American classic cars side by side with horses and carriages in the streets of Trinidad still. 
Take your time to walk the old city streets, discover small shops, bars, lots of art studios, and music venues, and make sure to leave your heels at home – the streets especially at night are dark and wobbly. 
Make sure to visit the Casa de la Musica in Trinidad just beside the Old City square, to shake your left foot in the Cuban salsa. 
When exploring the city, climb to the top of the old Clock Tower to get a stunning view over the city and surrounding areas, and then have a strong Cuban coffee at Cafe Don Pepe after. Take a trip a couple of miles out of the town to the Valley of the Sugar Mills, where you still can see remnants of the sugar and slave trade that brought wealth to Trinidad centuries ago. 
There is a myriad of cheap accommodations available in casa partuclares in Trinidad, as well as a few hotels in the center of the city, and there are a variety of bars and restaurants to visit for lunch, dinner, or even into the small hours. 
Just 15 minutes outside Trinidad you can also lounge for a day on the beautiful Ancon Beach, surrounded by a few hotels and even fewer beach bars and restaurants. Get a taxi out there (or ride a bike, but it is hot), bring what you need for the day, and chill under a beach parasol!
French Founded Cienfuegos
Cienfuegos is a small town a short drive to the west of Trinidad, and the unique thing about this little place is that it is the only town in Cuba not founded by the Spanish – but by the French! 
Because of this, the architecture and city ambiance is a bit different from most other towns in Cuba. The historic center of Cienfuegos is a UNESCO World Heritage site thanks to its collection of 19th-century neoclassical structures like the unique Arco de Triunfo in Parque Jose Marti, named after Cuba's national hero. 
Situated inside a big natural bay, Cienfuegos has a long Malecon, a boardwalk, that connects the center of the city with Punta Gorda towards the bay. Here you can go for a refreshing swim, and have lunch or dinner in one of the charming restaurants out here. 
In the city center there are shopping options along the Boulevard, and along the Paseo del Prado is the best nightlife in Cienfuegos. Paseo del Prado is the name of the wide avenue that runs all the way from the city center out to Punta Gorda, including the Malecon. 
Things to do in Cienfuegos visit one of the museums of the city, join an organized walking tour to learn about its particular history or visit the city's stunning botanical garden. 
Also make sure to explore the city's architectural gems like Palacio Ferrer, the city cathedral in Parque Jose Marti, and the venerable Teatro Tomas Terry. 
As in every destination in Cuba, there are a lot of backpacker-friendly casa particulares to stay throughout the city within walking distance to the most popular sights.
Revolutionary Important Santa Clara
If you're interested in history and the communist heritage of the country, you might be interested in stopping by the city of Santa Clara which is one of the most important Cuban towns in the revolutionary history
Santa Clara is an inland city situated around one and a half hours from Cayo Santa Maria, and here you find the last resting place of Che Guevera in an incredibly large mausoleum facing the vast city Plaza de la Revolucion. 
The reason this place has a "special place" in the revolutionary history of Cuba is that this is where the last decisive battle of the revolution took place in December 1958. The famous Che Guevara and his comrades took and defended Santa Clara from Batista's soldiers, and even derailed a train in the process sent by Batista from Havana with weapons, soldiers, and ammunition. 
This significant incident (while Fidel Castro was fighting in Santiago de Cuba) tipped the power, and made President Batista flee the country on New Year's Eve in 1958 – leaving the leadership open for the revolutionary victors. 
You will see remnants of this battle as well as historic details around the city, like the statue of Che Guevara and the boy child, the hill La Loma outside the city with breathtaking views, and an important monument (well worth the hike up), and the Plaza de la Revolucion with the huge mausoleum of Che Guevara.
Fertile Vinales Valley
West of Havana in Pinar del Rio Province lies the beautiful lush green Vinales Valley, where the majority of the infamous Cuban cigars are made, along with rum, honey, and coffee. 
This is where you can learn how to roll a cigar the Cuban way, and you also get to taste one (dipped in local honey), often accompanied by a taste of the locally made rum. 
One of the reasons Vinales Valley is unique, is that it is listed on the UNESCO World Heritage site list of places that needs to be protected because of one particular feature in the valley; the mogotes. 
Mogotes are small isolated steep-sided hills normally composed of either limestone, dolomite, or marble. In Vinales, these mogotes are scattered across the valley floor, a quite rare phenomenon, and in between lies the flat fields as if nothing happened. 
Traveling to and in Vinales you can explore these mogotes, some of them have cave systems inside, fresh water fountains, and you can even go rock climbing inside the caves of some of the biggest ones. 
Other adventures in Vinales are hiking, biking, visiting the huge Mural de la Prehistoria, or going horseback riding. You can also take a boat ride inside Cueva del Indio, a large cave system with a subterranean river inside that is absolutely stunning. 
Take a day trip here and you will have time to experience the most spectacular sights of Vinales or stay for a few days in a casa particular you will lack for fun things to do.
Paradisiacal Varadero Cuba
If you are a backpacker at heart, Varadero probably will not be your most coveted destination to visit in Cuba, being the largest resort area in the whole Caribbean region. 
Still, you can visit for a few days for a truly Caribbean beach paradise without entering into a resort bubble. In Varadero (which is a peninsula), there is a small town that stretches along the Varadero beach, voted the second most beautiful beach in the world by people on TripAdvisor in 2019! 
And here in the town center, there are a variety of affordable casa particulares where you can stay, within walking distance to this prized beach. 
Needless to say, there are a plethora of fun water activities to embark on in Varadero, from catamaran trips, scuba diving, and snorkeling, or just lounging on the beach enjoying the sun, sand, and surf. 
The town center also has a variety of nice bars and restaurants to visit, a small market, and on the weekends there is a decent nightlife as well for the party crowds. 
The Viazul bus arrives and leaves from the bus station in Varadero town center. 
Fidels Resistance Headquarter Santiago de Cuba
Santiago de Cuba is a thriving city all the way on the eastern tip of the island. 
The biggest event of the year here is the traditional Carnaval of Santiago de Cuba in June and July, a national event dating back to the 17th century and encompassing dancing, music, and plenty of the famous Cuban cocktails.
Back in the day, Santiago de Cuba was the capital of Cuba for a few decades, and today it still is the second biggest city in Cuba. It does not have the same metropol feel as Havana, but the center of Santiago with Parque Cespedes and the main street Calle Heredia still offers a variety of shops, bars, and restaurants. 
Try out the Bodeguita del Medio for a traditional Cuban dinner, and a mojito at the Casa Trova with live music. 
While in Santiago de Cuba, you should also visit the huge Ifigenia Cemetary where Fidel Castro and other Cuban famous people are buried, where they still have a guard-changing ceremony every 30 minutes of every day. 
Also, take a trip out to the old Castillo del Morro fortress guarding the narrow entry to the city bay, with amazing views from the queens balcony of the rugged shoreline; Balcon de la Reina 
If you stay for a while, you can opt to take a road trip to the vast Sierra Maestra mountains that stretch out a few hours to the west of Santiago. 
Here you can go for hikes, and you can also visit the secret headquarters where Fidel Castro and his comrades hid for long periods of time in the 50ies while fighting against President Batista's rule in Cuba. You get to see Fidel's hidden bedroom and even an outdoor toilet! 
There are plenty of reasonably priced casa particulares to rent in Santiago de Cuba, as well as a few high-end hotels, and a short drive outside the city you find the popular Siboney Beach if you need some Caribbean sands between your toes!
Isla de la Juventud
Just to prove it's not all about the main island, it is possible, although not super easy, to take a boat to the Isla de la Juventud from Batabano village on the main island's southern shore. 
To make this journey, you need to physically go to the ticket office in Havana, and buy a multi-transport ticket consisting of a bus ride from Havana to Batabano village, and then the boat over to Isla de la Juventud. 
The island used to be called the Isle of Pine, but was renamed by Fidel Castro in 1978 as part of his quest with the national education program.
Nueva Gerona is the name of the capital city of Isla de la Juventud, which is not very big at all, but there are a number of casa particulares here. There is one hotel on the island, along the western coast far away from "everything" called Hotel El Colony, which is a popular place to stay for scuba divers!
There are a lot of fantastic scuba diving sites around Isla de la Juventud, and wonderful natural experiences like visiting the Punta Frances Marine National Park, Poblado de Cocodrilo, and the Arenas Negras beaches. 
You also find a handful of museums in Nueva Gerona, and one particularly big one is the daunting structure of the former prison Presidio Modelo where Fidel Castro was incarcerated for several years after an unsuccessful attack against Batista in the early 50ies.
How to Find Cheap Flights to Cuba
Jose Marti International Airport is the main international and domestic airport in Cuba, situated around 30 minutes from central Havana. 
A variety of international airlines have flights here from all over the world, but you need to know that due to sanctions not all flight apps service flights to Cuba. If you can not find flights on your first attempt – don't despair, just try a different flight search engine.  
There is no bus service from the Havana airport, but it is super easy to get a taxi outside arrivals and in 2023 the price is normally fluctuating between 25-30 dollars.
Another option is to fly into Juan Gualberto Gomez International Airport in Varadero, the peninsula two-three hours east of Havana which is the largest resort area in the Caribbean. 
From either of these two airports, you can easily travel between the most popular destination in the central and western parts of Cuba. Travel from Varadero or Havana to Santiago de Cuba by the Viazul bus will take around 20 hours. 
You can also fly into Antonio Maceo Airport in Santiago de Cuba if you want to explore this part of Cuba or start here.
In order to find the best flights to Cuba we recommend using a few well-known flight comparison search engines. These websites offer powerful search options, like entering flexible dates and airports in order to find the cheapest flight to Cuba.
Our go-to flight search engine is Skyscanner, which we love for its extremely flexible search options. Our favorite way to get travel inspiration is their "Everywhere" feature. Simply enter "Everywhere" as a destination, and it will then list all available flights from your departure city in order of price. This also works when entering the entire country of Cuba as your destination. Skyscanner will search all possible airports in the country in order to find the cheapest option.
How to Travel Around Cuba on a Budget
Buses and taxi collectivos are the best ways to travel around Cuba on a budget. 
Bus Travel in Cuba
The bus is the best option for visitors, since it connects most places of interest. Bus travel in Cuba is generally reliable, safe, and affordable.
The Viazul bus company is quite reliable and now has an online booking service where you can buy your ticket and have it sent to your email, conveniently avoiding the lines and paperwork in Cuban bus stations which is always a plus. 
Train Travel in Cuba
There are trains in Cuba, but if you decide to embark on a railway adventure you need to be prepared for delays as the trains are infamous for running into problems and stopping somewhere far away from where you planned to go. 
Once you arrive in Cuba, there is a fairly decent railway network revolving around the three main stations of Casablanca, La Coubre and Central Rail Station. The Havana to Santiago route is a good option for tourists. Alternatively, you can opt for buses to get from city to city in Cuba. Viazul and ASTRO Bus provide this good-budget service, mainly from Havana.
Taxis in Cuba
Generally, taxi service in one form or another is common and flexible in Cuba. A taxi collectivo is a taxi where you buy a seat in the car (can also be a mini-bus) that you share with other travelers, which makes it more reasonable than getting a normal taxi – but still a bit more expensive than the bus. 
Renting a Car in Cuba
It is also possible to rent a car in Cuba but due to a mix of the general standards of the car park, lack of road help if something goes wrong, and complicated legal issues if you have a traffic accident it is not highly recommended. It is a lot better and safer to rent a car with a driver, so, a taxi, that will take care of everything if something goes wrong.
Renting a car in Cuba is possible, but not as easy and safe as in most other countries. 
Not because the traffic is unreasonably bad (although it is a bit confusing), but if you end up with a car that breaks down, or in a road traffic accident, it can become a very expensive affair as tourists tend to become the financially responsible party regardless of the incident.
Backpacking Tours in Cuba
Though part of the fun of backpacking Cuba is exploring on your own, there are situations, especially when venturing off the tourist trail, when it does make sense to go with a guide or a small group. 
G Adventures is a great option for organized travel, but with a smaller group. It's a great choice for anyone backpacking Cuba alone who would like to meet up with like-minded travellers. It's also a practical option for exploring places where you need an experienced guide, like a long hiking adventure or visiting a place well off the beaten path. You can choose from different styles of small group tours like active, wellness, hiking trips, 18-30somethings, and more.
Their most popular trips in Cuba are their 6-day Cuba Libre tour, or their 8-day Biking Cuba tour.
Cuba Travel For US Citizens
If you are a US citizen, you can easily travel to Cuba from US in 2023, but due to ongoing sanctions, there are a number of rules and regulations that apply to you that other nationalities do not need to adhere to. 
The most important one is that US citizens can not travel to Cuba as normal tourists, but need to choose one of the US pre-approved reasons for Cuba travel stated by the US government. This is just a formality, and most US travelers choose "to help the Cuban people". There is no paperwork or application connected to this, you just state your reason when asked before and during your journey. 
The other big one is that you need to comply with the US restricted list, which states that you can not stay in a Cuban governmentally owned hotel or casa particular. This is also not really a problem, as most casa particulares are particulares, meaning they are privately owned, and hence you can stay there. 
As most large hotels and resorts in Cuba are owned at least 51% by the Cuban government, many of these are out of bounds for US travelers. If you are unsure, consult the US Cuba restricted list, or contact a US travel agency specializing in Cuba travel. 
The third one is that you need to make sure you get the pink tourist card for your Cuba travel (not the green one), and the downside to that is that it is more expensive than the green one the rest of the world has to buy.
Money in Cuba
Money in Cuba in 2023 is the Cuban Peso, and if you have heard about something called CUC, that currency was abolished in 2021. Today the only Cuban currency is the peso, also referred to as moneda nacional. 
However, the peso has very little value, as it is not an internationally recognized currency, and is not found anywhere outside Cuba. 
The Cuban currency system is a bit complicated, but what you need to know is that for Cuban citizens and particulares (private enterprises) foreign currency is not only desired, it is absolutely necessary to acquire as many governmental shops in Cuba only accept foreign currency as a payment method (I know, incomprehensible). 
The bottom line is that when you visit Cuba, bring foreign currency in cash, preferably the amount you are planning to spend in Cuba (for the things you have booked online beforehand, you don't need to worry about currency). 
You will be able to pay with foreign currency in cash for taxis, in restaurants, in privately owned shops, and even some governmentally owned shops. 
Shops called MLC shops (Moneda Libremente Convertible) only accept payment by foreign credit cards (minus US credit cards due to sanctions), and not cash.  
Foreign currencies that you can use in Cuba in 2023 are mainly Euro, Canadian dollars, and US dollars. Be advised though, that formally the US dollar is illegal in Cuba. As the dollar still is in circulation on the black market, the Cuban government has implemented an "amnesty" for the dollar to be changed in the national banks which is why you can use it anyway.
Note; if you are an American citizen due to ongoing sanctions from the US you will not be able to use your US credit card in shops, or in ATMs in Cuba.
Internet And Online Safety In Cuba
It is a lot easier to go online in Cuba in 2023 than just a few years ago, but it is far from as convenient as in most other places in the world. 
Phone services, data usage, and wifi in Cuba are provided by one national provider in Cuba called Etecsa. Today you can go online in most large hotels and resorts, some casa particulares, and in public parks and plazas called wifi parks or hotspots, throughout Cuban cities and towns. 
To go online in Cuba, you need to buy a scratch card with a username and password in an Etacsa store (or from your host or sellers on the street), open and connect to the Etecsa wifi in a wifi hotspot, enter the username and password, and you are online. 
Outside the city centres, and in the countryside, there are fewer wifi hotspots than in Havana and the bigger cities and towns. 
If you are staying for a while, you can also go to an Etecsa office and buy a Cuban sim card for the duration of your stay. In that case, you will be able to connect to the national 4G net. Be aware though, that that will also be scarce outside the bigger cities, but you will nevertheless be a lot more connected!
Ongoing sanctions also affect life online when in Cuba, when you are connecting to the web from a Cuban server a lot of international services will block you because of this. 
To avoid this problem, it is smart to download a really good VPN service before you travel to Cuba, to avoid problems with accessing online services you normally use or need.
Health and Safety in Cuba
As with travel to all other countries abroad, it is vital that you get travel insurance before you leave for Cuba. Even for short trips, our go-to travel insurance provider is World Nomads, which is also recommended by Lonely Planet, HostelWorld, and other major travel companies.
You are required to have valid travel insurance when entering Cuba, which also covers medical expenses should you fall ill during your visit. There is no particular requirement for a coverage sum, so make sure you chose travel insurance that covers what you might need, including medical treatment costs, and consider repatriation coverage. 
There is no private health care in Cuba, everything is covered by the national health service. The quality of Cuba's medical services is stated by the Cuban government to be good, with a doctor available for every 170 residents (a ratio second only to Italy in the world). 
Be aware though, despite educated health personnel, in Cuba in 2023 pharmacies are mainly empty, and medicine is not available. It will not be possible to buy normal over-the-counter medicine that you normally or often use, like painkillers, vitamins, or ointments. So when traveling to Cuba, bring all the medicine you might need for the duration with you from home.  
That said, as a foreigner, you will be prioritized in the Cuban health care system as the country does not want a bad reputation with tourists. Havana and Varadero do have clinics, especially for foreigners where you will be taken care of, and many large hotels have medical personnel available. 
Once in Cuba, don't drink tap water, be careful with salads and fresh greens and fruits without peel, and make sure you wash everything thoroughly. Also, it is recommended to have things cooked "well done" to avoid any unpleasant surprises. 
Opinion varies on disease protection before visiting the island, with some recommending a full program of inoculations and, conversely, many travelers going with none.
In general, Hepatitis B and tetanus shots are recommended.
Is Cuba Safe?
Cuba is considered one of the safest travel destinations in the region, for many reasons. Crime against tourists in Cuba is very low, mainly due to a very strict legislation system concerning crimes against foreigners. Punishments for petty crimes can amount to years in prison in Cuba. 
Generally, you can feel very safe traveling in Cuba, even as a solo traveler. 
For female travelers, Cuba is also a very safe destination to travel. That said, as s female in Cuba, especially as a foreign female (extranjera) – you will receive A LOT of attention in the streets, bars, and clubs. This has to do with a mix of the Latin culture, and the fact that gender roles and modernization in that aspect kind of has not reached Cuba yet. 
Everyone, men, and women alike, view "street harassment" as compliments in Cuba, and if you are not used to that, you might find it a bit overwhelming. It is not dangerous, but it can be annoying, so just be prepared.
Entry Visa Requirements for Cuba
Visa requirements for Cuba can vary widely depending on your country of origin and can change over time. To avoid any unpleasant surprises, be sure to check the latest visa requirements while you're still planning your trip.
Most visitors need a tourist visa to enter Cuba, also called a tourist card. Buying a tourist card for Cuba is a formality in 2023,  you do not need to apply for one. You will be able to buy a Cuban tourist card from the Cuban embassy in your country, from selected airlines and airports, or from an online visa provider. 
This visa comes in two categories, the pink version for American citizens and travelers who have an American airport as their last stop before entering Cuba. The other one is the green tourist card version, which is the correct category for everyone else. 
The green tourist card normally costs around 35 dollars, while the pink one is around 100 dollars, and both are valid for 90 days. 
If you are staying longer than that, you can extend your tourist card once in one of the immigration offices in Cuba. To do this, you don't need an appointment, you just show up on the day your visa expires, stand in a (long) line, and it will be a formality to extend your tourist card for another 90 days. 
Also make sure you keep your tourist card for the duration of your stay, as you will be required to give it back to the passport control at the airport when you are leaving the country. 
Exempted countries are mainly those in the Caribbean and Africa, along with some parts of Central and Eastern Europe.
Before entering Cuba, make sure your passport is valid for at least 6 months after your departure date.  
If you are a journalist or looking to conduct business in Cuba, the visa application process is far more costly and equally as complicated.
Work Permits and Backpacker Jobs in Cuba
Due to the political situation in Cuba, it is close to impossible to find paid employment if you are a foreigner. 
Even if you should be able to get a job, it pays "nothing", and as a foreigner with no right to the food stamps that the Cuban government provides to the population you will not be able to provide for yourself on a Cuban salary which currently is around 30 dollars a month. 
However, should you want to try anyway, check with the Cuban Embassy in your country what your options are.
Volunteering in Cuba
Volunteer travel is a great way to explore Cuba on a budget while also giving back. Typically, you'll work on the project a set number of hours per week in exchange for free accommodation, and sometimes other perks such as free food, free bike rentals, and more. 
If volunteer work in Cuba sounds like something you want to do, it's best to do it via a reputable agency. An agency will help screen volunteer programs and hosts in Cuba to make sure you have support every step of the way.
Volunteer work in Cuba can be organized through the WorldPackers agency, and you can use promo code BACKPACKING10 to save $10 on your membership. WorldPackers can connect you with volunteering opportunities in Cuba with NGOs, hostels and homestays, agricultural or wildlife experiences, and more.
Cuba Hostels & Budget Accommodation
Both in Havana and throughout Cuba, you can find accommodation in absolutely all the price ranges, from 12 dollars a night in a shared hostel dorm room, to budget casa partiuclares, to 600 dollars a night in the fanciest hotels.  
Havana is a surprisingly expensive city to visit in general, regarding prices on food, accommodation, and activities – and hotels are no exception. 
You find really good and luxurious hotels scattered around Havana in 2023, both in the Old City, along the Malecon, in the Vedado, and in Miramar districts, and most of them are quite pricey. 
A better option for the backpacker who wants to get a fuller experience of living in Cuba is the casa particulares. Private houses offering lodging services to foreigners, are markedly cheaper than hotels and often with superior food (at least breakfast, for a fee) to add to the bargain. 
Not least is staying with a Cuban family a lot more fun and interesting, you can learn more about Cuban culture, perfect some Spanish phrases, and find out more about what it is like living in Cuba today.
If you also ask your hosts for tips for restaurants and eating out, they might direct you (if you ask specifically) to a typical place where Cubans go to buy food, often take-away, for 3-4 dollars a meal! 
This is normally chicken or pork with rice (arroz morro; black rice, if you want to go local), and is often very tasty!
We have had good experiences finding hostels in Cuba on HostelWorld. They have the largest inventory of hostels worldwide, and with over 10 million reviews and ratings from other travellers, you know exactly what to expect.
Another good way to find accommodation in Cuba is by checking booking.com. You'll find hotels, homestays, hostels, and other unique accommodations. They have the most reviews and advanced filtering of any accommodation-booking site, so you'll be sure to find a great place in your budget. Many of the places on booking.com also offer free cancellation, which takes the pressure off the planning phase of your trip to Cuba.
If you are backpacking with another travel companion, we highly recommend booking a rental via VRBO. With a vacation rental in Cuba, you'll have more space, your own kitchen, and you'll get a better feel for how the locals live. Plus, the cost of a vacation rental can be split among your group, oftentimes making it cheaper than doing individual hotel rooms. 
If you're looking to save even more money while backpacking in Cuba, there are plenty of creative ways to get free accommodation in exchange for work. For example, one of our favorite ways to stay in amazing locations for free is by signing up as a petsitter with Trusted Housesitters. The site connects responsible animal lovers with petsitting opportunities in Cuba and all over the world. It's a win-win for both sides – travellers can stay in amazing locations for free, and homeowners can rest easy knowing that someone is watching over their place.
And lastly, CouchSurfing is a great community that connects travellers with local hosts in Cuba. You can stay for free with verified hosts, who will usually take some time to show you around the local spots.
Wrap-Up Backpacking In Cuba 2023
Hopefully this extensive guide on how to travel to Cuba, in Cuba, how to prepare, and how to make sure you get the absolutely best experiences (and avoid the bad ones) will help you plan the most amazing backpacking holiday of your life. 
Cuba is not the easiest nor the most mainstream destination for any travelet, but if you are curious, adventurous, and love to learn about new cultures and expand your horizon (and don't mind adapting to the weird situations that you might meet traveling) – Cuba definitely is for you! 
Helpful Links for Backpacking in Cuba
---
There you have it, the ultimate Cuba backpacking guide. We hope you have found all the information you need for backpacking around Cuba.
Next up:
Liked this article? Share it with others who might be after the same information!