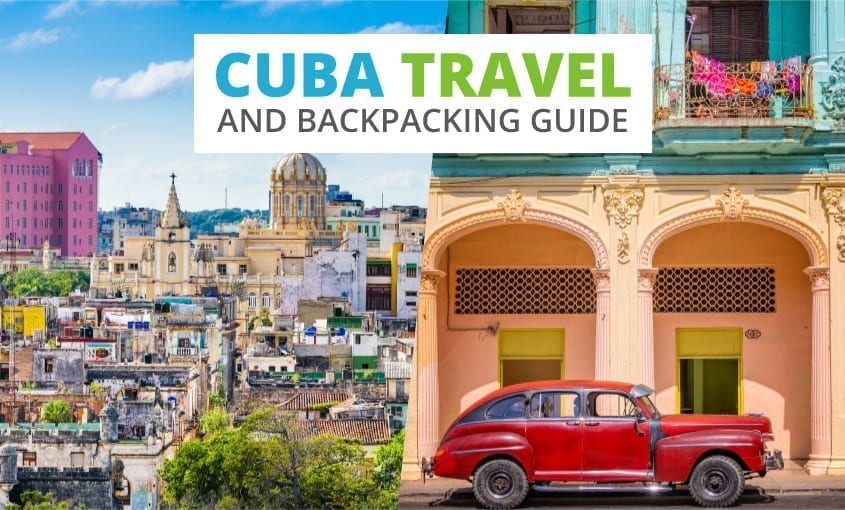 Backpacking Cuba
Looking for important travel information while backpacking in Cuba? Here you will find information on working in Cuba, Cuban entry visas, Cuba hostels, and much more.
Table of Contents
Facts About Cuba
Although typically considered as a single territory, the Republic of Cuba is an archipelago of islands, consisting of the island of Cuba (which is part of the Greater Antilles), the Isle of Youth and other smaller islands. Located in the Northern Caribbean, it is connected to the Caribbean Sea, the Gulf of Mexico and the Atlantic Ocean.
The most populous country in the region, Cuba also enjoys one of the most diverse cultures thanks to its rich history. The earliest inhabitants were the Guanajatabey people, who were later supplanted by the Taino and Ciboney peoples (commonly known as the Arawak).
However, the recorded history of Cuba only begins with Christopher Columbus, who claimed the island for Spain on October 28th 1492. In the face of concerted resistance from the Taino peoples, this arrangement was only consolidated by 1514 with the establishment of the first Spanish settlement, which would later become Havana.
Aided by a huge influx of African slaves, the island prospered as an exporter of sugar, tobacco and coffee, staying in Spanish hands for 388 years until the pro-independence movement was galvanised by Jose Marti in the 1890s, climaxing with the Spanish-American War and formal independence in 1902.
The modern history and culture of Cuba has been shaped in large part by fractious relations with their former liberators, courtesy of Fidel Castro's Communist regime, in power since the Cuban Revolution of 1959. That said, since the collapse of the Soviet Union, attitudes have changed marginally, with palpable benefits for tourism, making it an extremely popular place to visit.
Population – 11,382,820 (2006 estimate)
Language – Spanish
Tel Services – Country Code
Currency – Peso
Time – GMT -5
Climate in Cuba and the best time to go
Cuba has a semi-tropical climate due to its proximity to the Tropic of Cancer. Temperatures can be very high, but trade winds generally take the edge off. The best time to travel to Cuba is during the dry season, which is typically between November and April.
May and June are the wettest months. It is worth remembering that Cuba has historically suffered from hurricanes, from the Great Havana Hurricane of 1846 to modern natural disasters like Hurricane Allen in 1980 and Hurricane Wilma in 2005. With that in mind, be wary of travelling between August and October.
Things to do in Cuba
Cuba is famous for many of its exports, for example Cuban Cigars, rum and coffee. But when going to Cuba itself, you are in store for vibrant cities, beautiful beaches, and a distinctive culture. There is no shortage of amazing things to do in Cuba.
Havana
Cuba enjoys 2 million visitors annually, largely due to the capital city of Havana. A major attraction is El Capitolio Nacional, completed in 1929 it was the former seat of the pre-revolutionary government and is now the Cuban Academy of Sciences and stands in beautiful neo-classical style.
Even more imposing is the incredible Christ of Havana, recalling the Christ the Redeemer statue in Rio de Janeiro and looking over the city from the other side of the bay. Also worth a visit are the 16th century Castillo del Morro, the 18th century La Cabana fortress and the 760 hectare Lenin Park. On the culture front, make time for the Museum of the Revolution in the old Presidential Palace, the National Aquarium and the Casa de Las Americas museum.
It needn't all be sightseeing either, as you'll find a number of beaches approximately half an hour outside the city. The most popular of these are Bacuranao, Tarare and Guanabo. When the sun sets though, head back to Old Havana for restaurants or Vedado for the best clubs in the capital.
Santiago de Cuba
It's not all about Havana though. Santiago de Cuba is a thriving city, with the Carnaval of Santiago de Cuba in June and July a national event, dating back to the 17th century and encompassing dancing, music and plenty of drinking.
Cienfuegos
Alternatively, the historic centre of Cienfuegos on the southern coast is a UNESCO World Heritage site thanks to its collection of 19th century neo-classical buildings like the unique Arco de Triunfo. The Vinales Valley is another popular tourist destination, being a great spot for hiking and rock climbing, despite its official use for growing tobacco and other crops. If you're interested in the communist heritage of the country though, you'd be well advised to pop over to Santa Clara, where you'll find a Mausoleum for fallen revolutionaries, including Che Guevara.
Isla de la Juventud
Just to prove it's not all about the main island though, you can easily take a boat to the Isla de la Juventud from Batabano for approximately 50 pesos per person and check out the pleasant Playa Paraiso.
Unique Activities in Cuba
Another good way to get an idea of things to do in Cuba is to scan the activities offered by Get Your Guide or Viator. They work directly with local tour operators in Cuba, so you won't have to scour the internet or roam around town trying to find the best deal.
How to Travel Around Cuba
Jose Marti International Airport is the main international and domestic airport in Cuba, situated a short distance from central Havana with Cubana de Aviacion operating a service to and from London-Gatwick. However, there is no bus service from the airport.
Another option is Juan Gualberto Gomez International Airport in Varadero, where Monarch Airlines and Thomsonfly operate to and from London-Gatwick, and MyTravel travel from London-Gatwick and Manchester.
If you're flying to Cuba or plan to take short flights within the country, we recommend using a few different flight comparison search engines. Kiwi is a new favourite among travellers. On average, we have found the cheapest flights to Cuba with them compared to the other websites out there.
Of course, it is always worth checking Skyscanner to guarantee you're getting the best deal. Both websites offer great flexible search options, allowing you to search the whole country of Cuba to find the cheapest airport to fly into, and also see prices for a full month if you're flexible on travel dates.
Train travel in Cuba
Once you arrive in Cuba, there is a fairly decent railway network revolving around the three main stations of Casablanca, La Coubre and Central Rail Station. The Havana to Santiago route is a good option for tourists. Alternatively, you can opt for buses to get from city to city within Cuba. Viazul and ASTRO Bus provide this good budget service, mainly from Havana.
Backpacking Tours in Cuba
Though part of the fun of backpacking Cuba is exploring on your own, there are situations, especially when venturing off the tourist trail, when it does make sense to go with a guide or a small group. For these times, a popular option among backpackers is G Adventures. They hand-select local guides to ensure authenticity and quality. This is especially a good option for those travelling alone in Cuba who would like to meet up with like-minded travellers. Their most popular trips in Cuba are their 6-day Cuba Libre tour, or their 8-day Biking Cuba tour.
Health and Safety in Cuba
As with travel to all other countries abroad, it is vital that you get travel insurance before you travel to Cuba. There is no private health care in Cuba, everything is covered by the national health service. The quality of Cuba's medical services is surprisingly decent, with a doctor available for every 170 residents (a ratio second only to Italy in the world). That said, as a foreigner, expect problems getting immediate treatment should you fall ill, although Havana does have a clinic especially for foreigners.
Once in Cuba, watch out for the tap water, and be wary of the milk and eggs, which can be unpasteurised. Opinion varies on disease protection before visiting the island, with some recommending a full program of inoculations and, conversely, many travellers going with none. In general, Hepatitis B and tetanus shots are recommended.
Entry Visa Requirements for Cuba
A tourist visa card for Cuba is necessary for most visitors, costing ₱15 and valid for 30 days. Once this expires, you can buy another from any Cuban immigration office, but any further extensions require a very good reason. Exempted countries are mainly those in the Caribbean and Africa, along with some parts of Central and Eastern Europe.
A pre-requisite for the visa card for Cuba is a passport valid for at least 6 months after your departure date from Cuba. To get the Cuba visa card, either go to your nearest Cuban Embassy or get the authorisation direct from your travel agent.
When you reach Cuba, you will be expected to state your lodgings for the first three days of the visit. Moreover, when you leave the country, there is a compulsory Departure Tax of $25 CUC. If you are a journalist or looking to conduct business in Cuba, the visa application process is far more costly and equally as complicated.
Work Permits and Backpacker Jobs in Cuba
Due to the political situation in Cuba, it is bordering on the impossible to find paid employment if you are a foreigner. However, should you want to pursue the matter, check with your Cuban Embassy.
Opportunities for volunteer positions in Cuba are available in the community, in education or for the environment. One notable organisation is the Cuba Solidarity Campaign, which commissions International Work Brigades in a number of areas in the country.
Cuba Hostels & Budget Accommodation
Havana is a surprisingly expensive city to visit in general, and hotels are no exception. The best hotels in Havana are by and large located in the Vedado area and, for a top hotel, you can expect to pay upwards of ₱70 per night.
However, there are budget options between ₱15 and ₱25 a night, such as the Hotel Caribbean in the Prado promenade and the Hotel Tropicoco. As a whole, Old Havana is an excellent district to try if you want a well-priced hotel, but be prepared to compromise on quality.
A better option for the backpacker who wants to get a fuller experience of living in Cuba are the casas particulares. Private houses offering lodging services to foreigners, they are markedly cheaper than hotels and with superior food to add to the bargain. Even in Havana, you can expect to pay just ₱10-₱20 per night. However, be sure to book in advance and don't be afraid to look beyond Havana for better prices.
We have had good experiences finding hostels in Cuba on HostelWorld. They have the largest inventory of hostels worldwide, and with over 10 million reviews and ratings from other travellers, you know exactly what to expect.
Another good way to find accommodation in Cuba is by checking hotels.com and  booking.com. With both sites, you'll not only find hotels in Cuba, but also homestays, hostels, and other unique accommodation. We have discovered some great finds and have appreciated the ability to book ahead.
You can use their advanced filtering to narrow your results by budget, location score, overall review score, and amenities. Many of the places on booking.com also offer free cancellation, which takes the pressure off the planning phase of your trip to Cuba.
Helpful Links for Backpacking in Cuba
---
There you have it, the ultimate Cuba backpacking guide. We hope you have found all the information you need for backpacking around Cuba.
Next up:
Liked this article? Share it with others who might be after the same information!