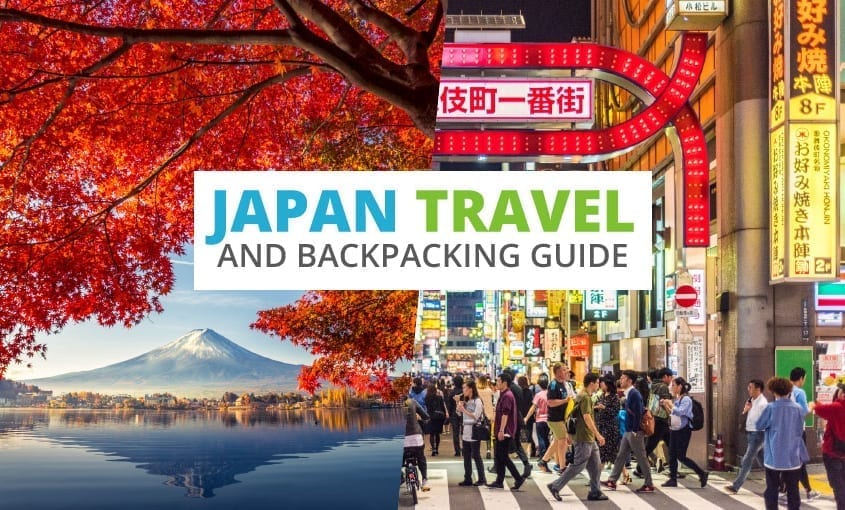 Backpacking Japan
Looking for important travel information while backpacking in Japan? Here you will find information on working in Japan, entry visas, Japan hostels, and much more.
Table of Contents
Facts About Japan
Japan is known equally as a hard-working, hi-tech country obsessed with miniaturising everything and as a land of ancient temples, martial arts and origami. Whichever definition appeals to you more, you will find plenty to satisfy you, from the bustling neon capital of Tokyo to the ancient temples and shrines of Kyoto.
All set against spectacular natural scenery such as Mount Fiji and bubbling volcanic hot springs. On top of all this, the Japanese people are famous for being friendly and gracious hosts, especially to tourists who can expect a warm welcome to one of the most interesting countries in the Far-east.
Currency: Japanese Yen. (¥)
Time Zone: GMT + 9
Language: Japanese
Telephone Services: Country code +81, International access code 001
Emergency Numbers: Tokyo English Life Line 3403 7106, Japan Helpline 0120 461 997
Climate in Japan and the best time to visit
When deciding the best time to visit Japan, weather plays a large role. In general, Japan benefits from a temperate climate with cool sunny winters and very hot summers. The most pleasant time to visit is the milder Autumn and Spring seasons.
Rain can fall throughout the year but is not generally too heavy. Typhoons can occur during September or October but generally don't last for longer than a day. Okinawa has a sub-tropical climate and Hokkaido boasts a climate similar to that of Washington with Siberian blasts blowing in during the winter providing great skiing spots.
Winter can get very cold with temperatures as low as 2 degrees C and in the North, temperatures can drop to below freezing.
Things to do in Japan
When deciding the best things to do in Japan, there is an abundance of options. Here are the top bucket-list items when backpacking Japan.
Tokyo
Unlike most cities, Tokyo is not a city littered with interesting or ancient architecture. Having been almost completely rebuilt after the heavy damage sustained during the Second World War the skyline is dominated by modern hi-rise skyscrapers.
While in the suburbs some tradition clings on by its fingertips, certainly central Tokyo can be described as nothing short of a modern metropolis. Most visitors spend a lot of there time in the Ginza shopping district which contains boutiques, shops and galleries of all kinds.
Its fashionable status does make Ginza somewhat expensive so unless you want to blow your whole trip's budget in one day it is best to take it easy here. Some of Japans finest museums and galleries are located around the Ueno-Koen park including the Tokyo National Museum and the National Science Museum.
Kyoto
After experiencing the new Japan in Tokyo there is no better place to discover a taste of old Japan than Kyoto. The city boasts literally hundreds of temples, shrines and gardens and was even the nations capital for over a thousand years.
Although even here, modern buildings have started to encroach on the tiled roves and pebbled gardens of the temples there is still plenty left to see. There are a number of superb temples including the Kinkaku-ji temple and the Sanjunsangen temple which houses 1001 statues of Kannon the Buddhist goddess of mercy. Also worth a look is the Imperial Palace in central Kyoto and the Himeji-jo Castle located just outside the city itself.
Nagasaki
Those with a penchant for modern history often visit Nagasaki, the city decimated by the second nuclear bomb dropped on Japan during Worl War Two. The city has now been rebuilt as a prosperous example of Japanese urban life but its grisly past is recorded in the A-bomb museum situated at Urakami, the centre of the explosion. Also of interest in the city is the Fukusai-ji Zen Temple, Glover Garden and the Hypocentre Park which has a monument to mark the exact centre of the blast which decimated Nagaski.
Unique Activities in Japan
Since popular places in Japan can get crowded during tourist season, it is wise to reserve tickets and activities ahead of time. GetYourGuide sells entrance tickets to museums and landmarks at face value so you can avoid the lines and save that precious time for more exploring.
Viator is another popular travel website that helps you book things to do in Japan. They work directly with local tour operators in Japan, so you won't have to scour the internet or roam around town trying to find the best deal.
If you know your schedule ahead of time, a great insider tip is to buy tickets for major tourist attractions ahead of time. Tiqets has entrance tickets and skip-the-line passes for major attractions in Japan, which can be a worthwhile cost during peak tourist season.
How to Find Cheap Flights to Japan
In order to find the best flights to Japan we recommend using a few well-known flight comparison search engines. These websites offer powerful search options, like entering flexible dates and airports in order to find the cheapest flight to Japan.
Our go-to flight search engine is Skyscanner, which we love for its extremely flexible search options. Our favourite way to get travel inspiration is their "Everywhere" feature. Simply enter "Everywhere" as a destination, and it will then list all available flights from your departure city in order of price. This also works when entering the entire country of Japan as your destination. Skyscanner will search all possible airports in the country in order to find the cheapest option.
Kiwi is another new favourite flight search engine among savvy travelers. Kiwi works by combining flights from different carriers in order to get the best deal. Also, if there is a better ground or ferry option for the route you're searching, Kiwi will include that in the search results. On average, we have found the cheapest flights to Japan with them compared to the other websites out there.
How to Travel Around Japan on a Budget
Train and long-distance bus are the standard modes of transport for how to travel in Japan on a budget. Buses are the more economical option, nevertheless, they are well-equipped with the usual modern conveniences that expect when travelling in Europe. Train travel, on the other hand, is the fastest way between cities in Japan, and the train stations are conveniently located right in the center of town.
When travelling in the mainland of Japan, it is dubious if the distances warrant air travel, however, when travelling throughout the Islands it does become a viable possibility. Several airlines offer domestic flights throughout Japan and its islands including Japan Airlines and All Nippon Airlines.
Train travel in Japan
Japan Railways Group is the rail operator throughout Japan. The service is one of the best in the world with some of the most hi-tech trains in existence. Many travellers will be familiar with the famous "bullet trains" which reach speeds in excess of 300km/h, which serve the busiest lines on the Japanese network with some routes offering as many as six trains per hour.
Other lines run limited express, express or local services, generally each type of train carries a different supplement with a further supplement being charged for travel in the first class "green" cars, seats on which must usually be reserved in advance. Tickets can be bought from stations, most commonly from automated vending machines. For some short distance, local trains, this is the only way to obtain a ticket.
A Japan Rail Pass is available, which is usually purchased through Japan Rail or a tour operator. This pass allows unlimited travel on Japan Rail trains, buses and ferries. Passes start from around $220 for a 7-day pass and are without a doubt one of the most economical ways to get around in Japan.
Or there are also Japan Regional Passes if your travels will be concentrated in a smaller region.
Bus travel in Japan
Bus travel is highly developed in Japan, but in most cities has been superseded by the underground metro system for local travel, similarly, the rail network has mostly replaced the inter-city bus network. Services do still exist in appreciable numbers but the fare system is confusing and almost always highly automated so for most travellers it is wisest to just stick to the train.
Taxis in Japan
Taxis are plentiful but they can be very expensive, especially at night but if you are travelling in a group and can share the cost they could be a good transport option.
Renting a Car in Japan
You may also want the flexibility to stop in smaller towns between the major cities. If you decide you want to rent a car in Japan, you can use DiscoverCars to compare offers from the major car rental agencies in the region.
Backpacking Group Tours in Japan
Though part of the fun of backpacking Japan is exploring on your own, there are situations, especially when venturing off the tourist trail, when it does make sense to go with a guide or a small group. 
The most popular option for social travel in Japan is Contiki tours. Contiki trips offer more than just transportation, they are organized social group travel for travelers aged 18-35. Whether you're traveling by yourself or going with a group of friends, Contiki tours are perfect for people looking to have a blast, meet new friends, and form lifelong memories. They offer tours that travel primarily in Japan or longer tours that cover other nearby places.
G Adventures is another great option for organized travel, but with a smaller group. It's a great choice for anyone backpacking Japan alone who would like to meet up with like-minded travellers. It's also a practical option for exploring places where you need an experienced guide, like a long hiking adventure or visiting a place well off the beaten path. You can choose from different styles of small group tours like active, wellness, hiking trips, 18-30somethings, and more. Their most popular trips in Japan are their 6-day Japan on a Shoestring Tokyo to Kyoto tour, or their 11-day Epic Japan tour which is a great introduction to the country.
Health and Safety in Japan
The provision of healthcare in Japan is excellent, easily on par with the standards of the US or western Europe. The International Association for Medical Assistance to Travellers will provide English speaking doctors where appropriate and all western medications are widely available. Treatment costs can be extremely high in Japan so it is vital that you get travel insurance. Even for short trips, our go-to travel insurance provider is World Nomads, which is also recommended by Lonely Planet, HostelWorld, and other major travel companies.
There are no special precautions or vaccination recommended before visiting Japan, food and drink are considered safe and normal everyday precautions should be observed when buying food from street traders.
Entry Visa Requirements for Japan
A valid passport and a return ticket are required by all visitors to Japan. Visas are not required by US or EU nationals for a stay of up to three months. Further visas and visas for other nationalities are issued at the local Japanese Embassy or Consulate and their exact validity and price varies widely with nationality.
Visa requirements for Japan can vary widely depending on your country of origin and can change over time. To avoid any unpleasant surprises, be sure to check the latest visa requirements while you're still planning your trip.
Foreigner Work Permits and Backpacker Jobs in Japan
EU nationals are permitted to enter and stay in Japan for up to six months without needing a Visa. Initially, you are only allowed to stay for three months but after this time can contact the Immigration Department in Japan to apply for a three-month extension. If you intend to work in Japan you will need a work Visa for which a sponsor, for example, your employer, is needed. Before obtaining a work permit you will need to find a job.
Teaching English in Japan
Although the demand for English teachers is not as high as it used to be there are still opportunities for this type of work, mainly in cities such as Tokyo and Osaka. Vacancies are usually competitive so any experience and TEFL qualifications will always be to your advantage. English teachers are also typically required to have a degree, so employment in this field is not so easy to gain access to for pre-university gap year students.
Farm Work in Japan
WWOOF (World Wide Opportunities on Organic Farms) helps links volunteers with organic farmers in Japan. The organization has been around since the 70s and has long been a favourite of backpackers who want to experience a place for an extended period of time, while also being a part of the sustainable global community. Host farms offer room and board in exchange for help with daily tasks around the farm.
Volunteering in Japan
GAP Activity Projects in Japan
GAP arranges placements specifically designed for gap year students. One project in Japan focuses on care work in Cheshire Homes for the elderly, disabled, and people with Cerebral Palsy. Volunteers can also work in the Kobokan Community Care Centre in Tokyo where work is centred around the resident children, playing with them and accompanying them on camping activities.
Further work is available in hospitals on medical projects, for example, on the island of Tokunoshima you can work in a hospital or teaching in a school. Further teaching opportunities are available at a High School in Osaka. Accommodation is usually provided by GAP, this can vary depending on the placement but volunteers often live with host families or other volunteers and workers in houses or hostels near their place of work.
Involvement Volunteers Association Inc. (IVI)
IVI runs various volunteer projects in Japan including on farms, in youth hostels, and in schools. Volunteers can work on a farm in Kyushu where they will help with farm work and looking after the children. Workers are needed in youth hostels to help the running of the kitchen, reception etc. and are provided with food and accommodation.
Youth hostel vacancies are available in Hirosaki, Hamasaka, and Abashiri where volunteers must speak Japanese. Alternatively, IVI have placements in a private nursery school and primary school in Osaka where volunteers assist with caring and educating the children. Again, food and accommodation are provided.
Project Trust
The Project Trust currently has two placements available to volunteers. The first is in Junten High School in Tokyo where volunteers work as assistants in English conversation classes. Furthermore, volunteers teach English to local workers, take Japanese lessons, and learn sign language.
Accommodation is provided in the community of Oji where the school is located. The second post is on the Toya Board of Education in Hokkaido. Work includes helping at local schools and with adult classes as well as assisting with work in a nearby hospital. The work here places volunteers right into the community and accommodation is again provided.
Japan Hostels & Budget Accommodation
Hotels in Japan are sub-divided between Western and Japanese style hotels. While the Western-style hotels are much the same as those found in Western Europe the Japanese style ones are a unique experience.
On arrival, guests are given kimonos and rooms are decked out in traditional Japanese style complete with paper sliding doors and Japanese bathtubs. These Japanese style hotels are known as ryokan.
We have had good experiences finding hostels in Japan on HostelWorld. They have the largest inventory of hostels worldwide, and with over 10 million reviews and ratings from other travellers, you know exactly what to expect.
Another good way to find accommodation in Japan is by checking booking.com. You'll find hotels, homestays, hostels, and other unique accommodations. They have the most reviews and advanced filtering of any accommodation-booking site, so you'll be sure to find a great place in your budget. Many of the places on booking.com also offer free cancellation, which takes the pressure off the planning phase of your trip to Japan.
If you are backpacking with another travel companion, we highly recommend booking a rental via VRBO. With a vacation rental in Japan, you'll have more space, your own kitchen, and you'll get a better feel for how the locals live. Plus, the cost of a vacation rental can be split among your group, oftentimes making it cheaper than doing individual hotel rooms. 
If you're looking to save even more money while backpacking in Japan, there are plenty of creative ways to get free accommodation in exchange for work. For example, one of our favorite ways to stay in amazing locations for free is by signing up as a petsitter with Trusted Housesitters. The site connects responsible animal lovers with petsitting opportunities in Japan and all over the world. It's a win-win for both sides – travellers can stay in amazing locations for free, and homeowners can rest easy knowing that someone is watching over their place.
And lastly, CouchSurfing is a great community that connects travellers with local hosts in Japan. You can stay for free with verified hosts, who will usually take some time to show you around the local spots.
Useful Links for Backpacking in Japan
---
There you have it, the ultimate Japan backpacking guide. We hope you have found all the information you need for backpacking around Japan.
Next up:
Liked this article? Share it with others who might be after the same information!