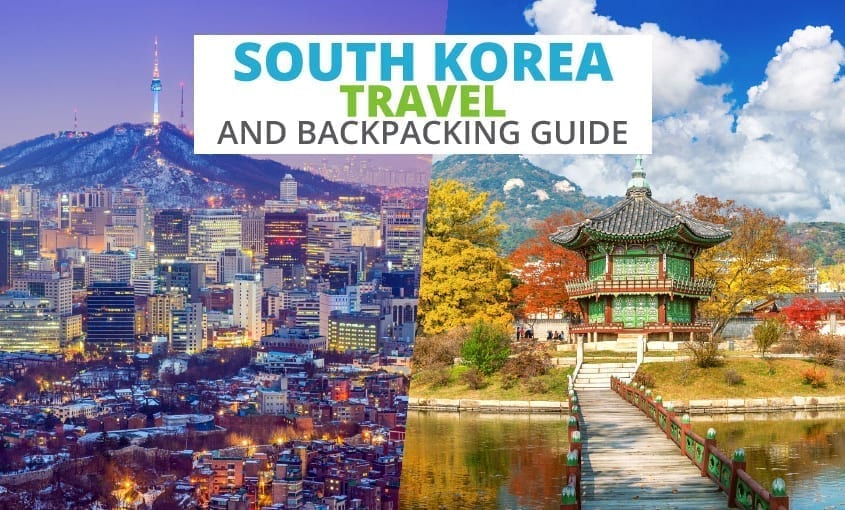 Backpacking South Korea
Looking for important travel information while backpacking around South Korea? Here you will find information on working in South Korea, entry visas, South Korea hostels, and much more.
Table of Contents

Facts About South Korea
(Republic of Korea)
South Korea's rapid expansion as one of the world's tiger economies has seen it become increasingly westernised. This has brought with it numerous improvements in infrastructure as well as a huge increase in facilities for travellers. The good news is that this hasn't displaced the traditional Korean culture completely and the country at the moment in many ways offers the best of both worlds. While in major cities you will find plenty of shops, bars and clubs you will also find alleys where traditional markets hold full sway and the bustle of a typical Asian city hasn't yet given way completely to the orderly queues and multi-national chains of the western world.
Currency: Won (SKW)
Time Zone: GMT + 9
Language: Korean
Telephone Services: Country code +82, International access code 001
Emergency Numbers: 112 Police, Fire and emergency 119
Climate
Like North Korea and unlike many of its Asian neighbours South Korea has four distinct seasons, the hot summer months also contain the monsoon season which is generally in July and August, the winter runs from December to mid-February. The most pleasant time to visit is in the Spring and Autumn which are mild and fairly dry.
Things to see and do
The nations capital is the city of Seoul which offers the sort of pleasant mix of east and west that South Korea is famous for. As well as ample accommodation of all standards ranging from cheap budget hotels to luxury international hotels, the city also offers plenty of clubs, bars, restaurants and of course shopping. Taking some time to explore you will also find vestiges of the countries oriental past. Soel's most famous attractions are undoubtedly its palaces, the Gyeongbokgung Palace is the most well known and have been exquisitely restored following destruction during the Japanese invasion. The highlight of this exquisite palace is the decadent two-storey throne room which was a seat of power for the Joseon dynasty. A somewhat lesser known site is the summer Changgyeonggung Palace which is just a short bridge crossing away from the famous Jongmyo Shrine which contains the 27 encestral tablets of the Joseon dynasty kings. Also well worth a look is the Seoul Tower which is the third tallest tower in the world, the nationally prized Namdaemun gate and the War Memorial.
Next in line on most tourists list, after Soel, is the town of Gyeongju. This town was the capital of the country for some 100 years before Soel displaced it and is now the site of numerous ancient ruins. The key sight here is the Bulguska which is a splendid temple constructed on a stone terrace just outside the town. This temple is world renowned as one of the finest examples of Asian art and within its walls you will find plenty of Buddhist artwork and relics. The other main attraction is Tumuli Park, which is a walled off enclosure containing the tombs of 20 Korean rulers. Just a stones throw away is the Cheomseongdae which is one of Asia's oldest known observatories.
For those who like a taste of the outdoors, South Korea offers two excellent national parks. The most popular is the Seoraksan Park which boasts an extraordinary selection of scenery ranging from waterfalls, rivers and beaches to rocky foothills and lush forests. Some of the most popular areas are the Osaek Hot Springs which is where most of the accommodation is and the Daecheonbong mountain. Those looking for a more secluded experience and prepared for plenty of good hiking trails might prefer to head for the Songnisan National Park which also boasts the excellent temple of Beopjusa, as well as an enormous pagoda visitors can see a 33m high solid bronze standing Buddha statue which is the largest of its type in the world.
Travel
The best way to get around in South Korea, where available, is the rail network. Operated by Korail the network is fast and efficient and also very affordable. There are four classes of train ranging from the high-speed saemaeul to the sedate bidulgi and kkachi classes which lack air conditioning and have more uncomfortable seats. There is a KR rail pass which is available and allows unlimited travel for between 3 and 10 days but these can only currently be purchased from Japan or America.
Local and inter-city buses are safe, fast and incredibly cheap and also make a very good way to travel. You may find that there is little provision for English speakers on the buses but hotel staff will generally be happy to help you select the correct bus. Buses are run by a variety of local companies and in general travel on local buses requires payment to the driver. For inter-city buses you will most often have to get a seat reservation which are only valid on one bus, if you miss it you will have to buy another ticket.
Accommodation
South Korea boasts plenty of modern tourist hotels and all of these are registered with the state. Most hotels offer air conditioning, heating, private baths as well as bars, restaurants and other shops. The Korea National Tourist Organisationmaintains a list of all tourist hotels in the country.
One of the more unique ways to stay in South Korea is in the inns or Yogwans. These traditional inns are famous for providing a unique and traditional Korean experience. Prices are usually very cheap and you will be given a mattress and pillow and will be expected to sleep on the ondol, which is a traditional heated floor system. The Korea National Tourist Organisation can provide a list of Yogwans throughout the country.
There are also over 50 youth hostels in the country which provide dormitory style accommodation. These are mainly centred around the tourist areas and a full list can be obtained from The Korean Youth Hostels Association.
The other option when staying in South Korea is the home-stay and temple-stay programs. As their names suggest the home-stay program allows you to live with a Korean host family and the temple-stay program allows you to stay in various temples and allows you to see the day to day rituals first hand. The Korea National Tourism Organisation can provide details of the home-stay program and templestaykorea.net offers further information on the temple-stay programme.
Health
The health service in South Korea is adequate especially in tourist areas but not up to the standard on Western Europe. Hospital staff rarely speak English and payment will almost exclusively be required up front. It is recommended that comprehensive travel insurance is arranged before travelling to South Korea.
There isn't any known risk of polio, typhoid and cholera in South Korea and vaccinations against these are not required. There is a slight malaria risk but it exists only in the benign vivax form.
Water is heavily chlorinated and whilst safe may cause mild stomach upsets on first exposure. Bottled water is widely available and should be used for the first week or so of your stay until you can become adjusted to the environment. Milk is not pasteurised so it is safest to boil milk before use and avoid dairy products. Meat should be eaten well cooked and hot, vegetables should be cooked and fruits peeled before consumption. Normal precautions should be observed when buying food from street vendors.
Useful Links
templestaykorea.net offers information on the temple-stay programme.
<pThe Korea National Tourism Organisation>can provide general tourist information, including various forms of accommodation.</p
Korea Hotel Reservation Centre Book hotels in Korea online
The Korean Youth Hostels Association has information on over 50 hostels throughout South Korea
Korail operates the rail network (site in Korean)
Entry Visas for South Korea
All visitors require a valid passport and a return ticket for entry to South Korea. EU and USA nationals require a tourist visa which is valid for between 30 and 180 days depending on the exact nationality. British nationals can apply for up to 90 day tourist visas. Applications should be made to the nearest Republic of Korea embassy.
Addresses
Visa and immigration enquiries should be made to the Republic of Korea Embassy:
Embassy of the Republic of Korea 
60 Buckingham Gate 
London 
SW1 6AJ 
Tel: (020) 7 227 5500 
Fax: (020) 7 277 5503

If you require British representation whilst abroad you should contact the British Embassy:
British Embassy 
4 Chung-dong 
Chung-ku 
Seoul 100-120 
Tel: +[82] (2) 3210 5500 
email: bembassy@britain.or.kr 

The Korean National Tourist Corporation can provide tourist information and advice:
Korean National Tourism Corporation 
20 St George Street 
London 
W1R 9RD 
Tel: (0171) 409 2100 
Fax: (0171) 491 2302.
Foreigner Work Permits in South Korea
It is relatively difficult to find well-paid jobs in South Korea and in fact teaching is the only profession that you are likely to find any opportunities for employment in. Many people travelling to South Korea on gap years do so having already saved enough finances, from work in the UK or Europe for example, and so volunteer work is popular in this part of the world.
Teaching English
Most opportunities for paid teaching jobs in South Korea can probably be found by asking in schools and institutes (hogwons) in Seoul, and also by checking for vacancies in daily newspapers such as the Korea Times. If you want to arrange work before you set off on your travels, try the English Program in Korea's website. University graduates can find placements with the English Program, teaching English as a foreign language, earning between 1,200,000 and 1,600,000 won per month. It is sometimes advantageous to train for a TEFL qualification before leaving the UK, particularly if you intend to teach English in other foreign countries as well, see the TEFL website for more details.
Volunteering
Many volunteer organisations arrange placements in the Middle East. Most projects involve teaching English and helping with the development of communities.
Concordia
Volunteers work in groups with children and communities in a number of countries throughout the world. Projects last for up to three weeks, in the summer months. All volunteers are supplied with food and accommodation and are required to pay a fee of ₩75 to register with Concordia.
Youth Action for Peace
Volunteers are sent on work camps to help with community projects, which can involve teaching English to children, or practical building and restoration programmes. Volunteers are also given language tuition, and provided with food and accommodation. Projects last between one and four weeks between June and September.
i-to-i
This organisation runs various projects throughout the Middle East, mainly focusing its attention on the teaching of English. Work with i-to-i in Korea is paid. Workers are employed in schools in Korea for thirty hours each week and can earn between ₩800 and ₩1000 per month, and are expected to work for twelve months. Applicants must be degree holders and pay their own insurance. Accommodation is provided by i-to-i, who also gives TEFL training.
Project Trust
More teaching opportunities are available in South Korea with the Project Trust. The focus of teaching is in Hyundai Middle School and Daewoo Middle School. Volunteers teach English as well as helping with extracurricular drama and sports activities. Accommodation is provided by the Trust. Volunteers must be aged between 17 and 19 and a half years old and are expected to raise ₩3850 themselves to fund their project, this includes all expenses for living costs, travel, donations etc.
Useful Links
Epik.knue.ac.kr for details of the English Program in Korea
How to Say Common Korean Phrases
Meeting People
English

Korean

yes

ne

no

a-nim-ni-da, a-ni-yo

thank you

kam-sa-ham-ni-da

you are welcome

chon-man-e mal-sum-im-ni-da

please

pu-di, che-bal

excuse me

che-song-ham-ni-da

hello

an-nyong ha-se-yo

goodbye

an-nyong-hi ka-ship-sio

Good morning

an-nyong ha-shim-ni-ka

Good night

an-nyong-hi chu-mu-ship-sio

I do not understand

chal mo-ru-ge-sum-ni-da

Do you speak?

rul mal-ha-shim-ni-ka?

English

yong-o

What is your name?

tang-shin iru-mun muwo-shim-ni-ka?

Nice to meet you

man-na-so pan-kap-sum-ni-da

How are you?

otoke chi-ne-go-ke-shim-ni-ka?

good

cho-sum-ni-da

bad

shil-sum-ni-da
Directions
English

Korean

map

chi-do

left

wen-chok, cha-chuk

right

orun-chok, u-chuk

straight on

kot-chang

far

mon

near

ga-ka-un
Methods of Transport
English

Korean

Where is?

o-die isum-ni-ka

How much is the fare?

yo-ku-mun ol-ma-im-ni-ka?

ticket

pyo

A ticket to, please

ro-ka-nun pyo han-jang chu-ship-sio

Where are you going?

o-die ka-shim-ni-ka

Where do you live?

o-die sa-shim-ni-ka?

train

ki-cha

bus

bus

underground

chi-ha-chol, jon-chol

airport

kong-han

train station

ki-cha-yok

bus station

bus chung-ko-jang

underground station

jon-chol-yok

departure

chul-bal

arrival

do-chak

parking

jucha
Time
English

Korean

What time is it?

myot-shi-im-ni-ka?

today

o-nul

yesterday

o-je

tomorrow

ne-il
Accommodation
English

Korean

hotel

hotel

room

bang

reservation

ye-yak

Are there any vacancies?

bin-bang isum-ni-ka

No vacancies

man-won, bin-bang up-sum

passport

yok-kwon
Places
English

Korean

post office

u-che-kuk

bank

un-heng

police station

kyung-chal-so

hospital

pyung-won

chemist

yak-kuk

shop

ka-ge

restaurant

shik-dahng

museum

pak-mul-kwan

square

kwang-jang

street

kil
Shopping
English

Korean

How much does this cost?

igo-sun ol-ma-im-ni-ka?

I will buy it

igo-sul sa-ge-sum-nida

I would like to buy it

rul sa-go sip-sum-ni-da

Do you have?

yi isum-nika?

open

yong-up jung

closed

ma-gam

postcard

yop-so

stamps

u-pyo

little

chokum

lot

mani

all

modu
Meals
English

Korean

breakfast

a-chim

lunch

chom-shim

dinner

cho-nyok

vegetarian

che-sik-jui-ja

cheers!

konbe

The bill please

ke-san-so-rul chu-sip-sio
Drinks
English

Korean

drink

um-ryo

coffee

ko-pyi

tea

cha

juice

ju-su

water

mul

beer

mek-ju

wine

po-do-ju
Food
English

Korean

meat

kogi

fish

seng-son

vegetable

che-so

fruit

kwa-il

potato

kam-ja

salad

sa-ra-da

dessert

hu-sik
Buy phrasebooks online at Amazon.co.uk
South Korea Hostels
Hostels are a cheap form of accomodation, and so they are essential to backpackers and other budget travellers.
Sorry, no hostels have been registered for this country yet.
There you have it, the ultimate South Korea backpacking guide. We hope you have found all the information you need for backpacking around South Korea.