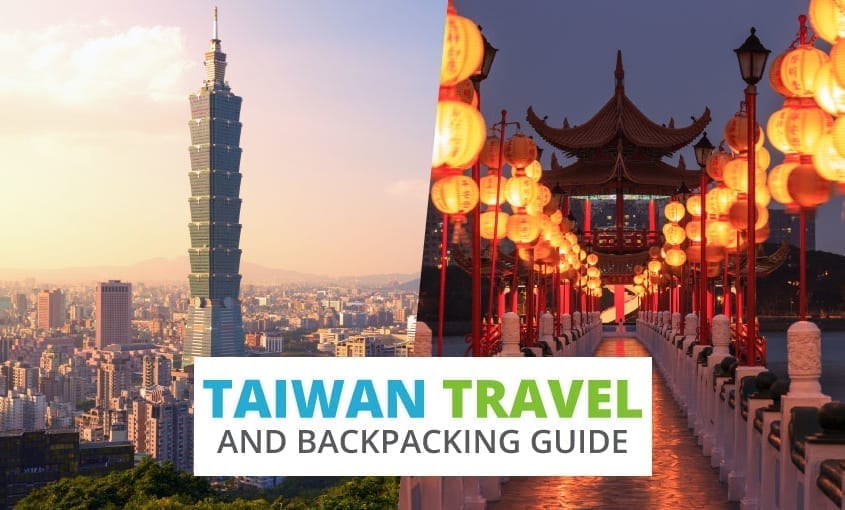 Backpacking Taiwan
Looking for important travel information while backpacking around Taiwan? Here you will find information on working in Taiwan, entry visas, Taiwan hostels, and much more.
Table of Contents

Facts About Taiwan
Gone are the days of huge smog filled cities and factories in Taiwan as much of the industry has moved to China. There is much on offer to travellers in the form actively used ancient temples, tiny rice farming villages and fantastic unspoilt mountain ranges shrouded in a carpet of clouds. Modern and traditional Taiwan coexist side by side, meaning that travellers have quite a good choice of things to do in Taiwan, on one day you could be trekking through foothills or visiting Buddhist monuments and on the next day you could be shopping or sampling the nightlife in one of the country's bustling towns.
Currency: New Taiwan Dollar (NT$) = 100 cents
Time Zone: GMT + 8
Language: Mandarin
Telephone Services: Country code +886, International Access code 002
Emergency Numbers: 110 Police
Climate
The climate in Taiwan is generally sub tropical, the temperatures in the north are more moderate and this region experiences a defined winter. The southern region does not have a winter season as such and is warm and sunny all year round, there is however a onsoon season from June to October.
Things to see and do
Taiwan's capital is a city called Taipei, this city is home to about 6 million inhabitants and is easily the busiest city on the island. Although there are definite problems with pollution and traffic congestion, Taipei has the biggest selection of shops, bars and nightlife on the island. The city centre also offers a selection of tourist attractions from the National Museum of History to Fu Hsing Dramatic Arts Academy, here visitor have the opportunity to take a tour of this remarkable institution and watch tradition Chinese opera, acrobatics and theatre. The city also houses what is reputably the finest example of temple architecture in the country in the form of the Lungshan or "Dragon Mountain" temple. This temple was founded in 1740 and was built as a tribute to Kuan Yin, the goddess of mercy.
No Asian country would complete without its temple town, in Taiwan the town of Tainan fills the niche nicely. There are over 200 temples in and around the town, many still in active use. Highlights include the Taoist East Mountain temple where worshippers come to exercise ghosts or to communicate with their ancestors and the Mito temple which is famous for its statue of the 100 armed goddess of mercy Kuan Yin. Visitors looking witness actual Buddhist practices should head for Luerhmen. This suburb contains three large temples which are in current use. At each of them you have the opportunity to have your name engraved on a temple artefact in exchange for a donation to maintenance costs. Once you have seen the temples the Woozland water park is close by and offers an excellent way to unwind after a hard day's temple touring.
A short ferry hop from the south-east coast of Taiwan takes you to the beautiful volcanic island of Lanyu. This tiny island has a tropical climate and is inhabited by Yami aborigines. The Yami speak their own dialect which is totally dissimilar to Chinese, whilst modern culture has influenced the Yami people there is still a lot of aborigine culture present. For example the Yami build their homes underground to avoid typhoons. There is enough of a Chinese influence for you to find restaurants and taxis so inexperienced travellers shouldn't feel too out of their depth when exploring this pretty little island.
Travel
The rail system in Taiwan is provided by the Taiwan Railway Administration. The service is quite good especially on major tourist routes such as Tapei – Kaohsiung or Tapei to Sun Moon Lake. Most cars are air conditioned and some trains have a restaurant carriage. Fares are quite cheap and children under three travel free with under 13s paying only half fares. Tickets can be purchased from train stations or from most hotels.
The inter-city bus system in Taiwan is run by a collection of private companies with no real central resource. Fares are cheap but buses are often crowded, the best bet is to ask your hotel for details of bus services or find a tourist information point locally.
Travel within cities is generally accomplished by using local buses but Taipei has a partly finished monorail system which serves the city centre and some of the suburbs.
Accommodation
There are over 450 tourist hotels in Taiwan ranging from small budget hotels right up to luxury "5 lotus blossom" hotels with extensive facilities such as pools, gyms and tennis courts. Most hotels belong to the Internatinoal Tourist Hotel Association of Taipei who can be contacted at the address given in our "Useful addresses" section.
There is limited hostel accommodation in Taiwan mostly centred around major cities or tourist hotspots. Both dormitory and non-dormitory rooms are offered at most locations. Many hostels will give discounts to members of the International Youth Hostel Federation.
Health
Healthcare in Taiwan is more than adequate and most western medications are available. Staff are well trained and competent and very close to the standards of the US or Western Europe. Healthcare is quite expensive especially for medicines which are not locally produced so comprehensive travel insurance is highly recommended.
A vaccination against typhoid is advised before departing for Taiwan. The appropriate vaccination can be supplied by your GP and should cost no more than NT$40. There are no other vaccinations required although you should consult your GP for up to the minute medical advice before you travel.
Tap water is not considered safe to drink and should be boiled or otherwise sterilised before use. Bottled water is recommended. Milk are usually pasteurised, long-life, or filtered to make them safe for human consumption. Meat should be well cooked and served hot, both fruit and vegetables should be washed and peeled before use. Normal precautions should be observed when purchasing food from street vendors.
Useful Links
The Taiwan Railway Administration operates the rail network in Taiwan
Entry Visas for Taiwan
All visitors to Taiwan must have a valid passport for the duration of their stay as well as proof of a return ticket. Visas are not required by US and EU nationals except nationals of Denmark, Finland and Ireland who do require visas. Ellegible EU and US nationals may stay without a visa for up to 14 days, this period can not be extended so stays of a longer duration require a visa. Visas can be obtained from your local Taipei Representative Office and cost NT$25 for a single entry visa or NT$50 for a multiple entry visa.
Addresses
There is no Embassy in the UK so all visa related enquiries should be directed to the Taipei Representative Office:
Taipei Representative Office 
50 Grosvenor Gardens 
London 
SW1W 0EB 
Tel: (020) 7 396 9152 

The British government does not currently recognise Taiwan as a state and there are therefore no diplomatic relations with it. Visitors who need consular advice should contact the British Embassy in China. There are however unofficial British commercial and cultural offices which may be able to help with some enquiries:
British Trade and Cultural Office
26 Floor - President International Tower 
No. 9-11, Song Gao Road 
Xin Yi District
Taipei 11073 
Taiwan
Tel: 00 886 2 8758 2088 
Fax: 00 886 2 8758 2050 
Email: info@btco.org.tw 

Local tourist information is dispensed by the Taiwan Visitors Association:
Taiwan Visitors Association 
5th Floor 
9 Minchuan East Road 
Section 2 
Taipei 
Taiwan 
Tel: (2) 594 3261. Fax: (2) 594 3265 

Many hotels in Taiwan belong to the International Tourist Hotel Association of Taipei:
International Tourist Hotel Association of Taipei 
Eighth Floor-1 
369 Fu Hsin N Road 
Tel: (2) 2717 2155 
Fax: (2) 2717 2453
How to Say Common Mandarin Phrases
Meeting People
English

Cantonese

yes

hai

no

m hai

thank you

doh jeh, m goi

you are welcome

m sai haak hei

please

m goi, ching

excuse me

ching yeung, dui m chu

hello

nei ho

goodbye

joi gin

Good morning

jo san

Good night

maan on, jo taau

I do not understand

ngoh m ming baak

Do you speak…?

lei sik gong…ma?

English

ying man

What is your name?

lei giu me ye meng?

Nice to meet you

rho go hing ying sik lei

How are you?

nei ho ma?

good

ho

bad

m ho
Directions
English

Cantonese

map

dei to

left

joh

right

yau

straight on

jik hui

far

yuen

near

gan
Methods of Transport
English

Cantonese

Where is…?

bin do hai…?

How much is the fare?

che fai gei doh chin?

ticket

piu

A ticket to…, please

yat jeung piu hui…, m goi

Where are you going?

nei yui hui bin?

Where do you live?

nei ju hai bin?

train

foh che, tit lo

bus

gung gung hei che, ba si

underground

dei ha tit

airport

fei gei cheung

train station

foh che jaam

bus station

gung gung hei che jaam, ba si jaam

underground station

dei tit jaam

departure

chut ching

arrival

yap ching

parking

ting che cheung
Time
English

Cantonese

What time is it?

gei dim jung a?

today

gam yat

yesterday

kam yat

tomorrow

ting yat
Accommodation
English

Cantonese

hotel

lui goon

room

fong

reservation

ding, yue ding

Are there any vacancies?

ching man gam maan yau mo hung fong?

No vacancies

mo saai hung fong

passport

woo jiu
Places
English

Cantonese

post office

yau ching guk

bank

ngan hong

police station

ging chaat guk

hospital

yi yuen

chemist

yeuk fong

shop

dim po

restaurant

chaan teng, jau lau

museum

bok mat goon

church

gau tong

square

gong yuen

street

gaai do, ma lo
Shopping
English

Cantonese

How much does this cost?

ni goh gei doh chin?

I will buy it

ngoh yiu maai ni goh

I would like to buy…

ngoh seung maai…

Do you have…?

lei yau mo…?

open

hoi

closed

yau sik

postcard

ming shun pin

stamps

yau piu

little

siu-siu

lot

taai doh

all

chuen bo
Meals
English

Cantonese

breakfast

cho chaan

lunch

ng chaan

dinner

maan chaan

vegetarian

so sik jeh

cheers!

ging jau, yam booi

The bill please

maai daan, m goi
Drinks
Drinks
English

Cantonese

drink

yam ban

coffee

ga feh

tea

cha

juice

jap

water

shui

beer

beh jau

wine

jau
Food
English

Cantonese

meat

yuk

fish

yue

vegetable

sho choi

fruit

shui gwoh

potato

ma ling sue

salad

sa laai

dessert

tim ban
Buy phrasebooks online at Amazon.co.uk
Mandarin Phrasebook
Meeting People
English

Mandarin

yes

shi

no

Méiyǒu

thank you

Xièxiè

you are welcome

bu yong xie

please

Qǐng

excuse me

Láojià

hello

ni hao

goodbye

Zàijiàn

Good morning

zao-an

Good night

wan-an

I do not understand

Wǒ bù míngbái

Do you speak…?

Nǐ huì shuō?

English

yi-ng yu

Chinese

Zhōngwén

What is your name?

Nǐ jiào shénme míngzì?

Nice to meet you

Hěn gāoxìng jiàn dào nǐ

How are you?

ni-hao-ma?

good

hao

bad

Huài
Directions
English

Mandarin

map

Dìtú

left

zuo

right

Duì

straight on

Zhíjiē

far

yuan

near

Jìn
Methods of Transport
English

Mandarin

Where is…?

zai-na li-?

How much is the fare?

che-fei duo shao?

ticket

piao

A ticket to…, please

Qǐng gěi wǒ yī zhāng dào…… De piào

Where are you going?

Nǐ yào qù nǎlǐ?

Where do you live?

Nǐ yào qù nǎlǐ?

train

huo-che

bus

Zǒngxiàn

underground

Dìxià

airport

fei-ji-chang

train station

Huǒchē zhàn

bus station

Gōngchē zhàn

underground station

Dìtiě zhàn

departure

Chūfā

arrival

Dàodá

parking

Tíngchē chù
Time
English

Mandarin

What time is it?

Xiànzài shì jǐ diǎn?

today

jin-tian

yesterday

Zuótiān

tomorrow

Míngtiān
Accommodation
English

Mandarin

hotel

Lǚguǎn

room

Fángjiān

reservation

Bǎoliú

Are there any vacancies?

Yǒu kòngquē ma

No vacancies

Méiyǒu kòngwèi

passport

Hùzhào
Places
English

Mandarin

post office

Yóujú

bank

Yínháng

police station

Jǐngchá jú

hospital

Yīyuàn

chemist

Huàxué jiā

shop

Diàn

restaurant

Cāntīng

museum

Bówùguǎn

square

fang, guang chang

street

jie
Shopping
English

Mandarin

How much does this cost?

Zhège duōshǎo qián?

I will buy it

wo-mai

I would like to buy…

Wǒ xiǎng mǎi…

Do you have…?

Nǐ yǒu méiyǒu…?

open

kai

closed

guan

postcard

Míngxìnpiàn

stamps

Yóupiào

little

yi dian er

lot

hen-duo

all

Suǒyǒu
Meals
English

Mandarin

breakfast

zao-can

lunch

wu-can

dinner

wan-can

vegetarian

Sù

cheers!

gan bei

The bill please

Qǐng zhàngdān
Drinks
Drinks
English

Mandarin

drink

Hē

coffee

ka-fei

tea

Chá

juice

guo-zhi

water

shui

beer

Píjiǔ

wine

jiu
Food
English

Mandarin

meat

Ròu

fish

Yú

vegetable

Shūcài

fruit

shui-guo

potato

Tǔdòu

salad

Shālā

dessert

Tiándiǎn
Buy phrasebooks online at Amazon.co.uk
Taiwan Hostels
Hostels are a cheap form of accomodation, and so they are essential to backpackers and other budget travellers. We have compiled a list of hostels in Taiwan to help you plan your journey. If you are looking for a hostel in Taiwan, you've come to the right place.
There you have it, the ultimate Taiwan backpacking guide. We hope you have found all the information you need for backpacking around Taiwan.