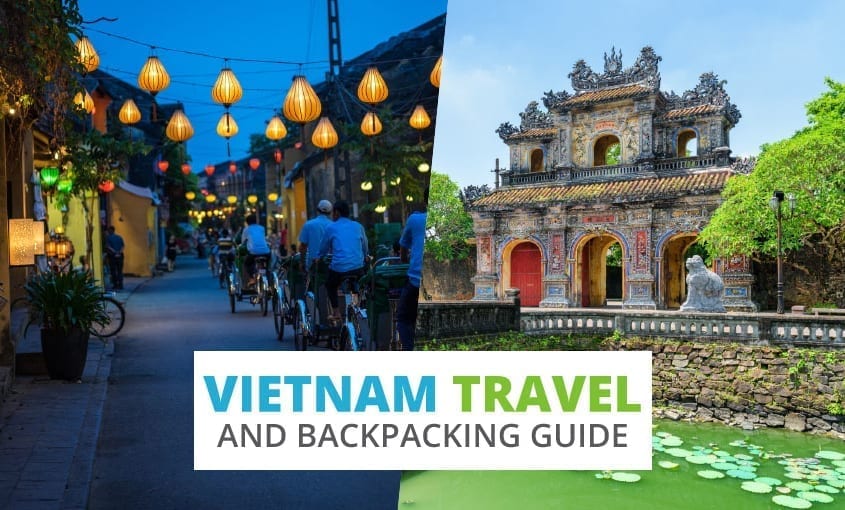 Backpacking Vietnam
Looking for important travel information while backpacking around Vietnam? Here you will find information on working in Vietnam, entry visas, Vietnam hostels, and much more.
Table of Contents

Facts About Vietnam
Vietnam, formerly only famous for its war has thankfully left behind its gritty and grisly past and is becoming a rapidly developing country. Post-war Vietnam is a highly cultured and incredibly accessible country especially suited to inexperienced backpackers who are just starting to venture into south-east Asia. With ample amenities to serve the ever expanding tourist trade as well as stunning vistas of soaring mountains, fertile rice paddies and dense forests there is a side of Vietnam to suit every traveller. Like most of the south-east Asia Vietnam may be a little pricey to get but once you are there it is incredibly cheap and you will be able to get by on a budget as low as D15 a day.
Currency: New Dong (D) = 100 hao
Time Zone: GMT + 7
Language: Vietnamese
Telephone Services: Country code +84, International calls must be made through the operator
Emergency Numbers: 13 Police, 14 Fire, 15 Ambulance
Climate
Due to its length and the lie of the land the climate in Vietnam can vary quite considerably from north to south. In general it is hot and dry most of the year except for the monsoon season which experiences heavy rainfall between May and October. Lightweight and washable cotton garments are suitable for most of the country troughout the year supplemented by rainwear during the monsoon season.
Things to see and do
Hanoi has made a name for itself due to the popular Towers of Hanoi puzzle. The legend goes that monks of the most sacred temple in Hanoi must move a stack of 64 increasing sized sacred discs from on alter to a next, the only problem is there are only a total of 3 places sacred enough to set the discs down and the weight means they can only be carried one at a time. Furthermore a disc may not be rested on a smaller disc for fear of damaging it. It is prophesised that if the monks ever place the last disc the temple will crumble to dust and the world will end, don't worry however as even if the monks move a disk every second it would take them 36 billion years to complete their sacred duty. As well as this somewhat colourful legend Hanoi as plenty to offer tourists with plenty of public parks, bustling markets, busy nightlife and of course the ubiquitous ancient monuments and temples. Of particular interest are the One Pillar Pagoda and the Van Mieu temple of literature.
Ho Chi Minh City or Saigon is the nation's largest city. It is a centre of business, economics and culture and is definitely one of the best cities to visit in the country. Must see attractions include the foreboding Notre Dame Cathedral (not to be confused with the one in France!!!), the Reunification Palace and the War Remnants Museum. Of particular importance is the Giac Lam Pagoda, set in Dam Sen tourist park. This temple was a religious centre during the 19th century and now boasts a mini-museum of religious and cultural artefacts. While in the city make sure you pay a visit to the Ben Thanh market where you will be able to hone your haggling skills and pick up some souvenirs.
The city of Dalat is becoming a more popular destination, especially with honey-mooners due to its relaxed, peaceful and tranquil setting. It is often quoted as being the most beautiful city in Vietnam and is an excellent base for exploring the largely unspoilt highland areas. Within the city itself you will find the magnificent Bao Dai's Summer Palace, this impressive structure also houses displays of interesting Vietnemese art and artefacts. Some visitors choose to visit some of the more off-kilter attractions such as the carnavalistic Valley of Love or the Chicken Village. Dalat is also renowned for its excellent cafe culture which should definitely be sampled before leaving the area.
Travel
Between the major cities air travel becomes viable due to the general slow nature of other transport means. Vietnam Airlines serves airports in Hanoi, Ho Chi Minh City, Hue, Da Nang, Nha Trang, Na San, Vinh, Qui Nhon, Dalat, Buon Ma Thuot, Pleiku and Phu Quoc. As a rather expensive novelty The Northern Airport Flight Service Company offers helicopter trips from Halong Bay to Hanoi.
Vietnam Railways operates the rail network in the country which connects the main cities. Journey times can be slow and the standards are not yet up to international class although a few of the major routes now offer some air conditioned carriages. Rail travel for long distance trips is somewhat expensive being comparable to the domestic air fare. Groups of more than 6 people travelling together qualify for a group discount so rail travel might become more attractive for large groups.
The road network in Vietnam is quite good, although bus services are frequent and cheap they are normally incredibly crowded and of a generally poor standard. Like much of south-east Asia buses are mostly run by private individuals and little central information for buses exists. Rail or air where available is a better option.
Accommodation
With the recent development of the Vietnamese tourist industry there are now all kinds of hotels in all of the major cities. Available facilities range from tiny guest houses to luxury 5-star hotels. Vietnam Tourism maintains a lit of available accommodation and also has further information regarding booking enquiries.
Health
There are hospitals in every major town as well as provincial health-centres but the standard of emergency healthcare is quite basic and doctors will require cash payments before treatment. This coupled with the fact that airborne evacuation may be required means that you should have a fully comprehensive travel insurance policy before embarking for Vietnam.
There is a risk of Cholera in Vietnam and you should consult your GP for up to date information, particularly on if a vaccination is required. Vaccinations for polio and typhoid are recommended and can be obtained from your GP for around D40. Malaria is present all year round outside the capital including strains resistant to chloroquine, you should consult your GP for the most appropriate anti-malaria treatment to carry with you.
Water is not safe to drink and water used for washing or consumption should have been boiled or sterilised first. Where possible it is best to stick to bottled water. Dairy products are un-pasteurised and should be avoided in all parts of Vietnam. Vegetables should be peeled and washed before consumption and meat should be thoroughly cooked and eaten hot.
Useful Links
Vietnam Tourism offers general travel advice including listings of accommodation.
Vietnam Railways operates the rail network in the country which connects the main cities.
Vietnam Airlines is the domestic airline in the country.
Amazon.co.uk stock a selection of guidebooks on Vietnam including the much recommended Rough Guide to Vietnam
Entry Visas for Vietnam
A passport is required by all visitors to Vietnam and must be valid for at least 6 months after the date of arrival. All UK, EU and US nationals also require a tourist visa which allows a stay of up 1 month and generally costs about D45. Visas can be obtained from your local Vietnamese Embassy or Consulate who should also be contacted for any other visa or immigration related enquiries.
Addresses
All visa and immigration related enquiries should be directed to your local Viatnemese Embassy or Consulate:
Embassy of the Socialist Republic of Vietnam 
12 - 14 Victoria Road 
London 
W8 5RD 
Tel: (020) 7 937 1912 
Fax: (020) 7 937 6108 

If you require UK representation while in Vietnam you should contact the British Embassy:
British Embassy 
Central Building 
31 Hai Ba Trung 
Hanoi 
Vietnam 
Tel: + (84)(4) 8252510
Fax: + (84)(4) 8265762
email: behanoi@fpt.vn 

There is also a British Consulate in Ho Chi Minh City.
While in Vietnam local tourist information can be obtained from Vietnam Tourism:
Vietnam Tourism
Ho Chi Minh City 
Vietnam 
Tel: (4) 829 4253.
Foreigner Work Permits in Vietnam
As a developing country Vietnam will be difficult to find work to fund your travels. There may be some opportunities for teaching English in schools, but most people who go with this purpose do so as volunteers and a vast number of volunteer organisations exist to place people on such projects. Below are listed just a few of these organisations, most placements are very similar in content, but different organisations arrange projects in different areas and for varying lengths of time.
VentureCo
VentureCo's 16-week programme combines aid projects with expeditions from Cambodia, through Vietnam, to Laos, and finally China. The first three weeks are spent in what is known as 'cultural orientation' consisting of visiting various places guided by a team who introduce you to the culture and traditions of the countries, and learning the Khmer language. The following four weeks consist of community aid work in Koh Kong, involving teaching and food distribution to underprivileged children. A 9-week expedition then follows taking you through Vietnam: Saigon, HoiAn, China Beach, and Hue City; Laos: Vientiane, Luang Prabang, and the Mekong River, and finally China: Kunming, Lijiang, the Yangtze, Xi'an, Beijing, and finishing with a trek on the Great Wall of China. Programmes with VentureCo are self-funded and can cost you up to D5000, which includes travel, food, accommodation, transport, and fees for the activities themselves.
GAP Activity Projects Ltd
The focus of placements in Vietnam with GAP is on teaching English in secondary schools and higher education institutes. Volunteers are expected to work for twenty hours a week on placements of up to five months. Although food is not provided an allowance is given and accommodation is free, provided in or nearby the host school.
Frontier
Frontier arranges expeditions in a number of different countries and environments, including Vietnam, Tanzania, and Madagascar. In January, April, July, and October, applicants leave for four or ten week expeditions in the Vietnamese Rainforest. Political issues used to mean that access to the rainforest was restricted, but now Frontier expeditions lead people who carry out survey work to endeavour to protect the environments that are being rapidly destroyed by land clearance and logging schemes. The cost of a four week expedition is D1400, ten weeks is D2450. These costs include food, accommodation, Visas, insurance, and training.
i-to-i
Volunteers are sent to Hanoi in Vietnam to assist in teaching English in two of the state primary schools. The first school is the School for the Blind who attempt to give enough help and support to its visually impaired students to enable them to overcome issues of their disability and to reach a level of education ready for university. The second school is the Binh Minh School, some of whose students have Downs Syndrome. The emphasis in teaching in these schools is very much on giving the children encouragement and confidence which they may lack because of the stigmas attached to their situations. Four to eight week placements with i-to-i cost around D1295 and D1395 for nine to twelve week projects. Volunteers live with others in a guesthouse and are usually provided with a budget for food.
Project Trust
More teaching opportunities are available in Vietnam with the Project Trust. The focus of teaching is in Hong Duc University in Thanh Hoa, south of Hanoi. Volunteers teach English as well as helping with extracurricular drama and sports activities. Accommodation is provided on campus in flats and volunteers are given bicycles to enable them to get around easily. Volunteers must be aged between 17 and 19 and a half years old and are expected to raise D3850 themselves to fund their project, this includes all expenses for living costs, travel, donations etc.
Travellers Worldwide
Helping to teach English in Da Nang city, volunteers are placed in extra-curricular language institutions where students already have at least basic knowledge of English but are looking to improve their confidence and pronunciation. Classes are in the afternoons or evenings but during the day schools like to show volunteers around the city or even give you some Vietnamese language coaching. Accommodation is usually provided with other volunteers of the organisation. Travellers Worldwide can help arrange your flights, and a changeable return ticket is provided to give more flexibility to your travels. The cost of a three month placement, excluding travel, is D1495 and D350 per additional month you wish to stay. Flights usually cost around D600.
Useful Links
How to Say Common Vietnamese Phrases
Meeting People
English

Vietnamese

yes

vâng

no

không

thank you

cảm ơn bạn

you are welcome

không có chi

please

xin vui lòng

excuse me

xin lỗi

hello

xin chào

goodbye

tam bie t

Good morning

Chào buổi sáng

Good night

Chúc ngủ ngon

I do not understand

tôi không hiểu

Do you speak…?

Bạn có nói không?

English

anh

What is your name?

Tên của bạn là gì?

Nice to meet you

Rất vui được gặp bạn

How are you?

Bạn khỏe không?

good

tốt

bad

xấu
Directions
English

Vietnamese

map

bản đồ

left

trái

right

phai

straight on

tha ng

far

xa

near

ở gần
Methods of Transport
English

Vietnamese

Where is…?

Ở đâu…?

How much is the fare?

Giá vé bao nhiêu

ticket

vé

A ticket to…, please

Một vé đến …, làm ơn

Where are you going?

Bạn đi đâu?

Where do you live?

Bạn sống ở đâu

train

xe lu a

bus

xe bus

underground

dưới lòng đất

airport

sân bay

train station

ga xe lu a

bus station

trạm xe buýt

underground station

Trạm tàu điện ngầm

departure

khởi hành

arrival

đến

parking

đậu xe
Time
English

Vietnamese

What time is it?

Mấy giờ rồi?

today

hôm nay

tomorrow

Ngày mai
Accommodation
English

Vietnamese

hotel

khách sạn

room

phòng

reservation

đặt trước

Are there any vacancies?

Có vị trí tuyển dụng nào không?

No vacancies

Không có vị trí tuyển dụng

passport

hộ chiếu
Places
English

Vietnamese

post office

Bưu điện

bank

ngân hàng

police station

đồn cảnh sát

hospital

bệnh viện

chemist

nhà hóa học

shop

cửa tiệm

restaurant

nhà hàng

museum

viện bảo tàng

church

nhà thờ

square

Quảng trường

street

đường phố
Shopping
English

Vietnamese

How much does this cost?

Cái này giá bao nhiêu?

I will buy it

tôi sẽ mua nó

I would like to buy…

Tôi muốn mua…

Do you have…?

Bạn có không?

open

mo cu a

closed

đóng cửa

postcard

buu a nh, postcard

stamps

tem

little

ít

lot

nhiều

all

tất cả các
Meals
English

Vietnamese

breakfast

bữa ăn sáng

lunch

Bữa trưa

dinner

bữa tối

vegetarian

an chay

cheers!

chúc mừng!

The bill please

Hóa đơn xin vui lòng
Drinks
English

Vietnamese

drink

uống

coffee

cafe

tea

trà

juice

Nước ép

water

nu o'c

beer

bia

wine

ru o u
Food
English

Vietnamese

meat

thi t

fish

cá

vegetable

rau

fruit

trái cây

potato

khoai tây

salad

salat

dessert

món tráng miệng
Buy phrasebooks online at Amazon.co.uk
Vietnam Hostels
Hostels are a cheap form of accomodation, and so they are essential to backpackers and other budget travellers. We have compiled a list of hostels in Vietnam to help you plan your journey. If you are looking for a hostel in Vietnam, you've come to the right place.
There you have it, the ultimate Vietnam backpacking guide. We hope you have found all the information you need for backpacking around Vietnam.