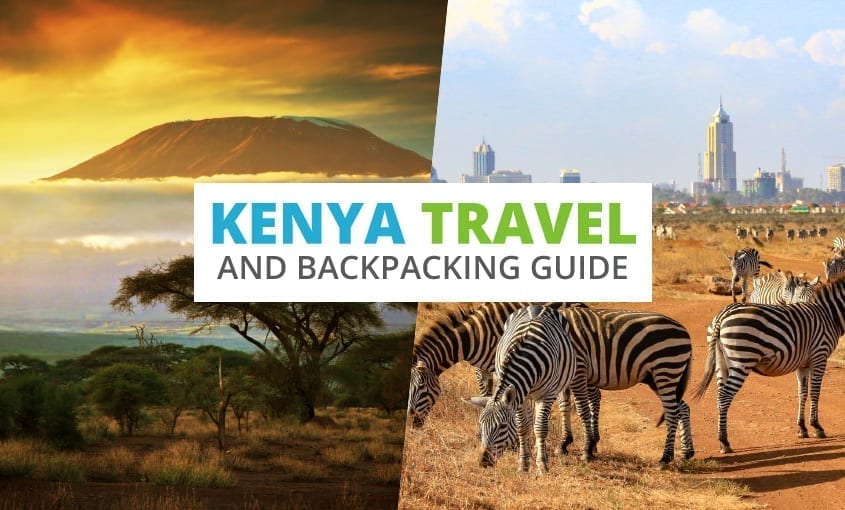 Backpacking Kenya
Looking for important travel information while backpacking in Kenya? Here you will find information on working in Kenya, entry visas, Kenya hostels, and much more.
Table of Contents
Facts About Kenya
Kenya is well known as the home of the Safari and indeed this is one of the best countries for seeing all of Africa's indigenous wildlife. Amongst the favourite faces are animals like lions, elephants, giraffes and rhino which can all be found in abundance on any number of well-organised safari tours.
As well as the wildlife the scenery is absolutely breathtaking and nothing can quite match the sight of the sun setting across the vast savannah plains or indigo sea lapping leisurely against the white sand beaches of Africa's east coast.
Currency: Kenyan Shilling (Ksh) = 100 cents
Time Zone: GMT + 3
Language: English and Kiswahili
Telephone Services: Country Code +254, International access code 000
Emergency Numbers: All services 336886 / 501280
Climate in Kenya
When deciding the best time to visit Kenya, weather certainly plays a role. The coastal areas are typically tropical and the lowlands are mainly hot and dry. The highlands have a much more attractive climate with four distinct seasons. Nairobi falls within this pleasant region which is warm even in winter but not as stiflingly hot as the lowland areas.
Things to do in Kenya
When deciding the best things to do in Kenya, there is an abundance of options. Here are the top bucket-list items when backpacking Kenya.
Safari in Kenya
Unlike most countries, Kenya's main attraction isn't its cities but its great outdoors. No one coming to this country should pass up the opportunity to go on safari in one of Kenya's game parks. The most popular is the Masai Mara National Reserve which is famous for its lions.
It is common to see large prides and patient visitors should even be able to spot the lionesses hunting. The park also boasts such exotic animals as elephants, zebras and even hippos. Within the reserve, there is also a traditional Maasai village which is open to tourists.
The other main safari area is Amboseli national park which is famous for its large elephant herds. Recently companies have started offering aerial tours of the area in light aircraft but you can still find plenty of companies offering more traditional safaris here.
Other popular locations to see the wildlife are the Marsabit National Park & Reserve, the Aberdare National Park and the Kakamega Forest Reserve.
Nairobi
Nairobi is, unfortunately, becoming increasingly prone to theft and muggings so much so that many travellers opt to visit the slightly safer Mombasa instead. The city encompasses Mombasa Island and boasts some very good beaches just outside town.
The city has been demolished several times in fighting between the African population and the Portuguese during the colonial era but the city has been rebuilt with fantastic character. Chief amongst its attractions is Fort Jesus, which is situated in the Old Town and was built in 1593 by the Portuguese in one of the numerous occupations. The Fort now houses a museum which charts the history of this fortification which has changed hands over nine times since its construction.
Unique Activities in Kenya
Since popular places in Kenya can get crowded during tourist season, it is wise to reserve tickets and activities ahead of time. GetYourGuide sells entrance tickets to museums and landmarks at face value so you can avoid the lines and save that precious time for more exploring.
Viator is another popular travel website that helps you book things to do in Kenya. They work directly with local tour operators in Kenya, so you won't have to scour the internet or roam around town trying to find the best deal.
How to Find Cheap Flights to Kenya
In order to find the best flights to Kenya we recommend using a few well-known flight comparison search engines. These websites offer powerful search options, like entering flexible dates and airports in order to find the cheapest flight to Kenya.
Our go-to flight search engine is Skyscanner, which we love for its extremely flexible search options. Our favourite way to get travel inspiration is their "Everywhere" feature. Simply enter "Everywhere" as a destination, and it will then list all available flights from your departure city in order of price. This also works when entering the entire country of Kenya as your destination. Skyscanner will search all possible airports in the country in order to find the cheapest option.
Kiwi is another new favourite flight search engine among savvy travelers. Kiwi works by combining flights from different carriers in order to get the best deal. Also, if there is a better ground or ferry option for the route you're searching, Kiwi will include that in the search results. On average, we have found the cheapest flights to Kenya with them compared to the other websites out there. 
How to Travel Around Kenya on a Budget
Kenya Airways runs the main domestic air service in the country but you will also find numerous small private companies operating domestic service. In general, the flights are pretty cheap so they can be a good way to cover large distances quickly.
Train travel in Kenya
Kenya Railways Corporation runs a rail service between Mombasa, Nairobi, Taveta and Kisumu. The journeys are normally long and the standards have slipped in recent years but fares are cheap so if you are on a budget this will save you a lot compared with flying.
There are three classes ranging from first class where you have your own berth right down to third class which is very basic. Sleeping compartments are available but must normally be booked in advance for a surcharge. Children under 3 travel for free and children between 3 and 11 pay only half fares.
Bus travel in Kenya
Intercity buses generally come in two flavours, coaches or minibuses. The minibuses have a poor reputation for safety and aren't much cheaper so where possible you should try to take the coach. All bus companies are privately run and on popular routes, you will find several competing companies, this has the added bonus of making this an extremely economical, if not a very comfortable way of travelling.
Most safaris and tours will arrange their own transport which is included in the price of the package, these normally leave from Nairobi or Mombasa but other towns may offer a restricted set of tours. Always check in advance what your package includes and what it does not especially as many of the smaller, less reputable companies will try to rip you off if they can get away with it.
Backpacking Tours in Kenya
Though part of the fun of backpacking Kenya is exploring on your own, there are situations, especially when venturing off the tourist trail, when it does make sense to go with a guide or a small group. 
The most popular option for social travel in Kenya is Contiki tours. Contiki trips offer more than just transportation, they are organized social group travel for travelers aged 18-35. Whether you're traveling by yourself or going with a group of friends, Contiki tours are perfect for people looking to have a blast, meet new friends, and form lifelong memories. They offer tours that travel primarily in Kenya or longer tours that cover other nearby places.
G Adventures is another great option for organized travel, but with a smaller group. It's a great choice for anyone backpacking Kenya alone who would like to meet up with like-minded travellers. It's also a practical option for exploring places where you need an experienced guide, like a long hiking adventure or visiting a place well off the beaten path. You can choose from different styles of small group tours like active, wellness, hiking trips, 18-30somethings, and more. Their most popular trips in Kenya are their 9-day Kenya camping Safari, 8-day National Geographic Kenya Safari Experience.
Health and Safety in Kenya
As with travel to all other countries abroad, it is vital that you get travel insurance before you leave for Kenya. Even for short trips, our go-to travel insurance provider is World Nomads, which is also recommended by Lonely Planet, HostelWorld, and other major travel companies.
The standard of healthcare in Mombasa and Nairobi is good but health insurance is essential. Elsewhere in the country medical facilities are limited. If you intend to be on safari for any length of time you should consider paying for the East African Flying Doctors tourist membership which will allow you to call for free air evacuation should you fall ill whilst on safari.
Immunisation against yellow fever, cholera, polio and typhoid is recommended when visiting Kenya especially when planning to travel outside of urban areas. Malaria is present throughout Kenya and the local strains have been reported as highly resistant to chloroquine so mefloquine is the recommended treatment to use. You should consult your local GP about all of these factors before travelling to Kenya.
Tap water in urban areas is considered safe, although in other areas it is recommended that you boil or otherwise sterilise any water before use. Food including dairy products and drink are also considered safe to drink. Normal everyday precautions should be used when purchasing food from street vendors.
Crime is quite prevalent in Kenya, especially in Nairobi especially muggings which can occur even in broad daylight. The police are generally corrupt so it falls to the individual traveller to ensure they are not at risk.
Obvious common sense is prevalent here, concealing valuable, not carrying large sums of cash and generally remaining vigilant can ensure that you are at minimal risk. It is also worth noting that the route into Ethiopia is under constant threat from banditry and those planning to take such a route should travel in an armed convoy.
Entry visa requirements for Kenya
EU and US nationals require a passport valid for at least 3 months from the date of arrival as well as a return ticket. In addition, EU and US nationals require a visa for the duration of their stay. Single entry visas are available for KSh35 and multiple entry visas cost KSh70. Applications, as well as other visa / immigration related enquiries, should be directed to the nearest Kenyan Consulate, Embassy or High Commission.
Visa requirements for Kenya can vary widely depending on your country of origin and can change over time. To avoid any unpleasant surprises, be sure to check the latest visa requirements while you're still planning your trip.
Kenya Hostels and Budget Accommodation

In Nairobi and Mombasa the best hotels reach the highest of international standards, most are colonial in style and will offer a huge range of facilities. You shouldn't have any trouble finding hotels to suit whatever your budget in either of these two urban areas.
Throughout Kenya, hotels are grouped as either town hotels, vacation hotels, lodges or country hotels. Within each group, there is a rating system which ties in with the range of facilities and of course the price. During the peak tourist season, it is advisable to book in advance as hotels can fill up.
We have had good experiences finding hostels in Kenya on HostelWorld. They have the largest inventory of hostels worldwide, and with over 10 million reviews and ratings from other travellers, you know exactly what to expect.
Another good way to find accommodation in Kenya is by checking booking.com. You'll find hotels, homestays, hostels, and other unique accommodations. They have the most reviews and advanced filtering of any accommodation-booking site, so you'll be sure to find a great place in your budget. Many of the places on booking.com also offer free cancellation, which takes the pressure off the planning phase of your trip to Kenya.
If you are backpacking with another travel companion, we highly recommend booking a rental via VRBO. With a vacation rental in Kenya, you'll have more space, your own kitchen, and you'll get a better feel for how the locals live. Plus, the cost of a vacation rental can be split among your group, oftentimes making it cheaper than doing individual hotel rooms. 
If you're looking to save even more money while backpacking in Kenya, there are plenty of creative ways to get free accommodation in exchange for work. For example, one of our favorite ways to stay in amazing locations for free is by signing up as a petsitter with Trusted Housesitters. The site connects responsible animal lovers with petsitting opportunities in Kenya and all over the world. It's a win-win for both sides – travellers can stay in amazing locations for free, and homeowners can rest easy knowing that someone is watching over their place.
And lastly, CouchSurfing is a great community that connects travellers with local hosts in Kenya. You can stay for free with verified hosts, who will usually take some time to show you around the local spots.
Useful links for Backpacking in Kenya
---
There you have it, the ultimate Kenya backpacking guide. We hope you have found all the information you need for backpacking around Kenya.
Next up:
Liked this article? Share it with others who might be after the same information!