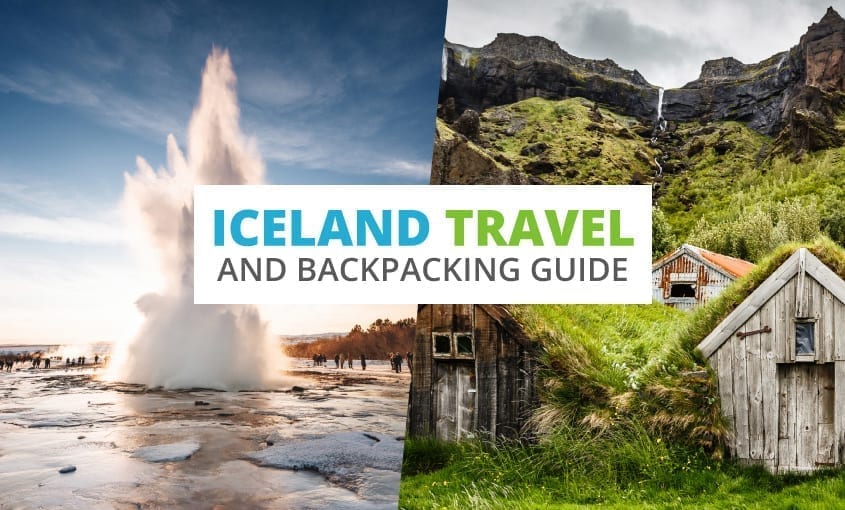 Backpacking Iceland
Looking for important travel information while backpacking in Iceland? Here you will find information on working in Iceland, entry visas, Iceland hostels, and much more.
Table of Contents
Facts About Iceland
Iceland is fast becoming one of Europe's most popular travel destinations. Located in the North Atlantic this mountainous island is one of the most volcanically active countries in the world which contributes to the many natural phenomena you can't experience anywhere else.
Iceland boasts stunning scenery with spectacular lakes, rivers, waterfalls, mountains and hot springs. Reykjavik, the capital, is a busy cosmopolitan city yet manages to retain its rich cultural heritage. The city boasts some of the best nightlife in the whole of Europe with pubs and clubs open until the early hours.
Surrounded by mountains, in an area of geothermal hot springs, this unique destination is perfect for tourists wanting something a little different. Do be warned though, plenty of spending money is needed for your trip; Iceland is one of the most expensive destinations in Europe.
During the summer Iceland has a host of options for travellers including sailing, hiking, and whale watching. Skiing and glacier tours are popular during the winter. Snowmobile tours provide a great opportunity to mix sightseeing and adventure and are becoming increasingly popular with tourists.
The colourful northern lights are an amazing sight if you're lucky enough to catch them. Viewings are most likely between autumn and spring. Hunting for this magnificent display in the sky is a once in a lifetime experience.
For those looking for a relaxing trip, Iceland has numerous outdoor swimming pools which are heated naturally by thermal hot springs. Some locations also offer saunas, solariums, and Jacuzzis. There is plenty to see off the beaten track with some of the most memorable and fantastic sights Iceland has to offer slightly further afield. Many excursions are offered by tour companies to explore and admire the country's unspoiled and natural wonders.
Currency Icelandic Krona
Time Zone GMT +0
Language Icelandic, but English is widely spoken
Telephone Services Dialling Code +354 International Access Code 00
Emergency Numbers 112
Climate in Iceland and the best time to go
When deciding the best time to visit Iceland, the weather certainly plays a huge role. Iceland's summers are fairly mild and winters are very cold. From the end of May to the beginning of August, there are about 24 hours of constant daylight.
Iceland's weather can be very changeable– at any time of the year, there may be sunshine, rain, snow and drizzle all in the same day. Since the sun never sets during the summer months it's not as cold as you would imagine, with the average July temperatures reaching around 12°C. The northern lights are visible in autumn and early winter.
Things to do in Iceland
Reykjavik
Iceland's capital, Reykjavik, literally means 'Smoky Bay', named such because of the geothermal springs and boiling natural geysers that lie beneath the capital. These springs have also ensured that no fuels need to be burned leaving the air crisp, clean and free of pollution.
The city is small and can easily be explored on foot. Despite its size, there is much to see and do and it is becoming increasingly popular as a city break destination. Being the tourist capital of Iceland, Reykjavik has some of the best nightlife in the whole of Europe with most bars providing plenty of live music and lively pubs and clubs staying open until seven or eight am at the weekend. Don't miss the opportunity to take a dip in one of Reykjavik's geothermal swimming pools to relax, refresh and rejuvenate you after a night out!
The Old town has a number of historic buildings including galleries and art museums. The National Gallery houses works by Icelandic and international artists. Many visitors choose to head for Halgrimur's church which is in the centre of Reykjavik and gives a spectacular view of the city.
The Golden Circle
From the capital, it is possible to visit some stunning natural wonders. The 'Golden Circle' is Iceland's most popular sightseeing tour. It usually starts with Pingvellir National Park which is one of the most historical and beautiful areas in the country.
Then visitors head for the Geysir hot spring area which is one of the greatest natural attractions Iceland has to offer with its bubbling, colourful mud pools with hissing steam vents and hot and cold springs. Strokkur erupts around every ten minutes and can reach heights of around 20-30 metres.
The tour usually ends with a visit to Gullfoss; this is a double-tiered stunning waterfall just a few miles from Geysir. On a sunny day, stunning rainbows can be seen through the mist and drizzle and an even more impressive sight is when the waterfall turns to ice in the winter.
Blue Lagoon
The Blue Lagoon is a forty-minute drive south west of Reykjavik and is Iceland's most popular spa. The spa's facilities include an indoor and outdoor pool, a geothermal beach, lava caves and silica mud that have beneficial effects for sufferers of eczema and psoriasis. The water is 35°CC all year round and rich in minerals so why not experience the positive effects this lagoon can have on your skin.
Whale Watching in Iceland
Whale watching is a popular activity among tourists in Iceland; the clear cool North Atlantic is a great place to see the many different species of whales. Regular sights include killer whales and mink and if you're lucky some blue whales; dolphins and seals are often seen as well. The whale watching ports are located all over the coastline. Keflavik and Sandgerði are only thirty minutes drive from Reykjavik.
Unique Activities in Iceland
A good way to get an idea of things to do in Iceland is to scan the activities offered by Get Your Guide or Viator. They work directly with local tour operators, so you won't have to scour the internet or roam around town trying to find the best deal.

If you know your schedule ahead of time, a great insider tip is to buy tickets for major tourist attractions ahead of time. Tiqets has entrance tickets and skip the line passes for major tourist spots in Iceland like Akureyri, Höfn, Húsavík, and Reykjavík so that you can avoid the lines and save that precious time for more exploring.
How to Travel Around Iceland
In order to find the best flights to Iceland we recommend using a few different flight comparison search engines. Kiwi is a new favourite among travellers. On average, we have found the cheapest flights to Iceland with them compared to the other websites out there.
Of course, it is always worth checking Skyscanner to guarantee you're getting the best deal. Both websites offer great flexible search options, allowing you to search the whole country of Iceland to find the cheapest airport to fly into, and also see prices for a full month if you're flexible on travel dates. 
The national carrier, Icelandair, has direct and regular flights to Reykjavik from London's Heathrow and Stansted airports. Iceland's main domestic airline Air Iceland (Flugfelag Islands), operates during the summer and winter months. It connects most major destinations with the capital Reykjavik.
Travel within Icleand
Iceland has no railways and its road network is the least developed in the whole of Europe. Despite Iceland's wild and rugged terrain, cyclists still attempt it and bicycles can be rented in most hotels, guesthouses and hostels.
A Reykjavik Tourist Card gives visitor's unlimited transport on buses and admission to a great selection of museums, galleries and to all thermal swimming pools in the capital.
If you want the flexibility to stop in smaller towns between the major cities, you can use AutoEurope to compare offers from the major car rental agencies in the region. Before deciding, read more about what to expect of driving in Europe.
Backpacking Tours in Iceland
Though part of the fun of backpacking Iceland is exploring on your own, there are situations, especially when venturing off the tourist trail, when it does make sense to go with a guide or a small group. For these times, a popular option among backpackers is G Adventures. They hand-select local guides to ensure authenticity and quality. This is especially a good option for those travelling Iceland alone who would like to meet up with like-minded travellers. Their most popular trips in Iceland are their 9-day National Geographic Journey tour and their 7-day active Trekking in Iceland tour.
Health and Safety in Iceland
The standard of healthcare in Iceland is excellent and no vaccinations are required for entry into the country. The UK has a reciprocal agreement which entitles all British citizens to free emergency medical treatment providing a valid European Health Insurance Card (EHIC) is produced.
This has replaced the E111 which was no longer valid as of 31 December 2005. The EHIC gives access to state-provided medical treatment only, so it is advisable to take out comprehensive travel insurance before visiting Iceland. It is advisable to take adequately warm and waterproof clothing with you to Iceland.
Entry Visa Requirements for Iceland
All visitors to Iceland require a passport valid for at least three months beyond their intended stay. British Citizens do not require visas and can stay in the country for up to three months and this stay can easily be extended by visiting the local police station or contact the Directorate of Immigration.
Foreigner Work Permits and Backpacker Jobs in Iceland
British citizens can look for work or set up a business provided they hold a ten-year passport. To work or reside in Iceland for longer than three months, a residence and a work permit are required. These can be very difficult to obtain as Iceland had a rather strict immigration policy. Further information can be obtained by checking out The Directorate of Immigration in Reykjavik.
Employment in Iceland can be found in bars, restaurants, hotels and hostels. Jobs can also be found in the fishing villages and towns around the coast of Iceland.
Au Pairs working in Iceland usually need some experience in childcare but will not have to speak Icelandic. Au pairs live with their host family and as well as looking after the children, they also take on basic domestic duties. Wages are often quite low but accommodation and meals are usually included.
Iceland Hostels & Budget Accommodation

For those looking for budget accommodation, hostels in Iceland offer clean and comfortable lodging open to people of all ages. We have had good experiences finding hostels on HostelWorld. They have the largest inventory of hostels worldwide, and with over 10 million reviews and ratings from other travellers, you know exactly what to expect.
Another good way to find accommodation in Iceland is by checking hotels.com and booking.com. With both sites, you'll not only find hotels, but also homestays, hostels, and other unique accommodation. We have discovered some great finds and have appreciated the ability to book ahead.
You can use their advanced filtering to narrow your results by budget, location score, overall review score, and amenities. Many of the places on booking.com also offer free cancellation, which takes the pressure off the planning phase of your trip.
Iceland has hotels to suit everyone, from simple satisfactory hotels to the luxurious and exclusive. However, all hotels in Iceland tend to be quite expensive. It is advisable that you book your accommodation before your arrival as hotel accommodation in Iceland is fairly limited and some become fully booked for the summer period.
There are many campsites in Iceland and are normally open from the beginning of June until the end of August, in some locations, they stay open until the middle of September. All campgrounds have toilets and showers and there are many public pools which have Jacuzzis where you can unwind and relax.
Useful Links for Backpacking in Iceland
---
There you have it, the ultimate Iceland backpacking guide. We hope you have found all the information you need for backpacking around Iceland.
Next up:
Liked this article? Share it with others who might be after the same information!