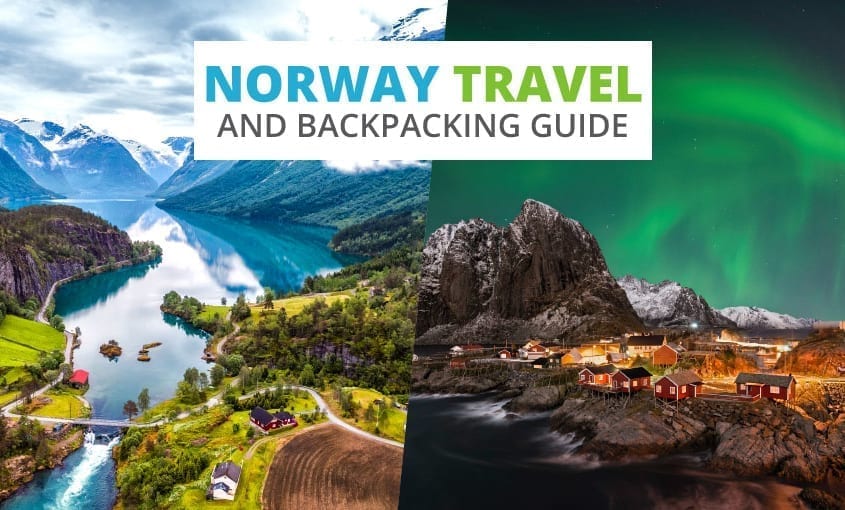 Backpacking Norway
Looking for important travel information while backpacking around Norway? Here you will find information on working in Norway, entry visas, Norway hostels, and much more.
Table of Contents

Facts About Norway
Norway is a picturesque country with natural beauty surpassing that of many European destinations and even some of it's Scandinavian neighbours. Visitors can expect to see the famous Scandinavian fjords in abundance here as well as stunning mountain glaciers. Further north beyond the Arctic circle lies an area of Norway often nicknamed "The land of the midnight sun" due to its 24 hour sunshine, here adventurous travellers will be able to see plenty of natural wildlife including seals, walruses and even polar bears.
Combine this with a history steeped in Viking mythology and Norse legends and you will find Norway a compelling Scandinavian attraction. It is worth remembering that like much of Scandinavia it is expensive to travel here especially when buying things like alcohol or buying food in restaurants. This might take Norway off the list for budget travellers but for those who can spare the extra cash it is a country which is well worth seeing.
Currency: Norwegian Krone (Nkr)
Time Zone: GMT + 1
Language: Norwegian, Lappish by the northern Sami people.
Telephone Services: Country code +47, International Access code 095
Emergency Numbers: 112 for all services, 113 Ambulance
Climate
The coast of Norway is quite temperate during the summer, as is the southern part, winters tend to be below freezing in the majority of the country and the northern mountainous areas experience Arctic conditions. Midnight-sun days typically occur between May and June and the effect is more pronounced further north, even the southern part however experiences extremely long daylight hours during the summer.
Things to see and do
The Country's capital is the city of Oslo, by far the countries biggest city you can find all of the facilities and amenities you would expect to find in any European capital. Besides this there are plenty of unique attraction in the city. One particularly interesting site is the Akershus Fortress, this medieval fortress and castle was built in the 1300s and was used by the Nazi's as a prison during World War II. You can still get down into the dungeons and crypts of King Hakon VII and there is a Resistance Museum onsite detailing the actions of the Norwegian resistance during the Second World War. Also worth a look is Vigeland Park which is home to sculptures by the artist Gustav Vigeland. The centrepiece is the world's largest granite sculpture which is a mass of entwined human figures.
Central Norway is a region well worth travelling, from a base in the historic city of Bergen it is easy to visit attractions such as Sognefjord, Norway's deepest fjord and the Jostedalsbreen glacier. Also nearby are several excellent national parks and the spectacular waterfalls at Geirangerfjord.
If you want to get a little further off the beaten track you might consider visiting Hammerfest which claims to be the northernmost town in the world. This town is primarily a fishing town but is also an excellent place to view the famed Northern Lights, the town also boasts some unique attractions such as the Royal and Ancient Polar Bear Society. This is also an excellent place to spot reindeer, they are very common this far north and there are usually some grazing in Hammerfest's graveyard.
Travel
The rail network in Norway is comprehensive and efficient if a little expensive, the network is run by NSB and boasts some of the most scenic rail routes in the world. Some routes have compulsory reservations and on these routes the reserved ticket must be bough by the weekend before departure. This prevent spontaneous travel on some routes so you may need to plan your journey in advance even if you are using a railpass.
NSB offers a flexipass called the Norway Railpass which allows unlimited travel for up to five days in a one month period. Additionally the Scanrail pass offers up to 10 days travel in a 2 month period throughout the whole of Scandinavia (Denmark, Finland, Norway and Sweden) and the pass also entitles the bearer to reductions on many ferries. On top of all this the standard Eurail and Interrail passes are valid in Norway.
The bus network is more extensive than the rail network and will allow you to reach towns and villages that are not covered by the rail system. Prices are cheaper than rail travel although there is the usual trade-off when it comes to travel times. The largest coach operator is Nor-Way Bussekspress which operates routes throughout the country including routes well into the Arctic circle. www.nvb.no JVB operates an East-West service primarily between Bergen and Lillehammer. If you are looking to travel north into Lappland you will find Ofotens Bilruter is dominant in this area. It is also easy to pick up international buses to Finland, Sweden and Russia.
Accommodation
Norway has plenty of hotels of all standards in all towns of any sized, however these will be prohibitively expensive for a lot of travellers. This makes youth hostels a much better alternative. The Norwegian Hostel association is a non profit organisation which maintains information on 75 hostels throughout Norway. The site includes pricing and booking information for all of the hostels as well as a detailed overview of the facilities at each hostel. Although 75 hostels doesn't seem like a large number compared to other European countries the hostels which exist are spread evenly throughout the country so you should be able to find one close to wherever you want to go.
Health
The standard of health in Norway is high and the UK has a reciprocal agreement with the Norwegian health service entitling British national to free emergency medical treatment. Further treatment cover can be obtained by bearing a completed E111 from. You should still take out travel insurance however as these two levels of cover will not extend to some medical treatments.
The Norwegian Food Control Authority advises taking local advice before eating mussels harvested off the coast. Apart from this normal precautions should be observed when consuming food and drink. The drinking water in Norway is considered safe and there are no vaccinations required or recommended before visiting Norwaw.
Useful Links
Entry Visas for Norway
A valid passport or EU National ID is required by all visitors to Norway for the duration of their stay. Nationals of the EU do not require a visa for any length of stay, US nationals require a visa for visits of longer then 3 months. EU citizens may work in Norway but need to obtain a permit from the Norwegian police on arrival. Any other immigration or visa related enquiries should be directed to your local Norwegian Embassy.
Addresses
Any queries regarding visas or immigration should be addressed to the local Norwegian Embassy:
Royal Norwegian Embassy 
25 Belgrave Square 
London 
SW1X 8QD 
Tel: (020) 7 591 5500 
Fax (020) 7 245 6993. 

Alternatively there are also Norwegian Consulates located in Edinburgh and Newcastle upon Tyne.
If you require British representation while you are in Norway you should contact the British Embassy:
British Embassy 
Thomas Heftyesgate 8 
0244 Oslo
Norway 
Tel: + [47] 23 13 27 00 
Fax: + [47] 23 13 27 38 

Alternatively there are also British Consulates in Bergen, Harstad, Kristiansand, Kristiansund, Stavanger, Tromso, ålesund and Trondheim.
Tourist information can be provided by the Norwegian national tourist office:
Norwegian Tourist Board, 
Charles House, 
5 Lower Regent Street, 
London 
SW1Y 4LR 
Tel: (0171) 839 6255 
Fax: (0171) 839 6014
Norway Employment for Backpackers
Residents of the USA, Canada, Australia, and New Zealand, as well as EU nationals are permitted to enter and reside in Norway for up to three months, only needing a passport. For a stay of three or more months you must apply to either the Norwegian Embassy or local police for a residence permit (oppholdstillatelse). The permit will enable you to stay in the country for up to five years, or one year for students and non EU nationals, who will also need a work permit. EU nationals are not required to wait until they have the permit before starting work. Alike Switzerland, you can usually expect high wages for work, but along with this goes the generally high cost of living.
The Atlantis 'Working Guest Programme'
Atlantis is an organisation that arranges placements in various environments throughout Norway. Types of work include agricultural tasks on farms where you will also be provided with accommodation, food, and be paid about NOK 700 (approx. kr60) for a 35 hour working week. Au pairing jobs can also be arranged, where pay is up to NOK 3000 (approx. kr255) per month, excluding tax deductions. Atlantis charge registration fees, which vary depending on the job you apply for, but for au pair work it is as much as NOK 1000 (approx. kr85). Programmes range from two to six month time periods.
Seasonal Work
Winter resorts in Gausdal, Voss, and Lillehammer, for example, may provide job opportunities in hotels, bars, and restaurants in a variety of roles. Similar jobs can also be found in beach resorts during summer months. Work in ski resorts can be anything from waitressing, au pairing, and even DJing. Pay for the most basic of jobs can start from about NOK 8000 (approx. kr680) per month, and be as much as NOK 8500 (approx. kr723) per month. Bear in mind that where employers provide accommodation and food, deductions of up to about NOK 1000 (approx. kr85) for each month can be made. To secure a job in a tourist-based industry it is best to enquire in person at the earliest in the tourist season as these types of jobs are popular with travellers and students.
Au Pairing
Atlantis and Inter Au Pair can both arrange au pair placements in Norway. The main cities of Oslo, Stavanger, and Bergen probably accommodate the majority of families looking for au pairs. As an au pair you will be expected to look after the children, taking them to and picking them up from school for example, maybe giving them some language tuition, as well as general domestic duties such as cleaning. Most au pairs in Norway are given about NOK 2800 (approx. 238) for a month's work as well as the provision of food and meals with their host family.
Agricultural Work
On-the-spot work can sometimes be found during the harvest seasons throughout Norway, particularly July to September. Try Lier for strawberry picking, Andebu for raspberries, and Loen for potatoes. Never expect wages to be desirably high, but what money you do earn can tide you over until you find better-paying work. Wages depend on your employer, the amount that you can collect, its worth at market, or how long it takes you. As with most seasonal work, jobs are best found by making personal enquiries at the beginning of the season, or by checking local notice boards and advertisements.
Volunteering
For work of up to one year, Camphill Communities offers placements to volunteers on their workcamps around the world. Work involves assisting in the running of community centres for adults with special needs, and further education centres. For a 6-day working week you can expect to receive pocket money of about kr29, as well as free accommodation and food. The Camphill community Corona in Ranheim has jobs available throughout the year in sheltered workplaces and health food shops. See the Camphill website, below, for more details.
Useful Links
www.atlantis-u.no for more information about Atlantis programmes throughout Norway.
http://www.unginfo.oslo.no/utiverden/aupair.php provides information about and listings for au pairing and relevant agencies in Norway, including the Inter Au Pair agency.
Callan Projects provides a database of links to various Camphill communities around the world.
How to Say Common Phrases in Norwegian
Meeting People
English

Norwegian

yes

ja

no

nei

thank you

takk

you are welcome

vær så god

please

vær så snill

excuse me

unnskyld meg

hello

hallo

goodbye

ha det

Good morning

God morgen

Good night

God natt

I do not understand

jeg forstår ikke

Do you speak…?

Snakker de..?

English

Engelsk

Norwegian

Norsk

What is your name?

Hva heter du?

Nice to meet you

Hyggelig å møte deg

How are you?

Hvordan har du det?

good

bra

bad

dårlig
Directions
English

Norwegian

map

kart

left

venstre

right

høyre

straight on

rett fram

far

langt

near

nær
Methods of Transport
English

Norwegian

Where is…?

Hvor er…?

How much is the fare?

Hvor mye koster billetten

ticket

billet

A ticket to…, please

En billet til…, takk

Where are you going?

Hvor drar du?

Where do you live?

Hvor bor du?

train

tog

bus

buss

underground

T-bane

airport

flyplass

train station

jernbanestasjon

bus station

busstasjon

underground station

T-banestasjon

departure

avgang

arrival

ankomst

parking

parkering
Time
English

Norwegian

What time is it?

Hvor mye er klokka?

today

i dag

yesterday

i går

tomorrow

i morgen
Accommodation
English

Norwegian

hotel

hotell

room

rom

reservation

resevering

Are there any vacancies?

Er det noe ledig?

No vacancies

Alt opptatt

passport

pass
Places
English

Norwegian

post office

postkontor

bank

bank

police station

politistasjon

hospital

sykehus

chemist

apotek

shop

butikk

restaurant

restaurant

museum

museum

church

kirke

square

plass

street

gate
Shopping
English

Norwegian

How much does this cost?

Hvor mye koster dette?

I will buy it

Jeg vil kjøpe det

I would like to buy…

Jeg vil gjerne ha…

Do you have…?

Har du…?

open

åpen

closed

stengt

postcard

postkort

stamps

frimerker

little

litt

lot

mye

all

alt
Meals
English

Norwegian

breakfast

frokost

lunch

formiddagsmat

dinner

middag

vegetarian

vegetarkost

cheers!

jubel!

The bill please

Regningen takk
Drinks
English

Norwegian

drink

drikkevarer

coffee

kaffe

tea

te

juice

jus

water

vann

beer

øl

wine

vin
Food
English

Norwegian

meat

kjøtt

fish

fisk

vegetable

grønnsak

fruit

frukt

potato

potet

salad

salat

dessert

dessert
Buy phrasebooks online at Amazon.co.uk
Norway Hostels
Hostels are a cheap form of accomodation, and so they are essential to backpackers and other budget travellers. We have compiled a list of hostels in Norway to help you plan your journey. If you are looking for a hostel in Norway, you've come to the right place.

Aalesund Hostels
Aandalsnes Hostels
Alta Hostels
Andenes Hostels
Balestrand Hostels
Bergen Hostels
Bodo Hostels
Borlaug Hostels
Boverdalen Hostels
Dalholen Hostels
Dombas Hostels
Drammen Hostels
Elverum Hostels
Evje Hostels
Fagernes Hostels
Flaam Hostels
Flekkefjord Hostels
Forde Hostels
Geilo Hostels
Gjovik Hostels
Halden Hostels
Hamar Hostels
Harstad Hostels
Hellesylt Hostels
Hemsedal Hostels
Honefoss Hostels
Horten Hostels
Hovden Hostels
Jotunheimen National Park Hostels
Kabelvaag Hostels
Karasjok Hostels
Kongsberg Hostels
Kragero Hostels
Kristiansand Hostels
Lake Norso Hostels
Lakselv Hostels
Lillehammer Hostels
Lofthus Hostels
Meraker Hostels
Mosjoen Hostels
Moss Hostels
Narvik Hostels
Nesbyen Hostels
Oppdal Hostels
Oslo Hostels
Risor Hostels
Roldal Hostels
Roros Hostels
Runde Hostels
Sarpsborg Hostels
Sjoa Hostels
Sjusjoen Hostels
Skarnes Hostels
Skien Hostels
Skjolden Hostels
Sogndal Hostels
Sorvagen Hostels
Stamsund Hostels
Stavanger Hostels
Steinkjer Hostels
Stokkoy Hostels
Stryn Hostels
Sunndalsora Hostels
Svalbard Hostels
Tonsberg Hostels
Tromso Hostels
Trondheim Hostels
Tynset Hostels
Uvdal Hostels
Vaeroy Hostels
Voss Hostels
There you have it, a Norway travel and backpacking guide. Hope you have found the information to help you on your backpacking journey.