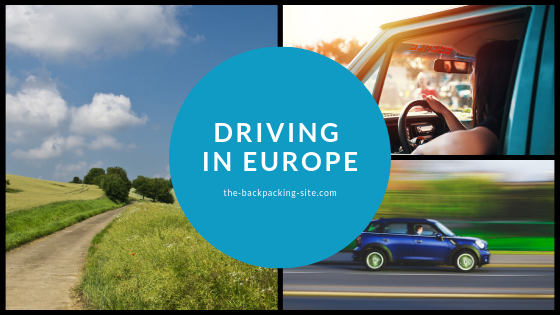 Most backpackers don't have the funds to stretch to car rental, but if you are planning a cross-Europe road trip or just want to spend a few days exploring the less accessible areas of a country, driving in Europe might be a great option.
Driving in Europe for Americans
The cars in Europe are almost exclusively manual transmission. Renting an automatic transmission is much more expensive and not available in some smaller locations. However, you shouldn't have any problems renting a car with a valid US driver's license.
Especially on the highways, drivers in Europe can be aggressive, and you may find yourself tailgated and generally hassled by the more aggressive drivers. In addition, most countries in Europe predominantly use junctions that are not governed by traffic lights and roundabouts are very common, it can take a bit of practice to get used to entering busy traffic.
Check out the driving regulations in a country before you visit. Many countries have different traffic laws which require particular care when driving.
Driving in Europe for Europeans
Be aware of the flow of traffic – if you're from the UK it may take a bit of getting used to driving on the right. Around major intersections, things are very clearly signposted to get you on the right track.
If you hold a valid driver's license from a country of the EU, you shouldn't have any problem renting or driving in Europe.
General Requirements for Driving in Europe
It is important that you obtain proper insurance for driving abroad. If you're using your own car your insurance provider should be able to provide an extension to your existing policy. Most rental car companies now provide insurance when you rent the vehicle but if you are not using one of the more well-known suppliers, then make sure you check what insurance you need, and what they provide.
Many countries require you to carry a first aid kit, a fire extinguisher, a warning triangle, headlight beam converters (where appropriate) and spare light bulbs. If you are renting a car you should ensure that your supplier has provided you with all of these items.
If you are taking your own vehicle you must carry your vehicle's registration document. Many countries require that you carry the original, not a photocopy. If you are using a rental car the company must provide you with a Vehicle on Hire Certificate (VE103B) which you must keep with you while you are driving the vehicle.
Car Rental
When renting a car in Europe, always examine it carefully for damage, some unscrupulous providers will try to charge you for damage that you did not cause to the car. Many of the larger companies actually have a form that an agent will fill in for you as you both walk around the car and examine it for damage. To be sure, it's a good idea to take a photo of any noteworthy scratches or dents.
Always return your car with a full tank of petrol (gas), rental companies will offer to fill it for you, but they charge a much higher rate than you'd pay at a local petrol station.
Carpooling Services in Europe
BlaBlaCar is a popular carpooling service used by the locals in Europe, normally University students. It may also be an interesting option for backpackers. The basic concept is that car owners driving from A to B offer their extra seats to share the cost of the journey. This tends to be cheaper than the bus or train, and you might meet some interesting locals.
Uber and Taxi
Uber is available in most European cities, but it won't always have the full functionality that you're accustomed to. Certain European laws blocked Uber from offering its UberX and UberPool products, but using the Uber app will still call you a taxi. A more popular way to order Taxis in Europe is the App MyTaxi.
Car Sharing in Europe
Share Now is a car sharing services available in many large European cities– you'll probably see these branded cars all over the place. The basic concept is that you can open the cars with your app, pay by the minute, and then park them anywhere else in the city once you're done. It may make sense to sign up for an account if you'll be spending an extended amount of time in Europe.
These are good for short drives within cities–  it's not cheaper than public transport, but it is cheaper than a cab and can give you more flexibility if the public transport system won't get you to where you want to go. As always, educate yourself on the local traffic laws before deciding to take to the streets. There may be very different rules compared to your home country.
Useful Links for Driving in Europe
Discover Cars – Search across multiple Car Rental agencies to find the best price
BlaBlaCar – popular carpooling service with European students
Uber – order a car or taxi, available in major cities in Europe
MyTaxi – order a Taxi in most major cities in Europe
Share Now – Car sharing services available in large European cities
Next up:
Liked this article? Share it with others who might be after the same information!