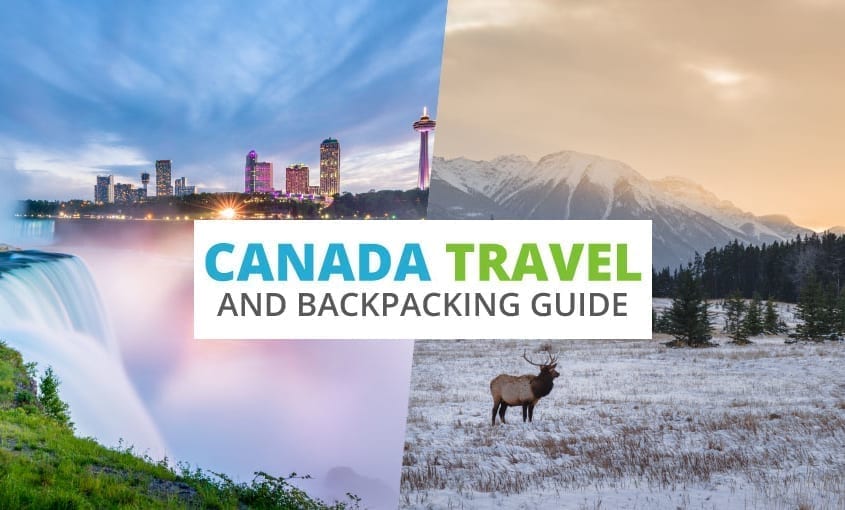 Looking for important travel information while backpacking in Canada? Here you will find information on working in Canada, entry visas, Canada hostels, and much more.
Table of Contents
Facts About Canada
Canada has long links with British and French traditions as well as with its American neighbours. This makes Canada's culture truly unique with some of the most approachable locals in the world. You will find Canada similar to the US in terms of standard of life and services available but you will find the pace of life a little more relaxed in Canada and the scenery in the rural parts is some of the most spectacular in the world. A great country to travel in itself it also makes an excellent addition to any American tour.
Currency: $ Can (Canadian Dollar) 100 cents to the dollar
Time Zone: Spans 6 time zones from GMT-3.5 to GMT – 8
Language: English, French in some regions
Telephone Services: Country code is +1, the international dialing code is 011
Emergency Numbers: 911 or 0 depending on the province
Climate in Canada and the best time to visit
When deciding the best time to go to Canada, weather plays a very important role. Summer tends to be warm and sunny but winter can be very cold indeed, especially further north. In some particularly bad areas of the Rockies snow and ice can build up rapidly preventing road crew from keeping up with road cleaning and snow can accumulate to several centimetres. When driving during these conditions you will be required to use winter tyres or snow chains on your tyres. In fact any road in Canada can suffer from this condition during the numerous winter storms but the Rocky Mountains are particularly unpredictable from September to May.
Things to do in Canada
Canada can offer pretty much anything you want to do but some highlights include such wonders as a coach ride onto Glaciers in the Rockies. After loading into a heavily modified (read spiky wheeled, 4 wheel drive) coach you are taken out onto a glacier and even get to drink from a glacial spring. These glaciers are high enough to be ice even in the summer so you can go on this extraordinary experience at any time.
Many travellers are drawn to Banff to its incredible natural hot springs which local rumour has it prolongs youth, others prefer to go in winter where resorts like Whistler give arguably some of the best snow sports in the world.
Outdoorsy adventurous types will find plenty to cater for their tastes such as white water rafting, husky rides and an amazing array of water sports at locations such as Lake Louise and Lake Ontario. And of course, everyone should see the famed Niagara Falls at least once!
Unique Activities in Canada
Another good way to get an idea of things to do in Canada is to scan the activities offered by Get Your Guide or Viator. They work directly with local tour operators, so you won't have to scour the internet or roam around town trying to find the best deal.
If you know your schedule ahead of time, a great insider tip is to buy tickets for major tourist attractions ahead of time. Tiqets has entrance tickets and skip the line passes for major tourist spots so that you can avoid the lines and save that precious time for more exploring. Tiqets has options in Banff, Calgary, Montreal, Niagara Falls, Toronto, Vancouver, and Victoria 
How to Travel Around Canada
Travel is cheap and affordable in Canada, Greyhound offers extensive point-to-point coach routes and hire cars are readily available. Train travel is an alternative although you may have trouble getting to some locations by train. Most provinces have a local train operator and Canadian National run a service which covers a large portion of Northern USA and Canada.
If you're flying to Canada or plan to take short flights within the country, we recommend using a few different flight comparison search engines. Kiwi is a new favourite among travellers. On average, we have found the cheapest flights to Canada with them compared to the other websites out there.
Of course, it is always worth checking Skyscanner to guarantee you're getting the best deal. Both websites offer great flexible search options, allowing you to search the whole country of Canada to find the cheapest airport to fly into, and also see prices for a full month if you're flexible on travel dates.
Backpacking Tours in Canada
Though part of the fun of backpacking Canada is exploring on your own, there are situations, especially when venturing off the tourist trail, when it does make sense to go with a guide or a small group. For these times, a popular option among backpackers is G Adventures. They hand-select local guides to ensure authenticity and quality. This is especially a good option for those travelling Canada alone who would like to meet up with like-minded travellers. Their most popular trips in Canada are their 14-day National Parks of the Canadian Rockies Eastbound tour, or their 11-day Vancouver Island and Northern Rockies tour.
Canada Hostels & Budget Accommodation

Cheap Accommodation is easily available, motels are generally available in any town and the standard compared to for example Eastern Europe is very high. You should find it quite easy to find Motel rooms and spaces in Youth Hostels on the day but if you want to book locally you will find literally hundreds of motels/hotels have online booking service.
We have had good experiences finding hostels in Canada on HostelWorld. They have the largest inventory of hostels worldwide, and with over 10 million reviews and ratings from other travellers, you know exactly what to expect.
Another good way to find accommodation in Canada is by checking hotels.com and booking.com. With both sites, you'll not only find hotels, but also homestays, hostels, and other unique accommodation. We have discovered some great finds and have appreciated the ability to book ahead. You can use their advanced filtering to narrow your results by budget, location score, overall review score, and amenities. Many of the places on booking.com also offer free cancellation, which takes the pressure off the planning phase of your trip.
Entry Visa Requirements for Canada
A valid passport is required for the duration of your stay and a return ticket is required. For short stays, EU passport holders will not require a visa but for more extended stays or for working in Canada you will need to contact the Canadian High Commission to obtain the correct documentation. More details can be found at the Canadian High Commission's website.
Health and Safety in Canada
In general, the health service is very good in Canada and easily competes with that of Western Europe. You will, however, need to have comprehensive travel insurance to cover any medical attention you may require. Even for short trips, our go-to travel insurance provider is World Nomads, which is also recommended by Lonely Planet, HostelWorld, and other major travel companies.
No shots or injections are required to travel from Western Europe to the UK.
Working holidays in Canada and volunteer projects
EU nationals can enter and reside in Canada as tourists for up to six months. Those intending to find work need to apply for Employment Authorization from the Canadian High Commission or Embassy whilst still in the UK. Canadian employment laws are particularly strict and if you are found working without authorisation you are highly at risk of deportation.
If you are a gap year student it is worth looking into BUNAC's 'Work Canada' programme. As part of this scheme, you are permitted to live and work in Canada for a year, as long as you can show funds of about CAN$1000, or less if you have already found a job for your arrival in Canada.
Become an Au Pair or Nanny in Canada
Perhaps one of the most traditional options for working holidays in Canada is to become an au pair. As an au pair in Canada, you'll be placed with a host family and will typically help with child care and household work such as cleaning.
It's best to work with a reputable Canada au pair program, which will help ensure a clear contract between the host family and the au pair regarding expected working hours and spending money.
According to aupair.com, au pairs in Canada work for about 25 hours a week and can expect to earn at least 800 Canadian dollars per month. Au Pair World is another helpful agency that can place you in au pair positions in Canada.
Canada has strict employment regulations with regards to childcare positions. Most people wanting to find a placement as a nanny or mothers' help will need to show qualifications or substantial experience in the field and should expect to dedicate themselves to a family for at least one year. Vacancies can be found in local newspapers. Nannies should anticipate working for up to 45 hours a week, and pay can be as much as CAN$880 for a month's work, but this is usually less.
Canada working holidays in bars, restaurants, or hostels
Another area to explore working holidays in Canada is to apply at local bars, restaurants, or hostels. Although most of these jobs will pay minimum wage, they will still require that you have official permission to work in Canada as a foreigner. Canada has one of the highest minimum wage rates in the world with workers earning $9.52 per hour, and the tipping culture can mean you'll be making much more during your working holiday in Canada.
A hostel job can be a great way to get to know fellow travelers while backpacking Canada, or to take a short break while on the road to earn some spending money. Hosteljobs.com offers lots of different jobs at hostels in Canada from reception, to maintenance, to tour guides and event managers. You can try to apply for the jobs before backpacking in Canada, or you can also pick up work while already on the road. Try simply asking if they have any vacancy, showing your work ethic and enthusiasm.
Seasonal work in Canada
Resorts in the Rocky Mountains provide some opportunities for work in hotels in Canada. Wages will vary depending on the type of work, and deductions are usually made for the provision of food and accommodation. Despite the casual nature of most jobs of this kind it is still vital to have a work permit for Canada as strict regulations mean that checks are often made on employees, often in places that attract a lot of international workers.
Farm Jobs in Canada
The Okanagan valley, British Columbia, and Ontario are home to some of the most promising fruit picking jobs in Canada. Between July and September peaches, apples, pears, and cherries etc. reach their harvesting seasons. Pickers are usually paid depending on how much they can collect. As long as you have authorisation to work in Canada it is worth contacting the Agricultural Employment Service for information relating to jobs and harvests in the Canadian agricultural sector.
If you're less interested in earning wages and more interested in gaining valuable life experience, WWOOF is a voluntary organisation placing volunteers on organic farm jobs in Canada and throughout the world. Workers are provided with board and accommodation and must pay an annual membership of €10 to WWOOF, see their website for more details.
Bunac
The British Universities' North America Club is a job organisation specialising in placements for gap year students. The types of work available vary, but include working on holiday camps with children, as a counsellor for example. Those wanting to join BUNAC are required to pay a registration fee, flights, and insurance etc. but can expect to receive a wage for the work they do.
Internships in Canada
CIEE (Council on International Educational Exchange) offers work placements in Canada. For gap year students who can show proof of an unconditional offer from a university for the following year the CIEE's 'Internship Canada' is ideal experience in a Canadian workplace. Internships last for up to twelve months and vary considerably in place, content, and payment. However, all internees are required to fund their own living, travel, and insurance, and to pay a $150 registration fee to CIEE.
Volunteering in Canada
If you have the budget to support yourself, a worthwhile cause is to spend some time volunteering in Canada. Idealist is a multi-faceted website where you can find Internships, minijobs, and volunteer opportunities in Canada. Another great database of information and volunteer placements in Canada is Volunteer World. They have many placements which focus on conservation and animal rescue work, which will put you up close and personal with the great wildlife in Canada.
Camphill Communities run volunteer placements throughout the world, including Canada. Volunteers work in communities with adults with special needs. You will be expected to work for 6 days a week and it is usually preferred that you stay for at least one year. Accommodation is provided for the duration of your stay, but you will have to fund your own meals. WWOOF, already mentioned, is an organisation placing volunteers on work projects on organic farms.
Useful links for finding work and volunteer programs in Canada
Wwoof.net gives information about voluntary work available on organic farms in Canada.
GAP are by far the most popular organisers of year-abroad schemes
Bunac organise working holidays, mostly on children's camps throughout the North American continent
CIEE help thousands of students each year to seize the opportunity of working abroad
Idealist

– find Internships, minijobs, and volunteer opportunities in Canada.

Volunteer World

– extensive database of information and volunteer placements in Canada

Au Pair World and aupair.com are some helpful agencies that can place EU nationals in au pair positions in Canada.
Hosteljobs.com

– search engine for jobs in hostels for those interested in doing a working holiday in Canada at a hostel, among fellow travelers
Useful Links for Backpacking in Canada
---
There you have it, the ultimate Canada backpacking guide. We hope you have found all the information you need for backpacking around Canada.
Next up:
Liked this article? Share it with others who might be after the same information!