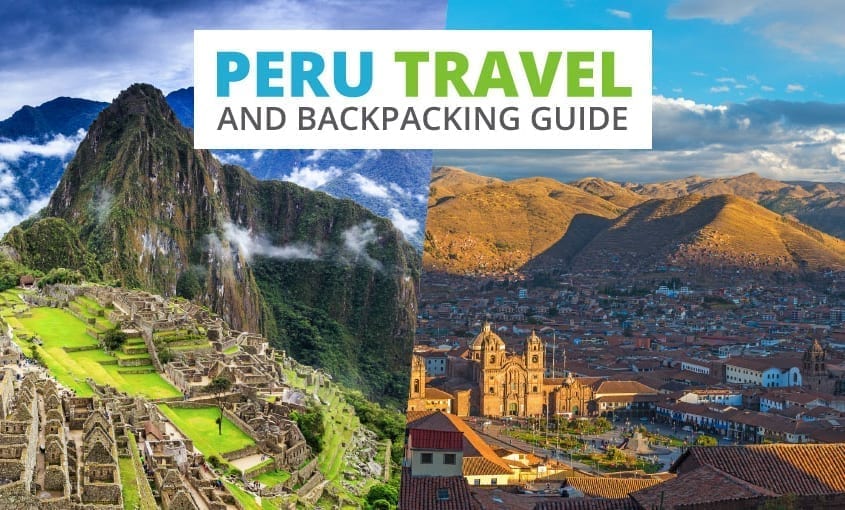 Backpacking Peru
Looking for important travel information while backpacking in Peru? Here you will find information on working in Peru, entry visas, Peru hostels, and much more.
Table of Contents
Facts About Peru
Peru is a vast, mountainous country steeped in the mystery of the Incas and other even more ancient races. Much of the once great Incan civilisation still lives on in the customs of bustling market towns nestled between the Andes.
With its breathtaking vistas and strange mountain ways, Peru continues to capture the imagination of travellers far and wide. The Selva, a lush area of subtropical uplands, lies between the rocky mountainous peaks of the Andes and the jungles of eastern Peru, and there are even stranger mysteries to behold in the arid lowland deserts.
In addition to its array of stunning Incan architecture, Peru offers more traditional tourist activities such as surfing, kayaking, horse-riding and deep sea fishing. There are plenty of bars, clubs and casinos in the more touristy areas as well as the chance to experience the traditional Peruvian lifestyle in out of the way areas.
Currency: Nuevo Sol = 100 centimos, exchanging currency other than US $ locally can be difficult.
Time Zone: GMT -5
Language: Spanish and Quechua (an indigenous language).
Telephone Services: Country code + 51, International access code 00
Emergency Numbers: 011 or 5114 for all services
Climate in Peru
As can be expected from a South American country, the weather is generally hot. Climate can range from subtropical in the jungle areas to the east to temperate in the Andes. Night time in the mountains is very chilly however so you may want to save some money to buy a Llama wool jacket and hat.
The coastal region experiences its summer between October and April which is the rainy season in the mountainous areas. The best time to visit the mountainous regions such as the Andes in Peru is from May to September.
Things to do in Peru
Machu Picchu
Hidden high on a mountain top between two jagged peaks, the ancient citadel of Machu Picchu was discovered in 1911 by Hiram Bingham who had heard rumours of a lost city in the jungle near Cuzco. Today it features as one of the Seven New Wonders of the World and attracted more than 400,000 visitors in 2003 alone.
Sunrise at Machu Picchu is the culmination of an ancient pilgrimage through several sacred Incan sites that takes place as a spectacular 3-5 day trek called the 'Inca trail'. The city itself is formed of two large Incan areas incredibly well conserved in the middle of a stunning cloud-forest.
Visitors are able to see a range of Incan buildings from royal mausoleums to farmers' lodgings. This expedition is well worth the investment and is a truly once in a lifetime experience. Hardy local porters carry camping equipment and food by mule and move ahead of the main party to set up camp prior to your arrival at any one of the many refreshment stops – where they will generally be waiting with a cup of hot coffee ready!
The Andean town of Cuzco is where you access the trail. If you don't fancy hiking you can travel to Machu Picchu aboard the Hiram Bingham Train for a one-day excursion in English Colonial style replete with champagne breakfast and all the trimmings.
Cuzco itself is worth spending a few days or even weeks in, so you can explore the nearby Sacred Valley and the various Incan wonders, market days and Andean customs thereabouts. You can stay in converted monasteries, farmhouses or colonial houses at very reasonable rates. On arrival at Cuzco you must take at least (the very least!) two full days of gentle (or no) activity to acclimatise to the altitude.
From Cuzco you can take a plane or bus to the Amazon port town of Puerto Maldonado to then transfer by river to a range of Amazon Lodges.
A spectacular train ride (or bus for those who prefer) descends through the Andes to bring you to the shores of Lake Titicaca and the town of Puno. You can stay for a few days exploring the unique lifestyle of the Indians who live aboard floating islands made of reeds or cross the lake to neighbouring Bolivia and visit the world's highest capital city – La Paz.
The Colca Canyon
Peru offers some spectacular scenery; many would be surprised to learn that the Arequipa-Colca Canyon is nearly twice the depth of the USA's famed Grand Canyon and also features enormous volcanoes rising in the background to boot!
The valley towns Yanque and Chivay maintain a way of life which they have followed for over 400 years, undisturbed by the rise of the western world. Furthermore, this region boasts many pre-Incan tombs and is also the home of the fabulous Andean Condor. You can start a 5-day overland trip through the Colca Canyon in Lima.
Lima
International flights arrive in Lima and this capital city has lots to offer backpackers. Visit the range of specialist museums or dine out in one of the many fantastic restaurants serving roasted guinea-pig (coi) and the famous raw fish ceviche in the city's Miraflores district.
The Nasca Lines
Nearby to Lima, in a vast and arid desert, stands a series of man-made markings so gigantic that they are only decipherable from the air. Seeing as these geoglyphs, depicting hundreds of stylized animals were created between 700BC and 200 AD, there is much speculation as to their meaning and function.
It was not until the age of air travel that modern man even knew of their existence. A bus ride to the town of Nasca and a short flight above the lines will reveal their mystery to you but their meaning remains lost in time.
Unique activities in Peru
Another good way to get an idea of things to do in Peru is to scan the activities offered by Get Your Guide or Viator. They work directly with local tour operators, so you won't have to scour the internet or roam around town trying to find the best deal.

If you know your schedule ahead of time, a great insider tip is to buy tickets for major tourist attractions ahead of time. Tiqets has entrance tickets and skip the line passes for major tourist spots in Peru such as in Arequipa, Cusco, Lima, and Puno so that you can avoid the lines and save that precious time for more exploring.
How to Travel Around Peru
If you're flying to Peru or plan to take short flights within the country, we recommend using a few different flight comparison search engines. Kiwi is a new favourite among travellers. On average, we have found the cheapest flights to Peru with them compared to the other websites out there.
Of course, it is always worth checking Skyscanner to guarantee you're getting the best deal. Both websites offer great flexible search options, allowing you to enter the whole country of Peru as your destination in order to find the cheapest airport to fly into, and also see prices for a full month if you're flexible on travel dates. 
Bus travel in Peru
Point-to-point buses in Peru are run by a variety of private companies, all of them offering very low fairs making coach a good way to get around. Peru operates several train services and the Cuzco to Puno journey high in the Andes offers the ride of a lifetime.
Be sure to spend the extra on first class as this offers a level of comfort that is merely standard to Europeans, whereas third is extremely uncomfortable. Several airlines offer inter-connecting flights between the major cities with international connections through Lima. When ordering a taxi get your hostel or hotel to help.
Train travel in Peru
The Southern Railway runs from the coast inland to Lake Titicaca and onwards to Urubamba Valley, past Machu Picchu and its Incan ruins, and right up to the fringes of the Amazon forest. These trains are slow and bumpy but are quite a good way to take in a lot of sites fairly cheaply.
Several classes are available from Ecomonico where petty thefts and crowded carriages are the norm, up to Turismo class which includes waitress service, a bar and significantly more comfortable seats.
Backpacking Tours in Peru
Though part of the fun of backpacking Peru is exploring on your own, there are situations, especially when venturing off the tourist trail, when it does make sense to go with a guide or a small group. For these times, a popular option among backpackers is G Adventures. They hand-select local guides to ensure authenticity and quality. This is especially a good option for those travelling Peru alone who would like to meet up with like-minded travellers. Their most popular trips in Peru are their 8-day Inca Discovery Tour Adventure to Machu Picchu, and their 16-day National Geographic Journey in Peru and Bolivia.
Health and Safety in Peru
Polio and typhoid are known to be present in Peru, so it is worth getting a vaccination for each of these diseases from your local GP before you leave. Prices can vary but are not generally more than S/50. Malaria is present in rural areas, so cover up to avoid mosquito bites especially at altitudes of less than 1500m.
As with travel to all other countries abroad, it is vital that you get travel insurance before you leave.
Healthcare is expensive and often not present in some areas, so it is essential that you hold a policy which is fully comprehensive and especially one that covers repatriation and loss of travel documents.
Be aware of altitude sickness and always take a few days to acclimatise before attempting anything even slightly strenuous. Your level of physical fitness prior to arriving at altitude makes little difference and if you don't take the required provisions, your holiday will be ruined. If you have a heart condition or a family history of heart conditions seek advice from your GP before travelling.
Crime in Peru
Street crime and petty theft are common in major cities so be vigilant at all times and avoid unsafe or dimly lit areas. Ask your hotel to order a taxi for you from a reputable company when travelling around at night. If you do opt for third class or find yourself on a busy bus or train service, be careful with your personal belongings as theft from sleeping travellers is common.
Entry Visa Requirements for Peru
A valid passport is required for the duration of your stay in Peru, in addition on entering the country, you will be issued a 90-day tourist Visa. This is commonly done free of charge at border crossings or onboard international flights arriving at Lima.
Extensions are available up to 60 days once you are in Peru, the appropriate British consulate will be able to give you guidance on how to obtain such an extension or you could check the Peruvian embassy's homepage.
If you intend to be working or staying for longer than 150 days you will need to contact the Peruvian embassy in the UK in order to obtain the appropriate visa.
Foreigner Work Permits and Backpacker Jobs in Peru
EU nationals can enter and reside in Peru for up to 90 days without needing a Visa or permit but will need a valid passport and proof of a return flight. Volunteers and students planning to study in the country should obtain the relevant Visa from the Peruvian Embassy.
If you intend to work whilst in Peru a working Visa is applied for by your employer in Peru. As is the case with most South American countries, it is generally very difficult to find work in Peru because Peruvian nationals are eager for employment and so even the lowest paying positions are often taken up. Most opportunities for working experiences will be found in either teaching English or volunteering.
Teaching English in Peru
Peru's capital, Lima, is likely one of the best places to find opportunities to teach English. English is becoming increasingly recognised as an important and useful language to learn, and many employers insist that their workers enroll in tuition.
Jobs may be found within places of employment or alternatively, asking around from door-to-door in the hope of some freelance work, and advertising in local papers. Most English teachers charge between PEN 18 and PEN 36 per hour.
If teaching English as a foreign language is something you want to pursue seriously and in other countries where jobs can be particularly competitive to find, it is worth enrolling on a course to gain the TEFL qualification, check their website for more details.
Volunteering in Peru
There are a great many opportunities to volunteer throughout Peru, from conservational projects to work with underprivileged and impoverished families. Many of the volunteer agencies mentioned below organise similar schemes and projects across a wide range of countries, including other South American nations but they often require your own funding, which can amount to more than S/3000 so it is wise to plan well in advance for such programmes.
Project Trust
Social care work, environmental projects, and English language helpers are all needed for Project Trust's twelve-month programmes. Volunteers must be aged between 17 and 19 and a half years old and are expected to raise S/3850 themselves to fund their project, this includes all expenses for living costs, travel, donations etc.
There are currently volunteering vacancies in three Project Trust sites in Peru: the SOS Cusco Children's Village needs workers to assist in the day-to-day running and supervision of the community; the Instituto Tupac Amaru in Cusco requires volunteers to help teach English to its students; and the Colegio Hiram Bingham in Lima, a school, needs helpers to assist in its work.
World Challenge Expeditions
For up to six months volunteers aged between 18 and 25 can work in teaching jobs, conservational projects, and medical and community care work. Again, volunteers are expected to fund their own expenses, which can total around S/3000 in some cases. Given that work is most usually unpaid it is important that you have sufficient funds arranged before leaving.
Quest Overseas
Programmes run by Quest Overseas incorporate learning with volunteering. Volunteers enrol in Spanish language lessons and participate in projects such as those in shanty towns in Lima. Projects are usually long-term and can cost more than S/3000 to fund yourself, which you will be required to.
AFS International Youth Development
Depending on your age, AFS offers places on either its Schools Programme (for 15 to 18-year-olds) for ten months, or the International Volunteer Programme (for 18 to 29-year-olds) for six months. In both cases, volunteers are accommodated by host families.
The Schools Programme is more focused on students experiencing life in Peru, whereas the International Volunteer Programme involves participation in a social project. Again, volunteers are required to raise their own money to fund their trip and costs can total S/3000 or more.
Latin Link
The focus of work with Latin Link is Christian missionary projects within church communities in South American countries. Examples of projects include work in community centres, orphanages, shelters, and in schools. Depending on the nature of the project volunteering can last for up to six months, or more in some cases. Volunteers are required to fund their own travel, insurance, living costs, donations etc. which can amount to more than S/1500.
Peru Hostels &Budget Accommodation

Cheap accommodation is generally plentiful. Within Lima, the capital, the Barranco suburb has a plethora of cheap hostels, restaurants and live music venues. This makes this quarter of the city incredibly popular with backpackers.
Throughout the rest of Peru accommodation is plentiful and cheap, particularly in the area surrounding Lake Titicaca where hotels are often situated in spectacular locations.
We have had good experiences finding hostels on HostelWorld. They have the largest inventory of hostels worldwide, and with over 10 million reviews and ratings from other travellers, you know exactly what to expect.
Another good way to find accommodation in Peru is by checking hotels.com and  booking.com. With both sites, you'll not only find hotels, but also homestays, hostels, and other unique accommodation. We have discovered some great finds and have appreciated the ability to book ahead. You can use their advanced filtering to narrow your results by budget, location score, overall review score, and amenities. Many of the places on booking.com also offer free cancellation, which takes the pressure off the planning phase of your trip.
Useful Links for Backpacking in Peru
The Peruvian Embassy contains visa information along with information on how to apply for extended visas and who is eligible.
The Peruvian tourist information office includes an English site.
GreenTracks offers tours of South American Rainforest and Archaeology including eco-travel to the Amazon and Latin America, Amazon wildlife expeditions by river and land, Amazon jungle lodges, Cuzco and Machu Picchu tours, and Chachapoyas archaeological sites.

Kiwi

,

Skyscanner

, and

Opodo

– Flight comparison search engines to find the cheapest flights to Peru and within the country

GetYourGuide

and

Viator –

a collection of local tours and things to do in Peru. Also offers Skip the Line tickets for crowded attractions

Tiqets

– Website selling entrance tickets and skip the line tickets for major tourist spots in Peru

G Adventures

– small group backpacking tours in Peru, great for solo travellers or for those interested in a more adventurous trip which would require a guide

HostelWorld

– #1 hostel search website to find accommodation in Peru. Thousands of hostels and millions of reviews from fellow travellers

Booking.com

– commonly used booking site in Peru. Hostels, hotels, and other unique accommodation with advanced filtering and millions of reviews

Travel Insurance

– read our comprehensive overview of Travel Insurance and some recommended providers for backpacking in Peru
---
There you have it, the ultimate Peru backpacking guide. We hope you have found all the information you need for backpacking around Peru.
Next up:
Liked this article? Share it with others who might be after the same information!