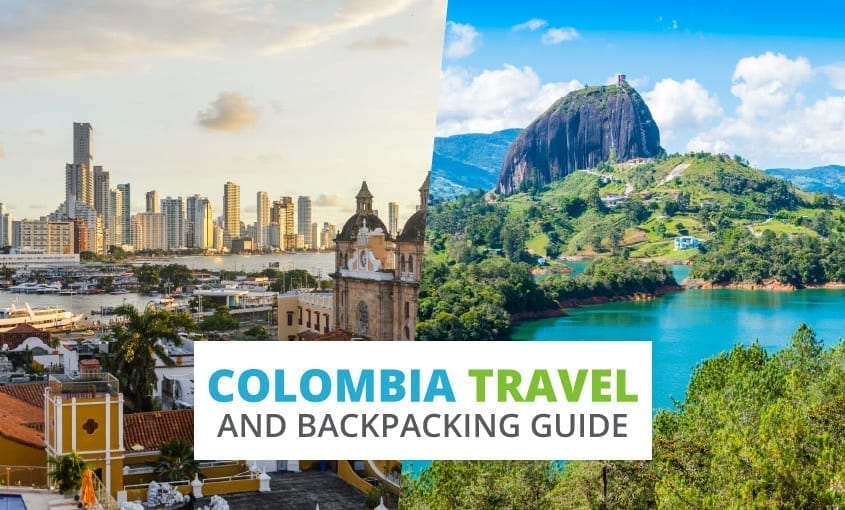 Backpacking Colombia
Looking for important travel information while backpacking Colombia? Here you will find information on working in Colombia, entry visas, Colombia hostels, and much more.
Table of Contents
Facts About Colombia
Colombia is a beautiful country that offers everything a backpacker could dream of – ancient ruins, Caribbean beaches, Amazon jungles, snow-capped peaks and beautifully preserved colonial towns bustling with a people famous for their vibrancy and love for life.
Currency: Peso (Col$)
Time Zone: GMT -5
Language: Spanish
Telephone Services: Country code +57, International access code 90
Emergency Numbers: 112 for all services
Weather in Colombia
The climate in Colombia is very hot and humid, the rainy season is between May and November, at higher altitudes, the climate is more temperate and there are mountains high enough to have permanent snow caps. The best time to visit Colombia to avoid the rainy season or the sweltering heat is December to March. However, during these months it can be quite crowded with tourists.
Things to do in Colombia
Colombia is a large country with many different regions. The problem will become how to fit in all the things to do in Colombia. There is the Caribbean climate of the Northern coast, epic mountains, valleys, and deserts, and vibrant cities. There is no shortage of amazing places to visit in Colombia.
Bogota
Colombia's bustling capital city offers several excellent museums such as the Museo del Oro (Gold Museum) and the Museo Nacional. Colombia is famous for its pre-conquest gold work and you can still see many original pieces. Another featured attraction is the Jardin Botanico Jose Celestino Mutis, which besides being a mouthful to pronounce is also a stunning botanical garden featuring a variety of national plant life.
50km to the northeast of Bogota lies the famous Laguna de Guatavita, the birthplace of the El Dorado myth and the sacred lake of the Musica Indians.
Cartagena
Cartagena, a UNESCO World Heritage site is Colombia's most visited tourist spot. Founded some 500 years ago to transport the riches of the Americas onto the Caribbean, this colonial gem features as one of the most beautiful and vibrant cities in the world. Visit the old town and the original coral stone fortifications or head out to one of the cities many nightspots. Cartagena has long since been the intellectual and cultural hub of Colombia and as the first city in the Americas to offer residence to freed slaves it boasts a diverse ethnic mix.
Take a ferry to the nearby beach of Playa Blanca – white sands and crystal blue sea await you. Head out further to the Islas de Rosario and lay right back in a truly Caribbean atmosphere.
Santa Marta
Santa Marta, the city of contrasts, allows you to walk to the base of the Sierra Nevada – Colombia's highest mountain one day, and snorkel amongst nearby coral reefs the next.
From here it is possible to visit the Ciudad Perdida (Lost City) of the Tayrona Indians via a six-day trek.
Unique Activities in Colombia
Another good way to get an idea of things to do in Colombia is to scan the activities offered by Get Your Guide or Viator. They work directly with local Colombian tour operators, so you won't have to scour the internet or roam around town trying to find the best deal.
If you know your schedule ahead of time, a great insider tip is to buy tickets for major tourist attractions in Colombia ahead of time. Tiqets has entrance tickets and skip the line passes for major attractions in Bogotá and Medellín so that you can avoid the lines and save that precious time for more exploring.
How to Travel Around Colombia
If you're flying to Colombia or plan to take short flights within the country, we recommend using a few different flight comparison search engines. Kiwi is a new favourite among travellers. On average, we have found the cheapest flights to Colombia with them compared to the other websites out there.
Of course, it is always worth checking Skyscanner to guarantee you're getting the best deal. Both websites offer great flexible search options, allowing you to search the whole country of Colombia to find the cheapest airport to fly into, and also see prices for a full month if you're flexible on travel dates.
Backpacking Tours in Colombia
Though part of the fun of backpacking Colombia is exploring on your own, there are situations, especially when venturing off the tourist trail, when it does make sense to go with a guide or a small group. For these times, a popular option among backpackers is G Adventures. They hand-select local guides to ensure authenticity and quality. This is especially a good option for those backpacking Colombia alone who would like to meet up with like-minded travellers.
Their most popular trips in Colombia are their 11-day Colombia Multisport Bogota to Cartagena tour or their 12-day Medellin to Quito Adventure. Or why not take a small group wellness tour?
Colombia Visa Requirements
According to the Foreign & Commonwealth Office if you carry a British passport you should be able to enter Colombia for up to 60 days without a visa, although all entry and length of stay permission are entirely at the discretion of Immigration Officials. Your passport must be valid for six months after arrival.
Health and Safety in Colombia
Colombia is still reeling from the era when druglords caused turmoil throughout the country. However, nowadays the situation has stabilized and Colombia is generally a very tourist-friendly and safe place to visit. In fact, the locals are extremely welcoming and happy to see visitors return to Colombia.
There are still areas that are recommended to avoid, for example some of the poorer neighbourhoods in the large cities and the jungle between the border of Panama and Cartagena. To be safe, you can check your government's advice before travelling to Colombia.
To stay safe, you should be vigilant in major cities and avoid poor neighbourhoods in the larger cities of Colombia. Remember if you do run into trouble, hand over your possessions as calmly as possible, these things are replaceable and secondary to your continuing health.
As with travel to all other countries abroad, it is vital that you get travel insurance before you leave. Vaccinations are recommended for polio, typhoid and yellow fever. Dengue Fever is present in many areas of Colombia and the cities. In densely forested regions there is a risk of Malaria.
Tap water may be unfit for consumption so bottled water is recommended. Be careful of food from street vendors – choose a busy outlet if any at all. Colombian food is both delicious and cheap, so always choose a restaurant that looks busy.
Foreigner work permits and backpacker jobs in Colombia
EU nationals can enter and reside in Colombia for up to 90 days without needing a Visa or permit, but will need a valid passport and proof of a return flight. Working Visas are difficult and complicated to attain. Visas must be obtained from a country outside of Colombia, Ecuador is the closest, and you will need various papers from your employer in Colombia.
As is the case with most South American countries, it is generally very difficult to find work in Colombia because Colombian nationals are eager for employment and so even the lowest-paying positions are often taken up. Most opportunities for working experiences will be found in either teaching English or volunteering.
Teaching English in Colombia
To gain a working Visa to teach you must show proof of having a teaching qualification, however many unqualified people still find work, particularly in the capital of Colombia, Bogota. If you do have qualifications, look for jobs in schools and language institutions, and even if you do not it is still possible that you may be hired by some schools.
Some of the best opportunities to teach English in Colombia are found by asking around in person, and even finding some freelance tuition work, start looking in the main cities of Medellin and Bogota. If teaching English as a foreign language is something you want to pursue seriously and in other countries where jobs can be particularly competitive to find, it is worth enrolling on a course to gain the TEFL qualification, check their website for more details.
Volunteering in Colombia
There are a great many opportunities to volunteer throughout Colombia, from conservational projects to work with underprivileged and impoverished families. Many of the volunteer agencies mentioned below organise similar schemes and projects across a wide range of countries, including other South American nations, but they often require your own funding, which can amount to more than Col$3000 so it is wise to plan well in advance for such programmes.
Baptist Missionary Society
BMS volunteers take part in 'Youth Action Teams' who spend a year working in teaching and social care, as well as more hands-on jobs such as building work and construction projects. Positions are available for Christians aged between 18 and 25 who are willing to fund their own travel, food, training etc. which can total up to Col$3000.
USPG Experience Exchange Programme
USPG is another missionary agency whose church-based volunteer programmes last between six and twelve months. Work in Colombia includes practical jobs such as building community centres. Food and accommodation is sometimes provided by the organisation for its volunteers, but individuals must fund general expenses such as travel and insurance.
AFS International Youth Development
Depending on your age, AFS offers places on either its Schools Programme (for 15 to 18 year olds) for ten months, or the International Volunteer Programme (for 18 to 29 year olds) for six months. In both cases, volunteers are accommodated by host families in Colombia.
The Schools Programme is more focused on students experiencing life in Colombia, whereas the International Volunteer Programme involves participation in a social project. Again, volunteers are required to raise their own money to fund their trip and costs can total Col$3000 or more.
Colombia Hostels and Budget Accommodation

Colombia is extremely cheap and you will find rock bottom prices on accommodation in any major city, in addition to modern luxurious hotels at a much higher price. Many colonial houses have been converted into hotels and you can stay in some really impressive properties at very reasonable prices.
We have had good experiences finding hostels in Colombia on HostelWorld. They have the largest inventory of hostels worldwide, and with over 10 million reviews and ratings from other travellers, you know exactly what to expect.
Another good way to find accommodation while backpacking in Colombia is by checking hotels.com and  booking.com. With both sites, you'll not only find hotels in Colombia, but also homestays, hostels, and other unique accommodation. Many of the places on booking.com also offer free cancellation, which takes the pressure off the planning phase of your trip to Colombia.
Useful links for Backpacking in Colombia
The FCO has placed areas of Colombia on its travel warning list, check out any advice they have before heading to Colombia.
Kiwi and Skyscanner 

– Flight comparison search engines to find the cheapest flights to Colombia and within the country

GetYourGuide

and

Viator –

a collection of things to do in Colombia. Also offers Skip the Line tickets for crowded attractions

Tiqets

– Website selling entrance tickets and skip the line tickets for major tourist attractions in Colombia

G Adventures

– guided small group tours in Colombia, great for solo travellers or for those interested in a more adventurous trip which would require a guide

HostelWorld

– #1 hostel search website to find accommodation while backpacking Colombia. Thousands of hostels and millions of reviews from fellow travellers

Booking.com

– commonly used booking site for accommodation. Hostels, hotels, and other unique accommodation in Colombia with advanced filtering and millions of reviews

Travel Insurance

– read our comprehensive overview of Travel Insurance and some recommended providers for backpacking Colombia
---
There you have it, the ultimate Colombia backpacking guide. We hope you have found all the information you need for backpacking around Colombia.
Next up:
Liked this article? Share it with others who might be after the same information!