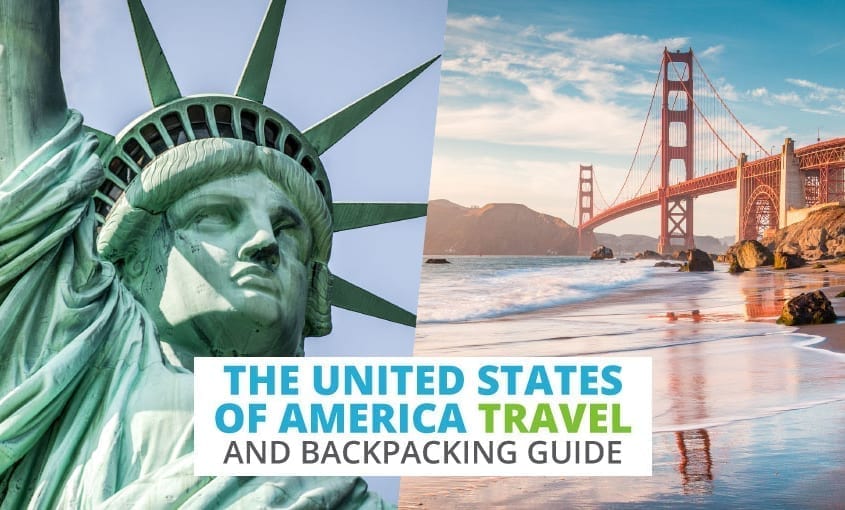 Backpacking in the USA
Looking for important travel information while backpacking in the USA? Here you will find information on working in the USA, entry visas, USA hostels, and much more.
Table of Contents
Facts About the United States of America
Tourism in the USA is a massive industry and millions of backpackers and tourists visit every year. Most tourists already have an idea of what to expect due to the proliferation of American culture abroad. The US is a truly huge place with plenty of things to do in every state.
In general, the US is very welcoming of tourists although if you can't speak English or Spanish you won't find many Americans who can speak your language. However, with even the most basic tourist English, you will be able to enjoy your trip.
Currency: $ US dollar, 100 cents to the dollar
Time Zone: Spans 6 time zones ranging from GMT -5 to GMT -10
Language: English
Telephone Services: Country code +1, International Dialling Code 011
Emergency Numbers: 911
Climate in the USA and the best time to go
When deciding the best time to visit the US, the weather plays an important role. The climate varies considerably from region to region, in general, you can expect it to get warmer further south and colder further north.
Top Things to do in the USA
Since popular places in the USA can get crowded during tourist season, it is wise to reserve tickets and activities ahead of time. GetYourGuide sells entrance tickets to museums and landmarks at face value so you can avoid the lines and save that precious time for more exploring.
Viator is another popular travel website that helps you book things to do in the USA. They work directly with local tour operators in the USA, so you won't have to scour the internet or roam around town trying to find the best deal.
If you know your schedule ahead of time, a great insider tip is to buy tickets for major tourist attractions ahead of time. Tiqets has entrance tickets and skip-the-line passes for major attractions in the USA which can be a worthwhile cost during peak tourist season.
How to Find Cheap Flights to the USA
In order to find the best flights to the USA we recommend using a few well-known flight comparison search engines. These websites offer powerful search options, like entering flexible dates and airports in order to find the cheapest possible flight to the USA.
Our go-to flight search engine is Skyscanner, which we love for its extremely flexible search options. Our favourite way to get travel inspiration is their "Everywhere" feature. Simply enter "Everywhere" as a destination, and it will then list all available flights from your departure city in order of price. This also works when entering the entire country of the United States as your destination. Skyscanner will search all possible airports in the country in order to find the cheapest option.
Kiwi is another new favourite among backpackers. Kiwi works by combining flights from different carriers in order to get the best deal. Also, if there is a better ground or ferry option for the route you're searching, Kiwi will include that in the search results. On average, we have found the cheapest flights to the USA with them compared to the other websites out there.
How to Travel Around the USA on a Budget
Travel in the USA is easy with buses, trains and internal flights all readily available and budget deals are normally easy to find. Of particular value are the Greyhound bus and Amtrak rail services.
If you are looking to just go by bus or train, you can use Wanderu to search ground travel options. For those travelers with the budget, car rental is also widely available at all major airports and many other locations.
Another popular choice is to travel by RV in the USA. Especially if you're travelling with other people, this could be an even more economical choice since you'll be combining the costs for accommodation and transport.  This would also give you unlimited flexibility with your itinerary not to mention the ability to sleep in some of the world's most awe-inspiring national parks. Read more about how to travel the US by RV.
Backpacking Tours in the USA
Though part of the fun of backpacking the USA is exploring on your own, there are situations, especially when venturing off the tourist trail, when it does make sense to go with a guide or a small group. 
The most popular option for a social travel experience is Contiki tours. Contiki trips offer more than just transportation, they are organized social group travel for travelers aged 18-35. Whether you're traveling by yourself or going with a group of friends, Contiki tours are perfect for people looking to have a blast, meet new friends, and form lifelong memories. They offer tours that travel primarily in the USA or longer tours that cover other nearby places.
G Adventures is another great option for organized travel, but with a smaller group. It's a great choice for anyone backpacking the USA alone who would like to meet up with like-minded travellers. It's also a practical option for exploring places where you need an experienced guide, like a long hiking adventure or visiting a place well off the beaten path. You can choose from different styles of small group tours like active, wellness, hiking trips, 18-30somethings, and more. Their most popular trips in the USA are their 8-day Western Express tour in California, Nevada, and Arizona, or their 14-day Highlights of the Eastern US and Canada tour.
Hostels & Budget Accommodation in the USA
Budget accommodation is readily available in the USA, even the cheapest motels will provide quite a good standard of living with almost all rooms having their own en-suite bathroom and most boasting a TV.
We have had good experiences finding hostels in the USA on HostelWorld. They have the largest inventory of hostels worldwide, and with over 10 million reviews and ratings from other travellers you know exactly what to expect.
Another good way to find accommodation in the USA is by checking booking.com. On their site, you'll find hotels, homestays, hostels, and other unique accommodation. They have the most reviews and advanced filtering of any accommodation-booking site, so you'll be sure to find a great place in your budget. We have discovered some great finds and have appreciated the ability to book ahead. Many of the places on booking.com also offer free cancellation, which takes the pressure off the planning phase of your trip to the USA.
If you are backpacking with another travel companion, we highly recommend booking a rental via VRBO. With a vacation rental, you'll have more space, your own kitchen, and you'll get a better feel for how the locals live. Plus, the cost of a vacation rental can be split among your group, oftentimes making it cheaper than doing individual hotel rooms. 
If you're looking to save even more money while backpacking in the USA, there are plenty of creative ways to get free accommodation in exchange for work in the US. For example, one of our favorite ways to stay in amazing locations for free is by signing up as a petsitter with Trusted Housesitters. The site connects responsible animal lovers with petsitting opportunities in the USA and all over the world. It's a win-win for both sides – travellers can stay in amazing locations for free, and homeowners can rest easy knowing that someone is watching over their place.
And lastly, CouchSurfing is a great community that connects travellers with local hosts in the USA. You can stay for free with verified hosts, who will usually take some time to show you around the local spots.
Entry Visa Requirements for the United States of America
Valid passports are required for entry by everyone except nationals of Canada. If you hold an EU passport or are a British Foreign national you will not require a Visa for a stay up to 90 days long. If you are going to be staying in the USA for longer than 90 days or are intending to work in the USA you will need to obtain a Visa from a local US Embassy.
A list of all US Embassies is located on usembassy.org.uk, which also carries information relating to what kind of Visas are available and who is eligible. In general nationals of EU countries should have no problem obtaining the necessary documents.
Visa requirements for the USA can vary widely depending on your country of origin and can change over time. To avoid any unpleasant surprises, be sure to check the latest visa requirements while you're still planning your trip.
Health and Safety in the USA
The US has an excellent private healthcare system, and the standard of medical care is amongst the highest in the world. There are no shots or injections required when visiting the US from abroad. Without insurance, costs for any medical procedures and doctor's visits will run fairly high.
Because of this, it is vital that you get travel insurance before you leave for the USA. Even for short trips, our go-to travel insurance provider is World Nomads, which is also recommended by Lonely Planet, HostelWorld, and other major travel companies.
Foreigner Work Permits and Backpacker Jobs in the USA
Most who go backpacking in the USA will either have saved up enough to fund their time abroad, or hope to do so whilst away. Plans to work in restaurants, bars, ski resorts etc. in the USA may sound flexible and readily available, but such casual work is, in fact, illegal without an h3-B Temporary Worker Visa, a B-1 Voluntary Work Visa, or a Q Visa, which can involve a long application process.
Despite these restrictions, many people still choose to work illegally in the USA, which can lead to deportation and possible refusal of return to the country. A  safer option is to find a job through an agency or organisation.
Bunac
BUNAC (British Universities North America Club) and Camp America are probably the most publicised job organisations for gap year students. BUNAC offers opportunities working with children on a summer camp in the USA, for example as a counsellor.
Camp America is similar in offering placements during summer months for teaching, cooking, and cleaning etc. in a children's summer resort. Both organisations provide flights, food, accommodation, and spending money. The total cost of registration, insurance, and visa fees with BUNAC amounts to just over $200, but working for up to nine weeks with them can earn you a minimum of $670 (approx. $$425).
You should be aware however that BUNAC has considerable demand for places in Summer Camps, there is particularly a lot of competition for the counsellor places which are slightly higher paid and lead to a position of greater responsibility. In addition, the application procedure is lengthy and involves several stages of training and interviews.
It is worth noting that whilst BUNAC provides assistance for arranging visas they are not always able to obtain them on their own, for instance, to take part in an American camp you will be required to collect your visa from the embassy in London in person.
It is also worth noting that whilst BUNAC is a great way to see America cheaply you will be working too. However, if you act responsibly and take the work seriously you will be able to have fun and most BUNAC participants spend a couple of weeks at the end of their work doing their own thing and enjoying the tourist life in America.
Au Pair in the USA
Becoming an au pair to an American family is another way to work legally, as it is organised through an agency. The Au Pair in America (APIA) organisation is widely recognised, but most agencies offer similar opportunities. US law regulates that au pairs in the USA earn $139.05 (approx. $88) for a week's work, usually about 45 hours.
Accommodation and food are both provided by the host family. Au pairs are required to enrol in an educational course for a few hours a week whilst working, this funded by the host family. The main requirements for au pairing are that you are aged between 18 and 26, hold a full clean driving licence, and have had experience of caring for children. A J1 visa is needed for this type of work, which allows you to stay in the country for a year. The US Embassy can be contacted for all details about this type of visa as well as those already mentioned.
As an au pair, your chief duty will, of course, be the care of children but your duties may also extend to light housework such as washing clothes or cooking for the children. You should be willing to help the family out in tight spots with any other housework that needs doing but don't let yourself become a domestic servant as well as an au pair without your consent!
As a bonus however a lot of the time the children will be attending nursery or school so you could well have a reasonable amount of spare time to yourself. To get the most out of the experience you should be creative and fun with the children and also make the most of your free time in ways that don't jeopardise the standard of care you provide. Nevertheless, you will have ample time to do whatever you want on your days off and the workload is never too high, with accommodation and food also provided this is a very attractive option for work travel in the USA.
Internships in the USA
Internships are useful for gaining experience in a specific workplace environment whilst traveling. They usually last a year, but can be difficult to obtain because of US employment laws and restrictions concerning work permits.
Nevertheless, organisations such as CCUSA and Alliances Abroad work to place students in internships, ranging from positions in national parks and resorts to social and clerical work, amongst others. As with au pair schemes, CCUSA requires you to hold a J1 visa, but the work placements are usually for only about five months so this would not suffice for a whole year of work-based traveling. Furthermore, although such organisations arrange flights, insurance and visas, it may be more difficult to find accommodation, particularly on a long-term basis.
Another excellent source of internships is through private sponsorship with a company, many international companies are happy to invest in potential employees by sending you to work in another location for a year. Sometimes you will have to make a commitment to the company, for example promising to work for them for a year or two after graduation but if you manage to land one of these lucrative internships it could well be a good investment.
Other large companies organise competitive internship schemes, these usually involve sitting numerous exams and aptitude tests as well as a lengthy interview process. These kind of internships are generally at highly desirable companies such as those in the Fortune 500. Those applying should expect heavy competition but with large potential rewards both in terms of generous pay but also for the CV boosting potential employment at these sort of companies offers.
Volunteering in the USA
Volunteer travel is a great way to explore the USA on a budget while also giving back. Typically, you'll work on the project a set number of hours per week in exchange for free accommodation, and sometimes other perks such as free food, free bike rentals, and more. 
If volunteer work in the USA sounds like something you want to do, it's best to do it via a reputable agency. An agency will help screen volunteer programs and hosts in the USA to make sure you have support every step of the way.
Volunteer work in the USA can be organized through the WorldPackers agency, and you can use promo code BACKPACKING10 to save $10 on your membership. WorldPackers can connect you with volunteering opportunities in the USA with NGOs, hostels and homestays, agricultural or wildlife experiences, and more.
Useful Links for Backpacking in the USA
Amtrak is the USA's national rail service and a great way to travel around.
Greyhound is an excellent point-to-point coach service in the USA. They offer flexible travel passes and you can book online.
GAdventures

– guided small group tours in

the USA

, great for solo travellers or for those interested in a more adventurous trip which would require a guide

DiscoverCars –

The world's leading rental car search engines to rent a car in

the USA 

Kiwi

and

Skyscanner

– Flight comparison search engines to find the cheapest flights to

the USA

and within the country

GetYourGuide

and

Viator

–

a collection of local tours and activities in

the USA

. Also offers Skip the Line tickets for crowded attractions

Tiqets

– Website selling entrance tickets and skip the line tickets for major tourist attractions in

the USA

HostelWorld – #1 hostel search website to find accommodation while backpacking the USA. Thousands of hostels and millions of reviews from fellow travellers
Booking.com

– commonly used booking site for accommodation in

the USA

. Find hostels, hotels, and other unique accommodation in

the USA

with advanced filtering and millions of reviews

World Nomads Travel Insurance

– Comprehensive travel insurance for long and short trips when backpacking

the USA
---
There you have it, the ultimate USA backpacking guide. We hope you have found all the information you need for backpacking around the USA.
Next up:
Liked this article? Share it with others who might be after the same information!