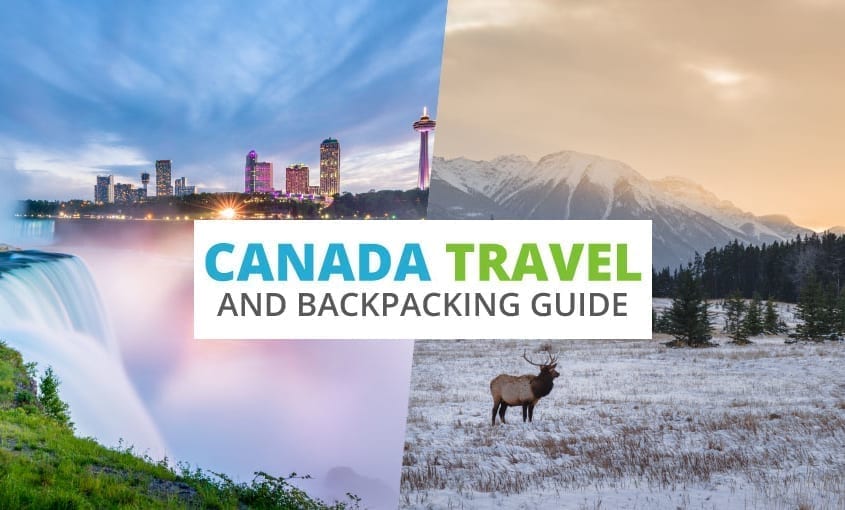 Backpacking Canada
Looking for important travel information while backpacking around Canada? Here you will find information on working in Canada, entry visas, Canada hostels, and much more.
Table of Contents

Facts About Canada
Canada has long links with British and French traditions as well as with its American neighbours. This makes Canada's culture truly unique with some of the most approachable locals in the world. You will find Canada similar to the US in terms of standard of life and services available but you will find the pace of life a little more relaxed in Canada and the scenery in the rural parts is some of the most spectacular in the world. A great country to travel in itself it also makes an excellent addition to any American tour.
Currency: $ Can (Canadian Dollar) 100 cents to the dollar
Time Zone: Spans 6 time zones from GMT-3.5 to GMT – 8
Language: English, French in some regions
Telephone Services: Country code is +1, the international dialling code is 011
Emergency Numbers: 911 or 0 depending on province
Climate
Summer tends to be warm and sunny but winter can be very cold indeed, especially further north. In some particularly bad areas of the Rockies snow and ice can build up rapidly preventing road crew from keeping up with road cleaning and snow can accumulate to several centimetres. When driving during these conditions you will be required to use winter tyres or snow chains on your tyres. In fact any road in Canada can suffer from this condition during the numerous winter storms but the Rocky Mountains are particularly unpredictable from September to May.
Things to see and do
Canada can offer pretty much anything you want to do but some highlights include such wonders as a coach ride onto Glaciers in the Rockies. After loading into a heavily modified (read spiky wheeled, 4 wheel drive) coach you are taken out onto a glacier and even get to drink from a glacial spring. These glaciers are high enough to be ice even in the summer so you can go on this extraordinary experience any time.
Many travellers are drawn to Banff to its incredible natural hot springs which local rumour has it prolongs youth, others prefer to go in winter where resorts like Whistler give arguably some of the best snow sports in the world.
Outdoorsy adventurous types will find plenty to cater for their tastes such as white water rafting, husky rides and an amazing array of water sports at locations such as Lake Louise and Lake Ontario. And of course everyone should see the famed Niagara Falls at least once!
Travel
Travel is cheap and affordable in Canada, Greyhound offer extensive point-to-point coach routes and hire cars are readily available. Train travel is an alternative although you may have trouble getting to some locations by train. Most provinces have a local train operator and Canadian National run a service which covers a large portion of Northern USA and Canada.
Accommodation
Cheap Accommodation is easily available, motels are generally available in any town and the standard compared to for example Eastern Europe is very high. You should find it quite easy to find Motel rooms and spaces in Youth Hostels on the day but if you want to book locally you will find literally hundreds of motels/hotels have online booking service.
The Hostel Handbook for the USA and Canada is a great resourse for backpakcers in North America. The list includes HI locations and all independent hostels. It's updated every year so the information is current. It includes a great section on travel tips and budget travel resouces. A new print version comes out every February but you can order the book or browse the information on their website.
Health
In general the health service is very good in Canada and easily competes with that of Western Europe. You will however need to have comprehensive travel insurance to cover any medical attention you may require.
No shots or injections are required to travel from Western Europe to the UK.
As of 2 July 2003 the World Health Organisation has taken Canada off the list of SARS affected countries.
Useful Links
Canada's High Commission in the UK
Canada's Tourist Commission can provide detailed advice for tourists.
Canadian National is the most extensive rail operator in the area.
The Canadian branch of Greyhound, offers good value travel passes for their extensive network of point-to-point bus routes.
Toronto Pearson International Airport – all you need to know about this airport, whether it's your final destination or a connection airport. The site lists airport details, services, updates and customer reviews.
Entry Visas for Canada
A valid passport is required for the duration of your stay and a return ticket is required. For short stays, EU passport holders will not require a visa but for more extended stays or for working in Canada you will need to contact the Canadian High Commission to obtain the correct documentation. More details can be found at the Canadian High Commission's website.
Addresses
The Canadian high commission can offer you detailed information on Visa and entry requirements and is the place to apply for visas.
Canadian High Commission
38 Grosvenor Square
London
W1X 0AA.
Visas and Immigration: Tel: (020) 7 258 6600
General Enquiries. (020) 7258 6601
Immigration & Visas. Fax: (020) 7 258 6333.
British representation in Canada is very good and you can find the British High Commission at:
British High Commission
80 Elgin Street
Ottawa
Ontario
K1P 5K7
Tel: (613) 237 1530
Fax: (613) 237 7980

In addition Consulates can be found in Edmonton, Halifax/Dartmouth, Montreal, Quebec City, St John's, Toronto, Vancouver, and Winnipeg.
Foreigner Work Permits in Canada
EU nationals can enter and reside in Canada as tourists for up to six months. Those intending to find work need to apply for Employment Authorization from the Canadian High Commission or Embassy whilst still in the UK. Canadian employment laws are particularly strict and if you are found working without authorisation you are highly at risk of deportation. If you are a gap year student it is worth looking into BUNAC's 'Work Canada' programme. As part of this scheme you are permitted to live and work in Canada for a year, as long as you can show funds of about CAN$1000, or less if you have already found a job for your arrival in Canada.
Seasonal Work
Resorts in the Rocky Mountains provide some opportunities for work in hotels. Wages will vary depending on the type of work, and deductions are usually made for the provision of food and accommodation. Despite the casual nature of most jobs of this kind it is still vital to have a work permit as strict regulations mean that checks are often made on employees, often in places that attract a lot of international workers. See the later section on the World Challenge Expeditions organisation for more opportunities in this type of work.
Agricultural Work
The Okanagan valley, British Columbia, and Ontario are home to some of the most promising fruit-picking jobs. Between July and September peaches, apples, pears, and cherries etc. reach their harvesting seasons. Pickers are usually paid depending on how much they can collect. As long as you have authorisation to work in Canada it is worth contacting the Agricultural Employment Service for information relating to jobs and harvests in the Canadian agricultural sector. Alternatively, AgriVenture recruits workers for five to fourteen month work placements throughout the world, including in Canada. Workers are paid for their labour and are provided with accommodation and food. Those wanting to work with AgriVenture need to be able to fund their own travel and insurance, and require a full driving licence. WWOOF is a voluntary organisation, placing volunteers on organic farms in various countries.
Nannying
Canada also has strict employment regulations with regards to childcare positions. Most people wanting to find a placement as a nanny or mothers' help will need to show qualifications or substantial experience in the field and should expect to dedicate themselves to a family for at least one year. Vacancies can be found in local newspapers. Nannies should anticipate working for up to 45 hours a week, and pay can be as much as CAN$880 for a month's work, but this is usually less.
World Challenge Expeditions
Work with World Challenge Expeditions is sometimes paid, but is mostly voluntary. Workers are expected to fund their own travel expenses but the 12 month return ticket provided covers six months of work and a further six months of travel. There are currently opportunities for work at the Banff National Park in the Rockies, and the Jasper National Park. These vacancies are in hotels and ski resorts. Workers in hotels help with cleaning, housekeeping in chalets, waitering, and kitchen work. In ski resorts you can find work as housekeepers, kitchen helpers, and janitors. Depending on the busyness of the resort employees are expected to work between 20 and 50 hours per week, and should fund their own accommodation.
GAP Activity Projects Ltd.
GAP run projects across the world for placements of up to eleven months. Volunteers are expected to pay for insurance and registration fees, but are provided with accommodation, food, and pocket money. Placements in Canada take place in Independent Schools, in Toronto, Vancouver, and Victoria amongst others where positions include teaching assistants and general classroom helpers. There are many opportunities to help with sports classes and outdoor excursions. There are also projects in L'Arche care communities helping residents, or outdoor placements such as on summer camps. See the GAP website for more details of placements available.
Bunac
The British Universities' North America Club is a job organisation specialising in placements for gap year students. The types of work available vary, but include working on holiday camps with children, as a counsellor for example. Those wanting to join BUNAC are required to pay a registration fee, flights, and insurance etc. but can expect to receive a wage for the work they do.
Internships
CIEE (Council on International Educational Exchange) offers work placements in Canada. For gap year students who can show proof of an unconditional offer from a university for the following year the CIEE's 'Internship Canada' is ideal experience in a Canadian workplace. Internships last for up to twelve months and vary considerably in place, content, and payment. However, all internees are required to fund their own living, travel, and insurance, and to pay a $150 registration fee to CIEE.
Volunteering
Camphill Communities run volunteer placements throughout the world, including Canada. Volunteers work in communities with adults with special needs. You will be expected to work for 6 days a week and it is usually preferred that you stay for at least one year. Accommodation is provided for the duration of your stay, but you will have to fund your own meals. WWOOF, already mentioned, is an organisation placing volunteers on work projects on organic farms.
Useful Links
How to Say Common French Phrases
Meeting People
English

French

yes

oui

no

non

thank you

merci

you are welcome

de rien

please

s'il vous plaît

excuse me

pardon

hello

bonjour

goodbye

au revoir

good morning

bonjour

good night

bonne nuit

I do not understand

Je ne comprends pas

Do you speak…?

Parlez-vous…?

English

anglais

French

français

What is you name

Comment vous appelez-vous?

Nice to meet you

Enchanté de faire votre connaissance

How are you

Comment allez-vous?

Good

bon

bad

mauvais
Directions
English

French

map

carte

left

à gauche

right

à droite

straight on

tout droit

far

loin

near

près
Methods of Transport
English

French

Where is…?

Où se trouve…?

How much is the fare?

Quel est le prix du billet?

Ticket

billet

A ticket to…, please

Un billet pour …, s'il vous plaît

Where are you going?

Où est-ce que vous allez?

Where do you live?

Où habitez-vous?

Train

le train

bus

un autobus

underground

le métro

airport

un aéroport

train station

la gare

bus station

la gare de bus

underground station

la station de métro

departure

le départ

arrival

une arrivée

parking

le parking
Time
English

French

What time is it?

Quelle heure est-il?

Today

aujourd'hui

yesterday

hier

tomorrow

demain
Accommodation
English

French

hotel

un hôtel

room

une chambre

reservation

la réservation

Are there any vacancies?

Avez-vous des chambres disponibles?

No vacancies

Complet

Passport

le passeport
Places
English

French

post office

la poste

bank

la banque

police station

le poste de police

hospital

hôpital

chemist

la pharmacie

shop

le magasin

restaurant

le restaurant

museum

le musée

church

une église

square

la place

street

la rue
Shopping
English

French

How much does this cost?

Combien cela coûte?

I will buy it

Je le prends

I would like to buy…

Je voudrais acheter…

Do you have…?

Avez-vous…?

open

ouvert

closed

fermé

postcard

la carte postale

stamps

des timbres

little

un peu

lot

beaucoup

all

tout
Meals
English

French

breakfast

petit déjeuner

lunch

le déjeuner

dinner

le dîner

vegetarian

végétarien

cheers!

à votre santé!

the bill please

l'addition s'il vous plait
Drinks
English

French

drink

la boisson

coffee

le café

tea

le thé

juice

le jus

water

l'eau

beer

la bière

wine

le vin
Food
English

French

meat

la viande

fish

le poisson

vegetable

le légume

fruit

le fruit

potato

la pomme de terre

salad

la salade

dessert

la dessert
Buy phrasebooks online at Amazon.co.uk
Canada Hostels
Hostels are a cheap form of accomodation, and so they are essential to backpackers and other budget travellers. We have compiled a list of hostels in Canada to help you plan your journey. If you are looking for a hostel in Canada, you've come to the right place.
There you have it, the ultimate Canada backpacking guide. We hope you have found all the information you need for backpacking around Canada.