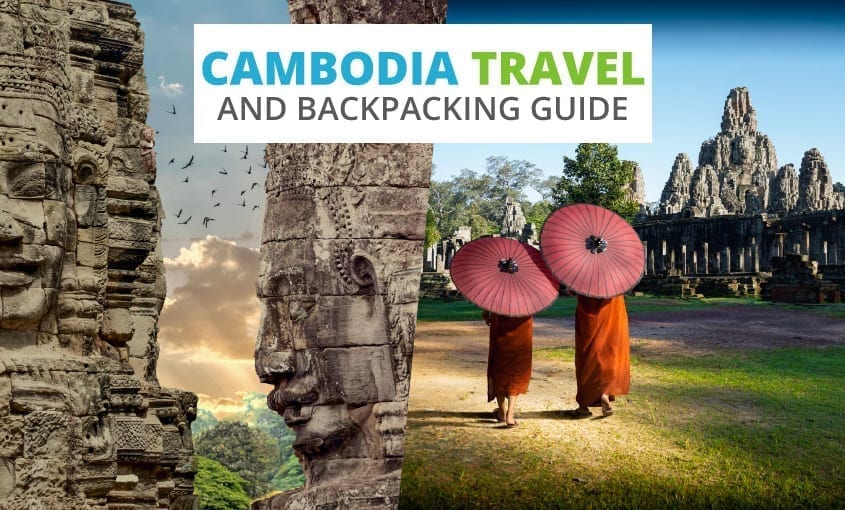 Backpacking in Cambodia
Looking for important travel information while backpacking in Cambodia? Here you will find information on working in Cambodia, Cambodia visas, Cambodia hostels, and much more.
Table of Contents
Facts About Cambodia
Peace and stability have slowly started to return to Cambodia and the steady influx of aid has been building up the infrastructure and clearing away land mines and other remnants of fighting. This means Cambodia is gradually becoming a viable mainstream tourist destination.
For now, it is best to stick to the well-travelled tourist trails to avoid the banditry and land mines that are present in some of the more rural areas. That being said, sticking within these areas still offers enough to make Cambodia a good stop off point on any tour of South East Asia.
Cambodia Currency: Riel (CRI) = 100 sen
Time Zone: GMT + 7
Cambodia Language: Khmer, Chinese and Vietnamese, English is spoken by younger generations
Telephone Services: Country Code +855, International calls must go through an operator
Emergency Numbers: In Phnom Penh only: 722-353 Police, 723-555 Ambulance
Cambodia Weather and The Best Time to Visit
Cambodia's weather is governed by its typical tropical monsoon climate. Temperatures are hot with the monsoon season running from May to November and the more pleasant dry season running from November to April.
The northern part Cambodia experiences slightly colder winters but you won't need any special clothing with temperatures rarely dropping below 15 degrees Celsius except in the highest altitude regions.
Things to do in Cambodia
When wondering what to see in Cambodia, there are a few well-traveled options. The temples of Angkor Wat and the historical cities of Phnom Penh and Battambang are some of the best places to visit in Cambodia. If you're traveling by yourself or are unsure of where to go in Cambodia, take a look through these ideas, or join one of the many group adventures tours that will take you to Cambodia's best places to visit.
Phnom Penh – The Capital of Cambodia
Much of Phnom Penh was built during French colonial occupation and despite being somewhat dilapidated in places, the city retains a lively and busy atmosphere.
By far the most magnificent sight is the Silver Pagoda, its floor is tiled with over 500 silver slabs, each weighing about a kilogram. The impressive Cambodian temple is also home to a 90kg solid gold Buddha and a baccarant crystal Buddha as well as many other smaller artefacts.
Many tourists also make a pilgrimage to the Choeung Ek Cambodia killing fields just 20 minutes south of the city. This somewhat grisly memorial is the site where the Khmer Rouge killed over 17,000 Cambodian people. The Memorial Stupa is a display of about 8000 skulls catalogued by sex and age serving as a reminder of the atrocities committed by the Khmer Rouge. The onsite Tuol Sleng Museum is dedicated to educating the world about the crimes committed by the oppressive Khmer Rouge.
Angkor Wat
Most travellers come to Cambodia solely to visit the much-celebrated temples of Angkor Wat. The nearest town is Siem Reap which is only a few kilometres from the temples and is primely situated to offer tourists food and accommodation.
Angkor Wat itself was a former religious centre with most of the temples having been built between the 9th and 13th centuries. Angkor Wat was subsequently abandoned around the 1400s and the site was gradually lost to the encroaching forest. Today restoration work still continues and many of the Cambodian temples have been beautifully restored. The highlights are undoubtedly the Angkor Wat, Bayon and Ta Prohm temples.
Battambang
Battambang is Cambodia's second largest city and is situated right on the banks of the river and boasts an airport of its own. The town boasts the best-preserved French Colonial architecture in the country and recent improvements in facilities make this town an ideal base for visiting the surrounding temple sites. As well as the numerous Wats, Battambang also boasts a nearby lake and a museum of 9th-century artefacts.
Unique Activities in Cambodia
Since popular places in Cambodia can get crowded during tourist season, it is wise to reserve tickets and activities ahead of time. GetYourGuide sells entrance tickets to museums and landmarks at face value so you can avoid the lines and save that precious time for more exploring.
Viator is another popular travel website that helps you book things to do in Cambodia. They work directly with local tour operators in Cambodia, so you won't have to scour the internet or roam around town trying to find the best deal.
If you know your schedule ahead of time, a great insider tip is to buy tickets for major tourist attractions ahead of time. Tiqets has entrance tickets and skip-the-line passes for major attractions in Siem Reap and other hotspots, which can be a worthwhile cost during peak tourist season.
How to Get Cheap Flights to Cambodia
In order to find the best flights to Cambodia we recommend using a few well-known flight comparison search engines. These websites offer powerful search options, like entering flexible dates and airports in order to find the cheapest flight to Cambodia.
Our go-to flight search engine is Skyscanner, which we love for its extremely flexible search options. Our favourite way to get travel inspiration is their "Everywhere" feature. Simply enter "Everywhere" as a destination, and it will then list all available flights from your departure city in order of price. This also works when entering the entire country of Cambodia as your destination. Skyscanner will search all possible airports in the country in order to find the cheapest option.
Kiwi is another new favourite flight search engine among savvy travelers. Kiwi works by combining flights from different carriers in order to get the best deal. Also, if there is a better ground or ferry option for the route you're searching, Kiwi will include that in the search results. On average, we have found the cheapest flights to Cambodia with them compared to the other websites out there.
How to Travel Around in Cambodia
The best way to travel in Cambodia is by bus or share-taxi, these are normally run by enterprising locals and are incredibly cheap. It is worth noting however that despite being faster than the trains you will still not have a comfortable ride in store.
There are some Cambodian rail companies operating in the country, which although cheap tend to be much slower than buses due to the state of disrepair plaguing the rail network. There are plans to re-establish the international link from cities in Cambodia to Bangkok but there is still a lot of work to be done before this can become a reality.
The country's roads are in pretty rough shape making for very bumpy trips indeed. It is also worth reiterating that travelling in Cambodia outside of the main tourist routes is not advised as there are still areas of minefields and isolated reports of banditry in more rural areas.
Backpacking tours in Cambodia
Though part of the fun of backpacking Cambodia is exploring on your own, there are situations, especially when venturing off the tourist trail, when it does make sense to go with a guide or a small group. 
The most popular option for social travel in Cambodia is Contiki tours. Contiki trips offer more than just transportation, they are organized social group travel for travelers aged 18-35. Whether you're traveling by yourself or going with a group of friends, Contiki tours are perfect for people looking to have a blast, meet new friends, and form lifelong memories. They offer tours that travel primarily in Cambodia or longer tours that cover other nearby places.
G Adventures is another great option for organized travel, but with a smaller group. It's a great choice for anyone backpacking Cambodia alone who would like to meet up with like-minded travellers. It's also a practical option for exploring places where you need an experienced guide, like a long hiking adventure or visiting a place well off the beaten path. You can choose from different styles of small group tours like active, wellness, hiking trips, 18-30somethings, and more. Their most popular trips to Cambodia include their 17-day classic Essential Vietnam and Cambodia tour, and their 30-day Indochina Discovery tour for 18-to-thirtysomethings.
Cambodia Hostels & Budget Accommodation
Phnom Penh and Siem Reap now boast numerous international standard hotels including everything from budget backpacker style accommodation right up to luxury 5-star hotels. Throughout the rest of Cambodia, small hostels and guest-houses are available but the standards tend to be quite basic.
We have had good experiences finding hostels in Cambodia on HostelWorld. They have the largest inventory of hostels worldwide, and with over 10 million reviews and ratings from other travellers, you know exactly what to expect.
Another good way to find accommodation in Cambodia is by checking booking.com. You'll find hotels, homestays, hostels, and other unique accommodations. They have the most reviews and advanced filtering of any accommodation-booking site, so you'll be sure to find a great place in your budget. Many of the places on booking.com also offer free cancellation, which takes the pressure off the planning phase of your trip to Cambodia.
If you are backpacking with another travel companion, we highly recommend booking a rental via VRBO. With a vacation rental in Cambodia, you'll have more space, your own kitchen, and you'll get a better feel for how the locals live. Plus, the cost of a vacation rental can be split among your group, oftentimes making it cheaper than doing individual hotel rooms. 
If you're looking to save even more money while backpacking in Cambodia, there are plenty of creative ways to get free accommodation in exchange for work. For example, one of our favorite ways to stay in amazing locations for free is by signing up as a petsitter with Trusted Housesitters. The site connects responsible animal lovers with petsitting opportunities in Cambodia and all over the world. It's a win-win for both sides – travellers can stay in amazing locations for free, and homeowners can rest easy knowing that someone is watching over their place.
And lastly, CouchSurfing is a great community that connects travellers with local hosts in Cambodia. You can stay for free with verified hosts, who will usually take some time to show you around the local spots.
Cambodia visa requirements
All visitors to Cambodia must hold a valid passport with at least 3 months validity from the time of entering Cambodia. All visitors require a Cambodia visa, tourist visas are available from your local Cambodian Embassy or Consulate. A tourist visa which allows 1 months stay normally costs about CRI15.
Visa requirements for Cambodia can vary widely depending on your country of origin and can change over time. To avoid any unpleasant surprises, be sure to check the latest visa requirements while you're still planning your trip. You can also apply for a visa directly through Cambodia e-Visa.
Health and Safety in Cambodia
The standard of emergency healthcare in Cambodia is quite basic and doctors will require cash payments before treatment. This coupled with the fact that airborne evacuation may be required means that it is vital that you get travel insurance before you leave for Cambodia. Even for short trips, our go-to travel insurance provider is World Nomads, which is also recommended by Lonely Planet, HostelWorld, and other major travel companies.
There is a risk of Cholera in Cambodia and you should consult your GP for up-to-date information, particularly on if vaccination is required. Vaccinations for polio and typhoid are recommended and can be obtained from your GP for around CRI40. Malaria is present all year round outside the capital including strains resistant to chloroquine, you should consult your GP for the most appropriate anti-malaria treatment to carry with you.
Water in Cambodia is not safe to drink and water used for washing or consumption should have been boiled or sterilised first. Where possible it is best to stick to bottled water. Dairy products in Cambodia are un-pasteurised and should be avoided in all parts of the country. Vegetables should be peeled and washed before consumption and meat should be thoroughly cooked and eaten hot.
Cambodia is generally safe aside from some remote areas in Phnom Penh, which should be avoided after dark. The people are generally hospitable and friendly, but unfortunately, there is a rise in activities such as purse snatching and extortion which tends to happen whenever an impoverished country has an influx in tourism. However, there is a very low incidence of violent crime in Cambodia. Nevertheless, always be sure to have travel insurance in case something happens to cover your belongings in case of theft or damage.
Foreigner Work Permits and Cambodia Backpacker Jobs
In developing countries such as Cambodia, it is often difficult for foreign backpackers to find work given the state of the economy. Most who visit Cambodia and other Asian countries on gap years do so once having built up enough resources to fund the trip to Cambodia by working in the UK or in Europe beforehand or take part in volunteer projects to feel part of the development process of this country.
As is the case with other Asian countries job and volunteer opportunities are mainly focused on teaching English, usually in schools. Cambodia is still picking up the pieces after its devastation by civil war and so a lot of programmes also concentrate on rehabilitation and orphanage strategies. The organisations below are just a handful of companies who welcome volunteers every year to take part in their projects.
Volunteering in Cambodia
Outreach International
Volunteers with Outreach can work in a number of fields. Landmine and polio victims, street-children, and orphanages are some main focuses of aid, as well as teaching English, music, and sport in schools.
The opportunities to give support to the Cambodian people are endless and volunteers gain an enormous sense of well being from helping those who have been less privileged than those growing up in the West. Volunteers are provided with accommodation with other members of staff on the projects in or around Phnom Penh, which is the main area for volunteer projects in Cambodia.
As with most volunteer organisations of this kind, volunteers are expected to raise their own money to fund the projects. For a three month project with Outreach you will need CRI3100 and CRI400 for every month thereafter, which covers travel, insurance, food, accommodation, and support etc.
VentureCo
VentureCo's 16-week programme combines aid projects with expeditions from Cambodia, through Vietnam, to Laos, and finally China. The first three weeks are spent in what is known as 'cultural orientation' consisting of visiting various places to visit in Cambodia guided by a team who introduce you to the culture and traditions of the country, and learning the Khmer language.
The following four weeks consist of community aid work in Koh Kong, involving teaching and food distribution to underprivileged children. A 9-week expedition then follows taking you through Vietnam: Saigon, HoiAn, China Beach, and Hue City; Laos: Vientiane, Luang Prabang, and the Mekong River, and finally China: Kunming, Lijiang, the Yangtze, Xi'an, Beijing, and finishing with a trek on the Great Wall of China.
Programmes with VentureCo are self-funded and can cost you up to CRI5000, which includes travel, food, accommodation, transport, and fees for the activities themselves.
i-to-i
Volunteer projects with i-to-i take place in Phnom Penh and involve the teaching of English in high schools and agricultural universities. Once you arrive in Cambodia you will be given orientation and basic language classes.
An eight week project will cost you CRI1295 and a nine to twelve week project amounts to CRI1395. Accommodation is provided by the organisation but varies; usually you will be placed in university dorms or homestays. Volunteers are also given a weekly budget for food.
Volunteer in Cambodia
Experience life in Cambodia while volunteering your time to teach conversational English with Volunteer in Cambodia. Living as part of a group of international volunteers in Phnom Penh for 13 weeks, you'll be part of a new project providing affordable English language courses for local students to raise money for the Cambodian Rural Development Team (CRDT), a local organisation working to improve the living conditions of rural communities. The cost is US$850 for 13 weeks to cover accommodation and meals, and includes cultural orientation, language sessions, and support from experienced staff. Join us for an invaluable learning experience!
Useful Links for Backpacking in Cambodia
Tourism Cambodia provides travel advice for Cambodia.
GAdventures

– guided small group tours in

Cambodia

, great for solo travellers or for those interested in a more adventurous trip which would require a guide

DiscoverCars –

The world's leading rental car search engine to rent a car in

Cambodia 

Kiwi

and

Skyscanner

– Flight comparison search engines to find the cheapest flights to

Cambodia

and within the country

GetYourGuide

and

Viator

–

a collection of local tours and activities in

Cambodia

. Also offers Skip the Line tickets for crowded attractions

Tiqets

– Website selling entrance tickets and skip the line tickets for major tourist attractions in

Cambodia

HostelWorld – #1 hostel search website to find accommodation while backpacking Cambodia. Thousands of hostels and millions of reviews from fellow travellers
Booking.com

– commonly used booking site for accommodation in

Cambodia

. Find hostels, hotels, and other unique accommodations in

Cambodia

with advanced filtering and millions of reviews

World Nomads Travel Insurance

– Comprehensive travel insurance for long and short trips when backpacking

Cambodia
---
There you have it, the ultimate Cambodia backpacking guide. We hope you have found all the information you need for backpacking in Cambodia.
Next up:
Liked this article? Share it with others who might be after the same information!