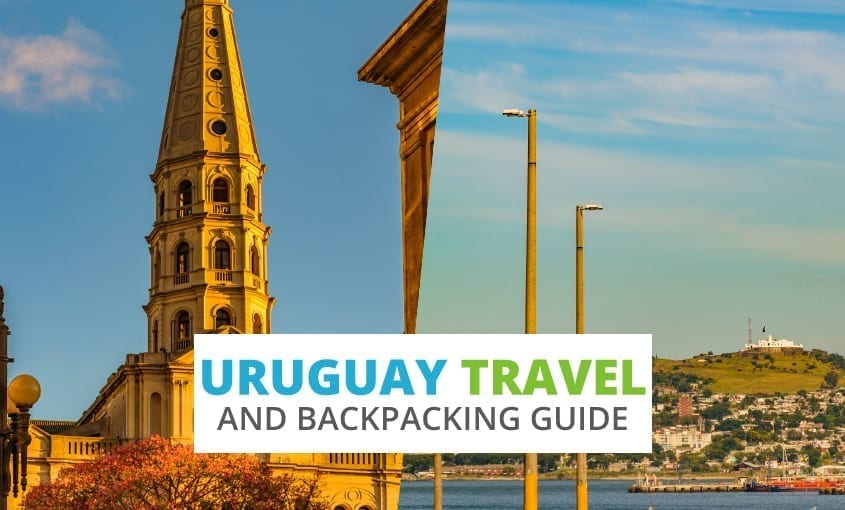 Backpacking Uruguay
Looking for important travel information while backpacking in Uruguay? Here you will find information on working in Uruguay, entry visas, Uruguay hostels, and much more.
Table of Contents
Facts About Uruguay
Uruguay is a tiny country towards the southern tip of the South American continent, with Brazil bordering it to the north and Argentina to the west. The country's low-lying geography is dominated by rivers, and much of it is cultivated for agriculture (mainly cattle). The country is generally stable and prosperous, having escaped much of the post-colonial political violence that has plagued its continental neighbours.
During colonial times, Montevideo was regarded as a valuable asset, and fought over by the Portuguese in Brazil and Spanish in Argentina. When the European powers withdrew, Britain brokered a deal guaranteeing independence for Uruguay, effectively placing the country as a buffer between the giants.
Today the country is a very popular destination for Brazilians and Argentines (and you can still sense some of the old hostilities on the beaches), although it is increasingly being visited by North Americans and Europeans. Montevideo is one of the safest capital cities in the world, although notorious for pickpockets.
Climate in Uruguay
When deciding the best time to visit Uruguay, weather plays a big role. Most of Uruguay is at low altitude. It has expanses of agricultural savannah intersected with rivers, including the Rio de la Plata and Rio Negro.
The areas around these rivers can get very foggy in autumn (March to June) and spring (October to December). During the summer, the country is warm and sunny on the whole, with average temperatures around 30oC. In the winter, the pampero blows from Argentina. The lack of mountains in the country means it is exposed to high winds, and subsequently to very changeable weather conditions. On the whole, the country has a temperate climate, with warm summers and cold winters.
Things to do in Uruguay
Montevideo
Montevideo is the nation's capital and biggest city. The 1.8 million people that live in the city constitute nearly half of the country's population, and as such, the city is the focal point for cultural and economic activity in the country.
It has a good quality deep harbour, and remains one of South America's busiest seaports. This has attracted a diverse mix of ethnic groups, the city was settled by Spanish and Italians, as well as a contingent of native groups. The city has a distinctly European, cosmopolitan feel.
The Mercado del Puerto is a buzzing marketplace where you can pick up local crafts, listen to musicians, or enjoy a delicious Churasco barbecue. Wandering around the huge selection of grills in the market, you begin to realise just how embedded eating beef is into Uruguayan culture.
El Palenque comes highly recommended, boasting knowledgeable waiters and all the different cuts of beef you could imagine. Don't plan any strenuous activity after visiting this eatery, as you will more than likely require some time for your digestive system to recover!
A visit to the market is also a good chance to try 'Medio y Medio' a semi-sparkling wine produced in Uruguayan vineyards. There are also lots of bars and restaurants in the surrounding area; it's a good place to start if you're on the hunt for nightlife.
If you fancy a walk, La Rambla runs along the coast of the Rio de la Plata (River Plate) and offers a great chance to indulge in a spot of people-watching. You will find many superb restaurants, cafes and bars. The large number of Italian immigrants means there is a selection of good quality Italian restaurants, so don't worry if you've had enough of grilled beef-steaks!.
In a side street off La Rambla is the famous Tristan Narvaja flea market. You can pick up all kinds of weird and wonderful souvenirs: charms and curios, pet lizards and spiders (although obviously, you won't be able to take these home) as well as records, books, pretty much anything anybody could wish to collect. Beware the various scams that target tourists, fortune tellers and magicians should be avoided.
From November to February, during Uruguay's summer, Montevideo's beaches fill up with Argentine tourists. The city has 5 pleasant beaches, but if you like your beaches peaceful, you would be well-advised to head in either direction along the coast, where there are less popular, but still easily accessible beaches. The city's carnival in late February is also worth a visit. Although it's a more subdued affair than its Brazilian counterparts, it is still a vibrant, lively occasion.
Joaquin Torres Garcia was an Uruguayan artist. He was at the centre of the modernist movement in France and Spain, alongside such luminaries as Picasso and Matisse. The Torres Garcia Museum celebrates the work of the master, who was born and died in Montevideo. It is a real treat for art fans especially for those with a particular interest in constructivism. The museum is open daily between 09.00 and 20.00, and entrance is free.
Colonia del Sacramento
Colonia del Sacramento is on the UNESCO world heritage list; its colonial architecture is well preserved and the town has a sleepy, timeless atmosphere that makes it fairly unique in South America. It has a regular ferry connection to Buenos Aires via the Buquebus service.
Ferries leave every hour or so, and a return ticket costs around  $U30. To see the old city, you could hire a scooter or bicycle, although the sometimes uneven cobbles on the streets could make the experience less than comfortable. For a fantastic panoramic view of the city, climb the lighthouse that sits in the harbour.
There are nine separate museums in the old city, and you can access them all for the price of a single ticket. The Italian immigrant population has led to a high number of excellent gelaterias, selling delicious fresh ice cream.
Punta del Este
Punta del Este (the beach peninsula) is often referred to as 'South America's Monaco.' It is essentially a resort town catering for Argentine and Brazilian tourists. There are miles of beautiful beaches, and the area is famous for its nightlife. The clubs along the strip attract the best DJs on the continent, and their parties last well into the morning. There are some great seafood restaurants serving local catches to be found in the area.
Unique activities in Uruguay
Another good way to get an idea of things to do in Uruguay is to scan the activities offered by Get Your Guide or Viator. They work directly with local tour operators, so you won't have to scour the internet or roam around town trying to find the best deal.

If you know your schedule ahead of time, a great insider tip is to buy tickets for major tourist attractions in Uruguay ahead of time. Tiqets has entrance tickets and skip the line passes for major attractions in Montevideo so that you can avoid the lines and save that precious time for more exploring.
How to Travel Around Uruguay
If you're flying to Uruguay or plan to take short flights within the country, we recommend using a few different flight comparison search engines. Kiwi is a new favourite among travellers. On average, we have found the cheapest flights to Uruguay with them compared to the other websites out there.
Of course, it is always worth checking Skyscanner to guarantee you're getting the best deal. Both websites offer great flexible search options, allowing you to search the whole country of Uruguay to find the cheapest airport to fly into, and also see prices for a full month if you're flexible on travel dates. 
Bus travel in Uruguay
Once inside Uruguay, you can use the national bus services to travel between regions. They are generally comfortable and safe. They leave from the Tres Cruces terminal in downtown Montevideo. You can access an up-to-date timetable on their website.
Car rental in Uruguay
If you would like to hire a car, use this website to find a decent quote. By South American standards, Uruguay is a safe country to drive around. The absence of winding mountain trails probably has much to do with this. Lights must be on at all times on major roads. The blood alcohol limit is 0.08 per cent, which is strictly enforced. Penalties for drink driving are severe.
Backpacking Tours in Uruguay
Though part of the fun of backpacking Uruguay is exploring on your own, there are situations, especially when venturing off the tourist trail, when it does make sense to go with a guide or a small group. For these times, a popular option among backpackers is G Adventures. They hand-select local guides to ensure authenticity and quality. This is especially a good option for those travelling Uruguay alone who would like to meet up with like-minded travellers. Their most popular trip to Uruguay is their 17-day tour travelling through Brazil, Argentina, and Uruguay.
Health and Safety in Uruguay
Diarrhoea is the most common ailment among travellers. The best way around this is to take adequate precautions with your food and water intake, thus preventing the condition. However, as soon as you begin experiencing the symptoms address them with a quinolone antibiotic or another anti-diarrhoeal drug.
Make sure your fluid intake is adequate, tap water is safe in Montevideo but stick to bottled water elsewhere. Immunisations against Hepatitis A and Tetanus-diphtheria are recommended; other viruses prevalent in South America are not found in Uruguay.
The Hospital Britanico, next to the Tres Cruces bus terminal, is the best large hospital in the country, and generally speaking, is up to European standards. Make sure your travel insurance covers the costs of repatriation, as this could run into thousands of pounds if you fall seriously ill.
Entry visa requirements for Uruguay
EU residents require a valid passport to enter the country, but can stay for up to three months without a visa if they do not intend to work. If you want to stay for longer or take up paid employment, you will need to apply to the Uruguayan Embassy. You will be offered a 'working holiday visa', which allows you to stay for up to a year. The embassy in London can be found at :
Work permits and backpacker jobs in Uruguay
It is relatively easy to convert a tourist visa to a work permit without leaving the country. Most travellers wanting work find it in the various English language schools, who are always seeking native speakers to teach. The pay will not be good, but enough to get by on.
Unemployment is fairly high, so finding work elsewhere is unlikely unless your Spanish is really up to scratch. For an overview of what's available, check out 4icj.com. There are occasionally volunteering opportunities available, although they are less common than elsewhere on the continent.
Uruguay Hostels and Budget Accommodation
We have had good experiences finding hostels in Uruguay on HostelWorld. They have the largest inventory of hostels worldwide, and with over 10 million reviews and ratings from other travellers, you know exactly what to expect.
Another good way to find accommodation in Uruguay is by checking hotels.com and  booking.com. With both sites, you'll not only find hotels, but also homestays, hostels, and other unique accommodation. We have discovered some great finds and have appreciated the ability to book ahead.
You can use their advanced filtering to narrow your results by budget, location score, overall review score, and amenities. Many of the places on booking.com also offer free cancellation, which takes the pressure off the planning phase of your trip.
In Montevideo, you will find a decent selection of hostels catering for backpackers dotted around the city, many of them near to the Tres Cruces bus terminal. Ciudad Vieja Hostel is in the heart of the Old Town's cobblestoned street network, and close to the city's nightlife hub. The Plaza Cagancha and the surrounding streets contain several hostels.
If you are on a slightly bigger budget, the Plaza Independencia hosts the Radisson, which will cost around  $U50 per night. Cheaper and more highly recommended is the Splendido Hotel, which according to local legend was built by a former President as a venue to entertain his mistresses. Near to the Teatro Solis, it is in the same neighbourhood as many of the best bars and restaurants. The prices are very competitive and the service is good.
In Punta del Este, there are fewer hostels, but plenty of reasonably priced hotels and resorts. In the countryside, you may struggle to find suitable accommodation, so it is best to ask for locals' advice.
Useful Links for Backpacking in Uruguay
Kiwi and Skyscanner 

– Flight comparison search engines to find the cheapest flights to Uruguay and within the country

GetYourGuide

and

Viator –

a collection of local tours and things to do in Uruguay. Also offers Skip the Line tickets for crowded attractions

Tiqets

– Website selling entrance tickets and skip the line tickets for major attractions in Uruguay

G Adventures

– guided backpacking tours in Uruguay, great for solo travellers or for those interested in a more adventurous trip which would require a guide

HostelWorld

– #1 hostel search website to find budget accommodation in Uruguay. Thousands of hostels and millions of reviews from fellow travellers

Booking.com

– commonly used accommodation booking site in Uruguay. Hostels, hotels, and other unique accommodation with advanced filtering and millions of reviews

Travel Insurance – read our comprehensive overview of Travel Insurance and some recommended providers for backpacking in  Uruguay
---
There you have it, the ultimate Uruguay backpacking guide. We hope you have found all the information you need for backpacking around Uruguay.
Next up:
Liked this article? Share it with others who might be after the same information!