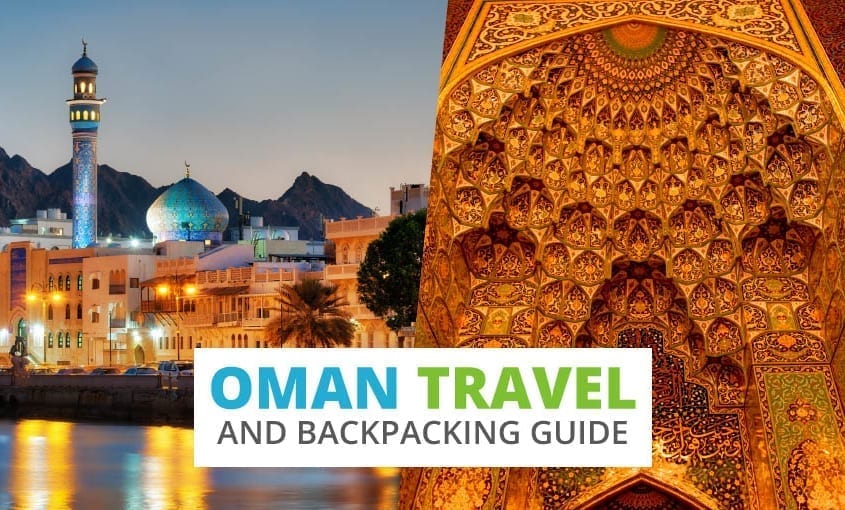 Backpacking Oman
Looking for important travel information while backpacking in Oman? Here you will find information on working in Oman, entry visas, Oman hostels, and much more.
Table of Contents
Facts About Oman
The Sultanate of Oman is located on the eastern edge of the Arabian Peninsula in the Middle East. The country has a stable political, economic and social situation, which is enhanced by the favourable relationship it has with its neighbouring countries. Although Oman is not often seen as being a major port of call for many backpackers, the country is safe and accessible, enjoying a temperate climate, making it an ideal place to visit.
The country offers a stunning contrast of desert, mountains, busy metropolises and beaches, making it attractive to many different types of traveller. Oman has a rich culture and history which is apparent in its architecture and inhabitants' way of life.
Islam plays a prominent part in the lives of the Omanis, and therefore women are advised to keep their clothing modest in respect. Although the country is modern and western customs and ideals are taken into consideration by many, you may find that you cannot drink alcohol in many public places.
Currency –  Omani rial (OMR). 1 rial is made of 1000 baisa.
Time –  UTC +4
Language –  Arabic, although most Omanis will speak excellent English. Swahili is sometimes spoken in Southern Dhofur region, and Hindi is understood in some areas.
Area Code – 968
Climate in Oman
When deciding the best time to go backpacking in Oman, weather certainly plays a role. The climate in Oman varies from region to region, with the coastal areas being hot and humid in the summer months, and the inland being drier.
Between May and September there is a strong southwest monsoon in the far south, but in other parts of the country rainfall is usually low and the climate is more even and temperate. Temperatures can reach real highs throughout the year, with 40oC not uncommon. May to August are the hottest months, so it would be best to travel to the country between September and April.
Things to do in Oman
Muscat
Although the capital Muscat is referred to as one city, it is actually made up of three smaller cities that have grown together to form one area: Muscat, which is the location of the royal palaces; Matrah, which houses the Matrah Souq; and Ruwi, the industrial part of the city.
If you're looking for history, the Al Jalali and Al Mirani forts are located on Qasr Al Alam Street. They were originally used as prisons when they were built during the Portuguese occupation, but they are now used as museums. Muscat's Grand Mosque is the third largest in the world, and well worth a visit to see the largest handmade Persian carpet in the world and the outstanding crystal chandelier housed there.
The Matrah Souq is a maze-like market which sells everything from fish to handicrafts. The Qasr Al Alam Royal Palace is the office of the ruler of Oman, Sultan Qaboos. It overlooks the harbour, and although visitors are not allowed inside it is worth travelling to the palace just to see the spectacular views it offers.
Salalah
Salalah is seen as the second city of Oman, and is situated in the Dhofar region of the country. This area is famed for its production of frankincense, which you will find being sold virtually everywhere. The must-sees for this city are Sultan Qaboos' palace and the ah-Hisn Souq, but bring your bargaining skills to this market or better still a local who can let you know what the real price should be. Salalah also makes a good base from which to travel to the ancient city of Zafar.
Al Wusta
Al Wusta is the central coastline of the country, but do not expect this to cater for beach visits. Remember that Oman is an Islamic country and therefore it is not respectful for women to sunbathe in public.
Empty Quarter
The desert interior of Oman is known as the Empty Quarter. You will find some companies offering camel rides or tours through this area, otherwise, it remains relatively untouched. Camel racing is a popular sport in Oman and is well worth a look if the opportunity arises.
Scuba diving in Oman
Oman is dominated by coastline, and with the crystal clear waters of the Arabian Sea and the Gulf of Oman, this is an excellent spot for scuba diving. You will find many companies throughout the country that offer trips, courses and snorkelling opportunities. The waters can also be used for sailing and boating excursions, and turtle watching is a popular activity.
Hiking in Oman
The vast mountain range of Oman makes it an ideal spot for hiking and you will be able to find companies offering tours or guides to show you more of the area. If you are confident hiking without a guide make sure you tell someone where you are going, take an up-to-date map and any appropriate safety measures.
Unique activities in Oman
Another good way to get an idea of what to do is to scan the activities offered by Get Your Guide or Viator. They work directly with local tour operators, so you won't have to scour the internet or roam around town trying to find the best deal.

If you know your schedule ahead of time, a great insider tip is to buy tickets for major tourist attractions ahead of time. Tiqets has entrance tickets and skip the line passes for major attractions in Muscat so that you can avoid the lines and save that precious time for more exploring.
How to Travel Around Oman
Nearly all international flights arrive into Seeb International Airport (MCT) in Muscat, although some regional flights land at Salalah (SLL). We recommend using a few different flight comparison search engines. Kiwi is a new favourite among travellers. On average, we have found the cheapest flights with them compared to the other websites out there.
Of course, it is always worth checking Skyscanner to guarantee you're getting the best deal. Both websites offer great flexible search options, allowing you to search the whole country of Oman to find the cheapest airport to fly into, and also see prices for a full month if you're flexible on travel dates.
There are no regular boats that bring people into the country, although the port at Muscat is used by cruise ships. The main road entry is from the United Arab Emirates, and when you leave the country you will need to pay a departure tax of 20Dh whether leaving by car or on foot.
Entering the country this way is extremely easy, and the border crossing and roads are both trouble-free. You will need to prove that your car is insured in Oman, and have all appropriate documentation and money to obtain a visa. A border crossing is also available from Yemen, but this is a much more challenging experience. There is a crossing into Saudi Arabia, but this is not advised as it enters the Empty Quarter.
Bus Travel in Oman
Buses are a good way to travel around the country as they are cheap, in good condition and provide a good service. Regular buses can be caught between the major cities. For routes and timetables see The Oman National Transport Company website.
Driving in Oman
Hiring a car is another good option as you get to see more of the country this way and the main roads are in excellent condition. There are a few old dirt roads which make an interesting experience but probably only advisable if you have a 4X4.
Backpacking Tours in Oman
Though part of the fun of backpacking Oman is exploring on your own, there are situations, especially when venturing off the tourist trail, when it does make sense to go with a guide or a small group. For these times, a popular option among backpackers is G Adventures. They hand-select local guides to ensure authenticity and quality. This is especially a good option for those travelling Oman alone who would like to meet up with like-minded travellers. Their most popular trip in Oman is their 8-day Highlights of Oman trip.
Health and Safety in Oman
Hospitals are of a good standard in Oman and are well equipped with medicines and qualified doctors. There are public hospitals like The Royal Hospital of Oman, (P.O. Box 1331 Seeb, located in the Al Ghubra area of Muscat) and private like Muscat Private Hospital (Tel: (968) 24583600, Fax: (968) 24501521, Email: [email protected]).
Emergency services are also available from this private hospital: Emergency Services (ER): 24583792 or Extension 3792 24-hours 24583790 or Extension 3790 24-hours
Although the public hospitals are of a high standard it is recommended that you take out medical insurance before you travel so that you are able to be seen in a private hospital. In general hygiene and health standards are equal to those of the west so you should not have many health issues to worry about but insurance will mean you are covered for any unforeseen circumstances.
The main health complaint from travellers stems from the heat and dehydration. Make sure you do not spend too much time in the sun and drink plenty of water. If you travel to desert areas be aware that there may not be any shade for long periods of time, so take a hat or some other form of shade.
The tap water in Oman is drinkable but many prefer to drink bottled water instead. It is advisable to have inoculations against Hepatitis A and B and Typhoid before you travel. Malaria is not rife in the country and most people do not find it necessary to take precautions against the disease. However, if you are going to be staying in places of high humidity or dense vegetation and are prone to getting bitten it may be worth taking suitable tablets.
Entry visa requirements for Oman
You will need a visa in order to enter Oman, but these are issued on arrival. They last for one month and cost around 6 Omani Rial. You can extend your visa by submitting your passport to the Omani Police in Muscat.
Foreigner work permits and backpacker jobs in Oman
To get an employment visa for Oman you must be over 21 years old but under 50 years old. Working visas are only given at the request of your sponsor, who must be a local company. This means that it is very difficult just to turn up in the country and get a job.
Usually, a position needs to be sought before you travel to Oman. The position you apply for must be the same as the one stated on the employment visa making it impossible to change your job once you are in the country. To be sponsored by a company you must be able to prove that you can do the job better than any current resident of the country. Visas are issued by The Ministry of Social Affairs and Labour.
Listed below are useful websites advertising jobs in Oman:
Oman Hostels and Budget Accommodation
Although there has been a recent surge of up-market accommodation to appeal to wealthier visitors there is not a shortage of budget accommodation in Oman.
We have had good experiences finding hostels in Oman on HostelWorld. They have the largest inventory of hostels worldwide, and with over 10 million reviews and ratings from other travellers, you know exactly what to expect.
Another good way to find accommodation while backpacking in Oman is by checking hotels.com and  booking.com. With both sites, you'll not only find hotels, but also homestays, hostels, and other unique accommodation. We have discovered some great finds and have appreciated the ability to book ahead. You can use their advanced filtering to narrow your results by budget, location score, overall review score, and amenities. Many of the places on booking.com also offer free cancellation, which takes the pressure off the planning phase of your trip.
Useful links for Backpacking in Oman
---
There you have it, the ultimate Oman backpacking guide. We hope you have found all the information you need for backpacking around Oman.
Next up:
Liked this article? Share it with others who might be after the same information!