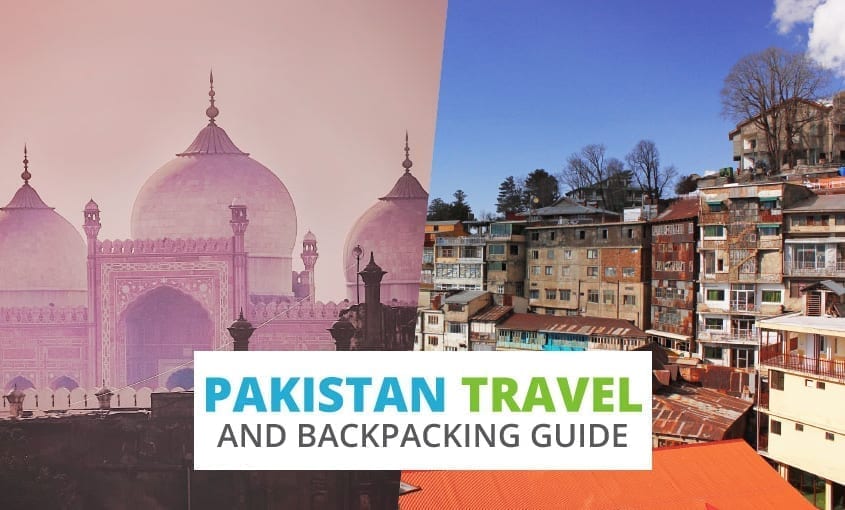 Backpacking Pakistan
Looking for important travel information while backpacking around Pakistan? Here you will find information on working in Pakistan, entry visas, Pakistan hostels, and much more.
Table of Contents

Facts About Pakistan
Bordering Iran, India, Afghanistan and China, and with a coastline on the Arabian Sea, Pakistan boasts a varied geography – from the freezing Himalayan peaks to the humid Punjab interior there is much in the way of outstanding scenery and fascinating culture. Although the ancient traditions of the native peoples are still very much in evidence, modern Pakistan wasn't born until 1947, with the withdrawal of the British Raj from the Indian subcontinent. The Muslim population of the continent feared oppression at the hands of the Hindu majority and declared Pakistan a separate state. Relations between Pakistan and India have been tense ever since. Check the FCO website for up-to-date information regarding the security situation.
Pakistan is a Muslim state, and as such alcohol is forbidden. Always conduct yourself with respect for the local culture. If you absolutely need to drink, there are bars specifically for foreigners in many hotels.
Language – Mainly Urdu, although English is widely spoken.
Currency – Pakistani Rupee
Dialling code – +92
Climate
As one would expect from a country with such a varied geography, the climate of Pakistan contains extremes of temperature. The low-lying coastal and central plains are generally very hot, with 40oC being an average temperature in the spring and summer (April-August). The temperature in the interior can dive during the winter months, to a low of 2 degrees Celsius in Islamabad. The Punjab is subject to a monsoon season in May, which has become less predictable in recent years. The rains now either skip the region completely or come with such intensity that flooding results.
Pakistan's highest ever temperature was recorded at Multan in the Punjab , 54 degrees Celsius in June 1993. Another rainy season arrives in August to signal the end of the stifling heat. Pakistan also has a mountainous region in the north, containing part of the Himalayan range and the disputed Kashmir territory. Because of its great altitude, temperatures here are cold throughout the year, and any travellers, particularly backpackers, would be well advised to pack extremely warm and protective garments.
Things to do and see
Pakistan boasts three internationally significant cities. The political capital is Islamabad in the north. Traditionally, this has been a quiet city , most of its residents being employees of the federal government and most of its notable buildings political or legal seats. The city contains several attractive parks and gardens, and is relatively spacious and peaceful in comparison to other Central Asian metropolises. The Rose and Jasmine Garden is an expansive, aromatic area containing over 250 species of roses. Flower shows are occasionally held here and there is an adjoining campsite. One of Pakistan's most recognisable landmarks, the Faisal Masjid Mosque is a stunning building, gifted to Islamabad by King Faisal of Saudi Arabia. Although a visit is definitely worthwhile, act and dress respectfully at all times , something you should do whenever visiting a religious site.
Karachi, with a population of 18 million, is Pakistan's largest city, and is located on the Arabian Sea coast. There are plenty of wonderful historic sites Karachi, from pre-Islamic archaeology, through to fine examples of Islamic building and culture and the legacy of the British Raj. The city also has a modern cosmopolitan feel, being a popular destination with immigrants from all over Asia. The shopping and entertainment facilities are probably the best in the country. Sport fans will be kept busy by the numerous cricket clubs catering for all levels of Karachi society, or one of the several golf courses, that remain surprisingly green despite the city's scorching temperatures! Mohammad Ali Jinnah, the father of the modern state of Pakistan was born in downtown Karachi in the Wazir Mansion. The house is now a protected national monument and a site of particular significance for Pakistan's modern history.
The Punjab region's capital Lahore is Pakistan's second most populous city, with an estimated 10 million inhabitants. The city was the headquarters of the prolific Mughal Empire, and contains the Mughal Fort, a UNESCO World Heritage site and well-worth a visit for anybody with an interest in history or architecture. The Mughals also built The Badshahi Mosque, which claims to be the largest in the world. Entrance is free, but you will have to pay a gratuity to the shoe-keeper. The Sufi gathering every Tuesday evening gives a real insight to an area of Pakistani culture. Visitors are welcomed to the Shah Jamal Shrine, and seated in an area separate to Muslims as the famous drummer Pappoo Saein performs, supported by dancing devotees of the saint.
The Indus Valley is one of the most archaeologically significant sites in the world and contains one of the earliest examples of human civilization. The settlement flourished between 2600 – 1900 BC, and the site at Harappa, discovered in 1922, contains a temple, palace and granary. It is still under excavation today.
If you happen to be in the mountainous region of Nagar during September, make sure you visit the Silk Route Festival. This is a fascinating celebration of the distinctive culture of Pakistan's mountain people. You can watch artisans plying their trade in beautiful pavilions, creating local arts and crafts and weaving cloth. You can even watch the ethnic fashion festival and purchase some clothes if you find them alluring. Open-air stages host performers of folk song and dance from all over the region. There are, of course, many stalls containing home made foodstuffs. This festival is a rare chance to gain real insight into the unique culture of Pakistan's mountainous regions.
The Shandur Polo Competition takes place in Northern Pakistan every July. Teams from local areas compete in the ancient sport, which traces its roots back to Central Asia in 600 BC. Back then, polo matches served as training for cavalry units, and teams could have up to 100 players on each side! Now the teams have 6 players per side and the atmosphere is a little less intimidating, although players and locals retain a fierce passion for the sport. The celebration at Shandur was first organised by the British Major Cobb in 1936, who was a polo enthusiast himself, and wanted an organised tournament in which local teams could compete. The tournament is at least as popular today as it was then, and to be amongst the fans who in some cases travel many miles through the mountains to support their team would be unforgettable for a traveller looking for an authentic experience of northern Pakistani culture.
Travel
The country's three main cities all have international airports.
Islamabad International Aiport is currently undergoing an expansion programme. BA connects to Birmingham, Manchester, Glasgow, Newcastle and Heathrow. Some passengers have experienced severe delays from this airport, as it serves government officials and occasionally has had to shut down due to concerns over security.
To enter the country by train is a risky business, as recent terrorist attacks on the service to Delhi attest. However, if for some reason you have a particular desire to travel by rail, you can go between Delhi and Lahore, or entering from Iran, from Zehedan to Quetta. It is better to take the bus. Generally faster and safer, you can catch the international service from Delhi to Lahore.
Once inside Pakistan the railways are a better bet, and often the cheapest and most efficient way to travel inter-city. The Dae-Woo bus company runs inter-city services, but these have been subject to banditry as they traverse isolated areas.
Accommodation
Mahmankhane, as they are locally known, offer the best option for backpackers on a budget. Generally these are cheap hostels or hotels that are found around the transport hubs of major cities. As always, check the room before making a payment or signing the register.
For the more moneyed backpacker, there are plenty of luxurious, pricey hotels on offer. The Mirage in Lahore offers stunning facilities for its customers.
If you want to stay with a fellow traveller for free, tryGlobal Freeloader. It will pair you up with someone willing to accommodate you during your stay. This can be a good way to meet locals and get a first-hand insight into how locals live, but there are obviously some safety considerations with this option.
Health Issues
Tap water is generally not safe to drink, even in cities. Drink bottled water or boil it first. Ice can sometimes cause problems, and although it is extremely desirable in the stifling heat, in many establishments it is unsafe as it is made from tap water.
The heat itself is another health issue. With temperatures often between 35 and 45 degrees Celsius, be sure to stay well-hydrated and cover your skin from the glaring sun.
Precautions against Malaria, Diptheria, Hepatitus, Yellow fever and Typhoid are all recommended for travelling to Pakistan.
You will find good quality hospitals in the large cities, but some healthcare facilities in more rural areas in a quite shocking state. Health insurance is thoroughly recommended and some basic first aid training is useful for any backpacker. However, most doctors and healthcare professionals will speak English, which is always a help when seeking treatment.
Useful links
The Wikitravel guide to Pakistan
The Pakistan Tourist Development Corporation
The SAARC site has plenty of information about the culture, history and geography of Pakistan.
Nice Pakistan A website designed to promote tourism in the country.
Entry Visas for Pakistan
Everybody entering Pakistan requires a visa, which are issued from the various embassies and commissions around the world. To apply for one from the UK contact the Pakistan High Commission in London.
34-36 Lowndes Square London SW1X 9JN
There are also consulates in Bradford, Manchester and Birmingham.
Foreigner Work Permits in Pakistan
Mustakbil is Pakistan's largest jobs directory. If you are planning to study or work during your stay you will need to submit a letter detailing your job offer or university placement with your visa application.
There are limited jobs suitable for backpackers, as there are not many bars and clubs. You may find volunteering a more fulfilling experience, volunteerabroad.comhas listings for opportunities.
How to Say Common Urdu Phrases
Many people, especially the middle classes and those working in business, medicine or hospitality, will have a good grasp of English. Pakistanis pride themselves on their hospitality and will always try to help a traveller. However, you can endear yourself and show respect by learning a couple of Urdu phrases.
Useful Phrases
English

Urdu

Hello

Salaam

Hello (reply)

wālaikum assalām

Goodbye

khuda hāfiz

How are you?

kya Haal hai?

I am fine

main theek hoon

What is your name?

āpka nam kya hai?

My name is

Mera naam … hä

Yes

hā

No

nahī

Do you speak English?

āpko angrezi ātī hai?

I don't speak Urdu

mujhe urdu nahī ātī

I don't understand

nahin samjha

Please

barai mehrbāni

Thank you

śukriya

You're welcome

Koi bat nahin.

Excuse me (apologising)

mā'af kijiye

Excuse me (getting attention)

suniye

Leave me alone

Mujhe akela chor do

I'm lost

mei gum ho gaya hoon

I need a doctor

Mujhe doctor ki zaroorat hai
Pakistan Hostels
Hostels are a cheap form of accomodation, and so they are essential to backpackers and other budget travellers.
Sorry, no hostels have been registered for this country yet.
There you have it, the ultimate Pakistan backpacking guide. We hope you have found all the information you need for backpacking around Pakistan.