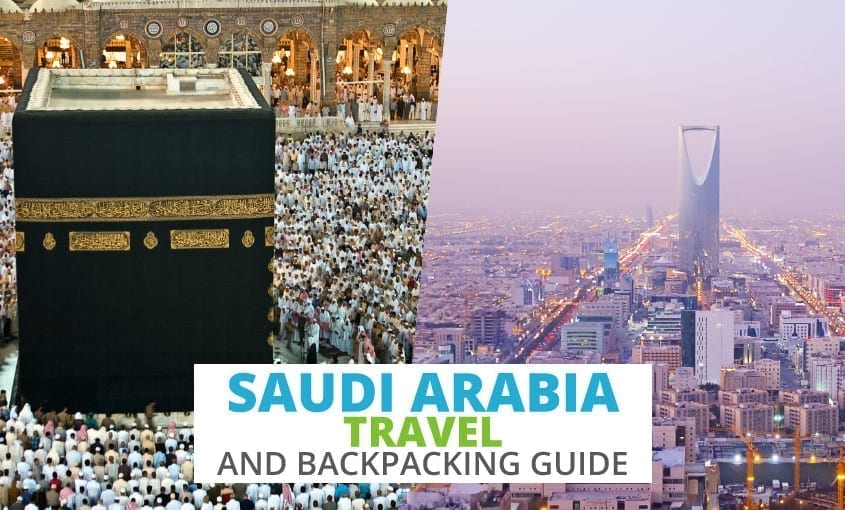 Backpacking Saudi Arabia
Looking for important travel information while backpacking around Saudi Arabia? Here you will find information on working in Saudi Arabia, entry visas, Saudi Arabia hostels, and much more.
Table of Contents

Facts About Saudi Arabia
The sprawling deserts of the Kingdom of Saudi Arabia (KSA) account for 80% of the Arabian Peninsula, though most of the country is uninhabited. Since the discovery of oil there in the 1930s, Saudi Arabia has become a major exporter. The wealth that this has brought is seen in the country's ultra-modern cities. Today Saudi's economy is almost entirely oil-based and it is home to a large number of migrant workers.
Saudi Arabian lifestyle may shock Western visitors as the country's law and culture adhere to Islam very strictly. All citizens are required to be Muslim and there is no religious freedom. Conversion away from Islam can result in the death penalty. Temporary migrants may be of other religions, excluding Bahai and Jehovah's Witness, but public expression of these is forbidden. Those with a connection to Israel are not allowed into the country at all. Insulting Islam or saying anything that might be perceived as offensive to the monarchy, the Saudi people or government can result in harsh punishments.
Currency Saudi Riyal
Time GMT +3
Language Arabic
Telephone Services +966
Emergency Numbers Police 999, Ambulance 998 and Fire 997
Climate
Saudi Arabia consists of large areas of harsh, arid desert. However, there are pockets of more forgiving landscape; beaches and rivers, beautiful mountains and green oases in the desert. It is one of the hottest countries in the world and in the summer, temperatures of 50oC are common. Heatstroke is always a danger for unprepared travellers. In spring and autumn, the average temperature is 30oC. The winter months of November to February are the best time to visit. At night, temperatures quickly fall to more comfortable levels. Coastal areas are cooler but also very humid. Mountainous regions are usually cooler and wetter.
Rainfall in Saudi Arabia is infrequent and highly unpredictable. It is possible for the entire year's rain to fall in one or two sudden downpours. Asir, in the southwest, is subject to monsoons.
Things to do and see
Tourists are usually attracted to coastal areas such as Jeddah in the west and Dammam and Alkhobar in the east. Areas of natural beauty include Taif, Al Baha and Abha. Other sites are well-known for their historic remains. Nabatean tombs can be found in Madain Salah. Hiking and camping in the country's vast deserts are popular activities with many visitors.
Because of its large number of oil-workers and other migrants, Jeddah is the most culturally diverse and tolerant city in Saudi Arabia. Efforts to attract tourists and other visitors have led to numerous and often bizarre works of public art. The famous Jeddah Fountain and the Floating Mosque are also worth seeing. The coral reefs along the coast of the Red Sea are popular among divers. Jeddah has some excellent museums and one of the best souks (markets) in the country.
For Muslims, Mecca (Makkah in Arabic), 45 miles east of Jeddah, is the most important site to visit. As Islam's holiest place, every able-bodied Muslim is required to make the pilgrimage at least once in their lifetime. Note that non-Muslims are not permitted to enter. Medina, the second holiest city, is also forbidden to non-Muslims.
Nightlife in Saudi Arabia is virtually non-existent. Alcohol is banned and there is almost no public entertainment, though there is a strong culture of cafes and restaurants. The social life in expat compounds is generally slightly better.
Travel
The best way to get into Saudi Arabia is by plane. Saudi Airlines regularly fly from London. Women travelling alone must be met by their husband or a family member at the airport and are required to have confirmed accommodation for the duration of their visit. There are no rail links from Saudi Arabia to other countries. Car crossings can be found at every border, although the one with Iraq is currently closed. A ferry service operates from Egypt. The Saudi Arabian Public Transport Company, SAPTCO, runs buses to Bahrain and the United Arab Emirates. SAPTCO also operate buses within and between Saudi's cities.
Saudi Arabia has one of the worst driving accident rates in the world (dial 993 in case of accident). There is no requirement to insure your vehicle and many drivers simply do not bother. Alcohol is banned and drink-drivers will be severely punished. Some driving offences are punishable by mandatory imprisonment or corporal punishment. Others incur heavy fines. Visitors are advised to have insurance and drive extremely carefully, as blame for causing an accident may by default fall on the foreigner.
You will be able to drive with your existing licence for 3 months, after which you should obtain a Saudi one. Some licences, including those from the UK and US, can be converted without the need for another driving test. Women are currently not allowed to drive and are not issued with licences. Women are also not allowed to travel with men who are unrelated to them, unless they employ a driver.
Drive on the right. Petrol is extremely cheap in Saudi Arabia (around 20% of the UK price) as it is a major oil-producing nation. The minimum age to hire a car is 25.
Accommodation
The Saudi Arabian Youth Hostels Association has hostels throughout the country. Prices are between 15 and 20 SR per night. Membership cards and photo ID are required and the maximum stay is 10 days.
A wide variety of hotels is available throughout Saudi Arabia. Most tourist cities will also have furnished apartments for short-term lets, called shigka-maafroosha. Owners can often be found scouting for clients in hotel lobbies. Prices for these and for small hotels are negotiable; remember that bargaining is part of the culture! Prices for larger hotels are similar to those in the UK.
Health care issues
Health insurance is essential and you will need to have a variety of inoculations before you arrive. These are decided by the Ministry of Health. The regulations about these can change at short notice, so check in advance. They may also be different for those arriving for pilgrimage due to the large number of people of many nationalities packed together.
Saudi Arabia has an extensive public health system, although the services offered by this are limited. Private hospitals, often run with foreign assistance, offer a range of facilities. Pharmacies are common and prescriptions are not necessary for many types of medication (though some drugs are tightly controlled).
Tap water is not safe to drink. Bottled water is readily available (though famously, more expensive than petrol).
Useful Links
Saudi Embassy
30 Charles Street
London
W1J 5DZ
Tel: 020 7917 3000
Fax: 020 7917 3255
http://www.saudiembassy.org.uk/
Saudi Travel and Tourist Bureau
3rd Floor Al Matbouli Plaza
Al-Maadi Street, Al-Ruwais Dt.
P.O. Box 863
Jeddah 21421
Kingdom of Saudi Arabia
Email: corporate@sttb.com Tel: (966) 2 663 3737 Fax: (966) 2 663 3535www.sttb.com
Saudi Arabia Youth Hostel Association
Email: sayha@zajil.net
http://www.sayha.org/index2-e.html
Further Tourist Information
Entry Visas for Saudi Arabia
Although highly restrictive in past years, the Saudi government is now promoting tourism. A sponsor is no longer necessary for tourists but visas are still required for both entering and leaving, as well as a valid passport with at least six months left on it. These can be obtained from the Saudi Embassy, or Saudi consulates around the world. Visas are granted for business, tourist, transit, residency, family, hajj(pilgrimage) or conference attendance.
Customs controls are very strict. Items that will be confiscated include: alcoholic drinks, any equipment for making them or any cooking item that includes alcohol (like vanilla essence); any narcotics; pornography; games of chance; any weapons, real or ornamental; military uniforms or equipment; radio transmitters of any kind; statues or carvings representing human or animal forms.
Foreigner Work Permits in Saudi Arabia
You will need a Saudi sponsor to gain a work visa. To leave the country you will need your sponsor's signature. Bear in mind that falling out with your sponsor might have implications for going home!
There are a number of work opportunities for Westerners , usually in the oil, teaching and medical industries , and the pay is generally very good. There is a high demand for male, native-speaking English teachers in schools and colleges. Positions often include many advantages such as paid accommodation and transport and a tax-free salary. You may find a number of teaching jobs advertised here. Employers will be looking for well-educated men, usually with some previous experience of teaching English as a foreign language. Your sponsor will be able to supply you with a list of requirements for working in Saudi Arabia, some of which can be found here.
How to Say Common Arabic Phrases
Arabic is Saudi Arabia's official language but many people will know English as it is taught in schools and used in business. Note that Arabic has several sounds that are completely unfamiliar to the English ear.
Meeting People
English

Arabic

Hello

Marhaba

Please

Min fadlak

Thank you

Shukran

Yes

Na'am

No

Laa

My name is…

Ismee…

What is your name?

Maa ismak?

I don't understand

Laa afham

Do you speak English?

Tatkallam ijileezee?
Directions
English

Arabic

Where is it?

Ayn huwa?

Map

Khareeta

Left

Yasaar

Right

Yameen

Straight on

Ahla tool

Nearby

Qareeb

Far

Ba'eed
Time
English

Arabic

What time is it?

Kam as-sa'ah?

When…?

Matta…?

Yesterday

Ams

Today

Al-yawm

Tomorrow

Ghadan
Transport
English

Arabic

Train

Qitaar

Bus

Ootoobees

Taxi

Taaksee

Car

Sayyaara

Fare

Ujra
Accommodation
English

Arabic

Do you have any vacancies?

Hal Ahndakum ghurfa faarigha?

I have a reservation

Ahndee hajz

My name is…

Ismee…

How much is it per night?

Kam urjat il-layla?

That's fine

Hasanan
Shopping
English

Arabic

How much is…?

Bikam…?

I'd like…

Ureed…

Postcard

Kart

Stamps

Tawaabi'ah

Market

Sooq

Could you show me…

Mumkin tureenee…

That's all

Haaza kulluh
Food and Drink
English

Arabic

Coffee

Qahwah

Milk

Haleeb

Water

Maa

Tea

Shaay

Bread

Khubz

Meat

Lahm

Fish

Samak

Vegetables

Khudaar

Fruit

Fawaakih
Saudi Arabia Hostels
Hostels are a cheap form of accomodation, and so they are essential to backpackers and other budget travellers.
Sorry, no hostels have been registered for this country yet.
There you have it, the ultimate Saudi Arabia backpacking guide. We hope you have found all the information you need for backpacking around Saudi Arabia.