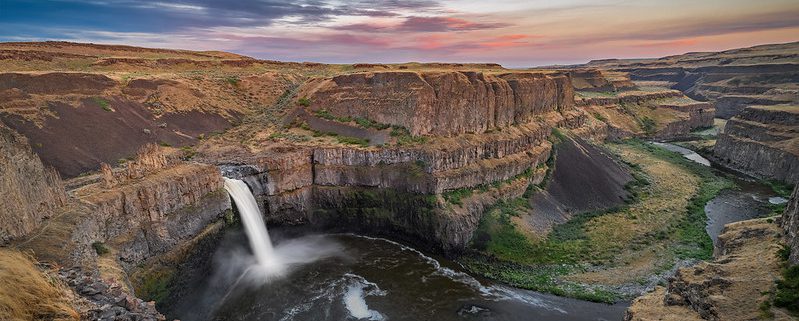 As the largest city in the state of Washington, it makes sense that the beautiful city of Seattle is the home base for many of the most epic trips in the state. From jagged mountain peaks to sparkling ocean water to vast cities, there's something in the state for everyone. And whether you live here and are looking for an escape or are visiting and have a few spare hours, these great day trips from Seattle are all going to be worth every second of your time. 
Olympic National Park
Distance from Seattle: 2 hours 15 minutes/115 miles
Located on the Olympic Peninsula, Olympic National Park is one of the most diverse places in all of Washington State.
It's home to temperate rainforests, miles of ocean shoreline, and towering mountain peaks. Although it's best to have a few days within the national park, you can definitely hit the top attractions in just one day.
Begin your visit with a trip to Sol Duc Falls, make your way over to Hurricane Hill to see the mountain views, and head into the Hoh Rainforest.
Olympic National Park is a huge area, so it'll be tough to cover the entire thing in one day but do what you can with the day, and you won't be disappointed.
Bainbridge Island
Distance from Seattle: 1 hour (via ferry)/10 miles
This island is located right across Elliot Bay from the center of downtown, making it one of the best day trips from Seattle. To arrive at Bainbridge Island, you can either take the Washington State Ferry, which is about a 1-hour ride, or you can drive around through Tacoma, which is about a 2-hour drive.
During your visit to the island, there are plenty of things to do. Visit the Bainbridge Museum of Art, wander around Main Street, stop at the Bainbridge Island Historical Museum, grab a bite to eat at one of the restaurants, walk along the Waterfront Trail, and make a stop at Lytle Beach.
There are a few wineries on the island that make for a great evening date, many places offer delicious seafood, and there are even cafes to grab a cup of coffee.
No matter what you do on this adorable island close to Seattle, you'll be able to have a fun-filled day trip.
North Cascades National Park
Distance from Seattle: 2 hours/110 miles
Perhaps the most beautiful place in Washington, North Cascades National Park makes for one of the best day trips from Seattle to see the mountains.
It's a phenomenal park, with jagged mountain peaks, sparkling alpine lakes, and breathtaking views.
As one of the least visited national parks in the country, due to its remote location, you'll be able to enjoy the park with fewer crowds.
During your visit, make a stop at Washington Pass Overlook, Diablo Overlook, and plan to add in a hike or two. The most beautiful hikes are Blue Lake and Maple Pass.
If you don't mind driving a bit further, make the trek up to Picture Lake and Artist Point, which are both some of the most fantastic views that you will ever see.
Mount Rainier National Park
Distance from Seattle: 2 hours/90 miles
Although this is the last of Washington's national parks on this list, it most certainly shouldn't be the last place on your list to visit.
Mount Rainier National Park is home to the tallest mountain in Washington, Mount Rainier, standing at 14,411 feet above sea level. Just seeing the mountain itself is an incredible adventure, and in fact, it can be seen from Seattle!
But getting into the national park is where the real adventure begins, as there are endless miles of hiking trails, waterfalls, alpine lakes, and everything else you can imagine.
Save some time to complete a hike, such as Naches Peak Loop or Mount Fremont Lookout, and then spend some time wandering around the visitor centers at Paradise and Sunrise. If you visit in the winter, consider skiing or snowboarding at Crystal Mountain, which has some of the best views on the slopes.
Leavenworth
Distance from Seattle: 2 hours 15 minutes/135 miles
This small Bavarian village, nestled in the middle of the Cascade Mountain range in Washington is one of the best places for visitors. Whether you spend just one hour or three days in Leavenworth, you'll understand why it's so popular.
Enjoy browsing through the small shops and pick up a few souvenirs, eat dinner at one of the many German-inspired restaurants, or just enjoy the views of the surrounding mountains.
If you plan your visit during the holiday season, you'll get to enjoy seeing the small town decked out in holiday lights and snow. Visit the Nutcracker Museum, enjoy a glass of hot cocoa, and take in all of the holiday festivities.
Tacoma
Distance from Seattle: 35 minutes/35 miles
Tacoma is a nice city, located just over 30 minutes south of Seattle, making for a nice easy day trip to spend some time out of the city.
It's specifically known for it's glass art, which you can find at the Tacoma Museum of Glass, featuring some work from the famous glass artist Dale Chihuly. You may have also seen this art at the Chihuly Garden and Glass Museum in Seattle.
You can also visit America's Car Museum, which is home to a variety of old cars. If you have littles, you may also want to visit the Children's Museum of Tacoma.
Other fun activities include visiting the Point Defiance Zoo & Aquarium, walking down the Lincoln District, and taking a tour of the harbor by boat.
Deception Pass State Park
Distance from Seattle: 1 hour 20 minutes/80 miles
There's no doubt that Deception Pass State Park is a beautiful location and worth the visit, because it's Washington's most visited state park!
Located not too far from the San Juan Islands, this park is home to absolutely breathtaking cliffs, ocean coves, forests, and views. The park has tens of thousands of miles of both fresh and saltwater shoreline, giving visitors a chance to enjoy the views in many places.
The park is located on two different islands, Fidalgo Island and Whidbey Island. The two are connected via a very long and tall bridge that is often seen photographed in images taken by visitors to the park.
During your visit, check out some of the hiking trails, which there are nearly 40 miles of, check out part of the Pacific Northwest National Scenic Trail, or try your hand at fishing, whether it be fresh or saltwater.
Visitors can also rent kayaks or stand-up paddleboards to take out onto the water to explore.
San Juan Islands
Distance from Seattle: 1 hour 20 minutes/80 miles
The San Juan Islands are a collection of 172 named islands located off the coast of Seattle, which are very popular for tourist activities and exploration.
The three most popular islands are Orcas Island, Lopez Island, and San Juan Island. Each of these is served by a ferry and is fairly easy to get to.
On Orcas Island, one of the most popular things to do is hike Mount Constitution in Moran State Park, which gives fantastic views of Mount Baker and the surrounding islands. Other activities include going whale watching, visiting Orcas Island Winery, and enjoying the views at Mountain Lake and Cascade Lake.
Lopez Island is known for having fantastic biking, as well as beautiful views and hiking trails.
Lastly, San Juan Island is most well known for Friday Harbor, where you will dock from the ferry. From here, you can visit small grocery stores and local boutiques. Many people enjoy searching for whales from Lime Kiln Point State Park, or you can take a boat tour to search for whales.
Whichever island you choose to visit will have great activities, and makes for a great short day trip from Seattle.
Snoqualmie Falls
Distance from Seattle: 35 minutes/30 miles
Although a visit to Snoqualmie Falls may not fill your entire day, it's a nice way to spend a few hours if you've got the time. This beautiful waterfall near Seattle is one of the most popular destinations for visitors to the city.
It drops nearly 270 feet into the Snoqualmie River and there are no questions as to why it's so popular. It's a very powerful waterfall, and actually has some interesting history behind it as well. 
Back in the 1800s, this waterfall was turned into an underground hydroelectric plant to provide water to the area. It's still used to this day! 
There's a viewing platform at both the top and bottom of the waterfall, so you're able to take in all the views, and before you leave, grab a bite to eat in the Salish Lodge, located right above the falls.
Mount St. Helens National Volcanic Monument
Distance from Seattle: 2 hours 30 minutes/150 miles
This iconic location is well known to most people around the country, famous for its 1980 eruption that spread nearly 20 miles away from the volcano.
Today, many people enjoy visiting the active volcano and learning the history of that deadly eruption. 
A visit to Johnston Ridge Observatory will give you the information that you're hoping to learn. There are also many hiking trails around the area, that are perfect for heading into the blast zone to see the remnants of volcanic ash and debris.
One of the most popular hikes is Harry's Ridge, and another very popular and unique trail is Ape Cave. This is a lava tube that you are able to climb into and explore.
Victoria, British Columbia
Distance from Seattle: 4 hours 45 minutes/185 miles (via ferry)
If you've got a lot of extra time and are okay with waking up early and heading to bed late, then a trip to Victoria, British Columbia might be great for you. Keep in mind that you will need to cross international borders, so you'll need to have your passport handy.
Once you've successfully made it into Canada and down to Victoria, you'll be ready to explore. Victoria is well known for its gardens, since it has a climate that is great for growing. Butchart Gardens are the most popular place to visit and admire the flowers.
You also may want to visit the Royal British Columbia Museum, see the Parliament buildings, or visit Craigdarroch Castle.
Just outside of town, you'll find Mount Douglas, which offers 360-degree views of the surrounding area. This is a great place to head out for a little hike. If you're enjoying being outside, also be sure to check out Willows Beach and consider booking a whale-watching tour.
Skagit Valley
Distance from Seattle: 1 hour 10 minutes/70 miles
Being well known for its fascinating tulip festival in the spring, you may be familiar with Skagit Valley. Since tulips only bloom seasonally, it's best to plan your day trip here in the springtime.
The Skagit Valley Tulip Festival typically runs through April, has been operating for nearly 40 years, and boasts some of the most beautiful flowers in the state. In fact, you'll get to witness millions of bright tulips blooming right before your eyes.
Aside from just admiring the beautiful flowers, the festival also hosts several other events including a photo contest, a street fair just down the block, a tulip parade, and a chili and chowder cook-off.
Although you can't visit the tulips year round (sadly!), this seasonal trip surely makes one for the books, as they typically have visitors from over 85 countries visit each year!
North Bend
Distance from Seattle: 30 minutes/30 miles 
If you're a hiker looking for somewhere to hit some nice trails that aren't too far from Seattle for a short day trip, then head to North Bend, which is just about 30 minutes away.
The North Bend area is home to some of the most popular hikes in the state, thanks to its close proximity to Seattle and other large cities.
Here you'll find the popular and busy Rattlesnake Ledge trailhead, as well as Rattlesnake Lake Recreation Area. This in itself is a fantastic getaway for the day!
Another popular hike in the area is Mount Si, which is a lengthy but beautiful hike that leads you up and over the mountains.
Other trails include to Twin Falls as well as Franklin Falls. 
Gig Harbor
Distance from Seattle: 45 minutes/45 miles
Gig Harbor is a picturesque town located not too far from Seattle and is one of a few cities in Washington that claims to be the gateway to Olympic National Park.
You can reach the city by crossing the Tacoma Narrows Bridge over part of Puget Sound.
It's a fairly walkable town, so one of the best ways to explore this city during your day trip is by just walking around.
Plan a few activities into your day such as seeing the sites at Finholm View, visiting the Harbor History Museum, exploring Kopachuck State Park, riding the Gig Harbor Gondola, and grabbing a drink at 7 Seas Brewing. There are also several local restaurants that make for the perfect place to grab lunch or dinner.
Port Angeles
Distance from Seattle: 2 hours 30 minutes/80 miles
Although Gig Harbor claims to be one of the gateways into Olympic National Park, it's pretty well-known that Port Angeles is the real gateway into the fantastic national park.
It's the perfect city for those who love the outdoors and for those who enjoy exploring small cities. It's located on the water near the Strait of Juan de Fuca in the Salish Sea.
Nearby you'll find hundreds of hiking trails in one of the most diverse landscapes in the state. You can also recreate on the water with kayaks, stand-up paddleboards, and surfing.
Other activities include shopping in the charming downtown, whale watching, visiting some local museums, and more.
Whidbey Island
Distance from Seattle: 1 hour 10 minutes/35 miles (via ferry)
Whidbey Island is just a short distance from the city making it a perfect scenic day trip from Seattle, and is accessible from the city via the Mukilteo Ferry. It's a popular location for tourists and locals alike, as there's just a bit of everything on the island.
The island is home to a portion of Deception Pass State Park, while the other half is found on Fidalgo Island to the north.
While visiting the state park is a popular activity on the island and could be a day trip in itself, there are also many other activities that you can enjoy.
Visitors also enjoy making a visit to South Whidbey State Park, which offers beautiful views of old-growth forests.
Check out the Meerkeck Gardens, grab a drink at Whidbey Island Distillery, and explore Ebey's Landing National Historical Reserve.
This beautiful island is a beautiful location and definitely is worth the short trip to arrive there.
Bellevue
Distance from Seattle: 20 minutes/10 miles
A trip to Bellevue is the closest city on this list from Seattle, making for the perfect short day trip for those looking to escape the city without having to drive too far.
It's the fifth largest city in Washington state, and is located just east of Seattle. It sits right between Lake Sammamish and Lake Washington.
During your visit, spend some time wandering around Downtown Park. This 21-acre space in the middle of Downtown Bellevue has gardens, playgrounds for the littles, and walking pathways.
The Bellevue Botanical Garden is a free space to wander around and enjoy the foliage. If you're interested in doing some shopping, check out the Bellevue Collection, which is a collection of three shopping centers.
Other fun activities include visiting the Bellevue Arts Museum, enjoying dinner at one of the upscale restaurants, and exploring Old Bellevue.
Portland, Oregon
Distance from Seattle: 2 hours 45 minutes/175 miles
As the state of Oregon's largest city, a visit to Portland makes for a great day trip from Seattle, which is Washington's largest city. To make it a fun day trip, you can even travel between Portland and Seattle by train.
There is a whole lot of fun to be had in Portland, where the city's motto is 'Keep Portland Weird.' From activities that only locals know about to popular tourist attractions that even the furthest people away have heard of, you'll surely be kept busy during a trip here.
Be sure to check out Portland's massive food scene by trying out some of it's most popular restaurants. Voodoo Doughnuts is a must-see, and there are food trucks all over the city that serve up delicious grub. See the Portland Weird sign, shop at the world's bookstore, and check out the vintage finds at House of Vintage.
George
Distance from Seattle: 2 hours 30 minutes/160 miles
While most people think only of Western Washington when they're considering where to visit, there are actually a few fantastic places in the eastern half of the state to see!
One of those places is George, found along the Columbia River, as it begins to flow south to make its way to the Pacific Ocean.
George is home to the Gorge Amphitheater, one of the most beautiful concert venues in the country. The amphitheater is positioned right along the river, which ensures that you'll have an absolutely fantastic view as you watch the artist of your choosing.
Other things to do in the area include going wine tasting at Cave B Estate Winery or Beaumont Cellars, visit the Wild Horses Monument, or go for a hike. You might also consider doing a bit more driving and visiting Steamboat Rock State Park in Electric City.
Palouse Falls
Distance from Seattle: 3 hours 45 minutes/240 miles
Although it's quite the drive from Seattle, a visit to Palouse Falls can make for a day well spent. This 200-foot waterfall is quite different from the other waterfalls that you'll find in Washington. It's located in the desert of eastern Washington and is hugely powerful as it flows over the basalt cliffs into the Palouse River.
To actually see the waterfall, you don't have to walk very far, because it's close to the parking lot. But there are several trails in the area that you can wander around to get different viewpoints. 
It's a pretty incredible waterfall to visit, and makes it worth the long drive to reach it!
Cle Elum
Distance from Seattle: 1 hour 30 minutes/100 miles
While there isn't a lot to do in the town of Cle Elum itself, the mountains and absolutely incredible hiking nearby make this trip so worthwhile. These hikes are located in the Okanogan-Wenatchee National Forest, although you'll drive through the Teanaway Community Forest to reach the trailheads.
A few of the best options include Lake Ingalls, Earl Peak, Navaho Peak, and Esmeralda Basin. All of these trails offer some of the most fantastic views of Mount Stuart and the surrounding mountain ranges.
The area that these hikes are in is actually just on the other side of Dragontail Peak and The Enchantments, so it feels very cool to be on the opposite side of this famous thru-hike trail in Washington.
If you're a hiker, it's very worthwhile checking out this remote location that is home to some of the most beautiful hiking trails in the state.
Wrap-Up: Day Trips from Seattle
The city of Seattle is a popular home base for those visiting Washington and houses most of the state's population.
While there is plenty to do in the city, many people enjoy leaving for a quick trip to explore other parts of the state. This selection of the best day trips from Seattle will give you a great chance to explore this beautiful state without going too far from the city.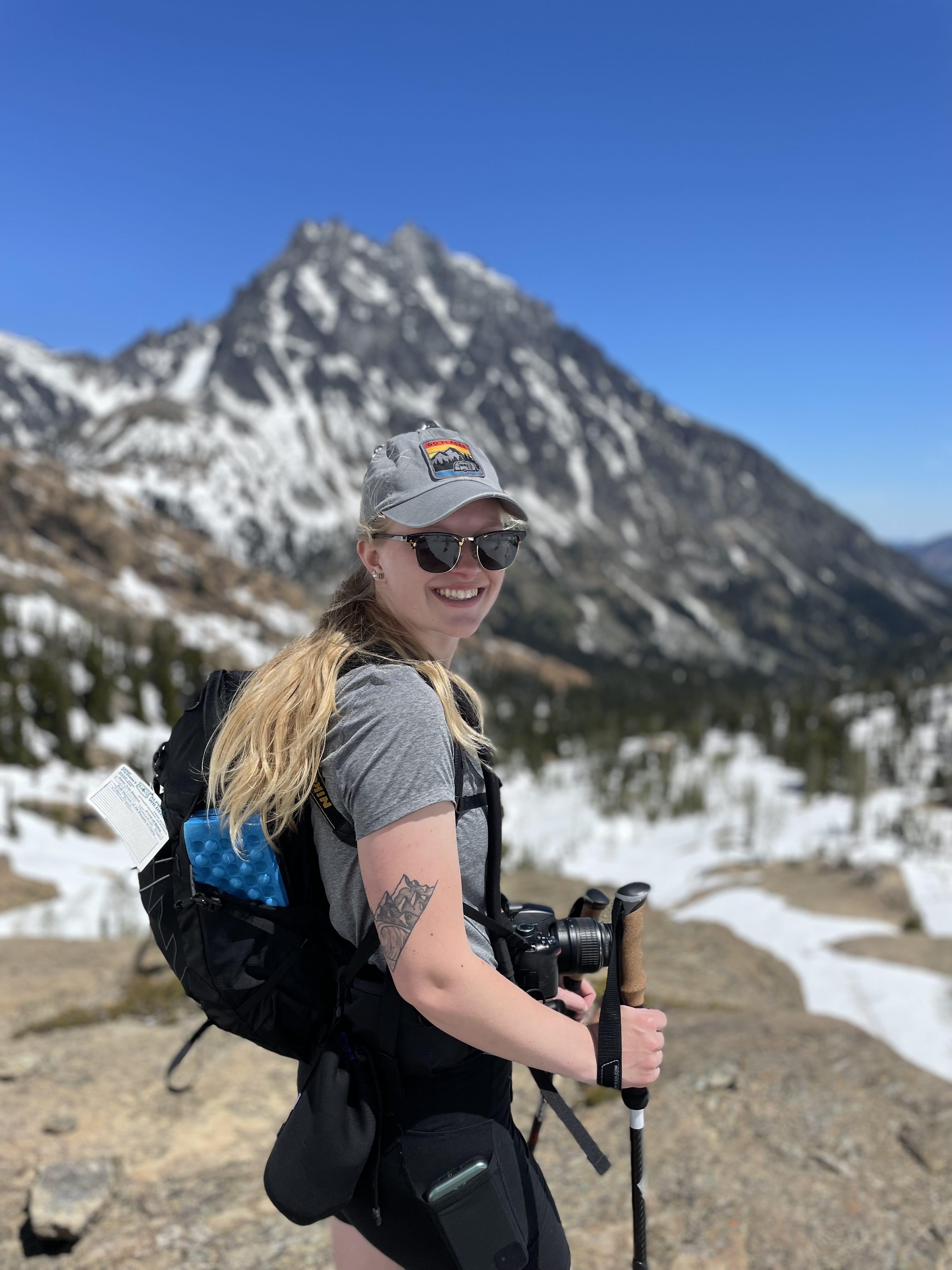 Kassidy Olson is an avid hiker and outdoors lover, living in Minnesota. She loves exploring her home state and the rest of the beautiful world. She loves sharing her adventures over on her blogs, 
The Hiking Helper
 and
 Kassidy's Journey.
https://www.the-backpacking-site.com/wp-content/uploads/2022/12/49854439988_0fd35a88cd_c.jpg
533
799
Kassidy Olson
https://www.the-backpacking-site.com/wp-content/uploads/2018/08/the-backpacking-site-1.png
Kassidy Olson
2022-12-19 18:24:51
2023-05-09 20:37:04
The Best Day Trips from Seattle - 21 Scenic Destinations