Going on a backpacking trip and would love to brew coffee along the way?
We've got you covered! In this article, we've gathered 6 quick and easy ways to make coffee while backpacking. We will show you options like instant coffee, portable backpacking coffee makers, coffee bags, and more.
Keep reading to learn more.
1. Instant Coffee
Instant coffee is one of the best ways to brew coffee while backpacking. It has many benefits, but it is not for everyone. Let's talk about its pros and cons.
The major advantage of instant coffee is its convenience in terms of time savings. You just have to measure the amount of powder and water you want, add some hot water, and stir. All of this in less than a minute.
Its learning curve is almost nonexistent, so anyone can prepare it, additionally, since instant coffee dilutes in liquid, it produces no waste in comparison with other brewing methods.
The final advantage is that usually, instant coffee is cheaper in the short term because you don't need to buy any additional equipment.
However, the major downside of instant coffee is its flavor, it will never be as good as coffee brewed with fresh grounds.
Our top picks for the best instant coffee for backpacking:
2. Portable Battery Powered Coffee Machine
Coffee makers are usually confused with bulky machines only used in stores or at home. Well, that's not the case.
The Makita DCM501Z Cordless Coffee Maker, as the name suggests, is a coffee maker that doesn't require to be connected to a power source to work because it is powered by a potent Lithium battery. That makes it the best backpacking coffee maker option.
This coffee maker brews up to 3 cups of coffee of 5oz each. Additionally, it doesn't need paper filters since it comes with a permanent drip filter.
These features are extremely helpful to make coffee while backpacking since you can enjoy several cups of coffee and you don't need to pay extra money or extra storage on paper filters.
Apart from its extremely convenient battery, its design is very compact. It is only 8-9/16″ tall with a 3-1/2″ cup clearance, so you can store it easily in a bag. Or, if you don't want to do that, it has a handle at the top that you can use to carry it around with you.
Despite all of these benefits, we only recommend this coffee maker for short backpacking trips since when it doesn't have a battery it is pretty useless.
In case you are camping and you have a power generator, we would also recommend the K-Mini or K-Express, which are coffee makers that require a power source to work, but are kind of portable too.
3. Coffee Bags
In short, coffee bags are small portions of coffee inside sealed bags of paper, exactly the same as tea bags, but instead of tea, coffee.
The way they work is very simple, you add the coffee bag inside a cup with boiling water and wait for 2 to 5 minutes. The longer you leave the bag in the water, the stronger the coffee will be.
These bags also come in a lot of varieties, like decaffeinated coffee, and in several roasts, for example, light roast or medium roast.
So, their major advantage is that they are extremely easy to use and make coffee really fast. The major downside is that the flavor is not as good as if you were using a normal coffee maker like a coffee pot. The flavor is very similar to instant coffee for backpacking.
Our top picks for the best coffee bags for backpacking:
4. Collapsible Pour Over
If you really like pour over coffee this is a pretty good option while backpacking due to its extreme portability.
Collapsible pour over coffee makers are made of silicone and, as the name suggests, they can be easily stored by collapsing them.
Since they are made of silicone, they are very resistant, cheap, and they do not absorb odors or chemical taste, extremely convenient properties.
To make coffee while backpacking with one of these products, you just have to put your collapsible pour over a cup, insert a filter, add some coffee grounds, and then pour hot water over the grounds.
Our recommendation for enjoying pour over coffee while backpacking is the collapsible reusable silicone coffee dripper by Kuissential.
5. AeroPress Go
The AeroPress Go is a portable espresso coffee maker that doesn't require electricity to function. It is another excellent choice to make coffee while backpacking.
It can produce from 1 to 3 servings of espresso coffee depending on the amount of water you add. Also, the coffee seems to be pretty good according to many reviews from previous customers.
Additionally, it comes with a handy mug and some accessories perfect for bringing this coffee maker with you everywhere.
The device itself is very simple to use, but it requires some practice to use to brew the best coffee possible from it.
6. Cowboy Coffee
This method has been used by wilderness travelers all over the years. It's a unique way of brewing coffee that actually tastes pretty good, but it requires some technique.
First, you need a good pot with a handle, a pair of sturdy gloves, or a heavy cloth, and a cooking fire or portable stove.
First, you need to add some water to the pot and put it in the fire until it boils, and then add the coffee. It is recommended to add one tablespoon of coffee grounds per person. Also, 8oz of water per person is a good measure.
After about 5 minutes, remove the pot from the fire, and wait until it cools a little bit until the grounds are at the bottom of the pot.
Now, you just have to stir and pour your coffee into a cup. Make sure to do it slowly because you don't want coffee residues in your cup.
Conclusion
These were 6 quick and easy ways to make coffee while backpacking. Each of them has its advantages and disadvantages, so we recommend that you experiment a little with them to find out which one is your favorite.
Personally, our favorite way to prepare coffee while backpacking is the AeroPress method due to its convenience and nice flavor.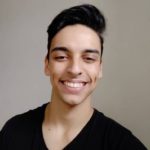 Leandro Santorsola is the creator of The Coffee Arsenal. His mission is to help people around the world to better understand how coffee makers work and to choose the coffee maker that best suits their personal needs.
https://www.the-backpacking-site.com/wp-content/uploads/2022/12/coffee-backpack.jpg
270
711
Leandro Santorsola
https://www.the-backpacking-site.com/wp-content/uploads/2018/08/the-backpacking-site-1.png
Leandro Santorsola
2022-12-19 19:18:38
2023-01-06 02:04:40
How to Make Coffee While Backpacking: 6 Quick and Easy Methods