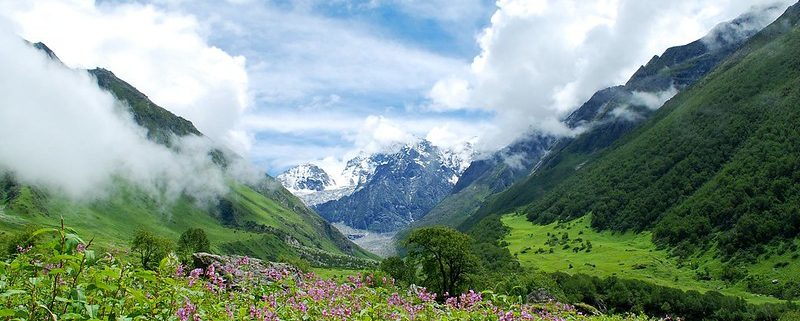 The exquisite Valley of Flowers National Park is dream come true for all visitors and hikers alike. It is abundant in gorgeous and exotic floral kinds, as well as species threatened with extinction.
The Valley of Flowers is situated in the Western Front of the Himalayas of Uttarakhand, at an elevation of 3,658 metres above sea level in the picturesque Bhyundar Valley. The Valley of Flowers, located in the Chamoli area, is an 87-square-kilometre landscape encompassing tumbling waterfalls, whispering streams, verdant meadows, gleaming glaciers, and vibrant himalayan flowers.
Majestic snowy mountain peaks, beautiful meadows, and vast vibrant flower arrays abound in this magnificent valley. Diverse foliage, uncommon himalayan flowers, and, most significantly, therapeutic herbs may be found along the Valley of Flowers trek.
With the changing of the seasons, this diverse array of nature takes on new colours and tones, providing distinct varied outlook in changing seasons. The sun sets over the Valley of Flowers National Park, which is a sight not to miss. At this hour, the undulating landscapes and beautiful mountain ranges take on a breathtaking quality.
Cobra Lily, Brahma Kamal, and Blue Poppy are among the unusual himalayan flowers found in this Valley of Flowers. Snow leopards, musk deer, Asiatic black deer, red fox, brown bear, and flying squirrels all live in this dynamic National Park.
Keen photographers, biologists, and flower enthusiasts flock to this location in quest of surreal environs and unspoiled splendour.
Until Frank S Smythe, a hiker, found it in 1931, this lovely valley was absolutely unknown and unexplored. It was originally known as Bhyundar Valley, but Smythe renamed it Valley of Flowers in 1931.
This Valley was proclaimed a National Park in 1982 for its outstanding spectacular natural characteristics, a wealth of high altitude species, and conservation and preservation standing, and UNESCO recognised it as a World Heritage Site in 2005.
The Valley of Flowers National Park offers a variety of activities to attract visitors. Trekkers and environment enthusiasts may hike up to this valley to enjoy the tranquil waterfalls, pristine sceneries, lush forests of oak and pine trees overflowing with snow-capped mountains and different types of flowers that are not accessible elsewhere.
It also has a wonderful location in sight for worshippers and vacationers. Devotees ascend the difficult trek path to the Hemkund Sahib, a well-known Sikh temple in Uttarakhand. It also enables you to visit places such as Ghangaria and Bhyundar.
The best time to visit the Valley of Flowers is during the monsoon season, which runs from July to September. After the monsoon rains, the Himalayan flowers and meadows are in full bloom. The Valley of Flowers begins on June 1st and concludes on October 31st. The admission charge to the Valley is INR 150 for native trekkers and INR 600 for foreign visitors.
Attractions in the Valley of Flowers National Park
Joshimath
The hallowed town of Joshimath, snuggled in Uttarakhand's Chamoli district within the valley of flowers radiates its divine atmosphere over the whole Garhwal area. Lord Badri's idol is carried from Badrinath to Vasudeva temple in Joshimath, and Joshimath is renowned as his winter abode.
For its startling height of 1890 metres above sea level, the town of Joshimath is also known as a hill station. In addition, the Alaknanda and Dhauliganga rivers converge at the Vishnuprayag convergence, which is visible from Joshimath.
Hathi Parvat and other Himalayan peaks provide a bewildering vista. Joshimath, tucked away in the Himalayas, is also regarded as the renowned entrance to mountaineering, with numerous treks available.
Ghangria
Every trekker would drool over the prospect of enjoying the serenity, tranquillity of one of the most exquisite regions of the Garhwal Himalayas, the Ghangaria village. The trekkers who embark on the Hemkund Sahib and Valley of Flowers short trek frequently visit the town of Ghangaria.
Ghangaria is 6 kilometres from Hemkund Sahib and 5 kilometres from the Valley of Flowers. The hamlet is situated at the intersection of the Bhyundar and Pushpawati rivers, which compose the Lakshman Ganga. Ghangria is known to be the last human settlement in Bhyundar Valley which serves as a base camp for trekkers to Hemkund and the Valley of Flowers.
During the winter Ghangaria village is carpeted with layers of snow. It is only navigable in between the months of May and September. At Ghangaria, you may completely unplug yourself from the city's frantic hustle and bustle and restore your health and spirit. Ghangaria is a haven for thrill-seekers and anyone looking to experience the Himalayan landscape's untapped grandeur.
Hemkund Sahib and Hemkund Sahib Lake
Valley of Flowers, located in the famed Nanda Devi National Park, is home to hundreds of different flower species, making for a delightful trip. This valley displays a stunning explosion of colours that is beyond description.
You may also do the Hemkund Sahib trek as an add-on to your Valley of Flowers short trek. The Hemkund Sahib journey begins in Ghangaria and winds its way through lush pine and oak woods, alpine meadows, and murmuring streams.
Visiting Hemkund Sahib is a once-in-a-lifetime opportunity. It requires a difficult ascent from Ghangaria. Hemkund Sahib is 6 kilometres away from Valley of Flowers. It will take roughly 6 to 7 hours to get from Valley of Flowers to Hemkund Sahib.
Hemkund Sahib is 4633 metres above sea level, and this beautiful hike concludes with the Sikh Gurudwara in Hemkund. This hike is made worthwhile by the appealing landscape of Hemkund Sahib and the lake.
The Hemkund Sahib lake is a stunning high-altitude lake this is commonly referred to as Hemkund, which literally translates as "Snow Lake." This spectacular location is bordered by snow-capped peaks and nourished by gleaming glaciers.
A little stream named Himganga runs out of this lake from the glaciers of the HathiParvat and Saptshring peaks. The tourists are enthralled by the reflections of the enticing surroundings in this crystal-clear lake that is as frigid as snow.
Flower Valley
The valley of Himalayan flowers as explained above is the major attraction of this trek as it lives up to its name with an endless supply of blooms throughout the season. The Valley of Flowers' unique environment is like a done deal: an exquisite valley bedecked with enormous spreads of flowers.
Amidst the rocky mountainous regions of Zanskar and the Great Himalayas are lovely meadows studded with indigenous highland wildflowers. Horticulturists, flower admirers, bird watchers, wildlife shooters, hikers, environment enthusiasts, and thrill-seekers from all over the globe are drawn to this valley's pristine splendour.
Local Culture
Rishikesh is well-known as the World Yoga Capital. Several yoga-related festivals are held here on a regular basis. When it comes to the question of the well-being of our physical system through practising yoga, the first name that comes to mind is the International Yoga Festival which specializes in teaching the methods of asanas.
Every year, during January and February, Basant Panchami is observed. According to the Hindu calendar, this is the second final month of the year and is known as Magh (January-February). On this day, people honour the Goddess Saraswati and dress in yellow.
Uttarakhand celebrates Ganga Dusshera with great zeal. According to the Hindu calendar, this event begins on the tenth day of Jaishtha (May-June). The River Ganges is venerated for a span of 10 days during the Ganga Dusshera.
The festival of Holi is also widely celebrated, with a focus on joy, dancing, and colours. During the month of Phalgun, the celebration colours the city with gaiety and affection. These are some of the divine customs and traditions amongst many followed in Uttarakhand in the valley of flowers.
Valley of Flowers Short Trek Itinerary
Day 1: Haridwar to Joshimath
Distance Covered: 290 km
Time Taken: 10 Hours
On the first day, you arrive in Haridwar and travel 290 kilometres in 10 hours to reach Joshimath. The perfect road ride from Haridwar to Joshimath is a visual feast for the eyes and the spirit.
Day 2: Govindghat to Ghangaria
Distance Covered: 40KM Drive and 9 km Trek
Time Taken: 6 Hours
Board a cab to Govindghat, followed by a 4-kilometre journey to Pulna. Pulna is the location in this region which is accessible by transport. Govindghat, located 22 kilometres from Joshimath and at a height of 5,500 feet, is a popular Sikh pilgrimage site.
It's the closest town to Hemkund Lake. You will then have to climb 9 kilometres from Pulna to Ghangaria which is this trek's base camp.
Day 3: Ghangaria to Hemkund Sahib and Hemkund Lake and Back Again
Distance Covered: 10 km
Time Taken: 7 Hours
The Hemkund Sahib Gurudwara and Hemkundlakefrom here is a 10-kilometer journey known as the Hemkund Sahib Yatra. At an elevation of 14,200 feet, you will find the the Hemkund Sahib Gurudwara, the most awaited part of the Valley of Flowers trek and the world's tallest Gurudwara.
The last 5 kilometres of the journey from Ghangaria to Hemkund Sahib particularly is very tough.   Hemkund Sahib does not permit overnight accommodation. It is recommended that you depart Hemkund Sahib by 2 p.m. in order to return to Ghangaria before dark.
Day 4: Ghangaria to Valley of Flowers and Back
Distance Covered: 5 km
Time Taken: 4 Hours
You get up early in order to spend as much time as possible in the gorgeous Valley of Flowers. The 5-kilometre hike is not particularly strenuous and follows a nearly level path throughout. It will take you to the most vibrant valley, which is adorned with beautiful himalayan flowers of all colours.
This magnificent scene, complete with snow-capped peaks, fluffy clouds overhead, and a flowing creek cutting across the valley, is reminiscent of a painting. Spend considerable time in this natural wonderland before returning to Ghangaria for the night.
Day 5: Trekking Back From Ghangaria to Govindghat and Driving Back to Joshimath
On Day 5, it is time to return to Govindghat through a 14-kilometre hike. Reaching Govindghat, you can spend the night in Joshimath accommodating yourself in a local guest house.
Day 6: Drive Back From Joshimath to Haridwar
Head back to Haridwar via Uttarakhand's bewitching topography, inhaling the lovely sights and reminiscing over your six-day trip in the wild Himalayan foothills.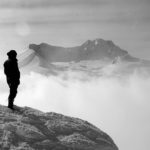 Souromi Banerjee is an aspiring content writer. She is associated with Voices, The Statesman, where some of her articles have been published. She is currently pursuing her English Major from Loreto College, Kolkata. She is a travel junkie as the mountain is in her bones. Her other hobbies are dancing and painting.
https://www.the-backpacking-site.com/wp-content/uploads/2022/01/4951216953_abe3ed7899_c.jpg
536
800
Souromi Banerjee
https://www.the-backpacking-site.com/wp-content/uploads/2018/08/the-backpacking-site-1.png
Souromi Banerjee
2022-01-22 08:06:24
2022-03-13 12:07:03
Hemkund Sahib and The Valley of Flowers Short Trek Itinerary