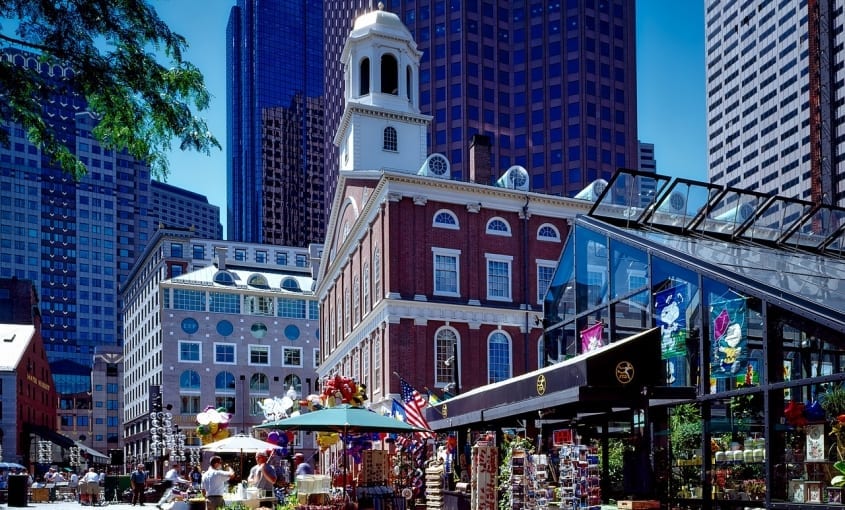 Boston is an excellent place for history buffs. As the site of such famous events like the Boston Tea Party, Paul Revere's midnight ride, and the first American Revolutionary War battle, it's no wonder that many of the things on our historical Boston bucket list revolve around historical events. Walking around the city will bring stories and characters to life. When deciding things to do in Boston, the most critical question is how to incorporate everything into your schedule!
1. Talk a Stroll on the Boston Freedom Trail
One of the first things on your historical Boston bucket list has to be walking the Boston Freedom Trail. It is best to do this at the beginning of your trip since it will take you past some of the most important historical sites in the city. It's also a great way to get your bearings at the start of your trip.
The Freedom Trail starts in Boston Common and ends at Bunker Hill on the river. The trail is 2.5 miles (4km) long and takes you past 16 markers on the Freedom Trail. Red bricks mark the way, and copper plates indicate the locations of historical sites.
A walk along Boston's Freedom Trail is likely to take a full day, as it includes visits to many historical sites. Once you reach the end of the Freedom Trail, you can head back to the city on foot or via the Charlestown Water Shuttle.
You can walk the Independence Trail on your own, or take one of the Independence Trail trips. Your guide might even wear 18th-century costumes and explain everyday life using historical information and stories.
Stops on the Boston Freedom Trail
Along the Freedom Trail, you will encounter 16 stops. We recommend finishing the trail in one day and then spending more time in Boston's major attractions later.
Boston Common

– The Freedom Trail begins in America's oldest park, which has a rich history and, to this day, is a popular meeting place for locals.

Massachusetts State House

– The Governor of Massachusetts still conducts his work in this historic building. The dome of the building was originally built by Paul Revere out of bronze and was later covered with gold.

Park Street Church

– This landmark was founded by orthodox Trinitarians in 1809 and is still an active Boston church.

Granary Burying Ground

– In this cemetery, you'll be able to visit the final resting place of famous Boston residents like Samuel Adams, John Hancock, Paul Revere, and Mary Goose (mother goose).

King's Chapel and Burying Ground

– This was the first Anglican church to be built in the colonies.

Benjamin Franklin statue and the Boston Latin School

– Take a photo with Mr. Franklin and visit the first public school in the USA.

Old Corner Bookstore

– literary greats such as Charles Dickens, Ralph Waldo Emerson, Nathaniel Hawthorne, and Henry Wadsworth Longfellow used this bookstore as a gathering place during revolutionary times.

Old South Meeting House

– Many revolutionary leaders attended the religious services here, but it's more famously known as the place where they organized the Boston Tea Party.

Old State House

– Built in 1713, this is one of the oldest buildings in America. The Declaration of Independence was first read to the crowd from the balcony of this historic building.

Site of the Boston Massacre

– Often cited as the triggering event for the American Revolution, this was the site where British troops killed five unarmed colonists during the fighting. 

Faneuil Hall

– The Faneuil Hall is in itself on of the things on our historical Boston bucket list. It's a famous market for food, boutiques, and street performers.

Paul Revere's House

– Visit the colonial home of the great American Revolutionary figure.

Old North Church

– A place where the famous lamps that signaled "one by land, two by sea" were hung to warn the colonists.

Copp's Hill Burying Ground

– A resting place for many early settlers in Boston.

USS Constitution

– A historic naval ship that can be viewed and toured today. The vessel saw the war on both American and British shores during the War of 1812.

Bunker Hill Monument

– The site of the great American Revolutionary battle on June 17, 1775.
2. Spend Time at the historic Faneuil Hall Market
Faneuil Hall Marketplace is a group of buildings that include Faneuil Hall, Quincy Market, North Market, and South Market.
It is a great place to try the traditional food available in the Boston market. Throughout Faneuil Hall, you will find first-class restaurants and small shops along the Quincy Market Colonnade. Faneuil Hall Marketplace is a popular meeting place for locals and tourists and one of the best places for street shows in the world.
Faneuil Hall is called "Cradle of Liberty" because of the many important speeches made here. At Faneuil Hall, James Otis declared "no taxation without representation" against British rulers. You can also take a tour to learn more about the history of Faneuil Hall.
A widespread curiosity and thing to see in Boston is to see the Faneuil Hall Weathervane and its famous Gold Grasshopper. This icon has been in the Boston market since 1742. The Grasshopper has watched over the birth of the nation and centuries of American history. There is even a time capsule in the body of the Grasshopper that contains historical newspaper debates, coins, and letters.
3. Relax at the Boston Common park
Boston Common is a beautiful city park and one of the places in Boston where locals love to hang out. This vast green space is America's oldest public park and was founded in 1634.
In the early days, it served as a training ground for colonial troops, until British troops took over in 1768. Throughout history, many protests and celebrations have taken place at Boston Common.
Boston's main attraction is usually the Frog Pool. In hot weather, it becomes a water fountain and is a great place for children to stay cool during the humid summer months. During the winter, the Frog Pong freezes over, and ice skating here is one of the best things to do in Boston during winter.
4. Immerse yourself in art and culture in the Museum of Fine Arts
The world-renowned Museum of Fine Arts in Boston has an extensive collection that ranges from Egyptian artifacts to Contemporary Art. Visiting this museum is one of the best historical bucket list activities for Boston.
They have an impressive collection of French impressionist paintings and frescoes. The most famous fresco on display at the Museum of Fine Arts was acquired from the Villa des Contrado Bottaro in Pompeii, Italy. You can even see samples of Paul Revere's silver work. Before he was an art historian, he was a worker in silversmith by profession.
A visit here can be one of the best things to do in Winter when the weather is too cold to do much else. The museum is large, but fortunately, if you have a ticket to the museum, you have a full day of entry plus free entry for another visit within ten days. The museum opens its doors free of charge after 4 pm Wednesday and some public holidays.
5. Walk around Boston Public Garden
Boston Public Garden was the first public botanical garden. The garden has a Victorian flair with a lake and meandering paths, and many locals consider Boston Gardens to be their favorite place in the city.
Boston Gardens is home to more than 80 plant species from the region, as well as many imported species. It also includes a 4-hectare lagoon. And while you're at it, let's add taking a ride on the swan boats to our Boston historical bucket list. These famous and vintage boats have been in use for over 100 years.
6. Stroll along the waterfront at Boston Harbor
Boston is surrounded by water, with a beautiful harbor and plenty of water-based tourism opportunities.
Take a tour of the floating museum dedicated to the Boston Tea Party. The museum does a beautiful job of bringing these historical events and characters to life. There are examples of former tea boats and interactive displays, making Boston Harbor one of the most obvious activities on your historical Boston bucket list. You can even throw tea overboard and join the ranks of revolutionaries.
Another unique activity would be a harbor cruise in Boston or a ride on one of the Duck Boats. From the water, you get a different view of Boston. To get the best deal, check in advance on sites like can check the prices Get Your Guide and Tiqets, two websites of which work directly with local operators. While you're at it, you might as well check for other activities and skip the line tickets for other attractions in Boston.
7. Tour the John F. Kennedy Presidential Museum and Library
This museum is located on the coast overlooking Boston and offers a beautiful view of the city center. The location of the museum was a deliberate decision because of how much Kennedy loved his city of Boston.
The memorial is dedicated to John F. Kennedy and includes research, collections, and exhibitions on the life of the late president. The building is an attraction in itself and was designed by the famous architect I. M. Pei.
Anyone interested in fashion will also love to see some of Jackie Kennedy's iconic outfits on display.
8. Dive into the history of the Old North Church
The old North Church is the oldest church still standing in Boston. The famous lamps, which signaled "one by land, two by sea," were hung on the bell tower of this historic Boston church.
You can take a tour of the church and learn all about the history from a resident historian. The tour is free, but donations are always welcome to help maintain this historic building.
9. Tour Fenway Park (or attend a game!)
Fenway's historical park is almost synonymous with Boston. The stadium is the oldest stadium of the Major Leagues.
With a little bit of planning ahead, you can add watching a baseball game at Fenway Park to your historical Boston bucket list. Doing so is undoubtedly one of the most quintessential things to do in Boston. Or visit the historic stadium and visit the Bleacher Bar at the stadium level. On game days, tours begin 3 hours before the game, and you can see the players while they warm up on the field. On non-game days, you can take a one-hour tour anytime from 9 am to 5 pm.
10. Take a beer tour at a local brewery
One fun thing to do in Boston is to visit a local brewery. Historically, beer has been a big part of the city of Boston, and visitors have the chance to visit historical and massive points of interest like the historical Sam Adams brewery, along with smaller modern microbreweries.
How to get around in Boston
Fortunately, the city's historic center is very small and very accessible. Many of the most popular things to do in Boston are only 20 minutes from downtown. Public transport is easy to find, so a car is not required. The public transport system is called the MBTA and is well-managed with good connectors throughout the city.
Boston also has a public bike service called Blue Bikes, which is a great way to get around the city. To use a bike or car-sharing service, all you have to do is sign up for an account in advance. Once you have an account, it is straightforward to use.
As you can see, there is no shortage of things to add to your historical Boston bucket list. Enjoy your time at the center of American history!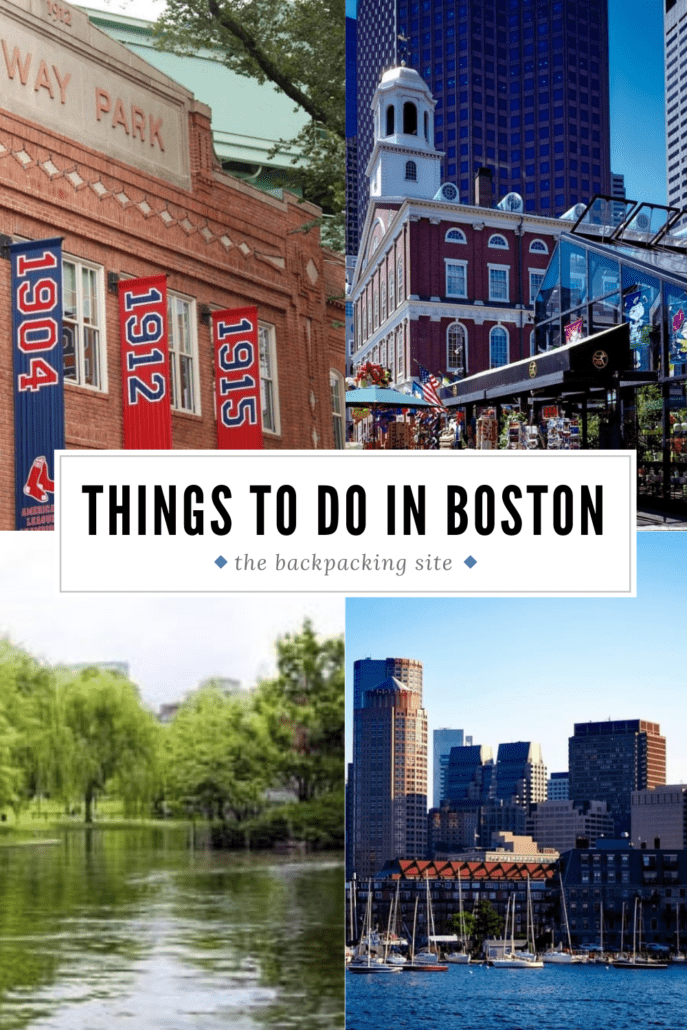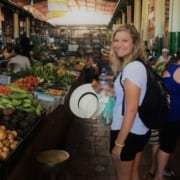 Monica is an avid traveler and backpacker who seeks to inspire others to embark on great adventures off the beaten path. Originally from California, she has travelled to over 60 countries, most of which she explored while backpacking or camping.
https://www.the-backpacking-site.com/wp-content/uploads/2020/02/Boston-Faneuil-Hall-Marketplace.jpg
998
1280
Monica Woerner
https://www.the-backpacking-site.com/wp-content/uploads/2018/08/the-backpacking-site-1.png
Monica Woerner
2022-03-11 16:00:20
2022-04-01 12:56:11
The Ultimate Historical Boston Bucket List