Are you ready to embark on the challenge of hiking the Appalachian Trail, or want to know how to prepare for hiking up Kilimanjaro? In this article, we will talk about fitness tips, gear recommendations and more information for how to train for a thru hike for beginners.
What Is Thru-Hiking?
Thru hiking is hiking an established long-distance trail end to end within one hiking season. The term thru hike can also be used more generally to refer to any hiking trip where you are carrying your own gear on your back for overnight trips. In comparison with camping, you'll be using the power of your own legs to arrive at your destination, and often with a large backpack in tow.
On a thru hike, you will usually go for multiple nights in a row, and you will have to bring everything with you: your shelter, clothing, food, and cooking equipment.
Thru-hiking is an amazing experience. It will allow you to test your limits and challenge yourself in ways that might surprise you. You may be hiking for days or weeks on end, and you will need to stay focused. It is also important that you take the proper safety precautions and prepare yourself physically and mentally.
How to Physically Train for a Thru Hike if You're a Beginner
There are a few hiking fitness tips that can help you train for your first-time thru hike. On a typical thru-hike, you'll be hiking for at least 5 days in a row, so you will need to build up some stamina in order to get to the appropriate fitness level.
Focus on Overall Fitness
Taking part in various forms of aerobic fitness like cycling, swimming, running and group fitness classes will not only give you a solid aerobic base, but will also help you gain confidence and momentum as well.
Targeted Exercises to Train for A Thru Hike
In addition to overall physical fitness, there are certain muscle groups that you should train before embarking on a long hike. Large muscle groups like your quads, glutes, and core will need to be in tip-top shape to ensure you have the endurance and condition for your long hike. The most efficient way to train a muscle group is through resistance training, but luckily most of the reps can be done with minimal equipment.  The Thru Hikers Workout from REI gives some good exercises that can help beginners get in shape for your thru hike.
Start with Short Hikes
To start out, you should try going for shorter hikes in order to see if this is the hobby for you. Gradually add more and more distance until you work your way up to the typical distance covered on a thru-hike.
Hike with your Pack
Eventually, you'll want to try hiking with a pack on in order to train your body for the extra weight. As much as you can, you should simulate the true conditions for your hike, which means either hiking with your full pack of gear, or adding weights to your pack.
Prepare for diverse scenarios
You should also practice hiking in different weather conditions to test out your gear and your pack set-up. You want to make sure that you're prepared for the worst case scenario, so try hiking when it's raining or snowing. If your pack starts getting wet, take out everything and stuff it into dry bags (waterproof bags). Practice what you would do if you get caught in a sudden rain storm, or if the weather suddenly becomes much colder.
Safety Precautions for Beginner Thru Hikers
There are certain safety precautions you should take if you're a beginner to thru hiking. You should always have an emergency first aid kit with you. You should tell someone where your hiking trail is, and when to expect you back.
The Best Gear for Thru Hiking
As a beginner, part of how to train for a thru hike means preparing your gear ahead of time. Make sure you have all of the hiking essentials so that you are safe on the trail, and so that your hiking experience is enjoyable.
When thru hiking, you will need to be hyper-focused on keeping your pack ultralight. Every tiny ounce adds up over time. With the right hiking gear, you will be able to hike further each day with miniml physical discomfort.
Here is a list of some of the most essential gear for a first-time thru hikers, but the specific gear will depend largely on which trail you are hiking and which weather you may be faced with.
The right hiking boots – be sure to take a few long hikes in them beforehand to break them in
A hiking backpacking – Your pack will become like an extension of your body, and choosing the right pack is one of the most crucial decisions during trip preparation.
Ultralight cooking gear
Water purification tablets or a water filter
Safety equipment like a knife and a first aid kit
Trekking poles – Even with the best training, trekking poles are essential on thru hikes. They can help save your hips and back from unnecessary aches and pains. Trekking poles are said to take 25% of the strain off of your knees, which means you will be able to go further distances with minimal physical discomfort. They might also be critical if you will be crossing streams or treacherous terrain.
The Best Thru Hikes in the World
You have probably heard of the famous PCT and Appalachian Trail thru hikes, but there are plenty of established thru hikes found all over the world. Each of these hikes come with their own particular characteristics, so the packing and training will vary slightly for each thru hike.
Here are the most famous thru hikes from around the world:
The Appalachian Trail (United States) Distance: 3,510 kilometers (2,180 miles)
The Pacific Crest Trail (United States) Distance 4,265 kilometers (2,650 miles)
The South West Coast Path (UK) Distance: 1,016 kilometers (630 miles)
Te Araroa (New Zealand) Distance: 3,000 kilometers (1,864 miles)
Continental Divide Trail (United States) Distance: 4,990 kilometers (3,100 miles)
Grand Italian Trail, Sentiero Italia (Italy)Distance: 6,166 kilometers (3,830 miles)
Great Himalayan Trail (Nepal) Distance: 1,700 kilometers (1,056 miles)
Hokkaido Nature Trail (Japan) Distance: 4,585 kilometers (2,849 miles)
Trans Panama Trail (Panama) Distance: 800 kilometers (497 miles)
Pacific Northwest National Scenic Trail United States) Distance: 1931 kilometers (1,200 miles)
These are all high on the list for avid thru-hikers. If you don't have a ton of spare time to do one of these thru hikes in a full season, some people choose to do portions of the trail a little bit at a time. Over a few years, you will be able to complete the entire thru-hike.
---
We hope you are equipped with the knowledge you need in order to train for your very first thru hiking adventure. Covering vast distances on your own two legs with everything you need on your back is an incredibly rewarding experience. Enjoy!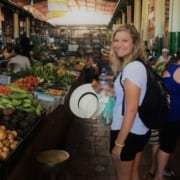 Monica is an avid traveler and backpacker who seeks to inspire others to embark on great adventures off the beaten path. Originally from California, she has travelled to over 60 countries, most of which she explored while backpacking or camping.
https://www.the-backpacking-site.com/wp-content/uploads/2022/06/1024px-Volunteer_on_the_CDT.jpg
768
1024
Monica Woerner
https://www.the-backpacking-site.com/wp-content/uploads/2018/08/the-backpacking-site-1.png
Monica Woerner
2022-06-17 09:39:34
2022-12-03 18:08:06
How to Train for a Thru Hike: A Beginner's Guide