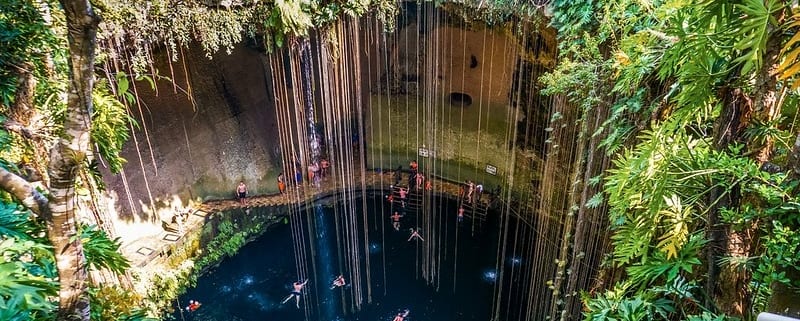 Anyone who's into world travel will be familiar with Tulum. This jungle coastline on Mexico's Yucatán peninsula has become a recent hotspot, with its stunning Cenotes and boutique beach hotels featuring prominently all over social media. While Tulum is no longer off the beaten path, the food scene, the funky artist vibe, and the stunning nearby sites make it the perfect destination in our books. If you're in the area, be sure to take advantage of some great day trips from Tulum.
Renting a car is the best way to take day trips from Tulum, but you can also find local tour operators who will organize everything for you. You can check out Get Your Guide or Viator to get an idea of pricing and reviews and to book your tour ahead of time.
1. Chichen Itza
It's safe to say that the number one day trip from Tulum is a visit to one of the New Wonders of the World, Chichen Itza. It's hard to describe the feeling you get when you see this awe-inspiring UNESCO World Heritage Site and how it rises impressively from the surrounding countryside.
Chichen Itza is best reached by car and takes about 2 hours one-way from Tulum. If you don't have your own car, you can go on a full-day excursion that combines a visit to Chichen Itza, the Hubiku Cenote, and Valladolid.
2. Cenote Ik Kil
Located a 2-hour drive from Tulum is one of the most beautiful Cenotes on the Yucatán Peninsula. The ceiling of a former freshwater limestone cave has long since collapsed, creating a steep crater-like opening with jungle vines spilling into the pool below.
It's hard to believe that a place like this exists on earth. Keep in mind that there is a fee to enter which seems to get more expensive year after year so come prepared with your pesos. 
3. Swimming with Turtles in Akumal
For one of the best day trips from Tulum, head up the coast to Akumal, a Mayan word that means place of the turtles. In Akumal Bay, you can swim with juvenile green sea turtles who hang out here until they head to open waters in their adulthood.
Akumal is a public beach, so it's absolutely free to swim with the turtles. However, there are some privately-owned beaches near the area, so be sure to avoid trespassing and upsetting the local owners.
4. Coba Mayan Ruins
The Yucatán Peninsula is home to some of the most impressive Mayan ruins, and the pyramid at Coba is a must-see. This particular site is special because it's one of the only Mayan ruins that you can actually climb.
If you have your own car, it's about a 45-minute drive from Tulum, but there are also local buses that connect Coba to Tulum.
5. Valladolid
The colorful quaint little town of Valladolid is a perfect day trip from Tulum for anyone who wants to see an eclectic colonial town in the heart of the Yucatán. If you're making the trek to Valladolid, don't miss the nearby Suytun Cenote.
This Cenote is one of the most popular sites on the Yucatán, famous for its cathedral walls and stone platform that leads to the middle of the freshwater pool. It's a popular spot, so it's best to visit Suytun Cenote in the afternoon after the tourist buses have departed. 
6. Cozumel
Cozumel is a mostly-undeveloped island that looks like an island paradise: white sand, turquoise waters, and palm trees that grow right up to the shore. Luckily, it's possible to take a day trip from Tulum to Cozumel.
There are ferries departing from Playa del Carmen every hour, so there is never too long of a wait. Once on Cozumel, you can go snorkelling among the reefs, or head to a sandy beach to relax.
7. Sian Ka'an Biosphere
The Sian Ka'an Biosphere is a UNESCO World Heritage Site because of the impressive Mayan-built canals that can still be seen in this area. Located about an hour away, it's one of the best day trips from Tulum for anyone looking to get a taste for the Mayan culture.
Visitors can even take a kayaking tour through the ancient canals that were used to control irrigation in the region.  If you want to go with a guide through the vast Biosphere, you can take a half-day tour from Tulum that combines kayaking in the lagoon with exploring Mayan ruins in the surrounding jungle.
8. Rio Secreto underwater cave tour
The Rio Secreto is one of the most stunning sights on the Yucatán peninsula. This network of limestone caves has underwater rivers, hiking trails, and massive cathedral-like rooms. You'll have to go with a guide to explore the underground area, and there are tours ranging from full-day experiences to shorter visits.
9. Swimming with Whale Sharks near Isla Mujeres
If you're spending a long vacation in Tulum, you should make time to take a day trip to the north. Here you'll find a more remote and untouched part of the Yucatán peninsula, so it's the perfect day trip for those looking to get off the beaten path.
From June to September, you can find Whale Sharks off the coast of Isla Mujeres, and it's possible to book a tour from Tulum to swim alongside these gentle giants.
10. Bacalar Laguna de 7 Colores
If you're looking for something further afield from Tulum, you can head 3 hours south to Bacalar Laguna de 7 Colores. It's a good idea to take a day trip to Bacalar from Tulum if you want to get off the beaten path in the Yucatán Peninsula.
Although it's a fair distance away from Tulum, the stunning lagoon is worth it. The best way to see the lagoon is from the water, so you might consider splurging on a full-day sailing trip that picks up from Tulum.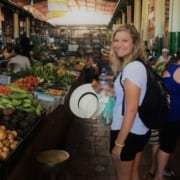 Monica is an avid traveler and backpacker who seeks to inspire others to embark on great adventures off the beaten path. Originally from California, she has travelled to over 60 countries, most of which she explored while backpacking or camping.
https://www.the-backpacking-site.com/wp-content/uploads/2021/05/8682581496_7b94322646_c.jpg
532
800
Monica Woerner
https://www.the-backpacking-site.com/wp-content/uploads/2018/08/the-backpacking-site-1.png
Monica Woerner
2021-05-06 13:20:23
2022-09-09 12:26:04
Tulum off the Beaten Path: 10 Day Trips from Tulum