Malta is an oft-overlooked vacation destination in Europe. But if you can find an affordable flight, it usually offers warmer weather than the rest of the continent and can make for a perfect 5-day trip. 
Read on to see our recommended things to see during 5 days in Malta. In order to see it all, we'd really recommend staying 2 days near Valetta, and 3 days on the island of Gozo, which we found to be even more charming than the larger island. We hope you have a great time!
Arriving in Malta
Malta is small, and the airport is very close to everywhere you might need to go. We landed in the evening and decided to take a cab to our hotel, the Grand Excelsior, just outside the city walls of Valetta. Cabs are generally reliable in Malta, it should be a flat rate to get from the airport to anywhere near Valetta.
Valetta
We spent the first 2 days near Valetta, and we found 2 days to be plenty of time. Honestly, Valetta is so small that you can't go wrong. Take some time to just wander around the streets. You'll find it easy to get your bearings and there's no way you can get lost. We loved wandering around and admiring the different colors of the gallarija – the distinctive Maltese balconies that you'll see all over the island. Here are some other things you can do in Valetta.
Upper and Lower Barakka Gardens
Well-maintained park giving you a great view over the harbors.
Valetta Harbor Tour
Malta's historical significance primarily comes from the fact that it can be used as one huge harbor in the middle of the Mediterranean. There are tons of other cities that have popped up around Valetta which each have their own character. Taking a harbor tour will give you the best view of Valetta from the water, and is the best way to take in the cities around the huge harbor. Unfortunately, the weather did not cooperate with us and our tour was cancelled and refunded, so we'll just have to go back one day!
Skip it! Hop-on, Hop-off bus
We decided to do this, but I wouldn't recommend it. Outside of Valetta, the highlight of Malta is the walled city of Mdina, so you would be better off either taking a bus or car directly there. The rest of the stops on the hop-on, hop-off bus seemed like tourist traps to me.
Plus, nearly everyone got off at Mdina to spend a few hours, which means everyone wanted to re-board from Mdina all at once at the end of the day. We ended up waiting HOURS to get back on the hop-on hop-off bus, since there were just too many people. You would probably be better served getting a tour that takes you directly to the highlights. I found one on Get Your Guide that takes you to Mdina, Rabat, and the San Anton Gardens.
Mdina
If you are smart enough to avoid the hop-on, hop-off bus tour, Mdina itself is well-worth a visit when you're in Malta for 5 days. It's the original capital of the island, and sits atop a hill giving it stunning views across the island of Malta and over the sea. Our favorite part of Mdina was just wandering the maze of alleyways, discovering charming courtyards. Plan to have lunch there and pop into the Mdina Cathedral with its brightly colored floor tiles.
Gozo
We ended up splitting our trip between staying near Valetta, and staying in Xlendi on the island of Gozo. There is a passenger and car ferry that runs regularly between Malta and Gozo which departs at Ċirkewwa. I personally preferred our time on Gozo better. We had a rental car, which made it easy to explore Gozo in 2-3 days. If you don't have a rental car, you can book a jeep day tour that will take you to all the highlights on Gozo.
Gozo is a little less crowded and a little more untouched than Malta. It's easy to get around Gozo as well since it's so small. You can do Gozo as a day trip from Malta, but we liked staying overnight on the island to really soak in the atmosphere. Here's what we did:
Xlendi Tower
We were lucky enough to be staying in Xlendi, making this an easy walk. But even if you are staying elsewhere on Gozo, I'd recommend visiting the tower. Not only will you see a great view of the coast, but there are ancient salt pans, where inhabitants of the island harvested sea salt. From Xlendi Tower, you can walk along the coast where you'll see even more amazing views.
Ggantija
The Neolithic Temple is well-worth a visit. It's a little hard to find, google maps will lead you astray – just follow the signs posted around town. It's 3600-year old temple that is even older than the pyramids! The incredible thing is that it's made up of massive limestone pieces that were somehow transported from the coast. Even today, archaeologists aren't sure about how the ancient people accomplished this amazing feat.
Victoria on Gozo
Malta is known for having a strong Easter tradition, and we were lucky enough to be in Malta for Holy Week. Throughout the week, there are processions, prayers, art exhibits, and more. We ended up going to Victoria for the Easter Sunday parade. The streets leading up to the cathedral were filled with people and the locals paraded around a statue of Jesus, along with traditional music. It was very cool to feel a part of the tradition!
Ramla Beach
Ramla Beach is a large stretch of sand flanked by cliffs. We hung out on the beach for a while, be sure to bring food with you since the restaurants are not the greatest. Before we went to the sand, we took a small detour and hung out at the abandoned Ulysees Lodge in the hills above Ramla Beach. It's an old hotel and villa that has since been abandoned, but still has a stunning view over the coastline. Just enter at your own risk since the building is not maintained.
Fungus Rock and Dwejra Bay
We spent an afternoon exploring and hiking around Fungus Rock, and took a dip in the waters in the Dwejra Bay. Highly recommended as a half-day trip!
Food in Malta
During our 5 days in Malta, we ate like kings. We found some delicious food in Valetta. Our favorites were Aaron's Kitchen, where we tried some traditional Maltese dishes. Be sure to show up before the dinner rush, or call for a reservation since they tend to fill up. Another great restaurant was the Old Bakery's Pizza. It's a smaller hole-in-the-wall gem that is near the restaurant and bar scene in Valetta.
In Gozo, we basically hopped around different seafood restaurants, and we were never disappointed. In most restaurants, you can pick out the fish you want from their catch of the day. It's usually prepared with boiled vegetables and fries. We always left stuffed and satisfied!
5 Days in Malta – our Takeaway
For us, 5 days in Malta was more than enough time to do all of the things we wanted to do in both Malta and Gozo. The benefit of being such a tiny country, is that it's very easy to navigate and get your bearings! If you're brainstorming your next vacation destination, I'd definitely recommend adding Malta to your list!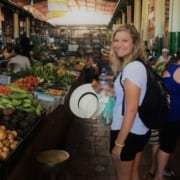 Monica is an avid traveler and backpacker who seeks to inspire others to embark on great adventures off the beaten path. Originally from California, she has travelled to over 60 countries, most of which she explored while backpacking or camping.
https://www.the-backpacking-site.com/wp-content/uploads/2022/10/Sliema_Malta_Colored-Balconies-02.jpg
683
1024
Monica Woerner
https://www.the-backpacking-site.com/wp-content/uploads/2018/08/the-backpacking-site-1.png
Monica Woerner
2022-10-20 22:53:40
2023-03-31 17:03:14
5 Days in Malta - A Guide to See it All