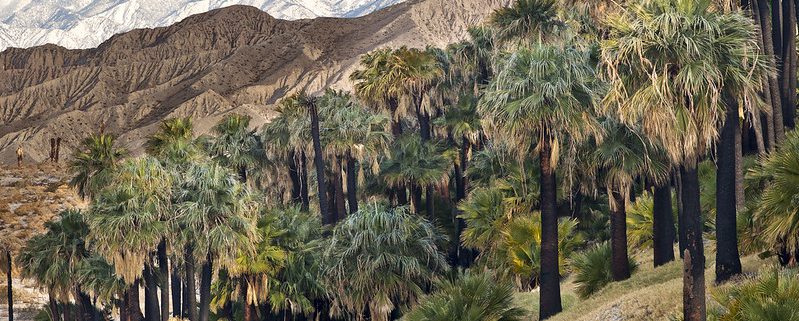 If you're looking to get off the beaten path in Palm Springs, consider taking to the trails! Greater Palm Springs is a hiker's paradise. Many of the best hikes in Palm Springs feature stunning views of jagged cliffs, waterfalls, and mountain springs fed by ribbons of water racing through the Indian Canyons. And most of the best trails in the Palm Springs area lead to lush plateaus. Whatever your preference, let the landscape work its magic. 
To ensure you have a great hiking experience in Palm Springs, be sure to get the AllTrails app before you go. The app has an extensive list of the best trails for hiking in Palm Springs, with reviews from other hikers to keep you up to date on the latest trail conditions. You can filter by trail difficulty, length, and suitability and download trail maps to help keep you on track even when you're offline.
Read on to discover some of the best hikes in Palm Springs that can be explored year-round, From canyons to oases, to panoramic views of the valley.
Palm Canyon Trail
Palm Canyon in the Indian Canyons is the world's largest oasis of Washintonia filifera palm trees. It's also home to hidden hot springs. The small springs are just 2 or 3 feet wide, and can easily be mistaken for a puddle or stream.
There is a moderately graded, paved path down into the canyon that can be used for horseback riding, hiking, meditation, exploring, horseback riding, or meditating near the stream.
Measuring 15 miles long, this trail is best suited as a full-day excursion. Be sure to bring plenty of water with you, especially during the hotter months.
Murray Canyon Path
Murray Canyon Path is consistently rated as one of the best hikes in Palm Springs. Along this 4.7-mile path, you can take in scenic views of the seasonal stream of the Seven Sisters Waterfalls. We'd describe the hiking level as easy to moderate.
Along the way, you'll see rock formations, a palm oasis, Murray Canyon Creek (which you'll cross at least 15 times), and the famous Seven Sisters Waterfall.
Andreas Canyon Trail
This tranquil stroll offers a variety of plants and rock formations and the year-round Andreas Creek. The total distance is just 1.2 miles, so is suitable even on hot days. Just be sure to bring plenty of water to get you there and back. Along the way, you'll see larger-than-life rock formations that once provided shelter for indigenous people.
Tahquitz Canyon
Beautiful and serene Tahquitz Canyon is located a short distance from downtown Palm Springs, making it one of the best hikes in the Palm Springs area. It's a romantic escape from the hustle and bustle of city life. The canyon offers a rare glimpse into the ancestral home of the Agua Caliente Band of Cahuilla Indians. Discover the amazing scenery along the rugged 2-mile trail loop.
Due to the terrain, this is best suited to those in good shape as the path can be strenuous. Along the way, keep an eye out for rock art, native wildlife, and plants. Find respite at the seasonal 60-foot-tall Tahquitz Falls – a place of power that, according to legend, rejuvenates and energizes.
Bighorn Overlook, Roadrunner, and Chuckwalla Trails
This is the trio of trails behind Rancho Mirage City Hall. The trails are suitable for every hiking level and will provide views over the entire valley. You can enjoy a magnificent sunrise or the beauty of a night hike in Palm Springs shared with friends on a full moon night. The trio of trails runs approximately 3 miles and is dog-friendly for on-leash pups.
Bump and Grind Trail
For those looking for more of a workout, you might want to try out the Bump and Grind Trail, one of the best hikes in Palm Springs. It's a 3-mile hike that begins behind the Desert Crossing shopping center in Palm Desert. You'll gain almost 1000 feet in elevation (hence the name) but you'll be rewarded with stunning views of the valley.
Homestead Trail
Another photo-worthy trek is the Homestead Trail (also known as 'The Cross Hike' because of the huge lit cross at the top) in Palm Desert. This 3-mile round-trip hike is best at sunset: You'll see the twinkling lights of Greater Palm Springs below once you make it to the peak. Another perk: This trail is also dog-friendly, so your four-legged friend can enjoy the views along with you.
Further off the beaten path from Palm Springs
For those with more time on their hands, don't miss some of these other fantastic areas just a stone's throw away from Greater Palm Springs with great hikes to get off the beaten path.
Joshua Tree National Park
Well known for the twisted tree trunks sculpted by wind, water, and intense heat, Joshua Tree National Park offers world-famous rock climbing and clear, dark skies for stargazing. You can also experience the 1250-square-mile expanse of wilderness on a short nature walk or hike.
A few favorite spots: Skull Rock, a surreal rock formation that appears to have hollowed-out eye sockets, and Keys Views, a lookout point that affords majestic views of the entire valley.
For more information, check out our post highlighting the best hikes in Joshua Tree National Park.
Coachella Valley Preserve
A lush, 880-acre palm oasis tucked into the northern edge of the Indio Hills, the Coachella Valley Preserve is a well-kept secret. Try the McCallum Trail, which winds thru a rare habitat of palm woodland and desert wetland with creeks and ponds created by the San Andreas springs. Keep an eye out for the threatened Coachella Valley fringe-toed lizard, which can be found nowhere else in the world.
Lake Cahuilla Recreational Area
Just 6 miles from picturesque Old Town La Quinta lies the Lake Cahuilla Recreational Area, a 710-acre park at the base of the Santa Rosa Mountains. The park offers an easy and beautiful escape for those looking to spend a little time with Mother Nature.
Fish n the 136-acre lake, stretch your legs on a hiking excursion or ride your horse on one of the equestrian trails. If you'd like to set your sights closer to town, check out the trails that kick off from La Quinta Cove, just behind Old Town.
Whitewater Preserve
The year-round flow of the crystal-clear Whitewater River that runs through the Wildlands Conservancy's Whitewater Preserve makes this spot a true oasis. It's not uncommon to see visitors along the bank, dipping their toes.
This vital wildlife corridor between the San Bernardino and San Jacinto mountains is home to several species of endangered birds, as well as deer, bears, and bighorn sheep. The dog-friendly Whitewater Canyon Loop trail offers stunning views of the natural landscape and is known for its abundance of springtime wildflowers (we're talking blankets of yellow blooms!)
---
Greater Palm Springs is home to nine different cities, collectively making up one of the liveliest destinations on the West Coast. From Desert Hot Springs, Palm Springs, Cathedral City, Rancho Mirage, Palm Desert, Indian Wells, Indio, Coachella, and La Quinta, you are bound to find plenty to do during your trip.
In addition to relaxing by the pool and soaking in the vintage vibes of the valley, we hope that you'll enjoy getting off the beaten path on some of the best hikes near Palm Springs.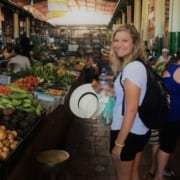 Monica is an avid traveler and backpacker who seeks to inspire others to embark on great adventures off the beaten path. Originally from California, she has travelled to over 60 countries, most of which she explored while backpacking or camping.
https://www.the-backpacking-site.com/wp-content/uploads/2022/11/26389569904_e2b4050f0d_c.jpg
518
799
Monica Woerner
https://www.the-backpacking-site.com/wp-content/uploads/2018/08/the-backpacking-site-1.png
Monica Woerner
2022-11-09 21:13:24
2023-05-24 15:57:33
The 7 Best Hikes in Palm Springs to Get off the Beaten Path