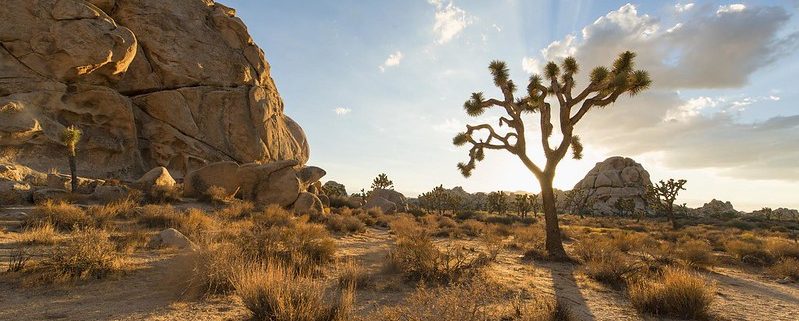 Joshua Tree National Park is one of California's best natural attractions. With over 790,000 acres of rugged rock formations, towering Joshua trees, and desert landscape that seems from another planet – it's hard to get enough of this place. Visiting Joshua Tree National Park but not sure which hikes you should do? There are 124 hiking trails in Joshua Tree that vary in length, intensity, and views. But if you've got limited time at the park, here are the 9 best hikes in Joshua Tree National Park.
Before you Go: To ensure you have a great hiking experience in Joshua Tree, be sure to get the AllTrails app before you go. The app has an extensive list of the best trails for hiking in Joshua Tree, with reviews from other hikers to keep you up to date on the latest trail conditions. You can filter by trail difficulty, length, and suitability and download trail maps to help keep you on track even when you're offline.
1. Hidden Valley Nature Trail
The Hidden Valley Nature Trail is an easy 1-mile loop hike that takes you to a hidden valley that was once used by cattle ranchers to shelter their cows in the 19th century. The valley is enclosed by unique rock formations. If you look closely at the rock formations, you might see rock climbers making their way up to the top.
Through the trail, you'll see Joshua trees, yucca trees, cacti, and more. Look for interpretive signs to learn about the flora and fauna in the hidden valley.
The hike requires climbing steps and scrambling through some rocks but the elevation gain is minimal so plan to spend about an hour on this trail.
If you can, hike this trail around sunset time. The sunlight on the rock cliffs displays a golden light on them; unseen anywhere else!
2. Cholla Cactus Garden Trail
The Cholla Cactus Garden Trail is a very easy 0.2-mile hike through the Cholla Cactus Garden. This trail is on a boardwalk so expect minimum elevation gain.
The garden is filled with cholla cacti that look like teddy bears but definitely do not feel like them! You might notice others straying from the boardwalk trail but it's best to stay on to prevent accidentally touching the cactus spines.
When hiking this trail, wear long-sleeved clothes and pack essentials in case you brush up on the spines. On the hike, you can see 10 acres of cholla cacti; plan to spend up to 30 minutes here. This is another great sunset hike but if you prefer a less-crowded experience, come here for sunrise to see the cholla cacti spines shining in the sunlight.  
3. Barker Dam Nature Trail
The Barker Dam Nature Trail is an easy-to-moderate 1.1-mile hike that shows you the Barker Dam, a water reservoir that was used by cattle ranchers. If you're lucky, you might see water in the dam and wildlife including desert bighorn sheep near the dam.
After hiking to the dam, the trail takes you to a view of hundreds of Joshua trees, creosote bushes, pinyon trees, and the San Gorgonio Mountain in the far back. Towards the end of the trail, you'll see a cave-like ceiling with Native American petroglyphs. Since there are many unique things to see on this trail, you can spend 1-2 hours exploring it. 
4. Wall Street Mill Trail
The Wall Street Mill Trail is another easy-to-moderate hike that can take an hour. The well-preserved trail takes you through a path with rustic automobiles used in the past and the Wall Street Mill at the end.
The mill was used for gold processing and mining. Read the signs throughout the trail to learn about its interesting history.
On the trail, you'll also see an old windmill with a water pump. This 2.2-mile trail is sandy in some areas and loose gravel in other areas so make sure to clean out your shoes after the trail. 
5. Skull Rock Nature Trail
The Skull Rock Nature Trail is an easy 1.7-mile hike that starts at Jumbo Rocks Campground and takes you to Skull Rock. The Jumbo Rocks Campground is filled with huge rocks and has 124 individual campsites. It's a great place to camp since it's centrally located in the park.
On the trail, you'll see Mojave desert plants including cat's claw acacia and desert almond and California plants including California oak woodland and California buckwheat. You'll see interpretive signs along the way.
In the end, you'll see Skull Rock, a granite rock that's been shaped by erosion to look like a skull. The Skull Rock attraction can be crowded so plan to spend up to 2 hours for this entire hike.
6. Lost Horse Mine Loop Trail
The Lost Horse Mine Loop Trail is a moderate 6.8-mile trail that can take up to 4 hours. Even though this is longer than the other hikes, it's secluded and provides panoramic views.
Expect elevation gain but overall the trail isn't too challenging. Joshua Tree National Park once had lots of mines including the Lost Horse Mine. Used in the 19th century, this mine was used to process gold.
There is no shade on this trail so it's best to avoid hiking it during the summer. Visit during the spring to see the trail's edges covered with wildflowers. 
7. Arch Rock Nature Trail
The Arch Rock Nature Trail is an easy 1.2-mile hike that starts out leveled and sandy and then you're surrounded by rock boulders of different sizes. You can spend half a day here climbing up the rocks but if you're just doing this hike, plan to spend an hour.
The main attraction is the Arch Rock and you'll know you're near when you start to see crowds around it. It's a popular photo spot so expect to wait in line to take a photo with the Arch Rock.
There's also a rock that's shaped like a heart, that's located around the area. There are no signs to hike to it but you'll see hikers walking to or from the rock. Use Google Maps to guide you to the area. 
8. Ryan Mountain Trail
The Ryan Mountain Trail is a strenuous 3-mile hike that's popular for its landscape views of the park, especially at sunset. There is an elevation gain of more than 1000 feet so plan to spend up to 2.5 hours on the trail.
Plan to hike this trail only in the spring, fall or winter but if you're at the park during the summer, only hike this trail early morning or late evening and bring enough water for the entire hike.
9. Keys View Trail
The Keys View Trail is a very short 0.1-mile hike up to Keys View. From Keys View, you'll get gorgeous views of the Salton Sea, Coachella Valley, Palm Springs, the San Jacinto Mountains, and Mount San Gorgonio.
Come here for sunset but if you prefer fewer crowds, hike here during sunrise. If it's a clear day, you can see the Mexico border and Mount Signal. Spend up to an hour enjoying the views at this park's highest viewpoint. 
Conclusion: Best Hikes in Joshua Tree National Park
Whether you're hiking with your family, out on an anniversary trip, or just want to get away from the hustle and bustle of daily life – Joshua Tree National Park is the ideal place to do it.
The variety of hiking trails in this national park is great, so whether you're a beginner or an experienced hiker, choose from these 9 best hikes in Joshua Tree National Park. Be safe, leave no trace, and have fun!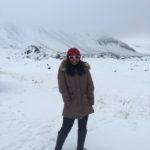 Rasika is the owner of the travel blog Bae Area and Beyond. She is from the Bay Area and her blog covers California destinations. She hopes that her readers will fall in love with California, just like she did.
https://www.the-backpacking-site.com/wp-content/uploads/2022/03/15112433079_1d37ebce57_c.jpg
534
799
Rasika
https://www.the-backpacking-site.com/wp-content/uploads/2018/08/the-backpacking-site-1.png
Rasika
2022-03-25 15:38:05
2023-05-24 16:58:43
Best Hikes in Joshua Tree National Park