The USA is home to such a variety of ecosystems, but some of the best national parks, like Death Valley, are near-impossible to visit during the summer due to the extreme climate. The good news is, there are some US National Parks that are even more stunning during the winter! On top of that, by visiting these US National Parks in winter, you'll be avoiding the crowds. Read on to see the best National Parks in the US to visit during the winter.
1. Joshua Tree National Park, California
Joshua Tree National Park in the winter is perhaps the best time of year to go to get the most out of your trip. For one, you can hike for longer since you won't have to deal with the sweltering heat. However, keep in mind that you should bring plenty of water with you even in winter, since there is a serious lack of shade in Joshua Tree National Park. Plus, even during the winter with cooler temperatures, there is still a risk of sun exposure and dehydration. While the most popular time to visit Joshua Tree National Park is from March to May, or from October to November, we suggest visiting in winter for a unique experience.
2. Zion National Park, Utah
Zion is one of the most popular US National Parks, but with great popularity comes great hordes of crowds. If you want more solitude in this stunning national park, it's a good idea to visit Zion National Park during the winter. It can get cold, but having more peace and quiet is a fair trade-off.
As long as you have the proper gear and clothing, you can still get the most out of Zion National Park in the winter months. Just be sure to check the weather forecast before planning your trip. From November until February, the weather can range from clear sunny days to full-on winter storms, dumping a couple of feet of snow, so you'll have to keep an eye on the weather and stay flexible.
Also, be sure to pay attention to posted signs, since some trails like Angel's Landing might be closed due to icy conditions.
3. Death Valley National Park, California
As the world record-holder for the hottest place on earth, it's a no-brainer that you should avoid visiting Death Valley during the summer months. But in the winter you'll have more freedom to explore this stunning National Park.
Death Valley is famous for its other-worldly landscape devoid of all life, which will make you feel like you've been transported to Mars. Pro-tip, don't miss sunrise at Dante's View if you visit Death Valley National Park during the winter.
4. Yosemite National Park, California
Who are we to judge the crowds of tourists who flock to some of the most beautiful places on earth? Yosemite is one of those places that sits at the top of the US National Park for visitors from far and wide. Sadly, that means that Yosemite can feel more like a theme park than a National Park during peak visiting months. Year-round, tour buses are driving in and out of the park, and it has all gotten a bit commercialized.
Nevertheless, with its unique rock faces, stunning waterfalls, and multiple networks of trails, Yosemite National Park still holds a special place in our hearts. To avoid the peak crowds and to connect more with nature, we highly suggest visiting Yosemite National Park in the Winter.
The climate of Yosemite Valley means that you might get snow if you visit during the winter months, but it's relatively moderate winter weather. And seeing the valley walls dusted in the snow is a good look for Yosemite. You might even get lucky and score a camping spot right in the Valley of the National Park, but even in winter, you'll have to battle with the waitlist and lottery system.
5. Arches National Park, Utah
Winter is the best time to visit Arches National Park for a variety of reasons. With a climate that is normally scorching, the winter weather makes it possible to enjoy hiking and overnight camping in this stunning National Park.
Plus, you might be able to see the famous arches dusted in a thin layer of snow. Simply stunning.
---
Don't let the colder temperatures deter you from experiencing some of the greatest National Parks in the winter. In fact, we hope that you will agree that some of these National Parks are even better during the colder season! If you're feeling even more ambitious, check out our summary of the best places in the USA for a multi-day backpacking trip in the winter. Wherever your journey take you, we hope you enjoy!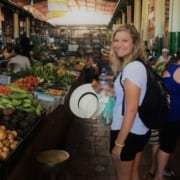 Monica is an avid traveler and backpacker who seeks to inspire others to embark on great adventures off the beaten path. Originally from California, she has travelled to over 60 countries, most of which she explored while backpacking or camping.
https://www.the-backpacking-site.com/wp-content/uploads/2022/02/PIXNIO-216878-2470x1646-1.jpg
1646
2470
Monica Woerner
https://www.the-backpacking-site.com/wp-content/uploads/2018/08/the-backpacking-site-1.png
Monica Woerner
2022-10-26 11:01:21
2022-11-08 16:53:42
The 5 Most Stunning US National Parks to Visit in Winter