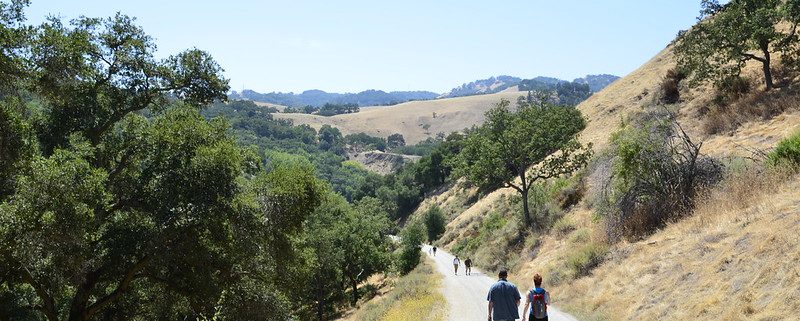 If it's sun-filled days you seek, head to the East Bay. The region is home to California's Bay Area's driest microclimate, with a mixed landscape of oak-dotted hills, grassy ridgelines, forested valleys, and rock-studded peaks.
The East Bay Area Regional Park District's 65 parks and preserves contain a whopping 1,150 miles of trails, nearly a dozen freshwater lakes, 40 miles of shoreline, two islands, and hundreds of acres of undeveloped inland hills and valleys, some of which offer panoramic views over the Bay Area.
Many of the trails in the East Bay Area are off-limits to dogs, due to wildlife considerations, but not to worry, there are still plenty of dog-friendly hikes in the East Bay. Some trails even explicitly allow for dogs off the leash. Just be sure to pay attention to posted signs, and always bring bags, so that you can pack your animal's waste out of the hike.
To ensure you have a great hiking experience with your dog in the East Bay, check out the AllTrails app. The app has reviews from other hikers to keep you up to date on the latest trail conditions. You can filter by trail difficulty, length, and whether the trail is dog friendly. You can also download trail maps to help keep you on track even when you're offline.
Bay View Loop
Point Pinole Regional Shoreline, Pinole
Level: Easy, 5 miles roundtrip
Elevation Gain: Negligible
Easy walking not far from East Bay Area cities leads to close-up bay views and a glimpse at Point Pinole's varied history.
Point Pinole Regional Shoreline is a little park with a big heart, a place of tranquility not far from the urban bustle of the East Bay. Few visitors other than avid anglers and dog walkers make the trip to the tip of Point Pinole, but those who do are surprised at this small park's varied offerings. 
In addition to inspiring bay views, a fascinating history, and good pier fishing, the park has volleyball courts, picnic areas, and more than 12 miles of winding dirt trails that offer dog-friendly hikes in the East Bay Area.
Two Trails and Carquinez Strait
Carquinez Strait Regional Shoreline, between Crockett and Martinez
Level: Easy, 1-3 miles roundtrip
Elevation Gain: 150 feet
Two appealing trail segments explore the grassland bluffs bordering the narrow waterway between San Pablo and Suisun Bays.
Although San Francisco Bay and San Pablo Bay are as familiar as the local freeways to most Bay Area residents, the waterway at Carquinez Strait is far less known. Even the name 'Carquinez Strait' sounds foreign and exotic.
The northeastern arm of the conglomeration of waterways that constitute the bay and river delta, Carquinez Strait forms the narrow passageway between San Pablo and Suisun Bays. 
The bluffs above Carquinez Strait are a wonderful place for an easy, dog-friendly hike in the East Bay Area. Part of the joy of this walk is watching the ships, large and small, journey in and out of the strait. You might see anything from a windsurfer to a freighter.
San Pablo Ridge and Wildcat Creek Loop
Wildcat Canyon Regional Park, Berkeley
Level: Moderate, 6.8 miles roundtrip
Elevation Gain: 1,200 feet
Enjoy rolling hills, waving grasslands, and wide-angle views of the bay.
Never judge a trail by its trailhead, sage hikers say. When you park your car at Wildcat Canyon Regional Park's Alvarado staging area, you might think you're in for a forested hike through eucalyptus and oaks.
But looks are deceiving at Wildcat Canyon. What begins as a tree-shaded paved trail quickly becomes a dirt path through the grasslands that takes you up 1,000 feet for wide views of the San Francisco Bay Area. If you're looking for a satisfying hike that is also dog-friendly, Wildcat Creek Loop is one of our favorites.
Briones Loop Tour
Briones Regional Park, Martinez
Level: Moderate, 7 miles roundtrip
Elevation Gain: 1,400 feet
This pastoral loop hike in Briones' less-visited northern section leads past a miniature waterfall, two duck ponds, and miles of cow-populated grasslands.
Briones Regional Park is more than 6,000 acres of grasslands and oaks that were once part of the Rancho San Felipe, a Spanish land grant. In the mid-1800s, this was an important fruit-growing region. Today it's the grassy home of grazing cows and is frequently visited by hikers, mountain bikers, dog walkers, and horseback riders.
The large expanse of open grasslands is perhaps better suited to bikers and equestrians than to hikers. But on a breezy spring day when the wildflowers are blooming and the grasslands are glowing green, it wouldn't be hard to wax poetic about the place. 
Stream, Fern, and West Ridge Trail Loop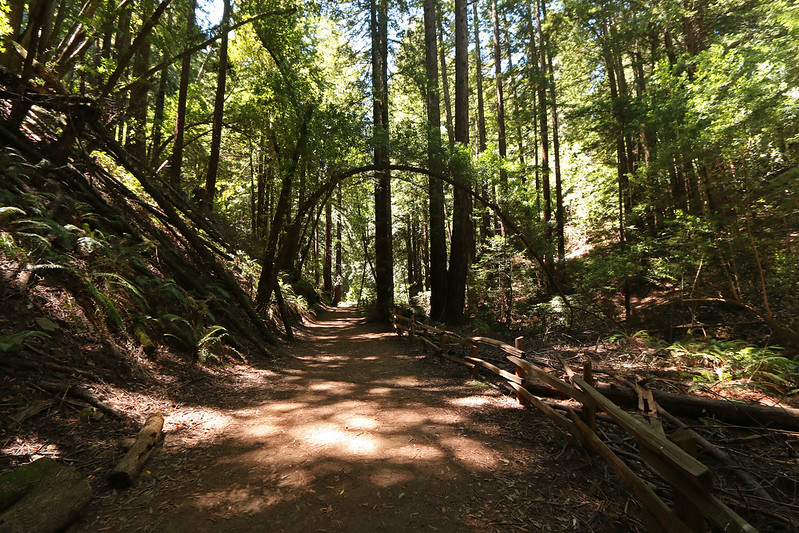 Redwood Regional Park, Oakland
Level: Easy/Moderate 4.8 miles roundtrip
Elevation Gain: 700 feet
The East Bay Area's answer to Muir Woods and Big Basin is the prized redwoods of Redwood Regional Park.
They don't call this place Redwood Regional Park for nothing. The dark, shaggy-barked trees grow more than 100 feet tall, and their shady canopy covers a vast expanse of the park. A walk among these lofty trees is the perfect antidote to too much time spent in Emeryville office buildings or on East Bay freeways.
Rocky Ridge and Devil's Hole Loop
Las Trampas Regional Wilderness, San Ramon
Level: Moderate, 6.8 miles roundtrip
Elevation Gain: 1,200 feet
A hidden canyon tucked amid burgeoning development offers surprising tranquility and a healthy hill climb.
If you are looking for a dog-friendly hike in the East Bay Area and have some energy to burn, Las Trampas is a great place to tromp around. Quite simply, all trails at Las Trampas go up.
The park is composed of two parallel ridges – rock Ridge and Las Trampas Ridge – bisected by Bollinger Creek. The park road and its many trailheads lie along the creek canyon, which means that no matter where you start hiking, sooner or later you have to climb one of the ridges.
But no matter what, the rewards for doing so are great.
Stewartville and Ridge Trail Loop
Black Diamond Mines Regional Preserve, Antioch
Level: Moderate, 7 miles roundtrip
Elevation Gain: 1,500 feet
Some steep ups and downs lead to an 1860s mining tunnel and big views of the Carquinez Strait.
Black Diamond Mines Regional Preserve is a strange mix of elements – human history combined with natural history, wild green hills juxtaposed with industrial complexes north of the park, and rare species of plants commingled with nonnative flora planted by settlers in the late 1800s.
The 3,700-acre park has many moods and puts on different faces in changing seasons and weather conditions. Not only is it a great dog-friendly hike in the East Bay Area, but this 7-mile loop also reveals some of its highlights and adds some good exercise to the bargain.
Morgan Territory Loop
Morgan Territory Regional Preserve, between Livermore and Walnut Creek
Level: Moderate, 7 miles roundtrip
Elevation Gain: 1.200 feet
A varied loop in the green hills of Morgan Territory offers expansive views, a walk through oak woodland, and myriad spring wildflowers.
Morgan Territory – even the name sounds wild, like a holdover from the Old West. If you're wondering whether anything wild could still exist in Contra Costa County, wonder no more. Come to Morgan Territory and rediscover the wild East Bay Area with your canine companion.
Bay View and Red Hill Loop
Coyote Hills Regional Park, Newark
Level: Easy, 4.8 miles roundtrip
Elevation Gain: 200 feet
The home of the Ohlone people for more than 2,000 years, Coyote Hills is now a place to enjoy bay and marsh views and abundant bird sightings.
If you ever have occasion to drive across the Dumbarton Bridge from the South Bay to the East Bay, a few things catch your attention – such as the huge electrical towers that straddle the water and the dismantled, decaying railroad bridge that parallels Dumbarton.
But urban-weary eyes come to rest on the soft green knolls of Coyote Hills Regional Park. Situated on your left as you head east across the bay, the park's tule marshes, creeks, and acres of grassland hills beckon you to pull off the freeway and explore its dog-friendly trails.
A 1,000-acre patch of open space along the edge of San Francisco Bay Coyote Hills was the homeland of the Ohlone tribe for more than 2,000 years. The Ohlone fished bay waters for food and cut willow branches along the creeks to build their homes.
Today the park is a wildlife sanctuary, both a permanent home and a temporary rest stop for thousands of residents and migratory birds.
Sunol Loop Tour
Sunol Regional Wilderness, near Pleasanton
Level: Strenuous, 7.5 miles roundtrip
Elevation Gain. 1,800 feet
Wildflowers abound in the spring and Alameda Creek flows year-round on this scenic loop in the Sunol countryside.
A trip to Sunol is a trip to the country. Unlike many other East Bay parks, Sunol Regional Wilderness isn't bordered by neighborhoods or major thoroughfares. You can't reach it any other way than by driving slowly on a narrow, country road.
When you hike the grassy, oak-studded hills of Sunol, all you see are more grassy, oak-studded hills, and an occasional glimpse at the shimmering Calaveras Reservoir. It is protected land that is surrounded by more protected land, and that is what makes it a great place to go hiking in the East Bay Area on dog-friendly trails.
Maguire Peaks Loop
Sunol Regional Wilderness, near Pleasanton
Level: Moderate, 5.5 miles roundtrip
Elevation Gain: 800 feet
Explore the wilder side of Sunol Regional Wilderness on this moderate loop off Welch Creek Road
As you drive south on I-680 near Pleasanton, you can't help but notice the oddly-shaped Maguire Peaks slanting outward from the round, grassy hills. The two side-by-side peaks aren't conical, like most peaks, or even rounded. Instead, they're fin-shaped, like two obtuse triangles. 
Their summits point sideways, then upward. After you spend a little while staring at these odd little mountains, you may find yourself longing to explore them.
Murietta Falls
Del Valle Regional Park and Ohlone Regional Wilderness, near Livermore
Level: Butt-Kicker, 12 miles roundtrip
Elevation Gain: 3,500 feet
Hoping to spot a 100-foot-tall ephemeral waterfall, hikers endure a supremely challenging climb and descent in Ohlone Regional Wilderness.
Everybody loves a waterfall, but do you love waterfalls enough to grunt out a 3,500-foot elevation change? Think it over. If your answer is yes, you're heading to find adventure in Ohlone Regional Wilderness, culminating in a visit to 100-foot Murietta Falls.
Ohlone Regional Wilderness is one of the Bay Area's special places. No public roads lead through its nearly 10,000 acres. You have to hike just to reach its boundary, starting either from Sunol Regional Wilderness to the west or Del Valle Regional Park to the north. To be more specific, you have to hike uphill. 
Similarly, Murietta Falls is one of the Bay Area's most special waterfalls. That's partly because it's much taller than other local falls and partly because it's hard enough to reach that most people never make the trip. 
March is often the best month to see the fall flowing, but it depends on the current year's rain pattern. One thing to remember, this trail is not suitable for a warm or hot day. It offers very little shade coupled with a ton of climbing. 
https://www.the-backpacking-site.com/wp-content/uploads/2022/12/5997259394_707f548452_c.jpg
530
800
Monica W.
https://www.the-backpacking-site.com/wp-content/uploads/2018/08/the-backpacking-site-1.png
Monica W.
2022-12-09 22:07:11
2023-05-24 15:55:55
12 Dog-Friendly Hikes in the East Bay