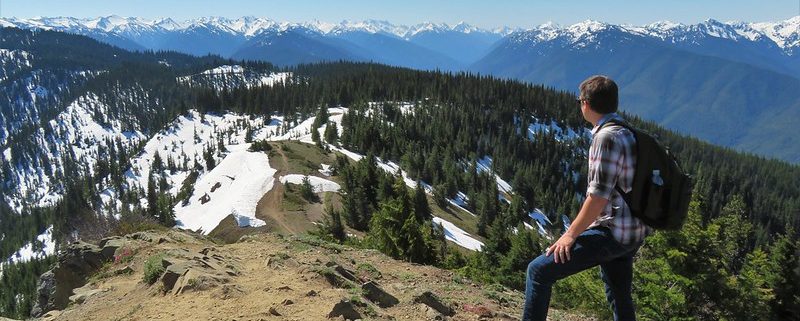 There are a ton of things to see among the best backpacking trails in the USA if you want something more than just hiking and camping. Let's get down to it!
Northern California
There are millions of people who flock towards the pretty and breathtaking views of the Golden Coast every year when it gets chilly in other parts of the country. Most of these hotspots are South of the Bay Area.
Once you start heading up North, to the place where the Pacific Coast Highway breaks off from the coastline, you'll start entering the Lost Coast Trails. This is right along with the state's King Range National Conservation Area.
It can be considered some of the rockiest beach terrain around this area. This trip will be quite short, but it is quite a challenge for beginner backpackers.
You will need an overnight permit in order to go to this trail from the Bureau of Land Management. This will be available on Recreation.gov.
Las Vegas
Las Vegas is definitely a place that you would not think about when it comes to backpacking. The city is known for its nightlife and amazing casinos.
But did you know how much there is to do out there? If you want to get a bit adventurous, you could get las vegas atv tours and go through the desert on your own.
Apart from this, you can find some of the greatest backpacking trails in the USA near Las Vegas, one of them being the amazing rock formations at Red Rock Canyon.
You could surely drive down this 13-mile stretch but can also choose to soak in the experience fully on foot. You can hop onto the Greenlee trail that is approximately 3 miles long.
It has a ton of open space and is a generally moderate trail. Winter hikes are best here due to the road being open and on top of the Mesa, giving you a lot of sunshine.
They are exactly parallel to the canyons, giving you a breathtaking view while you hike up the trail. You can also look at Gardens of God for the most part of it.
If you love cloud-watching, be sure to take a blanket with you to lie down, and do not forget sunscreen if you do not want to come back burned.
Olympic National Park, Washington
This is positioned beautifully along most of the coastal region of Washington's Olympic National Park. it is a long 20-mile trail that is perfect for people looking for an adventure.
It is quite ideal for people who have not backpacked before and offers scenic views of the seaside along the entire way. The entire way is mostly flat and is much like a long walk instead of a hike.
You will also find the weather to be quite pleasant most of the time. This actually has one of the lowest elevations as compared to most trails and will help you test your distance-per-day if you are new to this.
You can also camp along the trail on certain pre-established campgrounds that are set up. You do not need a permit to do this.
Central California
Near the southern end of California's Lake Tahoe lied the Lake Aloha Trail. It looks like it is custom-built for most entry-level backpackers and will definitely give you a postcard-worthy view all along the way.
This hike will take you alongside a number of alpine lakes. You should be sure to take a slower pace while hitting those inclines so that you do not lose your stamina.
Diving into the clean waters of Lake Tahoe after a sweaty hike would be the perfect way to end this.
This area is home to some of the best backpacking trails in the USA, which is why it might be hard to find campgrounds that are not already taken. You can beat the crowd and plan one during the off-season for reservations.
Great Smoky Mountains National Park, Tennessee
The Great Smoky Mountains National Park is one of the most visited parks in the country. The Mount Sterling Loop trail is situated here and gives you an intermediate-level trip in order to reach the peak of the mountain in the park.
You can start in NC and cross through forests to reach Tennessee on your way. Be sure to follow the Big Creek to the top of Mount Sterling.
You'll even see a fire tower that was built by the Civilian Conservation Corps in the early 1930s.
This is the perfect place for getting full views of these mountains. This has an elevation gain of around 8,000+ and there are some sharp turns and climbs in this trail.
Death Valley National Park, California
The scenery looks like it has seriously just been pulled out of Mars. Hiking around this park is as intense as it is interesting.
The trail will take you through quite a stark terrain and you will definitely need a lot of planning on this trip. It is almost 30 miles long and is quite a challenge.
Remember to keep a lot of water with you since you won't be finding any over here. You can also pack a water filter.
Backpacking can give you the sense of adventure that you have always been looking for. So choose a destination and start packing as soon as you can!
https://www.the-backpacking-site.com/wp-content/uploads/2022/01/35003865835_9f44d8348a_c.jpg
600
800
Monica W.
https://www.the-backpacking-site.com/wp-content/uploads/2018/08/the-backpacking-site-1.png
Monica W.
2022-01-04 12:04:00
2022-07-20 14:10:31
Best backpacking trails in the USA: A definitive guide