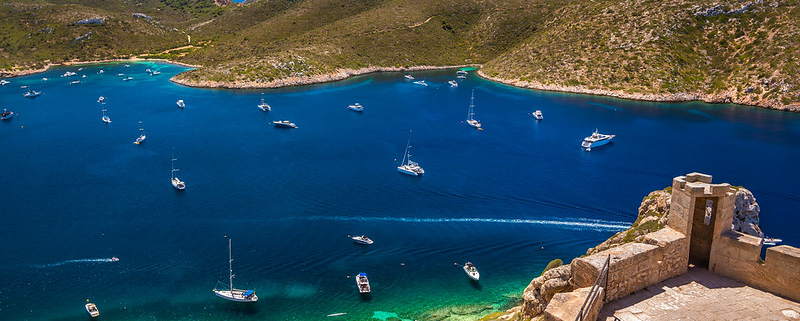 Take a step into the Balearics by visiting the gorgeous city of Palma, Mallorca. This is the largest city in the archipelago; and while the Balearic Islands are more commonly known for their beautiful beaches and nightlife, Palma de Mallorca is a gorgeous city with so much to offer.
Palma Cathedral is otherworldly, and tapas bars and boutique stores line the streets. It's the perfect historic city for sitting outside and enjoying an ice-cold drink in the afternoon.
But if you're based in Mallorca's capital for a trip, you might be interested in some of the best day trips from Palma de Mallorca. While it's situated in the south of the island, excellent transport links mean that it's great for day trips to see some of the best of the Mallorcan countryside and engage in authentic Balearic culture.
If you're interested in the best day trips from Palma de Mallorca, read on!
Soller and Port de Soller
This day trip from Palma de Mallorca is extra special because you're going to use an incredible method of transport to get there!
A historic train from the 1920s links Palma with Soller. This train winds through the Tramuntana Mountains, stopping off on the way to enjoy one of the best vistas on the island.
Eventually, it reaches Soller. This is a small town most famous for its imposing cathedral, which stands out amongst the rows of terraced shops.
From Soller, you can hop in a tram and head to Port de Soller. This is a gorgeous beach destination, which only opened up to tourists in around the 1980s when a tunnel gave it road access. This means that it avoided the mass tourism of the 1960s/ 1970s that you'll see throughout the rest of Mallorca, and today it has more of a local feel!
Take a walk up to a viewpoint to look out over the scenery, wander the backstreets and enjoy a fresh baguette, or simply sit by the beach and watch the world go by. Port de Soller is quite a sleepy town, but it's lovely.
Once you've finished in Port de Soller, you can take a tram back to Soller and then transfer to a train. The trains operate all throughout the year, so it's a great day trip even if you're visiting Mallorca in winter!
Pollenca
Pollenca is a beautiful town situated in the north of the island. Basking in centuries of history, Pollenca is an ancient town with a history of being conquered frequently throughout its past.
You can take in all of the city's best sights by walking around, enjoying places like the "Pont Roma", which is a Roman Bridge on the outskirts of town.
Don't miss the Placa Mayor and the 18th-century church too!
There's also an immense viewpoint over the island at El Calvari, which is set up 365 steps and is lined by cypresses on either side. As you go up, you can take in impressive views of the island, each a little better than the last – which will give you the motivation to hike the whole way to the top! From the summit, enjoy views spanning to Port de Pollenca.
Port de Pollenca is also worth visiting as a day trip from Palma de Mallorca. Ideal in the summer months, it's a blue flag beach with looming views of the Mallorcan mountains in the background. The white sand beaches are incredibly inviting on a hot summer's day when you've been road-tripping all over the island!
Valdemossa
Serene Valdemossa is so close to Palma, it's hard to call it a day trip – but you'll feel world's away as you drive to this village in the Traumatana Mountains!
The highest town in Mallorca, Valdemossa is located on a hilltop, with surrounding views of vineyards.
Attractions include the Real Cartuja, otherwise known as the Royal Carthusian Monastery, where you can find cloisters, a beautiful church, and King Sancho's Palace which was gifted to Carthusian Monks.
The Chopin Museum is a great spot to visit to discover the village's history, plus there are wonderful walks in the surrounding countryside.
Valdemossa also has great importance amongst Mallorcans. It's the birthplace of the only Mallorcan saint, Santa Catalina Thomas!
Sa Dragonera Island
Sa Dragonera Island is a tiny island just off the coast of Mallorca.
It's easy to visit on a boat day trip from Palma; here, you'll learn about the fascinating history of the island including its history of being a pirate's residence, see wildlife like the native lizards and take in glorious walks such as the local lighthouse.
It's the perfect day trip from Palma de Mallorca for the summer months!
Cabrera National Park
The Cabrera Islands are a small archipelago just off the coast of Mallorca. You can enjoy them by taking a boat trip to the Cabrera National Park; hike around the island and take in the immense Mediterranean views and white-sand beaches.
It's the largest national park reserve in Spain, so there's so much to see here, including the Blue Cave which is renowned for its incredible colour effects, and the Castle of Cabrera.
Nowadays, the islands are uninhabited, but they have a fascinating history spanning centuries, and you'll learn all about them on the guided tour of Cabrera National Park!
Hike Puig de Massanella
Puig de Massanella is the highest hikeable peak in Mallorca (Puig Major is the highest, but it's a military area that tourists can't access). From the summit, you'll see a surreal view of the island!
The total hiking distance (there and back) is about 12km, and you'll gain 700 metres. You'll feel on top of the world – or at least on top of the island – when you summit it, and as long as you go on a clear day, you should be able to enjoy some of the best views in the Balearics!
This hike is doable in a day, but it's not easy – you'll need a good level of fitness and some orienteering experience. You can start the hike from a trailhead by Restaurant Ca'n Gallet which is an hour's drive from Palma, making it a perfect day trip. Public transport can be a bit tricky in this area, but you could take the T1/ T2/ T3 bus to Inca and transfer to the 312, which takes about an hour and 20 minutes.
Aqualand
If you're visiting Mallorca with children, Aqualand is a must! Located in S'Arenal, this water park boasts something for all ages, with high-adrenaline rides like the whirlpool ride "tornado", rapids and the flume "the devil's tail" for adults and teens and more relaxed, smaller slides for children! There are also plenty of pools to splash about and relax in.
This is one of the best day trips from Palma de Mallorca because it's so easy to access! Reach it on the number 23 bus which connects with the capital. Adult tickets are only 30,00€ if you buy them in advance!
Visit the wineries
Have you ever had Mallorcan wine? While varieties from mainland Spain are more famous, there are lots of wineries throughout the Balearic island as well. One of the best day trips that you can do in Mallorca is to see as many as possible!
One of the best is Vins Nadal Winery in Binissalem. It's an indoor winery with the option to go out and explore the vineyards, and you can sample some reds, whites and rose wines, try some Mallorcan snacks and see the wine cellars.
Alternatively, visit Can Ribas. This winery has a long history spanning all the way back to 1776. You'll be able to enjoy a historic courtyard as you sample some of their delectable wines, with packages available for all budgets.
Or, head to Bodegas Angel. This winery is close to Palma, but you'll feel as if you're in the heart of nature as you sip on red, white and rose wines while looking at the Tramuntana Mountain view!
You can make your own wine tour by choosing a few of the best Mallorca wineries and organizing transport in between them.
However, you can also do a wine tour from Palma and take in some of the best vineyards on the island!
Ibiza
With useful boat and flight links, you can actually take a day trip from Mallorca all the way to Ibiza!
Ibiza is known for its nightlife and superclubs, but it's actually a gorgeous island with lots of hidden coves and spectacular viewpoints.
Visit Ibiza town and smaller villages like San Juan, or simply road trip around all of the best beaches, like Cala Carbó or local favourite Pou des Lleó.
To make the most of a day trip to Ibiza, I'd recommend either taking your car on the boat, or flying over and renting a car when you're there. Boats take about two hours and leave from Palma.
Menorca
The smallest of all the Balearic Islands, Menorca is a great day trip from Palma de Mallorca.
You'll need to either fly or drive to Alcúdia (around 45 minutes from Palma) and take the ferry (which is 2.5 hours). While Menorca is the smallest main Balearic Island, it actually has the same number of beaches as Ibiza and Mallorca combined!
Dive in the perfectly blue waters of Cala Macarelleta or go snorkelling off Cala Pregonda. Road tripping around Menorca is an absolute dream, but thanks to its small size, it's very feasible to do in a day.
Again, it's best to have a car here – you can either take yours with you (if you take the boat) or hire a car from the airport.
How to take these day trips from Palma de Mallorca
Most people fly into Mallorca. If you do, you can rent a car from the airport. It's probably the easiest way to see these incredible day trip locations, and the roads around Mallorca are fairly easy to drive on.
If you can't drive or don't want to rent a car, many of these Palma de Mallorca day trips are connected by bus or rail (in the case of Soller and Port de Soller!). There are also plenty of organized tours leaving from the capital, most of which are bookable on Get Your Guide.
These day trips from Palma de Mallorca are incredible ways to see more of the island – and all of the Balearics! By basing yourself in Palma, you'll be able to access plenty of amenities, but you're also in an excellent position to see the rest of the island. Mallorca is a dream destination for many, and this guide will help you make the most of your trip there!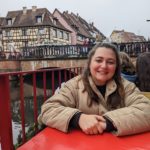 Claire is a Europe travel expert; she's visited nearly every country on the continent, and she loves showing people its best side! Her blog, Europe in Winter, is all about enjoying Europe in the cooler months, whether that's by snow sports or visiting touristy places with less crowds.
https://www.the-backpacking-site.com/wp-content/uploads/2022/07/23351162771_ee3af723f4_c.jpg
532
800
Claire Martin
https://www.the-backpacking-site.com/wp-content/uploads/2018/08/the-backpacking-site-1.png
Claire Martin
2022-07-06 06:05:56
2022-07-21 08:03:19
The Best Day Trips from Palma de Mallorca