Rolling countryside at your fingertips, cliffs ascending and then descending into the crashing Atlantic Ocean and craggy moorland sprawling over the country's interior make British nature well worth visiting – and it can all be explored with the best hikes in England! 
While England isn't world-famous for being a hiking destination, it deserves a lot more than it's given credit for. Rolling countryside and moorland punctuate the country's interior, and the coastline is linked up by a variety of easy and challenging routes. 
If you're keen to explore England on two feet, there are plenty of walking trails in the country. These are typically well-marked and organised, with suggested stops en route (with accommodation for multi-day hikes!). 
To ensure you have a great hiking experience in England, be sure to get the AllTrails app before you go. The app has an extensive list of the best trails for hiking in England, with reviews from other hikers to keep you up to date on the latest trail conditions. You can filter by trail difficulty, length, and suitability and download trail maps to help keep you on track even when you're offline.
I'm an England local, and I've put together a list of the best England hikes below – be sure to save it for future travel inspiration!
Hiking in England: these are the best walking trails
The best walking trails in England include the South West Coast Path in the West Country, Hadrian's Wall which is close to the border of Scotland, Offa's Dyke which follows the England/ Wales border and Devon Coast to Coast which traverses Devon's two spectacular national parks. Read on for information about them all! 
The South West Coast Path
England's longest hiking trail, the South West Coast Path extends 630 miles from Minehead in Somerset, around the tip of Cornwall, and down to Studland Bay in Dorset. 
The entire path takes most hikers at least six weeks to complete (although myself and my partner only completed half of it when we hiked it during a summer at a very leisurely pace!), but it's completely possible to just do a short section!
If you're interested in hiking in Cornwall and seeing its dramatic craggy coastline, I'd recommend the hike between St Ives and Penzance. This multi-day route will take you around 3-4 days and all stops are connected by the Land's End Coaster. 
Devon Coast to Coast
If you're interested in hiking in South West England but want to see some of its countryside, check out the Devon Coast to Coast Trail!
It's not as well-known as the South West Coast Path (and other trails on this list!), but it's a beautiful English hiking trail that leaves the northern coastline by the Bristol Channel, travels through the moorland and ventures through Devon's idyllic countryside. 
The path then traverses past Dartmoor, England's largest national park. With epic tors and dramatic moorland, dotted by temperature rainforest and bright blue reservoirs, this part of Devon is a spectacle – and the fact that the path weaves its way through means that you'll have a chance to see some of the lesser-touristy spots! 
You can complete the Devon Coast-to-Coast trail by hiking to Wembury, one of the best beaches in Devon.
Hadrian's Wall
One of the most famous hikes in the UK, Hadrian's Wall spans 84 miles (135 km) from Wallsend to Bowness-on-Solway, from east to west. 
It follows Hadrian's Wall, which is a Roman structure that marked the northern end of the province of Britannia in the Roman Empire. 
Contrary to popular thought, it isn't (and never was) the border between England and Scotland, although it is located close by; in fact, Bowness-on-Solway is right next to Scotland! 
The terrain encompasses charming English countryside, with preserved sections of walls and various historical sites. 
Generally, it takes walkers at least a week to hike the entire path, but like all of these long-distance hiking trails, you can just walk sections!
Offa's Dyke
Offa's Dyke follows the (actual) border between England and Wales. 
Starting at the South Wales village of Sedbury and terminating on the north coast, in Prestatyn (a popular holiday town for Liverpudlians!), Offa's Dyke follows the border between England and Wales. 
It dates back to the 8th century when the king of the Saxon province of Mercia wanted to mark the border between the two countries and decided to build the fortification. 
Nowadays, it's been remade to form a hiking trail, which spans 177 miles (285 kilometres). 
One of the best hikes in England is from Chepstow to Tintern Abbey, and it's one of the easiest to reach! Chepstow is a short drive from Bristol and Tintern Abbey is a glorious historical site – it dates back to 1131 AD and the ruins have stood since the dissolution of the monasteries.  
Yorkshire Three Peaks
If you're heading to the north of England, don't miss the Yorkshire Dales National Park!
Situated close to the city of Leeds, the Yorkshire Dales incorporate three tall peaks: Whernside, Pen-y-Ghent and Ingleborough. 
The "Yorkshire Three Peaks" challenge involves climbing all of these mountains on the same day! 
The entire hike is 24 miles in total, and involves climbing over 2000 metres/ 6000 feet! 
Of course, you don't have to complete all three peaks – many hikers opt to climb just one instead. Pen y Ghent is the most popular – although some consider it to have the most challenging terrain! It takes most hikers around three to three and a half hours to complete. 
Monarch's Way
Monarch's Way is one of the longest hiking trails in England – and it's rare that somebody will hike the whole distance, as it spans from Worcester in the Midlands to Shoreham on the south coast. 
However, its length means that it spans quite a few British towns and cities, plus it offers a range of different terrains. 
The hiking trail follows the route of King Charles II after his defeat in the Battle of Worcester in 1651. He left Worcester and made his way south, to the coastline of East Sussex where he retreated to France. 
Its historical significance makes Monarch's Way unique and appealing to a range of hikers, whether they be long-distance trekkers or day trippers! Notably, it leads through part of the city of Bristol and offers a connection from the city to its surrounding nature. 
South Downs Way
The South Downs Way is a 100-mile-long hiking trail that connects Winchester in Hampshire with Eastbourne in East Sussex. 
It's one of the best hiking trails near London, and it's suitable for people of most fitness levels; it even offers off-road cycling and horseriding opportunities as well! 
Many hikers prefer to stick to the southeastern section of the trail, around Eastbourne and Beachy Head, and Seven Sisters (close to the eastern end) is widely regarded to be one of the most beautiful places in England. 
Pennine Way
We don't have all that many mountains in England, but the Pennine Way is regarded as "the backbone of England" and provides challenging hiking to anyone who's up for a challenge!
The entire route is 268 miles long and leads from the Peak District to the Scottish Borders. 
The whole trail would take at least 16 days of non-stop hiking, but there are plenty of points of interest on the way, including a beautiful valley called High Cup Nick, Wensleydale Creamery (home of Wensleydale cheese!) and the beautiful Kinder Scout plateau in the Peak District. 
The Mendip Way
Fancy heading out on a quiet, lesser-known hike close to Bristol? 
The Mendip Way is just that. It sprawls from Weston-super-Mare on the Somerset coastline and journeys 80 kilometres/ 50 miles before it terminates in Frome. 
The rolling hills are the ideal backdrop to rural English hiking, and along the way, you'll find a few charming towns and villages to stop off in, including Shipham and Priddy. 
The highlight of the hike is certainly the part around Cheddar Gorge, the largest of its kind in England. If you'd like, you can detour to do the Cheddar Gorge Rim Walk or spend some time enjoying Cheddar's main attractions. 
The route also takes you through historic Wells, England's smallest city, before terminating on the eastern side of the hills. 
The route takes most hikers three days, but single-day hikes are possible. 
Cotswold Way
The Cotswolds are usually most famous for their charming villages which are made for road-tripping around – but did you know that they're home to a stunning hiking trail as well? 
The Cotswold Way begins in the town of Chipping Camden, and leads through the beautiful English countryside, past villages like Winchcombe (home to Sudely Castle, an ancient property where one of Henry VIII's wives lived), the spa town of Cheltenham and picturesque Broadway. 
At 102 miles in total, this hiking trail has a mix of easy and more challenging terrain. Experienced hikers could complete the whole lot, but others may opt for a flatter section. 
It terminates in Bath, where you can rest your muscles with a well-deserved soak in the thermal waters! 
Are you ready to go hiking in England?
While England's a slightly underrated hiking destination, that doesn't mean that its natural allures should be ignored! 
The island nation encompasses beautiful coastal trails, dramatic peaks (they're not the Alps, but you can still take in some incredible views from the top!) and rolling countryside dotted with quaint villages. 
The hiking trails in England are generally very well-marked and maintained, typically running through villages and towns that offer places to stay each night. Or, if you'd rather do day hikes, you can break most of them up into shorter sections. 
Hiking in England is one of the best activities to do when backpacking in the UK – so grab your boots and get ready to explore the great outdoors!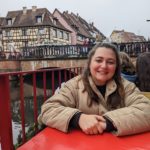 Claire is a Europe travel expert; she's visited nearly every country on the continent, and she loves showing people its best side! Her blog, Europe in Winter, is all about enjoying Europe in the cooler months, whether that's by snow sports or visiting touristy places with less crowds.
https://www.the-backpacking-site.com/wp-content/uploads/2023/05/seven-sisters-eastbourne-coast-headland-promontory-cliff-1457859-pxhere.com_.jpg
715
1280
Claire Martin
https://www.the-backpacking-site.com/wp-content/uploads/2018/08/the-backpacking-site-1.png
Claire Martin
2023-05-22 20:09:40
2023-05-24 15:47:38
The Best Hikes in England