Nestled in between fjords, Norway's second-largest city is the perfect fusion of nature, culture and history. It has a small-city atmosphere (nothing's too far away), with the ever-present chance to get out into Norway's great wide outdoors.
The UNESCO Heritage Listed area of Bryggen consists of different-colored buildings lined along the water, with the picturesque mountains (there are seven around the city) soaring above. 
The city's also famous for its food scene – it's a UNESCO World Heritage City of gastronomy, largely due to its seafood. 
However, for all Bergen's charms, it certainly doesn't always have idyllic weather. In fact, it's often described as the rainiest city in Europe.
So what do you do in Bergen on a rainy day? Thankfully, the city has adapted to less kind weather, so whether you're visiting Bergen in winter (December is the rainiest month) or if the weather just isn't on your side, you're still guaranteed plenty of things to do. 
Here are the ten best things to do in Bergen when it rains! 
Best things to do in Bergen when it rains
The best things to do in Bergen when it rains include visiting the history museums, exploring art galleries, enjoying delicious seafood and taking a dip in the heated swimming pool and fjords. 
Explore the Bryggens Museum
One of the best indoor activities in Bergen, the Bryggens Museum describes the origins and history of this part of Bergen. 
The city is famous for being burned to the ground multiple times (thanks to the fact that it has been relentlessly rebuilt from wood every time it was rebuilt!). Here, you'll also learn about the Hanseatic League, and how they moved in after the city was virtually deserted after most of the inhabitants died after the Black Death. 
It's located right in the heart of Bryggen, with hands-on exhibits that'll make you feel like you're stepping right into the heart of Bergen's history! 
Visit the Bergen Maritime Museum
Life in Bergen revolves around the sea. Sitting in the heart of the fjords, close to the coast, means that the sea has been its lifeline for centuries. Bergen locals have always used the sea for transportation and food, and maritime culture has been built around this. 
This makes the Bergen Maritime Museum one of the most important in the city. You'll go back in time to the ancient shipping history, with artifacts from the Halsnøy boat dating from 390-535 AD, and discover information about Norway's first steamer, SS Constitutionen. 
Whether you want to learn about Norway's naval history, historic transportation from Bergen to elsewhere in the world or Norwegian cod, there's all the information you'll need to hear about the seas here! 
Get lost in an art gallery
Along with fascinating history, Bergen has a thriving art culture. It's home to the third-largest Edvard Munch collection in the world (the largest and second-largest are both in Oslo). One of the best activities, when it rains in Bergen, are to visit one of the many art museums.
There are four significant art galleries in the city centre, all run by KODE. They're called KODE 1, KODE 2, KODE 3 and KODE 4 and all have slightly different focuses. 
If you only have time to visit one, KODE 4 has the most extensive collection of Norwegian and international art. 
Learn about food culture at the seafood market
Delve right into the city's culinary scene at the Bergen seafood market. This is completely under cover so it's the perfect activity when it rains in Bergen, and here you can try fresh cod, shellfish and lobster that comes straight from the fjords and nearby ocean. 
If you want to have a more formal sit-down dinner, I recommend the restaurant Fish Me, which is in the fish market. They serve a delectable Bergen fish soup with julienned vegetables, fish of the day with beurre blanc sauce and linguine with mussels, scallops and prawns in a creamy spicy sauce. 
If any people in your group are vegetarian, there are a few plant-based options on the menu too, including a vegetarian burger and fish (and meat)-free sushi. 
The food is deliciously fresh throughout the year, but it's even tastier when the weather's not so great – so don't worry if you're visiting Bergen in February; you can still enjoy the mouthwatering food! 
Head to the Bergen Aquarium
Home to 60 large and small tanks, Bergen Aquarium has Norwegian cod, lizards, crocodiles and snakes. There are feedings every day and even cinema showings. 
Not only will you have chances to see the animals, but you can also learn about protecting the waters around Norway (and elsewhere in the world), and ensuring that the seas stay vibrant for years to come. 
Go back in time at Greig's House
Famous Norwegian composer Edvard Greig lived just outside of Bergen, a short bus ride away from the city. His former home is open to the public; visitors can explore rooms such as the Peer Gynt Suite where the composer created his best work. 
The interior has been decorated exactly as it did in the late 19th century when Greig lived there. You can also enjoy the ornate gardens and take in views of the surrounding dramatic fjords. 
Go indoor climbing at Klatreverket Bergen
If you want to unleash your inner adrenaline junkie, head to the walls! Even when it rains in Bergen, there are plenty of indoor options. Klatreverket Bergen specialises in bouldering, with walls for all abilities. 
There's the main room, a back room with some more walls, a children's room and even a sauna – perfect for relaxing after a climbing session!
Soak in Nordnes Sjøbad
While you might not want to visit Nordnes Sjøbad, an outdoor spa complex, in a thunderstorm, it's quite pleasant in drizzly weather – the weather won't bother you too much when you're in a 32°C swimming pool, a hot and dry sauna or taking a dip into the 7°C fjord water. 
The sauna/ heated pool/ cold water plunge combination is bracing, but it'll wake you up and make you feel energised for a day's exploring – so don't let a little chilly weather put you off! 
Educate yourself at the VilVite Bergen Science Centre
Step into the world of science and technology at the VilVite Bergen Science Centre, where you can learn about dams and hydropower, consider how the body works and look at the influences of nature on society. There's even an interactive climbing wall and Multiball play area. 
Check out Bergen's best bars
Of course, one of the best things to do in Bergen when it rains is to check out a few bars and enjoy some Norwegian drinks! 
Magic Ice Bar Bergen's interior is uniquely made entirely out of ice. Here, you'll enjoy a beverage at a chilly -5C, while surrounded by stunning ice sculptures and illuminated by colorful lights. Warm ponchos are provided for visitors. 
Frescohallen is a cocktail bar, serving classics like martinis and spritzes. It's famous for its beautiful frescos, painted to depict scenes from the city's fishing industry.
Do a walking tour (guided or self-guided)
There's a saying in Norway: "no such thing as bad weather, only such a thing as bad clothes", and if you wrap up, wear waterproof boots and hire an umbrella (you can rent them from many hotel lobbies!), there's no reason why the weather should cause you any bother when you're exploring the city. 
One of the best things about Bergen is that the weather changes quite quickly, so do venture out Norwegian style if you can! 
Bergen Basecamp offers food and history walking tours of the historic city; you'll bypass Bergen Cathedral and a great deal of Hanseatic League wooden architecture! 
You can also book walking tours on Get Your Guide.
Alternatively, if you want to stay drier while you see the sites, you could also enjoy a sightseeing cruise of Bergen's landmarks with an indoor boat area. Click here to read more about it!
Take a day trip out of the city
While Bergen may be one of the rainiest cities in Europe, this is largely because it's nestled in the fjords and amongst mountains. You might find that the weather is largely different as soon as you travel away from the city! 
Voss isn't too far away, and it's a popular skiing destination in the winter months – or, in the summer season, you can enjoy hiking and other outdoor activities. 

There's an excellent

self-guided tour on Get Your Guide

which encompasses some more of fjord Norway and the Flåm railway; you'll cruise on the UNESCO World Heritage fjord Nærøyfjorden, before docking in Flåm and exploring this village and then embarking on the famous Flåm railway, which is known as

one of the most scenic in the world

. 
What NOT to do in Bergen when it rains
As you can see, there are plenty of things to do in Bergen when it rains, but here are a few things that I'd recommend scheduling for the sunny days on your trip! 
The first thing I'd recommend avoiding on a rainy day is a fjord tour. Tours take 3.5 hours and depart from the fish market at Bergen, taking in Alversund Streams and Mostraumen.  On cloudy days, visibility in the fjords can be a little restricted; so it might be best to schedule tours for a clearer day. 
I'd also recommend avoiding Bergen's mountains, such as Mount Fløyen and Mount Ulriken, if the weather isn't so kind. During wet and wild weather, the funicular and cable cars don't operate, and even in drizzly weather, you won't have much visibility. So save exploring the soaring mountains for clearer days!
Don't worry if the weather isn't great while you're in Bergen – there are still plenty of rainy-day attractions in Norway's second-largest city! 
Whether you want to learn about Bergen's unique history, enjoy local artwork or visit some of the more modern attractions, you won't be bored in Bergen, whatever the weather!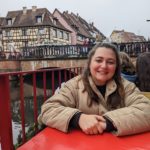 Claire is a Europe travel expert; she's visited nearly every country on the continent, and she loves showing people its best side! Her blog, Europe in Winter, is all about enjoying Europe in the cooler months, whether that's by snow sports or visiting touristy places with less crowds.
https://www.the-backpacking-site.com/wp-content/uploads/2023/03/Bryggen-in-Bergen.jpg
800
1200
Claire Martin
https://www.the-backpacking-site.com/wp-content/uploads/2018/08/the-backpacking-site-1.png
Claire Martin
2023-03-06 22:45:29
2023-05-03 17:55:26
Things to do in Bergen when it Rains