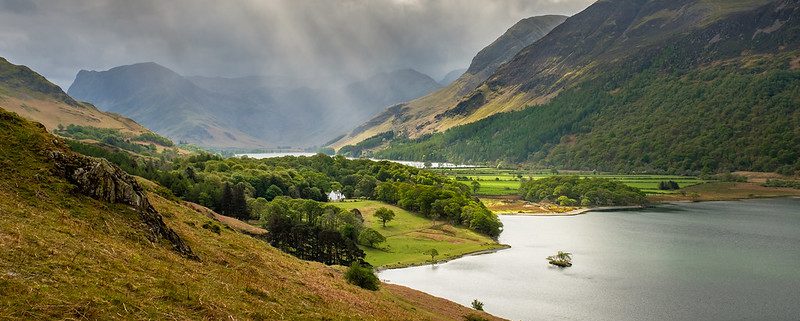 Ever find yourself aching for a change of scenery from Manchester's seemingly never-ending concrete? Well, I've got you covered. These day trips from Manchester are just a short distance away from the city, but you'll feel half a world away! 
Manchester's surroundings are a gold mine of rugged countryside, historic towns, world-class cities, and even the seaside!
And it's no problem if you don't have a car. The majority of the day trips from Manchester on this list are accessible by train or bus, so you don't even need to stress about getting behind the wheel.
Let's get started.
Liverpool
At just a 45-minute train ride away from Manchester, Liverpool is the obvious choice for a day trip from Manchester. 
There's so much to see and do here that you won't know where to start! Obviously, Liverpool is the home of the Beatles, so exploring Liverpool's Beatles sights on a Beatles tour is an unmissable experience. 
For first-timers and casual fans, hop aboard the bright yellow and blue Magical Mystery Tour bus for an unforgettable 2-hour Beatles crash course! You'll get to check out all of the top sights like Penny Lane, John Lennon's House and Strawberry Fields.
Another great thing to do in Liverpool is to wander around the Albert Dock, where the old warehouses now burst with a tonne of fascinating museums, bars and restaurants. It's one of the most photogenic spots in the city.
Wandering further along the water, you'll come across the Museum of Liverpool, which documents the city's past from its origins to the present day (including all the music and football trivia you could ask for). What's more, it's free! 
Round off your day trip to Liverpool with a night out on Mathew Street. It's the liveliest part of the city, where you can dance the night away to live music every night of the week.
London
Yes, you read that right. London is a day trip from Manchester. Who would've thought, right? With just a two-hour train journey, you can be in the beating heart of the capital. It's true that things in London cost more than in Manchester, but if you're only in the city for a day it won't be a huge problem.
Standing regally at the city's core is Buckingham Palace, the royal residence of the monarch. If you time it right, you can even catch the iconic Changing of the Guard ceremony. A short walk away, you'll find the sprawling expanse of the Royal Parks – including St. James's and Hyde Park. They're some of the most stunning places in the city!
No visit to London is complete without capturing that postcard-perfect shot of Tower Bridge. With its iconic blue and white facade, this iconic landmark is a must-see whilst you're in London, and you won't be able to resist popping into the nearby Tower of London to get a taste of the oldest building in the city.
For foodies, Borough Market is pure heaven. You'll find everything here – from fresh produce to home-baked goods, mouth-watering street food, and some of the best coffee ever!
Art enthusiasts can take a detour to the Tate Modern. This former power station, now a world-class art museum, houses masterpieces by artists like Picasso, Hockney, and Warhol. And the best part? Entry to the permanent collections is free!
Chester
Just an hour away by train from Manchester, the ancient city of Chester will transport you back in time. Its beautifully preserved Roman walls circle the city, and the best way to kick off your day trip is by walking along it, checking out the sheer beauty of the city and making you feel as though you're retracing the steps of Roman centurions.
An iconic feature of Chester, The Rows, are a must-visit. These unique mediaeval two-tiered galleries are not just architectural wonders, but they also house quirky boutiques and cafes. This is the most fun and unique place to shop in the city.
On the hunt for designer deals? One of the top reasons people visit Chester on day trips from Manchester is for Cheshire Oaks Designer Outlet. It's easy to get to from the city centre, too – just a short, direct bus. This shopping centre boasts a whole host of luxury brands at discounted prices. It's every bargain hunter's dream.
If it's a sunny day, there's no lovelier way to pass an afternoon in Chester than on a sightseeing boat tour of the River Dee. You'll drift past some of the city's most historic landmarks, as well as its most beautiful spots.
Blackpool
Just a stone's throw away from Manchester, Blackpool is jam-packed full of quintessential British seaside charm. It's fun, it's tacky, it's cheap, and it's by the sea. What more could you want? In a mere 75-minute train ride, you'll be at the seaside – a far cry from Manchester!
The majestic Blackpool Tower is an icon on the Lancashire skyline and an absolutely beloved symbol of Blackpool's history. You're able to visit the top and stand on a glass platform (if you're brave!) for a panoramic view that stretches as far as the eye can see. It's a must-do whilst you're in Blackpool.
For adrenaline junkies, Blackpool Pleasure Beach is one of the best theme parks near Manchester and promises a day of heart-pounding excitement. The star attraction, the Big One rollercoaster, towers 235 feet over the park and offers a thrill ride that'll have you gripping the edges of your seat.
Stroll down to Blackpool's iconic piers for a solid dose of history and entertainment. These structures harmoniously blend old-world charm with modern-day attractions. From vintage carousels to modern rides, and plenty of old and new arcade games, there's fun to be had by everyone here.
But what's a visit to the seaside without ice cream? Head over to Notarianni's for some of the best ice cream in Blackpool. This traditional ice cream shop has been passed down through the family, so you're guaranteed fabulous ice cream made with the family recipe.
York
York, a city that feels like time forgot, is just a two-hour direct train ride from Manchester, making it perfect for a day trip. Stepping off the train, you'll instantly be transported to a place where the mediaeval and the modern coexist harmoniously.
The imposing York Minster, with its intricate Gothic architecture, dominates the city's skyline. You'll want to step inside to witness the sunlight as it streams through the stunning stained-glass windows.
For a deep dive into the city's Viking past, the Jorvik Viking Centre is a treasure trove – and well worth the fairly hefty price tag. Interactive displays and immersive experiences transport you to a time when Norse settlers walked these very streets.
Speaking of streets, no visit to York is complete without wandering through The Shambles. With its overhanging timber-framed buildings and cobbled pathways, you'd be forgiven for thinking you've stepped onto the set of a Harry Potter film. It's even rumoured that this street was the influence behind Diagon Alley in Harry Potter.
Wind down your historical day out with a leisurely stroll along the River Ouse, watching rowers race one another along the water. It's one of the most peaceful places in York, and on a sunny day, there's no better place to be.
Leeds
A swift hour-long train journey from Manchester will bring you to Leeds, a city not too dissimilar from Manchester but that still offers a whole lot of fun.
Leeds Kirkgate Market is one of the top places to devour epic food in the city and stands as a testament to the city's history. Pushing your way through its busy aisles, the chatter of traders and the aroma of fresh produce will take you back in time. This is far more exciting than modern-day grocery shops! 
The city's Victorian grandeur is evident in every brick and beam, but it's arguably most apparent at its many shopping arcades. Just look up and let the intricate facades and ornate detailing and you'll feel like a very sophisticated shopper indeed.
For art aficionados, Leeds has plenty of galleries, but the best is Leeds Art Gallery, where you'll find all sorts of art, from huge paintings completed hundreds of years ago to modern sculptures completed just a few months ago.
If you're a student, or fancy heading to Leeds on a day trip to party, you really can't miss the Otley Run. This epic pub crawl is a rite of passage for students in Leeds, and a whole load of fun to participate in, or just to spectate. Costumes are pretty common, so it's entertaining to just sit back and watch the craziness unfold.
Hebden Bridge
Just a 45-minute train hop from Manchester, Hebden Bridge is the perfect escape from the city if you're looking for countryside and hiking. This quaint town, nestled within the Calder Valley, is a bohemian wonderland where everybody is welcome to be themselves and express their creativity.
Begin your day out in Hebden Bridge by exploring its many independent shops, each brimming with arty finds, from handcrafted jewellery to one-of-a-kind antiques.
For those with a penchant for nature, the town is crisscrossed with scenic trails. An easy walk is to simply follow the path of the Rochdale Canal, watching narrowboats drift lazily by. For a more invigorating hike, trek up to Heptonstall. This picturesque village, perched above Hebden Bridge, is where famous author Sylvia Plath is buried, and it's really old-fashioned.
For a more traditional hike, the walk to Hardcastle Crags is another must-do. It's one of the best walks near Manchester! Visiting Hebden Bridge on a day trip from Manchester is the perfect escape from city living.
Edale
Just an hour away from Manchester by train lies Edale, a gem in the heart of the Peak District. This is another one of the many brilliant day trips from Manchester by train for hikers. As the gateway to the famed Pennine Way, this tranquil village serves as the perfect starting point for all sorts of adventures on foot.
Hikers flock to Edale for its unparalleled trails that weave through valleys and ascend rugged peaks. And when every step you take is accompanied by the soundtrack of chirping birds and the gentle rustle of leaves, you'll understand why so many hikers head here on days out from Manchester.
If you're up for a challenge, the Kinder Scout trail is perfect for you. As you make your way up this iconic peak, the terrain will vary, keeping even the most seasoned hikers on their toes. The climb is worth every bead of sweat, though. Standing at the top of Kinder Scout, the world stretches out beneath you in a panorama of rolling green and endless sky. This is worth leaving the city for!
But Edale is not just for the ambitious and energetic among us. Gentle walks alongside babbling brooks or through flower-laden meadows are also on offer, and you won't have to look far to find them.
Lake District
Venture a little beyond Manchester's borders, and you'll be greeted by the wonderful Lake District. With a journey to Oxenholme taking just over an hour, followed by a quick hop to Windermere on a local service, the Lakes are surprisingly accessible by train.
This huge national park boasts shimmering lakes, rugged fells, and picturesque towns, each with its own charm. And while public transport will get you far enough for a day trip, to truly uncover the beauty of the Lakes, it really is best if you have a car.
Windermere, the largest natural lake in England, is the obvious starting point for your Lake District adventure. Hiring a rowboat here is the best way to fall in love with the lake and get away from the crowds during summer.
If you're a book lover, you're going to love the town of Grasmere. Here, you'll get to wander in the footsteps of Wordsworth, checking out the same landscapes that inspired his verses.
Got your hiking boots ready? Then tackle the Helvellyn via Striding Edge Ridge hike, an 8-mile circular route offering some of the best views the Lakes has to offer.
Conwy
If you're willing to venture slightly further afield, heading to Conwy in Wales is well worth the effort. Plus, with the direct train from Manchester taking just 2 hours, it's really not all that much hassle.
Dominating the town's skyline is Conwy Castle. With its imposing towers and battlements, this UNESCO World Heritage Site shows off centuries of Welsh history and is absolutely brilliant to visit. 
Adding to Conwy's mediaeval charm is its well-preserved town wall. A stroll along these ancient fortifications is the best way to get a birds-eye view of the city and soak it all in.
Fancy checking out some quirky sights? Conwy won't disappoint. The smallest house in Britain is a fun and kitschy find, with its bright red facade making it the perfect photo opportunity.
Ella Moore is the travel blogger behind Many More Maps, a travel blog focused on exploring the coolest parts of the UK. With a passion for sharing her travel experiences and tips, she dedicates her time to showcasing the best things to do, see and experience in the UK, Europe and beyond through her blog.
https://www.the-backpacking-site.com/wp-content/uploads/2023/08/32820076927_6a15047f7b_c.jpg
450
800
Ella Moore
https://www.the-backpacking-site.com/wp-content/uploads/2018/08/the-backpacking-site-1.png
Ella Moore
2023-08-10 21:43:53
2023-08-11 19:03:56
Top 10 Day Trips From Manchester