The number of free things to do in Wales is incredible. In fact, there are many scenic hikes, beautiful Welsh coast, and charming villages. Furthermore, your holiday in this amazing country can be really cheap if you love spending time with nature.
If you want to explore North Wales, the best airport to fly to is Liverpool. It is only 30 minutes drive from the Welsh border. However, Manchester airport is also a great choice with a 1-hour drive to Wales.
1. Climb the highest mountain in Wales
Snowdonia National Park is home to various landscapes and offers amazing outdoor activities. The highest mountain in Wales and its beautiful lakes make it one of the top destinations to visit in the UK. Each year more than 500,000 people reach the summit of Snowdon.
There are 7 different routes to the top of the mountain and all of them are free to explore. All you need is a bit of time (at least 6 hours) to climb Snowdon and go back. It is a perfect place for a day out with incredible views.
2. Visit amazing waterfalls
If you are looking for some of the best waterfalls in Wales, make sure to visit the northern part of the country. In North Wales, you will find incredible scenery and a lot of hidden gems. Aber Falls which is just off the A55 (North Wales Expressway) is an amazing place to explore.
There is a parking charge on most of the places in the UK, however, if you want to save some money park near Aber Falls Cafe & Butterfly Room. It takes only a 1-hour hike to get to the waterfall.
3. Relax at one of the Welsh beaches
Wales is a perfect summer destination due to the abundance of sandy beaches. Some of the best beaches in Wales include Colwyn Bay Beach or Talacre Beach. If you want to combine your visit with also exploring the lighthouse, make sure to visit Talacre.
The miles of sandy beach make it a perfect place for a picnic with the family. Your kids will love shallow waters and dog the space to run around the beach. If you stay there for a sunset, you can take some incredible photos of the lighthouse.
4. Explore Holy Island and the Isle of Anglesey
There is no better place to visit for those who want to see even more lighthouses in Wales. One of the best is located on beautiful Holy Island. South Stack is a historic building set on dramatic cliffs with views of the sea.
On the Welsh coast, you will also find a few other interesting lighthouses. Goleudy Twr Mawr and Goleudy Twr Mawr are set on a small tidal island – Ynys Llanddwyn. You can get there from Traeth Llanddwyn beach, which is also a great place to relax during summer.
5. Visit Conwy
One of the most charming villages in Wales is Conwy with an incredible medieval castle. You need to pay to enter the castle, however, exploring Conwy Town Walls is free. This walk around the town is one of the best free things to do in Wales.
You can also take incredible pictures of Conwy Castle from the street. The beautiful towers of the fortress from the XIII century cannot be missed when visiting Wales. There are plenty of amazing things to do in Conwy that also include relaxing at Conwy Morfa Beach.
6. Walk over the aqueduct
The Pontcysyllte Aqueduct in Wales is an engineering masterpiece. A height of 38m and a total length of 307m offers incredible views of the country. This structure is the highest canal aqueduct in the world and is perfect to visit in the early morning when there are not many visitors. Who wouldn't want to watch the sunrise with the views of the River view and the beautiful Welsh landscape?
Exploring this UNESCO World Heritage Site is one of the best free things to do in Wales. You can walk there from Ty Mawr Country Park which takes approximately 30 minutes. In this area, you will also find another amazing tourist attraction which is Traphont Cefn Mawr Viaduct.
7. Visit one of the seven wonders of Wales
St Giles' Church in Wrexham is a beautiful 16th-century structure that can be seen from miles. This Grade I listed building is free to visit and its interior is very impressive. The medieval buildings in Wales are one of the greatest in Europe, so make sure to tick this off from your list.
Other seven wonders of Wales include Pistyll Rhaedr waterfall, Overton yew trees, St Winefride's Well, Llangollen Bridge, Bells of All Saint's Church, and Snowdon. Most of them are free to visit or with a small entry fee and parking.
8. Hike Little Orme
If you are looking for a place where you can spot seals, visit Little Orme. It offers amazing views of Penrhyn Bay, Porth Dyniewaid Angel Bay, and Llandudno Bay. The hike is very easy and very popular among the people that take their dogs for a walk there.
It is still an unknown tourist destination which is perfect to visit if you want to save some money on parking. You can leave your car on the street without paying any fees. After the hike, you can visit Llandudno Beach or Penhryn Bay Beach. 
Free things to do in North Wales – Insider Tips
When planning your trip to Wales, make sure to also check out some events that offer free entries to many amazing attractions. Sometimes you can visit castles for free, which usually cost at least £10.
Also, try to avoid popular destinations as there is more likely to be a fee for parking. However, you can always find a place to park a bit further and walk to the attractions. Make sure to bring with you good hiking shoes, waterproof clothes, and a good camera to take incredible photos of your journey.
If you live near Wales, you can also go on a road trip, which will offer you a scenic drive. The Welsh coast is incredible and there are many great places to stop. One of the best routes is A55 (North Wales Expressway) which will offer you an unforgettable day out in Wales.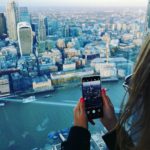 Paulina Borowik is the author of ukeveryday.com. Her blog was shortlisted as one of the Top 70 UK Travel Blogs to follow. She loves exploring hidden places in England, Wales, and Scotland. You can follow her on Instagram and Facebook. 
https://www.the-backpacking-site.com/wp-content/uploads/2022/04/Holy-Island-and-the-Isle-of-Anglesey.jpeg
1000
1317
Paulina Borowik
https://www.the-backpacking-site.com/wp-content/uploads/2018/08/the-backpacking-site-1.png
Paulina Borowik
2022-04-05 12:24:12
2022-04-05 12:27:09
Free Things to do in Wales