If you're traveling to Southern Spain and looking for some tips on saving money, you came to the right place! I have been living in this beautiful part of the country for over three years, and over time collected some handy tips that will save you quite a bit of money.
If you need to do Southern Spain on a budget, you're most certainly not limiting yourself to only a handful of experiences. Andalusia is such a diverse part of the country that even if you're on a budget, you can experience everything it has to offer, on your own terms.
In this article, I will share my best insider tips along with 20 different experiences and places you can enjoy for free.
Southern Spain on a Budget: Top Tips for Saving Money
Tip 1 – Travel Off Season
For obvious reasons, traveling to Southern Spain is most expensive in the summer months, with the prices of flights, car rentals and accommodation being at their peak.
Luckily, most of the locations in Southern Spain are blessed with over 300 sunny days per year, so even if you venture there in spring or late autumn, you are still pretty much guaranteed a pleasant weather. Save yourself a lot of money by checking the shoulder season or off season flights to destinations like Malaga, which offers most of the flight connections anywhere in Europe.
Tip 2 – Check Airport Options
As I mentioned above, Malaga is the main hotspot for arrivals for Southern Spain, but in a lot of cases it's worth checking whether or not you get a better deal flying into Madrid or other nearby airports. The price difference can be quite big, and even if you commute from the city to the south, it will still work out cheaper and you can see a new city on the way.
Tip 3 – Clear Cookies & Check Different Browser and Device
In a lot of cases, you will get a different price for accommodation when checking from mobile vs from desktop, when using a different browser, and after clearing out your browser cookies or browsing in incognito mode. This is especially true for sites like booking.com and similar ones. 
On the last trip I booked, I saved 70 euros just by using a different device to check accommodation options for booking.com hotel options.
Tip 4 – Don't Pay for Sunbeds and Umbrellas
If you're staying on Costa del Sol and want to enjoy a day at the beach, the rental of two chairs and an umbrella can set you back up to 12 euros per day. If you do that for 5 days, we're talking about a lot of extra money.
Most of the locals who come to the beach go there first thing in the morning, and they bring their own chairs and umbrellas. If you're staying in an apartment, in almost all cases these are provided by your host, or you can ask for them as you make your booking. Not only can you sit closer to the water, but you don't have to waste your budget on paying extra for a place to sit and shade.
Tip 5 – Don't Rent a Car
You might think that seeing Spain without renting a car is impossible, but it can't be further from the truth. I have been living in southern Spain for over three years, and have seen all the highlights without renting a car. 
Spain has a well developed network of train and bus connections, with high speed trains that will get you from Malaga to Madrid in just two hours. The tickets are easy to purchase online and a single trip will cost you between 10 to 20 euros, to places like Granada, Cordoba or Marbella. 
Tip 6 – Where Possible Use Uber not a Taxi
I have plenty of experience with taxi drivers and uber rides and if there is one thing that will save you a lot of time and money it's using Uber. Taxi drivers are a bit of a hit and miss when it comes to getting you to your destination for a reasonable amount of money. 
As far as my experience goes, Uber worked out much cheaper than a standard taxi and you're running zero chance that you will get stuck in traffic with the meter still running. They are super handy in the big cities if you're going to random locations and can't locate the nearest taxi rank. In most cases you can also request a car seat for a child, so if you're traveling with kids you don't have to bring your own one or rent it out.
20+ Free Things to do in Southern Spain
South of Spain is a beautiful place to explore without having to spend money on any attractions and tourist traps.
It's a paradise for those who like nature walks, walks by the sea, hiking and all sorts of sports. Best of all, most of the Andalusian cities have beautiful parks which offer a shelter from the sun, and if you're traveling with kids you will always find a playground just around the corner.
I have selected some of the best experiences from different places in Southern Spain to give you lots of ideas and options for exploring different parts of the country. 
Here are my favorite free things to do in Southern Spain:
Buddha temple near Benalmadena Pueblo with its viewing platform

Sohail Castle in

Fuengirola

Benalmadena Pueblo

, a typical Andalusian white town

Carmen de los Mártires gardens in Granada

The main courtyard in Alhambra, next to the entrance to Alcazaba

Palace of Charles V in Alhambra

The Botanical Garden of University of Granada

The Albaicin district in Alhambra

Mirador de San Nicholas in Granada with best views of Alhambra

Plaza de Espana in Seville

Exploring the old town of Seville

Park of Maria Luisa in Seville

Puente Nuevo bridge in Ronda, with beautiful gardens stretching next to it

Visiting the charming old town in Marbella

Watching supercars and super yachts in Puerto Banus, Marbella

Watching the sunset in Tarifa

Seeing the meeting point of the Atlantic Ocean and the Mediterranean Sea in Tarifa

Taking a walk in the Orange Square of the Mezquita Cathedral in Cordoba

Strolling through the charming old town of Malaga

Enjoying views of the Malaga port and bullring from the gardens of Parador de Gibralfaro

Watching local flamenco performance at the Plaza de St Ana square in Granada

Enjoying a beautiful display of floral beauty in the old town of Estepona

Watching surfers, kite surfers and wind surfers in Tarifa

Enjoying free tapas with every drink in Granada

Visiting the picturesque white village of Frigiliana and enjoying spectacular views of the coastline
I hope you found lots of inspiration and tips in this list! If you're heading to Southern Spain, let us know in the comments which destination made it to your wishlist and when you are traveling!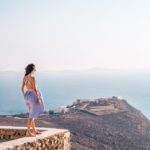 Lucia is a Slovak expat living in Southern Spain. On her blog Viva la Vita she shares her discoveries about beautiful locations, hidden gems and authentic experiences from Costa del Sol and beyond.
https://www.the-backpacking-site.com/wp-content/uploads/2023/02/plaza-de-espana-seville-min.jpeg
1620
1080
Lucia Pöllä
https://www.the-backpacking-site.com/wp-content/uploads/2018/08/the-backpacking-site-1.png
Lucia Pöllä
2023-02-09 15:14:37
2023-02-09 15:14:37
How to See Southern Spain on a Budget (+20 Free Things to Do)