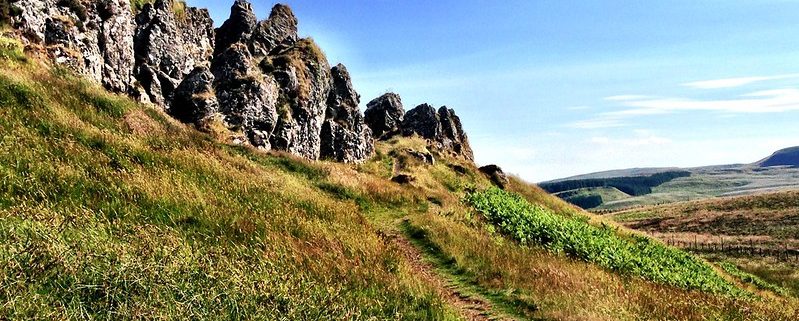 You may not immediately associate the bustling city of Glasgow with hiking, but the truth is that Glasgow offers easy access to a number of adrenaline-pumping trails. If you are moving to the city and you happen to be a keen outdoor adventurer, don't miss these five awe-inspiring hikes within easy reach of the city.
To ensure you have a great hiking experience near Glasgow, be sure to get the AllTrails app before you go. The app has an extensive list of the best trails for hiking near Glasgow, with reviews from other hikers to keep you up to date on the latest trail conditions. You can filter by trail difficulty, length, and suitability and download trail maps to help keep you on track even when you're offline.
West Highland Way
The West Highland Way is a famous hiking trail that winds through dramatic scenery all the way up to Fort William. This sometimes arduous trek was in the headlines most recently as actor Sam Heughan followed the Way to help him cope with the loss of his father.
While the entire hike is 76 miles, you can still trek a portion of it whenever you have a few hours to spare on the weekends. Simply make your way to the little town of Milngavie, and from the main street you will find a sign directing you to the Way.
Cort-Ma-Law Circuit
Overlooking Glasgow is the picturesque undulations of the Campsies. These rolling hills are a popular walking spot for many Glasgow residents, and you can soon become one of them. If you're not yet a Glasgow resident, then you should seriously consider moving to the area. Not only for these hikes, but for the city itself.
Ensure you hire local services to get the most out of your move, they may even be able to give you hiking advice around Glasgow. Doree Bonner are a Glasgow removals company that could help you make it happen. Soon, you will be embarking on hikes like the Cort-Ma-Law without having to travel too far.
You can begin the sometimes steep but always breath-taking Cort-Ma-Law circuit, which leads you up to the summit of the hill for which it is named, and then onwards across the hilltops until you begin to descend again toward the B822, also known as Crow Road. This entire hiking route can be considered a half day walk and needs to be seen to be believed. If you live in the Glasgow region, then it won't be far to go.
Dumgoyne
Located 14 miles from the city, you will find the steep volcanic mount of Dumgoyne, which – rather pleasingly – you can access from the Glengoyne Distillery if you would like your hike to include a whiskey-tasting bonus.
Climbing and descending Dumgoyne can be rather taxing, but if you extend your trek to include the gentler slope of the Earl's Seat, you will be able to enjoy plenty of opportunities to drink in the stunning landscapes around you. Don't miss the silvery glint of Loch Lomond off in the distance.
The Whangie
This rather amusingly named rock feature is located in the Kilpatricks, and offers a slightly challenging but undeniably picturesque 2.7 mile hike.
As you climb, you will be rewarded with stunning views of Loch Lomond, and once you reach the moorland at the top, the 360-degree views will take your breath away and amply compensate for any scrambling you had to do on the way up.
https://www.the-backpacking-site.com/wp-content/uploads/2022/11/9287118640_b49cc76677_c.jpg
601
799
Monica W.
https://www.the-backpacking-site.com/wp-content/uploads/2018/08/the-backpacking-site-1.png
Monica W.
2022-11-29 16:37:47
2023-05-24 15:57:03
5 Most Exhilarating Hikes Near Glasgow