If you're just starting out with a backpacking hobby, one of the first things you'll need to purchase is a lightweight tent. Having the right tent can make or break your trip (and break your back in the process!) so this guide will help give you an understanding of all the factors involved when picking a backpacking tent.
The most important factors to consider when wondering how to choose a tent when backpacking on a budget include:
1. The weight of the tent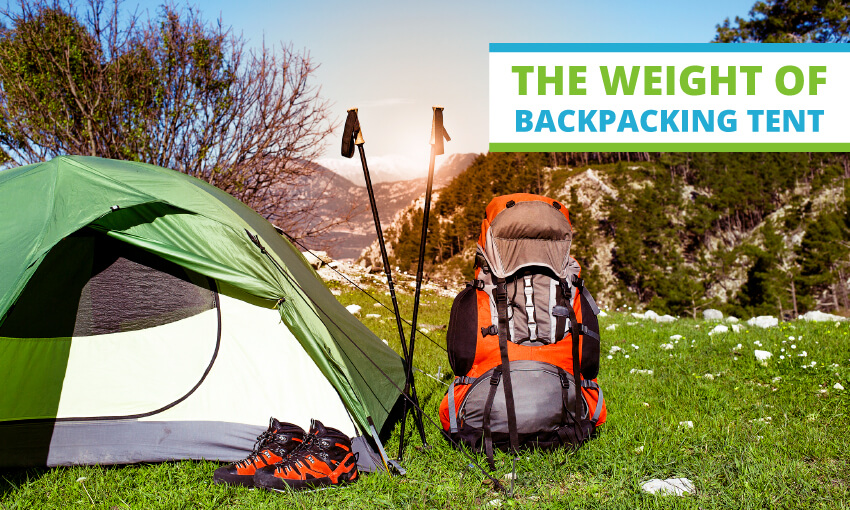 Keeping the weight of your pack low is important if you are walking long distances each day or taking the tent camping.  Even though you might think a few ounces might not make a difference, it can add up over the course of a few days or weeks of backpacking. This is why so many ultralight backpackers are picky over every last ounce.
For most backpackers, the tent that you choose will be one of the heaviest items they are carrying, with the others being the backpack itself and a sleeping bag.  If you can shave off a few ounces on the weight of your tent, you will find it easier to walk long distances and you will enjoy your time backpacking much more.
2. The type of materials used
The materials used to make a backpacking tent are important as they will determine how durable, lightweight and waterproof the tent is.  When you are looking at backpacking tents, you will often see the material descriptions like:  20D x 200T ripstop nylon 2000mm Durashield™ polyurethane & silicone.  This is clearly confusing for a person who is wondering how to choose a tent for backpacking for the first time!  Let's break this down into each component:
"20D" is this tent's Denier rating
The denier rating is used to describe the thickness and durability of material.

 

It represents the thickness of each fibre within the fabric.

 

1 denier is about the thickness of a silk strand, so a 20D fabric has strands that are as thick as 20 strands of silk woven together.

 

Fabrics that have a higher denier rating will be thicker and more water resistance as water droplets will find it harder to push through.
"200T" is the thread count
The thread count is the number of horizontal and vertical threads per square inch.

 

The higher the thread count, the softer and more pliable the material is.

 

The materials used to make tents will have a denier and thread count that provides the most durability, pliability, and water resistance.
"2000mm Durashield™ polyurethane & silicone" is the fabric's coating
The last component refers to the water-resistant coating that is applied to the tent's materials.

 

In this case, it is a 2000mm thick coating that consists of polyurethane and silicone.

 

In most cases, a thicker coating will result in a more waterproof tent.

 

Durashield™ is a brand name for the coating that is applied to the tent.
When looking at each tent, remember to compare the denier, thread count, and coating thickness to determine how water-resistant and durable it is.
3. Interior space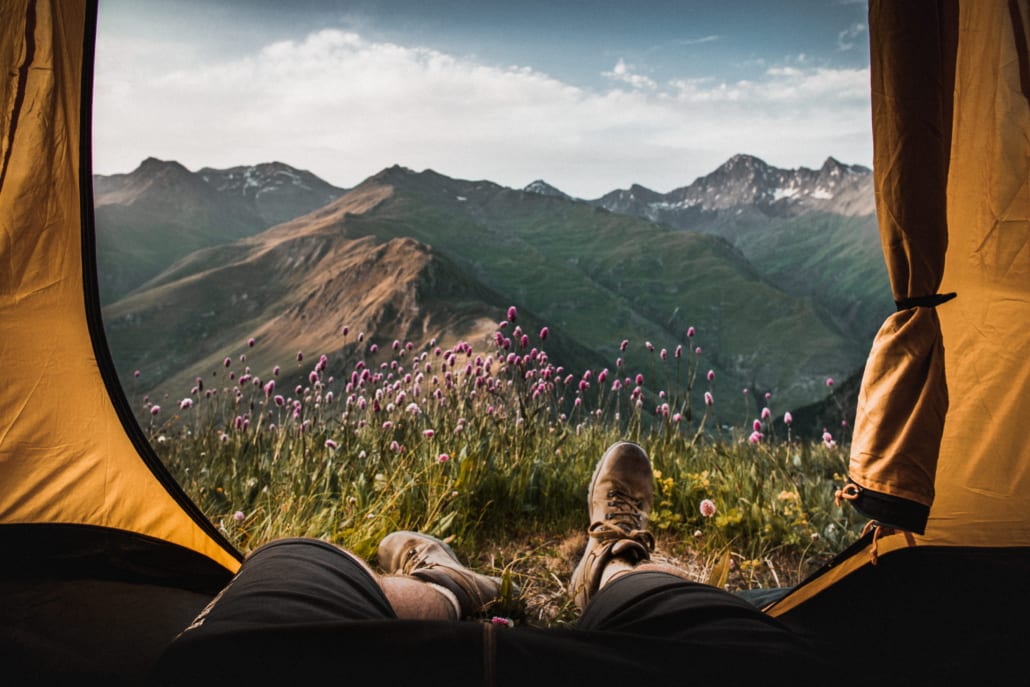 Most lightweight backpacking tents are intentionally designed to be on the smaller side.  However, they always should provide enough room for you to comfortably stretch out and to store your backpack inside the tent.
It is common for 1-person backpacking tents to have an unusual shape that provides you with sleeping space and vestibules for placing your backpack.  This is done to minimize the size of the tent when it is folded up. 
One important consideration to keep in mind when comparing the size of tents is the maximum height.  Make sure you choose a backpacking tent that you can sit in cross-legged without your head hitting the ceiling.
4. Season rating's for backpacking tents
Modern tents often provide a season rating, which refers to how many seasons the tent can be used outdoors.  The most common season rating for a budget backpacking tent is 3, which means the tent can be used in Spring, Summer, and Autumn.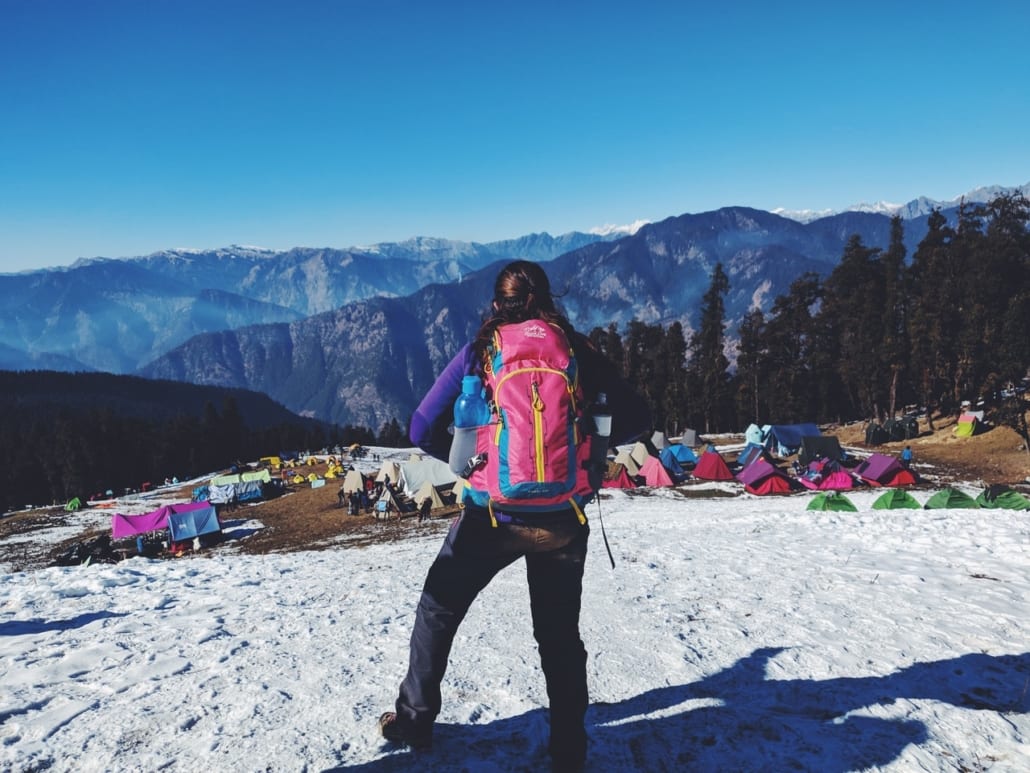 Ultralight or lightweight backpacking tents usually have a 3 season rating because they are designed to be low weight, which often means they are made from thinner materials.  This reduces the amount of protection that you would have in colder climates.  You can find 4 season backpacking tents, but they will usually be on the heavier side.
5. Protection from the elements
Tents will never provide as much protection from the elements as staying indoors, but they should at the very least keep you dry and provide some shade.  Even a typical backpacking tent will be water-resistant, but the level of water resistance they provide can vary.
The best modern backpacking tents will have a polyurethane hydrophobic coating on the tent's exterior.  However, the thickness of the coating can vary and will usually be between 2000mm and 5000mm. 
If you are concerned about water entering the tent, choose a backpacking tent with a thicker coating.  Also, look for a tent with a "bathtub" floor.  This kind of floor goes above the ground and covers the bottom of the tent, providing protection from water that might penetrate the sides of the tent.
Another important consideration is UV protection.  Some cheap tents use material so thin that UV light can penetrate, causing you to get sunburned even when you are sitting in your tent all day!  High-quality tents usually use thicker materials with a higher thread count, which reduces the amount of light entering the tent.
Finally, think about the creepy crawlies.  Does the tent have fly screens on any windows?  Most high-quality backpacking tents will have two layers, an inner mesh layer, surrounded by a waterproof layer to keep you dry.  If you are visiting a region known for its mosquitos, make sure you choose a backpacking tent that has excellent bug-proofing.
6. Size of the tent when packed
When you are backpacking you will find yourself taking your backpack into many different environments.  You may find yourself hiking for long periods, using public transport, or trying to fit your backpack into a locker for temporary storage.
It is much easier to handle your backpack if it is smaller in size.  This means that having a tent that collapses into a small package when packed can be very advantageous.  Most of the best backpacking tents will indicate the packed size in their description, so keep this factor in mind when comparing tents.
7. Price of backpacking tent
Most people go backpacking for two reasons — they have the freedom to choose where they travel and it is a cheaper way to travel.  If you are backpacking because it is cheaper, then your budget will be a big factor when deciding how to choose a tent.
Fortunately, it is possible to get a budget backpacking tent that is still very high quality.  Saving money on your tent will give you room in the budget to buy a great pair of hiking boots or some high-quality clothes that will survive life on the road.
8. Tent pitching time
If you are often on the move while backpacking, you may find yourself setting up and packing your tent every day.  This can eventually become tiresome if your tent has a complicated pitching process.  Look for a lightweight backpacking tent that only has a small number of components and can be pitched in a matter of minutes.
9. The functionality of the tent
The best backpacking tents will usually have useful functionality like interior pockets, rain flies, and even LED lights.  Compare the additional functionality that each tent offers and have a think about what you would use on a tent.
10. Durability and strength of the tent
The durability of a tent really comes down to the quality of its materials and the construction techniques that are used.  In addition to the fabric used to make the tent, you should consider the types of zippers and fasteners used. 
The quality of the tent pegs and poles can also be an important factor, as low-quality parts will bend or break more easily.  In terms of construction, look for tents that feature double or triple stitching as they will have much stronger seams.
11. Interior capacity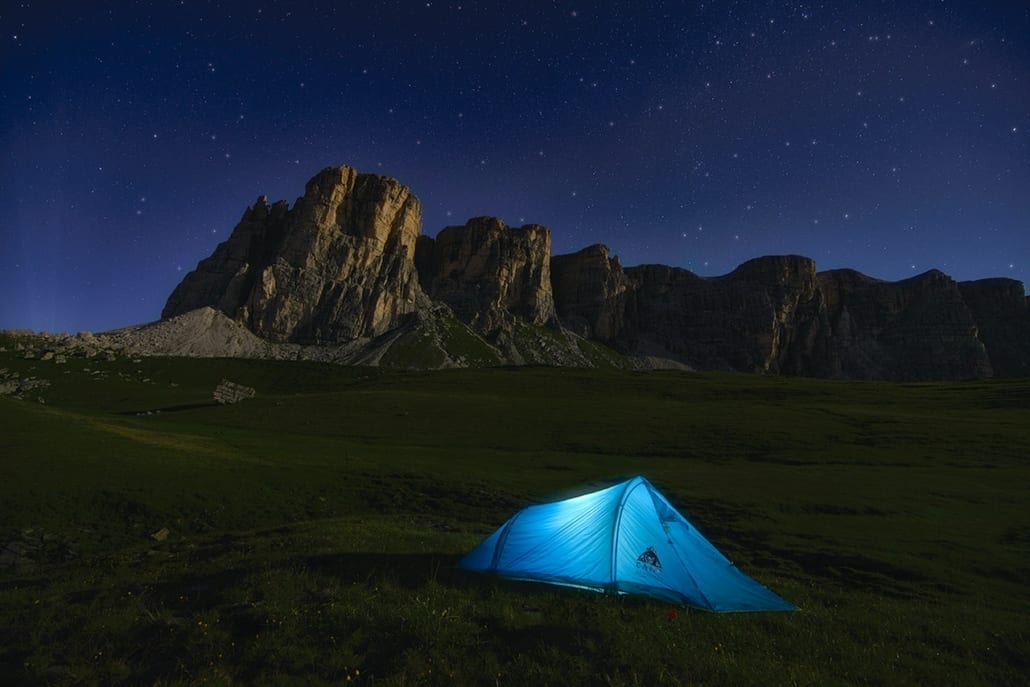 Should you get a one or two-person tent?  Even if you are the only person using the tent, you might enjoy having a little extra room available to move around or store your things. 
Most 2 person backpacking tents are only a pound heavier than a 1 person backpacking tent, so there isn't much difference in terms of weight.  Additionally, you never know when you might meet someone who wants to share your tent!
12. Wall construction
When exploring how to choose the best budget backpacking tent, be sure to look for one that is double walled.  This kind of tent has an inner mesh shell surrounded by a rainfly.  Having these two layers separated creates a moisture barrier that will keep you dry in wet weather.
13. The number of doors
If you are going for a two-person tent, consider getting one with 2 doors and 2 vestibules.  This will make it easier to get into and out of the tent, and each person will have their own section for storing their backpack.
14. Footprints
The floor must be the most durable part of a backpacking tent as it is constantly stepped on and often sits on sharp objects.  That's the reason why the best backpacking tents have thicker material on the floor.  The floor also needs to have stronger waterproofing as it is often exposed to water for long periods.
Some backpacking tents will come with a footprint.  It is an additional piece of plastic that covers the bottom of the tent to protect it.  If you think your tent will be used in locations with rough terrain, choose a backpacking tent with a footprint.
---
We hope this was helpful! The good news is that we've done the work to figure out the best backpacking tent, taking all of the above considerations into account. If you're in the market for backpacking tents, be sure to check out our recommendations for the best backpacking tents.
https://www.the-backpacking-site.com/wp-content/uploads/2021/03/camping-2581242_1280.jpg
838
1280
Monica W.
https://www.the-backpacking-site.com/wp-content/uploads/2018/08/the-backpacking-site-1.png
Monica W.
2021-03-25 10:47:00
2022-01-09 10:06:05
How to Choose a Backpacking Tent