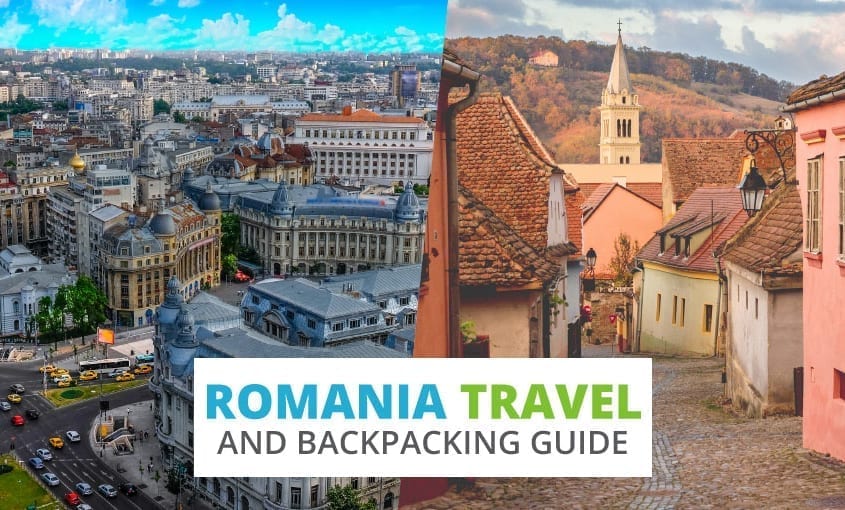 Backpacking Romania
Looking for important travel information while backpacking around Romania? Here you will find information on working in Romania, entry visas, Romania hostels, and much more.
Table of Contents
Facts About Romania
There is no doubt Romania has been through some troubled times, but since the end of Ceauşescu's communist regime in 1989 it has gradually been on the up. With many of the conveniences of a western destination, combined with a unique eastern European charm, it offers a great mix of adventure and comfort.
Romania's terrain is spectacularly varied and rich in wildlife; from forested mountains to white sandy beaches. There are also pretty medieval towns, legendary castles and ancient settlements to visit.
Currency: Romanian Leu, plural Lei (L) – €1 = approx 5 Lei
Time Zone: GMT + 2 hours
Language: Romanian
Telephone Services: +40 to dial in (00 40 from UK)
Emergency numbers: 112 (English speaking operators available)
Climate
Romania has a continental climate. The weather can be changeable and varies from one year to the next. Hot, dry winds from the east can cause droughts in the plains in the north and east. The same region suffers very cold winds in winter.
Summers are normally hot and sunny, with nine or ten hours of sunshine a day. The coast of the Black Sea and the area east of the Carpathians are the warmest. Winters can be very cold and foggy, with heavy snow from December to April. Much of Romania's rainfall is in spring.
Temperatures range from -7 to 5°C in winter and 14 to 30°C in summer. You can check weather conditions before you go by looking up cities in Romania on the BBC's 5 day forecast.
Things to see and do
Towns and cities
Bucharest, Romania's capital, is situated in the south-east of the country on the banks of the Damboviţa River. While not at the top of most tourist to-do lists, it can be an interesting place to stop off.
The Palace of the Parliament, built in the 1980s under Communist dictator Nicolae Ceauşescu, is vast. One wing now houses the National Museum of Contemporary Art. The Arcul de Triumf, built in 1935, was modelled on the Arc de Triomphe in Paris. The Romanian Athenaeum concert hall is impressive inside and out.
Bucharest's crime rate has gone down recently, but visitors should watch out for petty crime, particularly pick-pocketing on trains and buses. The UK Foreign and Commonwealth Office has up-to-the-minute travel advice.
The medieval city of Brasov is in the middle of Romania between the Eastern and Southern Carpathians. It's a well-loved base for exploring the mountains.
Council Square (Piata Sfatului) is the heart of old Brasov, surrounded by red-roofed merchant houses. The Art Museum has both Romanian and international art. The citadel, overlooking Brasov from the North, was originally part of the outer fortifications and is now a restaurant.
Sibiu, to the east of Brasov, is another popular spot. It's over 800 years old and parts of the old city walls and towers can still be seen on the east side of the city. The large multi-location Brukenthal Museum has art and natural history exhibits.
Other Romanian towns and cities worth a visit include Sighişoara, Sinaia, Timisoara and Cluj-Napoca.
Black Sea Coast
Romania's 245km stretch of coast is dotted with sandy beaches and seaside resorts. As it is inland, the Black Sea is calm and water temperatures are an agreeable 16-20°C in summer.
Constanta is the main port and one of the largest cities in Romania. Its history goes back to 657BC when is was the Greek town of Tomis. When Romania became part of the Roman Empire in 106AD, the city was renamed after Emperor Constantine. The National History and Archeology Museum in Ovidiu Square presents artefacts from past ages.
Just north-east of Constanta Mamaia is the biggest and busiest summer resort on Romania's coast. Popular with families, the 300m strip of land between the Black Sea and Lake Suitghiol is one long fun-filled sandy beach. There's an aqua-park swimming complex, cable car, boat trips and opportunities for scuba-diving and water sports.
The year-round spa resort of Eforie Nord is situated between Lake Techirghiol and the Black Sea. Mud from the lake is used in the treatment of rheumatic, dermatological, metabolic and nutritional disorders.
Costinesti has evolved from a tranquil fishing village to a lively student hot-spot. The resort has a small inland lake surrounded by lodges. The Evangelia ship wreck is popular with tourists by day, while nightclubs draw in crowds of youngsters by night.
The resorts of Neptun and Olimp, originally frequented by Romania's 'upper classes', are also known for their nightlife. South of Neptun, The resorts of Jupiter, Cap Aurora, Venus and Saturn cater for budget holidaymakers.
Mangalia, in the far south of Romania, is an ancient spa resort. As well as the curative mineral waters, attractions include the Scythian Tomb, ruins of the Callatis citadel and a Turkish mosque. The annual Callatis Music Festival takes place on a large barge docked in Mangalia's harbour.
Vama Veche, near Romania's southerly border with Bulgaria, has a bohemian reputation and is famous for its nude beach. Although not strictly allowed, many visitors and semi-permanent residents stay in tents on the beach. There are concerns that development and mass tourism are threatening the area's rich biodiversity. The annual music festival, Stufstock is organised by the Save Vama Veche Campaign (websites in Romanian).
The Carpathian Mountains
The Carpathian Mountains form the eastern part of the great Central Mountain System of Europe, curving from Slovakia to Romania. The forested terrain is rich in flora and fauna. Nearly 50% of Romanian territory is part of the Carpathian Mountain range.
The Carpathians are thought to contain the highest concentration of large carnivores in Europe, with brown bears, wolves and lynx all roaming free. Birdwatchers can look out for golden eagles, Egyptian vultures and black grouse.
The Southern Carpathians offer the highest peaks. Moldoveanu Peak is the highest at 2,544 metres. Piatra Craiului, 'The Rock of the King', also in the south, is one of Romania's best-loved mountains. The beauty of the landscape and fragility of the rare species inhabiting it earn it status as a protected national park.
The Eastern Carpathians contain some spectacular limestone formations, gorges and caves. Popular spots include Durău and Borsa. The Vatra Dornei ski resortnormally has snow from December to March. The Western Carpathians are the lowest lying and home to traditional rural civilisations.
Numerous opportunities for walking, hiking and rock-climbing make the Carpathian Mountains popular with active holidaymakers. The Carpathian Convention aims to ensure the sustainable development and conservation of the region.
The Danube Delta
The Danube Delta, stretching across parts of Romania and Ukraine, is the second largest delta in Europe (the largest being the Volga). A delta is a geographical feature formed when a river flows into the sea; in this case, the River Danube flowing into the Black Sea.
Deposits of silt and mud have resulted in a unique natural environment of channels, ponds and islets. Millions of birds from around the world come to nest in the reeds and trees and over 45 species of freshwater fish swim in the lakes and marshes.
Since 1991, the Romanian part of the Danube Delta has been listed as a UNESCO World Heritage Site. There are 16 protected areas where economic activity is not allowed at all and tourist activities are only permitted where they do not damage the environment.
The delta has around 15,000 inhabitants: most living off fishing and using traditional wooden kayaks. Histria, on the shores of Lake Sinoe, is one of the oldest urban settlements in Romania. Enisala, a Byzantine settlement perched on the top of a cliff near Lake Razelm, has the remains of a fortress dating back to the 9th Century BC.
Transylvania
The area of Transylvania, covering parts of central and western Romania, is widely associated with vampire mythology. Bran Castle, just outside Brasov, is thought to have inspired the setting for Bram Stoker's Dracula. The image of high mountain peaks, wooded valleys and looming castles is not inaccurate but Romanians are keen to emphasise that there is more to the region than ghost stories.
The Churches of Moldavia
Moldavia is a historical geographical region spanning the northern part of the Romania-Ukraine border. Its religious buildings are considered masterpieces of Byzantine art. Seven churches are protected as UNESCO World Heritage Sites, having become famous for high-quality frescoes depicting religious scenes. Bucovina, tucked in the north-eastern corner of Romania, is particularly well known for its churches and monasteries.
Travel
Bucharest has two airports. Henri Coanda Airport, situated just north of the city in Otopeni, is served by British Airways, Air France and KLM amongst others. Aurel Vlaicu Airport (website in Romanian), widely known as Băneasa Airport, is served by a number budget European airlines. EasyJet flies there from Milan. There are also international airports at Bacău, Cluj-Napoca, Sibiu, Timişoara and Constanţa.
Travelling to Romania by train is possible but may take some time, depending on your starting point. You can go from London to Brussels on Eurostar and then to Bucharest via Cologne and Vienna. Alternatively, take the Eurostar to Paris, on to Strasbourg and take the Orient Express to Vienna before connecting to Bucharest. See the excellent seat61 website for details.
Romania has an extensive internal rail network. Go to CFR for maps and timetables. Eurail and Interrail tickets are valid in Romania but there may be surcharges for some routes.
There are some good bus services in Romania but most are privately run so prices are unpredictable and coverage is patchy.
Accommodation
Since Romania's regime change in 1989, many former state-run hotels have been taken over and refurbished by private owners and chains. However, there are still plenty of old-style hotels complete with crumbling plaster and erratic hot water supplies.
Budget hotels in Romania start at around L20/L13 per night, with more luxurious accommodation costing over L200/L135 per night.
Youth hostels cost between L10/L7 and L30/L20 per night depending on the number of people per room and facilities available. Youth Hostel Romania lists hostel locations.
It is also possible to sample Romanian family life by opting for homestay accommodation. While this can be an unpredictable and potentially risky business, many language courses and work placements have existing links to trusted host families.
Camping is another budget option and allows you to get close to Romania's beautiful countryside. Watch out for chilly temperatures in autumn and winter though. Romania Tourism has an accommodation search facility listing some campsites and Eurocampings has a useful list of ACSI approved campsites.
Health Care Issues
The European Health Insurance Card (EHIC) entitles you to medical treatment on the same terms as Romanian nationals. Hospital treatment and dental treatment is normally free but you have to pay for prescribed medicines. The EHIC does not cover non-urgent treatment, medical repatriation or ongoing treatment in Romania.
Rabies is endemic in Romania, but largely confined to rural areas. Avoid contact with stray dogs. If you get bitten, seek medical assistance immediately. If you are planning to stay in a rural area consider having a rabies inoculation.
There have been cases of Hepatitis A in Romania. Seek advice about inoculations before travelling.
It's wise to stick to bottled water.
Foreign and Commonwealth Office travel advice recommends obtaining comprehensive travel and medical insurance for any overseas trip.
Useful Links
UK Foreign and Commonwealth Office Country Profile for Romania (including a link to official, up-to-the-minute government travel advice)
Entry Visas for Romania
As of 1st January 2007, British passport holders and other EU citizens do not require a visa to enter Romania for a stay of up to three months. If you are planning to stay for longer than three months you need to apply for a registration certificate from the Romanian Authority for Aliens.
If you are accompanying children into Romania, they need their own passport.
TheRomanian Embassy in London.
Arundel House
4 Palace Green
London W8 4QD
+44 (0) 7937 9666
+44 (0) 7937 9667 and +44 (0) 7376 0683 Visa Section Recorded Information Line
Email: roemb@roemb.co.uk
TheBritish Embassy in Bucharest
24 Jules Michelet
Sector 1
010463 Bucharest
(40) (21) 2017200
Outside office hours (for emergencies only)0722 320 321
Email: Consular.Bucharest@fco.gov.uk
Foreigner Work Permits in Romania
There are lots of voluntary work opportunities in Romania, organised through charities and non-governmental organisations (NGOs). The Charity Commissionsearch facility lets you search for registered charities by operational area.
Teaching English is another employment option in Romania. The British Councilemploys English teachers in Bucharest and Teaching and Projects Abroad offer voluntary teaching placements.
Romania's economy is growing steadily, with industrial activity including oil refining, mining, clothing production and pharmaceutical industry. Romania Jobslists paid jobs in Romania and the graduate website Prospects has detailed information on the Romanian employment market.
How to Say Common Romanian Phrases
Phonetic pronunciation is provided in brackets
Useful Phrases
English

Romanian

Welcome

Bun venit (boon ven-eet)

Good day

Bună Ziua (boo-nuh zee-wah)

Hello

Salut (saloo)

Pleased to meet you

Mă bucur să te cunosc

Goodbye

La revedere (lah reh-veh-deh-reh)

Yes

Da (dah)

No

Nu (noo)

Please

Vă rog (vuh rohg)

Thank you

Mulţumesc (mool-tsoo-mesk)

You're welcome

Cu plăcere" (koo pluh-chair-eh)

Excuse me

Pardon (par-don)

I'm sorry

Îmi pare rău (oohm pah-reh ruh-oh)

I don't understand

Nu înţeleg (noo oohn-tzeh-leg)

Do you speak English?

Vorbiţi engleză? (vor-beetz eng-leh-zuh)

I'm sorry, I don't speak Romanian

Îmi pare rău, nu vorbesc romăneşte (oohm pah-reh ruh-oh, noo vor-besc roh-moohn-esh-the)

Where is the toilet?

Unde e toaleta? (oon-deh yeh twah-leh-tah)

Help!

Ajutor!(ah-zhoo-tor)
Romania Hostels
Hostels are a cheap form of accomodation, and so they are essential to backpackers and other budget travellers. We have compiled a list of hostels in Romania to help you plan your journey. If you are looking for a hostel in Romania, you've come to the right place.
Aiud
Bistrita
Brasov
Bucharest
Cluj Napoca
Costinesti
Oradea
Sighisoara
Suceava
Timisoara
There you have it, the ultimate Romania backpacking guide. We hope you have found all the information you need for backpacking around Romania.
Top Products for Backpackers