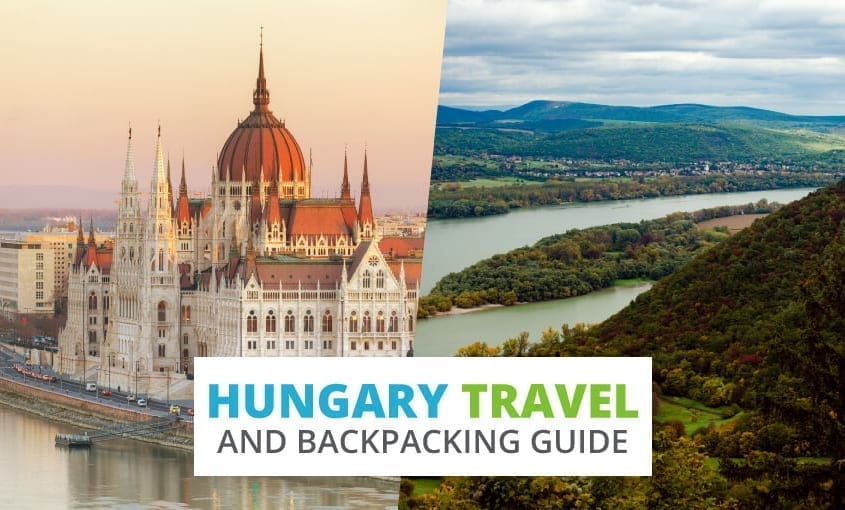 Backpacking Hungary
Looking for important travel information while backpacking around Hungary? Here you will find information on working in Hungary, entry visas, Hungary hostels, and much more.
Table of Contents

Facts About Hungary
Not a huge country with 10 million inhabitants and disparaged because of its eastern block reputation Hungary is often overlooked by travellers. Nothing could be further from the truth! The lakeside resorts, picturesque architecture and good food and wine make Hungary an attractive country to visit on your travels.
This country makes quite a good gentle introduction to travelling into Eastern Europe. Hungary has in recent years expanded its tourist related infrastructure so you will find more in the way of tourist accommodation and more people able to speak English than in other areas of Eastern Europe.
Currency: Hungarian Forint (HUF) = 100 fill r
Time Zone: GMT + 1
Language: Hungarian (Magyar), German
Telephone Services: Country code +36, International access code 00
Emergency Numbers: 107 Police, 104 Ambulance, 105 Fire
Climate
From June to August the weather is typically very warm, the spring and autumn are generally quite mild whilst winters are very cold. Hungary is quite a rainy country and it is likely to rain all year round.
Things to see and do
Budapest is the key attraction in Hungary, the capital is often nicknamed as the !Paris of Eastern Europe! but Budapest has a much stronger early 1900s feel to it. The Castle District is normally the first thing to attract visitors and contains the Fishermen's Bastion with it's seven forbidding turrets. Travellers wanting to experience something a little more out of the tourist track could investigate Obuda, the part of Budapest which contains several Roman ruins and the Kiscelli Museum. Most tourists couldn't possibly leave Budapest without taking a boat ride on the Danube.
Eger is a very highly recommended site, the town is a beautifully preserved collection of Baroque architecture including the Eger Cathedral with its 40m tall minaret. The town is home to the famous Bull's Blood Wine and no traveller should really leave Eger without trying it. The centre of this city is closed to traffic and boasts over 170 protected or historical buildings. This makes Eger good for exploring on foot, this really is the best way to discover all the towns hidden gems.
Lake Batalan is an oblong Lake just a couple of hours drive from Budapest. The lake is one of the largest in Europe and is often referred to as "the natives' playground". The south shore of this lake is a plethora of high-rise hotels and beach resorts. If however you tire of the club 18-30 lifestyle you can always venture to the north coast where you will find much more refined resorts like Balantonfured, less glitz and better wine.
Travel
The trains in Hungary are comparatively western and are generally comfortable, efficient and reliable. The network is somewhat radial so you may have to use Budapest or another larger city as a hub when travelling between some towns. Prices in general are quite cheap although you do need to pay a supplement to travel on inter-city trains (IC).
You should always buy your ticket at the station since buying a ticket on the train attracts a hefty price increase. A station should also be able to give you a seat reservation for a small supplement. On some trains such as Express trains (EX) this reservation is compulsory. If a reservation is compulsory it will be indicated on the timetable by means of a red R.
All major European rail passes (Eurail, Interail etc.) are valid in Hungary so this really represents the most inexpensive way to do any travelling in Hungary.
Trains are a good option to get around but if you want to go a little more out of the way you may need to use buses. Buses are generally cheap and reliable and tickets are normally purchased from the driver when boarding the bus. Local buses that operate within a town leave from the v rosi aut busz aut buszp lyaudvar which is Hungarian for local bus-station. Intercity and international buses run from the t vols gi aut buszp lyaudvar or long distance bus-station.
Accommodation
Hungary welcomes tourism from the West so you will find service in all classes of lodgings in Hungary to be hospitable and friendly. As well as the usual hotels Hungary also provide tourist hostels which are normally 4 person rooms with basic facilities. These are regulated by the Hungarian Hostel Association and more information can be found on their website.
Guest-houses and bed and breakfasts are common in Hungary and generally very inexpensive. This means for spending a few quid over a hostel you can get a much more comfortable room and get to know some locals.
There are 24 youth hostels in Hungary and these are regulated by the Hungarian Youth Hostels Association, detail and listings can be found on their website. The hostels in Hungary are very cheap and you should be able to get a bed in a dorm for under HUF 5.
Health
The NHS has a bilateral agreement with the Hungarian health service so British Nationals are entitled to emergency healthcare free of charge. Any other treatment however must be paid for so be sure you have a comprehensive travel insurance policy.
There are no known health problems although if you intend to spend time in forested areas during the summer you are advised to discuss tick-born encephalitis immunisations. The tap water is considered safe to drink and normal everyday precautions should be taken with food.
Useful Links
The Hungarian tourist board offer tourist information and travel tips for visitors to Hungary.
The Hungarian Hostels Associations maintains a list of tourist hostels throughout Hungary.
The Hungarian Youth Hostels Association publishes information, listings and booking information on the 24 youth hostels in Hungary.
Entry Visas for Hungary
British nationals require a valid passport and may visit Hungary for up to six months without a visa. To stay any longer of you intend to work in Hungary you should seek information from the Hungarian Embassy. Note that Hungary will be joining the EU within the near future so entry requirements should change to those of any other EU Country.
Addresses
The Hungarian Embassy should be contacted for all visa and immigration related enquiries:
Embassy of the Hungarian Republic
35 Eaton Place
London
SW1X 8BY
Tel: (020) 7 235 5218
Fax: (020) 7 823 1348.
Consulate Tel: (020) 7 235 2664
(020) 7 171 204 (visa enquiries).

While abroad you can find British representation at the Embassy in Budapest:
British Embassy
Harmincad Utca 6
Budapest
1051
Tel: + [36] (1) 266 2888
Fax: + [36] (1) 266 0907
email: info@britemb.hu
Foreigner Work Permits in Hungary
Before going to Hungary to seek employment, you should apply for a working visa from the Hungarian Embassy or Consulate. To be eligible for a working visa you must already have a labour permit, which is obtained by your employer in Hungary from the labour office.
Au Pairing
Hungarian wages for au pairs are very low. In fact, a lot of families will find it too expensive to employ an au pair and so it may be particularly difficult to find this type of work in the first place. Furthermore, because of the cost, funding medical insurance will be left to you; most families will be unwilling to pay. Nevertheless, if you are determined to pursue this type of employment in Hungary it is worth contacting A Wide World Au Pair of Hungary who may be able to find you a suitable placement.
GAP Years
GAP Activity Projects Ltd organises gap year schemes across the world. Projects last from four to eleven months and can include conservational work, farming, education, and teaching English, but will mostly be work in schools in Hungary. You must be over 17 to apply for a GAP project. You will be provided with free food and accommodation, as well as pocket money. GAP has projects around Hungary, including those in Felsopeteny, Tokay, and Sarbogard. The average project duration is six months, either from August until February, or January until June.
Agricultural Work
For those interested in agricultural work, and with some experience in the field, the AGRYA (Agricultural and Rural Youth Association) is a Hungarian organisation concerned with agricultural and rural matters in Hungary. It sets up exchange programmes, both for Hungarians wanting to participate in agricultural projects around the world, and foreign students or young people wanting to visit Hungary for this purpose. Similarly, the Young Farmers' Clubs International Farm Experience Programme arranges for those with experience in the agricultural industry to work on farms worldwide, including in Hungary. Workers are paid for the work that they do but will be expected to fund their own travel, insurance, and registration to the organisation.
Volunteering
As well as volunteer opportunities available on agricultural projects, a number of organisations arrange social work projects, such as Concordia whose volunteers work in groups with children and communities in a number of countries throughout the world. Projects last for up to three weeks, in the summer months. All volunteers are supplied with food and accommodation and are required to pay a fee of HUF 75 to register with Concordia. The International Voluntary Service sets up workcamps for volunteers who participate in community schemes, including working with children, adults with special needs, and conservational issues. Again, food and accommodation are part of the package, but you will need to pay HUF 15 membership and fund your own travel. In Hungary IVS can place you working in an orphanage in Tiszadob, workcamps in Mezokovacshaza, Szeged, and Kisnyalkamajor, amongst others. The IVS website lists current vacancies available and gives more information about the nature of work.
Useful Addresses
National Federation of Young Farmers' Clubs
The International Farm Experience Programme
YFC Centre
National Agricultural Centre
Stoneleigh Park
Kenilworth
Warwickshire CV8 2LG
Useful Links
Wide World Au Pair Hungary hires au pairs from abroad.
GAP are a world famous provider of year out activity projects.
AGRYA hires seasonal workers for their farms.
Concordia is one of the voluntary organisations in Europe.
Sci-ivs provides information about the International Voluntary Service.
How to Say Common Hungarian Phrases
Meeting People
English

Hungarian

yes

igen

no

nem

thank you

köszönömköszönöm

you are welcome

szívesen

please

kérem

excuse me

bocsánat

hello

Szia

goodbye

viszontlátásra

Good morning

Jó reggelt

Good night

Jó éjszakát

I do not understand

Nem ertem

Do you speak…?

Beszél…?

English

Angolul

What is your name?

Mi a neved?

Nice to meet you

Örvendek

How are you?

Hogy vagy?

good

jó

bad

rossz
Directions
English

Hungarian

map

térkép

left

bal

right

jobb

straight on

egyenesen

far

messze

near

közel
Methods of Transport
English

Hungarian

Where is…?

Hol van…?

How much is the fare?

Mennyibe kerül a jegy?

ticket

jegy

A ticket to…, please

Egy jegyet kérek…, ba

Where are you going?

Hová mész?

Where do you live?

Hol laksz?

train

vonat

bus

busz

underground

metroasemaairport

train station

vasútállomás

bus station

autóbusz-állomás

underground station

metróállomás

departure

indulás

arrival

érkezés

parking

parkolás
Time
English

Hungarian

What time is it?

Mennyi az idő?

today

ma

yesterday

tegnap

tomorrow

holnap
Accommodation
English

Hungarian

hotel

hotel

room

szoba

reservation

foglalás

Are there any vacancies?

Van üres állás?

No vacancies

megtelt

passport

útlevél
Places
English

Hungarian

post office

posta

bank

bank

police station

rendőrség

hospital

kórház

chemist

vegyész

shop

bolt

restaurant

étterem

museum

múzeum

square

négyzet

street

utca
Shopping
English

Hungarian

How much does this cost?

Mennyibe kerül?

I will buy it

Megveszem

I would like to buy…

Venni szeretnék…

Do you have…?

Van neked…?

open

nyitva

closed

zárva

postcard

levelezőlap

stamps

bélyeg

little

egy kicsit

lot

sokat

all

mindet
Meals
English

Hungarian

breakfast

reggeli

lunch

ebéd

dinner

vacsora

vegetarian

vegetáriánus

cheers!

Egészségére!

The bill please

Kérem a számlát
Drinks
English

Hungarian

drink

ital

coffee

kávé

tea

tea

juice

lé

water

víz

beer

sör

wine

bor
Food
English

Hungarian

meat

hús

fish

hal

vegetable

zöldség

fruit

gyümölcs

potato

burgonya

salad

saláta

dessert

desszert
Hungary Hostels
Hostels are a cheap form of accomodation, and so they are essential to backpackers and other budget travellers. We have compiled a list of hostels in Hungary to help you plan your journey. If you are looking for a hostel in Hungary, you've come to the right place.
Budapest
Great Plain
Lake Balaton
Middle Danube Area
Northern Hungary
Transdanubia
There you have it, the ultimate Hungary backpacking guide. We hope you have found all the information you need for backpacking around Hungary.
Top Products for Backpackers