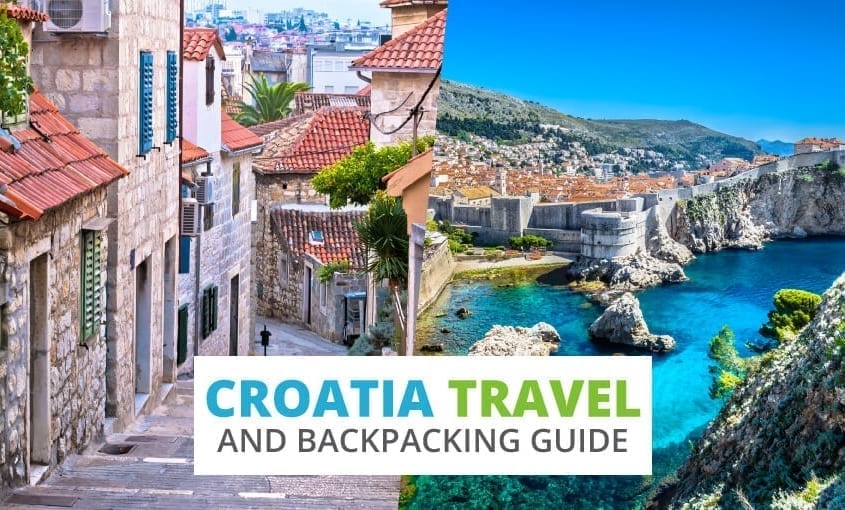 Backpacking Croatia
Looking for important travel information while backpacking around Croatia? Here you will find information on working in Croatia, entry visas, Croatia hostels, and much more.
Table of Contents
Facts About Croatia
Croatia has one of the most beautiful coastlines in the world which stretches along the Adriatic Coast. The colourful harbours, secluded coves and picturesque towns make it an attractive destination for beach lovers and a great alternative for those wishing to avoid the crowds.
In recent years many good quality hotels and marinas have been built which is helping Croatia to enjoy tourism again after it ground to a halt during the Balkan Civil War (1991-1995). Now the war is over, many cities including Dubrovnik have been rebuilt and travellers returning to this wonderful and unique country. Whilst most tourists head straight for the Adriatic Coast, inland Croatia has much to offer its visitors; its cities bursting with history and character to keep the sightseers busy. Nightlife can vary in Croatia; anything from small family run wine bars to pubs, clubs and all night beach parties. Eating out is delicious and inexpensive with a huge variety of cuisine to enjoy. Seafood features on most menus and the wine growing regions produce some great red and white wines to accompany meals.
Travellers looking for adventure have a whole host of options, from diving in the Adriatic – exploring reef and wrecks from old ships and aeroplanes to biking trips, hiking, rafting and rock climbing; Croatia really does have it all.
Currency Croatian Kuna (HRK) (approx 11 Kunas to 1.00 sterling)
Time Zone GMT + 1 (GMT + 2 April to September)
Language Croatian
Telephone Services Country Code +385, International Access code 00
Emergency Numbers Ambulance 94, Fire-service 93 and Police 92
Climate
Croatia enjoys average high season temperatures of 30°C and mild, dry summers. The coastal areas have dry, hot summers and mild, rainy winters. In the capital Zagreb, the average daily temperatures can reach 35°C in July and drop to 2°C in January.
Things to see and do
The beautiful city of Dubrovnik is often described as the jewel of Croatia with its surrounding coastline and picturesque villages. You can take a walk along the stone ramparts of the city walls, which give spectacular views of this magnificent town, or simply relax in one of the many coastline cafes and watch the world go by. Some of the finest monuments and ancient architecture can be admired throughout the town; the cobbled streets and narrow alleyways help to create the original atmosphere of the 12th century. The Rectors Palace, the Franciscan Monastery, the Cathedral and St Blaise's Church are all well worth a visit. For festival lovers, the Dubrovnik Summer festival is held each year from mid-July to late August when the town really comes alive with a host of cultural events, plus many performances of theatre, jazz and classical music.
Croatia's capital, Zagreb, is a beautiful city, rich in medieval heritage. There is so much for visitors to see and do with various shops, cafes, theatres and museums surrounding the main square. The museum of Zagreb, the Gallery of Naïve Art and the Archaeological Museum all contain an extensive collection of exhibits and are all well worth a visit.
South of Zagreb lays one of Croatia's most stunning tourist attractions. The Plitvice Lakes National Park (UNESCO listed) is considered by many, one of the most beautiful natural sights in the world and should undoubtedly feature on your itinerary. The park features sixteen lakes, connected by waterfalls which cascade through the beautiful surrounding countryside. Energetic travellers can take in the stunning scenery while kayaking through the canyons and rapids. Further information on how to book, opening time and prices can be found here www.np-plitvicka-jezera.hr.
Split is the second largest city in Croatia and has numerous road and sea connections to Dalmatia's summer resorts. For history lovers there are several museums, monuments and cathedrals to visit including the Treasury of the Split Cathedral which includes a great collection of religious art. The Marjan Forest Park, a just a fifteen minute walk from the city and gives a stunning view of both the old and new parts of Split. The park also includes nature paths, vista points, promenades, playgrounds and the Split Zoo. Split also hosts many water sports and other sports, from tennis and mountain climbing, to rowing and water skiing. For details of companies offering organised activity trips that include caving, river rafting, paragliding and sea kayaking; check out the following website.
Travel
Croatia's national carrier is Croatia Airlines and has regular flights from Zagreb to Dubrovnik, Pula, Brac, Zadar and Split. For further details check www.croatiaairlines.hr
Croatia has an excellent bus network which is reasonably priced. Service is efficient and fast with regular services to destinations all over the country. The major bus companies are:
These websites provide times and prices, but you are not able to book your bus tickets online.
However, for those of you not in a rush to explore this wonderful country, the trains are cheaper and more comfortable than the bus, but are much slower. There are the faster, new 160kph ,tilting trains, if you are travelling from Zagreb to Split. The following site has timetable and prices information for Croatian Railways in English: www.hznet.hr.
Ferries link several offshore islands with major coastal towns and ports. They run from four to eight times a day depending on the season. www.jadrolinija.hrprovides further information and the schedules for the local ferries.
Accommodation
The standard of hotels in Croatia is quite high, and they generally offer good value for money. The more luxurious hotels can be found in Dubronnik, Opatija and Zagreb. Staying in private accommodation is becoming increasingly popular among tourists. Small inns and guesthouses along the coast offer visitors a real Croatian experience.
It is even possible to stay in some lighthouses. A ferry from Split to the Island of Lastovo will take you to a lighthouse located 70m above sea level at the very edge of a steep cliff. The lighthouse has one 4-bed apartment and one 6-bed apartment which have spectacular views of the surrounding areas.
For those travellers on a tight budget, there are plenty of youth hostels available in most main cities. The following website if the Croatian Youth Hostel Association this provides information on all hostels in Croatia and is in affiliation with the Hostelling International. This website also includes some useful links if you want to hire a car and other travel tips.
If you fancy camping, there are also 148 campsites in Croatia with some naturist camps.
Health
The standard of health in Croatia is high. There are clinics and hospitals in all of the larger cities and pharmacies and first aid clinics in all places. No vaccinations are required and tap water in Croatia is chlorinated and safe. However, it is advisable to drink bottled water throughout your stay.
Hospital, medical treatment and dental treatment are normally free on the presentation of a UK passport. Although prescribed medicine must be paid for. It is always recommended however that you take out travel insurance.
Useful Contacts
Croatian National Tourist Board
Iblerov Trg 10/4, 10000 Zagreb, Croatia 
Tel: (1) 469 9333. Fax: (1) 455 7827.
Website: www.croatia.hr  

Ministry of Tourism
Prislje 14, 10000 Zagreb, Croatia 
Tel: (1) 616 9180. Fax: (1) 616 9181. 
Website: www.mmtpr.hr

Embassy of the Republic of Croatia
21 Conway Street, London W1T 6BN, UK 
Tel: (020) 7387 2022 or 1144 (consular section). Fax: (020) 7387 0310 or 0936 (consular section). 
Website: uk.mvp.hr

Croatian National Tourist Office
2 The Lanchesters, 162-164 Fulham Palace Road, London W6 9ER, UK 
Tel: (020) 8563 7979. Fax: (020) 8563 2616. 
Website: www.croatia.hr

British Embassy
Ivana Lucica 4, 10000 Zagreb, Croatia 
Tel: (1) 600 9100. Fax: (1) 600 9111.
Website: www.britishembassy.gov.uk/croatia
Entry Visas for Croatia
For entry a passport is required which is valid for 3 months after the date of departure from Cyprus. A return ticket is usually required for entry although proof of sufficient funds may suffice. It is advisable to contact the local consulate before travelling to verify these restrictions. Visas are not required by EU or USA nationals for tourist visits of up to 30 days. If you wish to stay longer or intend to work whilst you are in Cyprus you should contact the local Cypriote consulate.
Addresses
Visa and immigration enquiries should by directed to the consular section of the Cypriote High Commision:
High Commission of the Republic of Cyprus
93 Park Street
London
W1Y 4ET
Tel: (020) 7 499 8272
Fax: (020) 7 491 0691.
Consular Section Tel: (020) 7 629 5350
Fax: (020) 7 491 0691.

If you require UK representation while you are in Cyprus you should contact the British High Commision:
British High Commission
Alexander Pallis Street
PO Box 1978
Nicosia
BFPO 567
Tel: + [357] (2) 861100
Fax: + [357] (2) 861200

Tourist information can be obtained from the Cyprus Tourism Organisation:
Cyprus Tourism Organisation
213 Regent Street
London W1R 8DA
Tel: (0171) 734 9822
Fax: (0171) 287 6534

The Cyprus Youth Hostel Association provides information on the youth hostels in Cyprus:
Cyprus Youth Hostel Association
34 Theodotu Street
PO Box 24040
1700 Nicosia
tel: (22) 670 027 or 675 574
fax: (22) 672 896
e-mail: montis@logos.cy.net
Foreigner Work Permits in Croatia
Opportunities for foreign workers in Croatia are fairly limited due to the high unemployment rates. However, the tourist industry is rapidly growing and some opportunities can be found in the coastal resorts in water sports and hospitality.
There are private language schools in Croatia which can involve work teaching English. To find such a job, the TEFL qualification is essential. Visit the TEFL website for information about these courses.
Volunteering work is available in Croatia. UNA Exchange is an independent charity which works on social, environmental and renovation projects. These are hosted by local community organisations such as Zagreb's Volunteers Centre and Green Action Workcamps. Travel expenses and a registration fee is paid by the volunteer and in return food and accommodation are provided by the host organisation. For further Information see www.zelena-akcija.hr
Eco volunteers also have projects in Croatia; check out their website for more detailed information.
How to Say Common Croatian Phrases
Meeting People
English

Croatian

yes

Da

no

Ne

thank you

Hvala

you are welcome

Nema na čemu

please

Molim

excuse me

Pardon

hello

Bok

goodbye

Do viđenja

Good morning

Dobro jutro

Good night

Laku noć

I do not understand

Ne razumijem

Do you speak…?

Govorite li ?

English

Engelski

Croatian

Hrvatski

What is your name?

Kako se zoveš?

Nice to meet you

Drago mi je

How are you?

Kako si?
Directions
English

Croatian

Can you show me on the map?

Možete li mi pokazati na zemljovidu?

left

lijevo

right

desno

straight on

pravo

towards the

prema

before the

prije
Methods of Transport
English

Croatian

Where is…?

Kako mogu doći do?

How much does it cost to get to?

Koliko košta vožnja do?

Where does this train/bus go?

Kamo ide ovaj vlak/autobus?

A ticket to…, please

Molim vas, jednu kartu za

Where is the train/bus to?

Gdje se nalazi vlak/autobus za ..?

Arrivals/departures

Dolazak/odlazak

Train

vlak

bus

autobus

transport

saobraćaj

airport

zračne luke

train station

željezničkog kolodvora

bus station

autobusnog kolodvora

Hospital

bolnica

Entrance

ulaz

exit

izlaz
Time
English

Croatian

today

danas

yesterday

Jučer

tomorrow

Sutra
Accommodation
English

Croatian

hotel

hotel

I would like a room

Trebao(/la) bih sobu

I have a room reserved in the name of ..

Imam rezervaciju za ..

Are there any vacancies?

Imate li slobodnih soba?

How much is the room per night?

Koliko košta soba po osobi?

Is breakfast included?

U koliko sati je doručak?
Places
English

Croatian

post office

pošta

bank

banka

Tourist office

turistički ured

hospital

bolnica

chemist

apoteka/ljekarna

restaurant

restoran

museum

muzej

church

crkva

street

Ulica

square

trg
Shopping
English

Croatian

How much does this cost?

Koliko košta?

open

otvoreno

closed

zatvoreno

postcard

razglednica

stamps

poštanška marka
Meals
English

Croatian

breakfast

doručak

lunch

ručak

dinner

večera

vegetarian

vegetarijanac

It was delicious

Bilo je ukusno

The bill please

Račun, molim
Drinks
English

Croatian

I want

Želim

coffee

kave

tea

čaja

juice

soka

water

Vode

beer

pive

red/white wine

crnog/bijelog vina
Food
English

Croatian

chicken

piletina

beef

govedina

fish

riba

ham

šunka

sausage

kobasica

cheese

sira

eggs

jaja

salad

salata

fruit

voće

vegetables

povrće

toast

tost

beans

grah

rice

riža
Buy phrasebooks online at Amazon.co.uk
Croatia Hostels
Hostels are a cheap form of accomodation, and so they are essential to backpackers and other budget travellers. We have compiled a list of hostels in Croatia to help you plan your journey. If you are looking for a hostel in Croatia, you've come to the right place.
Dalmatia
Grabovac
Istria
Zagreb
There you have it, the ultimate Croatia backpacking guide. We hope you have found all the information you need for backpacking around Croatia.