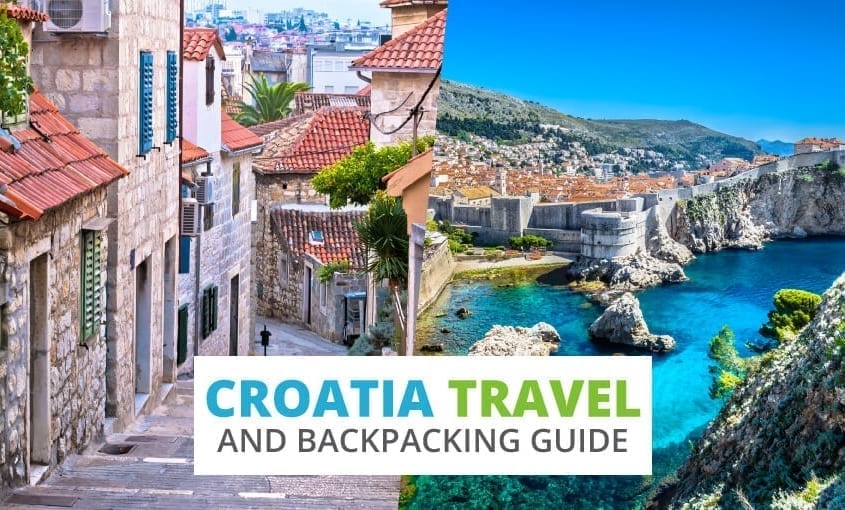 Backpacking Croatia
Looking for important travel information while backpacking in Croatia? Here you will find information on working in Croatia, entry visas, Croatia hostels, and much more.
Table of Contents
Facts About Croatia
Croatia has one of the most beautiful coastlines in the world which stretches along the Adriatic Coast. The colourful harbours, secluded coves, and picturesque towns make it an attractive destination for beach lovers and a great alternative for those wishing to avoid the crowds.
In recent years many good quality hotels and marinas have been built which is helping Croatia to enjoy tourism again after it ground to a halt during the Balkan Civil War (1991-1995). Now the war is over, many cities including Dubrovnik have been rebuilt and travellers returning to this wonderful and unique country.
Whilst most tourists head straight for the Adriatic Coast, inland Croatia has much to offer its visitors; its cities bursting with history and character to keep the sightseers busy. Nightlife can vary in Croatia; anything from small family-run wine bars to pubs, clubs and all night beach parties.
Eating out is delicious and inexpensive with a huge variety of cuisine to enjoy. Seafood features on most menus and the wine growing regions produce some great red and white wines to accompany meals.
Travellers looking for adventure have a whole host of options, from diving in the Adriatic – exploring reef and wrecks from old ships and aeroplanes to biking trips, hiking, rafting, and rock climbing; Croatia really does have it all.
Currency Euro
Time Zone GMT + 1 (GMT + 2 April to September)
Language Croatian
Telephone Services Country Code +385, International Access code 00
Emergency Numbers Ambulance 94, Fire-service 93 and Police 92
Weather in Croatia
Croatia enjoys average high-season temperatures of 30°C and mild, dry summers. The coastal areas have dry, hot summers and mild, rainy winters. In the capital Zagreb, the average daily temperatures can reach 35°C in July and drop to 2°C in January.
Things to do in Croatia
While backpacking Croatia you're in store for sweeping coastal views, medieval cities that have looked the same way for centuries, and beautiful mountain landscape. Most of the country hugs the Adriatic sea, so you'll likely spend plenty of time on the coast, but don't forget to visit the historical cities found throughout the country.
Dubrovnik
The beautiful city of Dubrovnik is often described as the jewel of Croatia with its surrounding coastline and picturesque villages. There are so many unique attractions in Dubrovnik, so it should be at the top of your Croatia bucket list. You can take a walk along the stone ramparts of the city walls, which give spectacular views of this magnificent town, or simply relax in one of the many coastline cafes and watch the world go by.
Some of the finest monuments and ancient architecture can be admired throughout the town; the cobbled streets and narrow alleyways help to create the original atmosphere of the 12th century. The Rectors Palace, the Franciscan Monastery, the Cathedral and St Blaise's Church are all well worth a visit.
For festival lovers, the Dubrovnik Summer festival is held each year from mid-July to late August when the town really comes alive with a host of cultural events, plus many performances of theatre, jazz and classical music.
Zagreb
Croatia's capital, Zagreb, is a beautiful city, rich in medieval heritage. There is so much for visitors to see and do with various shops, cafes, theatres and museums surrounding the main square. The museum of Zagreb, the Gallery of Naïve Art and the Archaeological Museum all contain an extensive collection of exhibits and are all well worth a visit.
Plitvice Lakes National Park
South of Zagreb lays one of Croatia's most stunning tourist attractions. The Plitvice Lakes National Park (UNESCO listed) is considered by many, one of the most beautiful natural sights in the world and should undoubtedly feature on your itinerary. The park features sixteen lakes, connected by waterfalls which cascade through the beautiful surrounding countryside.
Energetic travellers can take in the stunning scenery while kayaking through the canyons and rapids. Further information on how to book, opening time and prices can be found here www.np-plitvicka-jezera.hr.
Split
Split is the second largest city in Croatia and has numerous road and sea connections to Dalmatia's summer resorts. From Roman ruins, to world-famous beaches, there are so many must-do things to do in Split. For history lovers there are several museums, monuments, and cathedrals to visit including the Treasury of the Split Cathedral which includes a great collection of religious art.
The Marjan Forest Park, a just a fifteen-minute walk from the city and gives a stunning view of both the old and new parts of Split. The park also includes nature paths, vista points, promenades, playgrounds and the Split Zoo. Split also hosts many water sports and other sports, from tennis and mountain climbing, to rowing and water skiing. For details of companies offering organised activity trips that include caving, river rafting, paragliding and sea kayaking; check out GetYourGuide or Viator. 
Booking Activities in Croatia
Since popular places in Croatia can get crowded during tourist season, it is wise to reserve tickets and activities ahead of time. GetYourGuide sells entrance tickets to museums and landmarks at face value so you can avoid the lines and save that precious time for more exploring.
Viator is another popular travel website that helps you book things to do in Croatia. They work directly with local tour operators in Croatia, so you won't have to scour the internet or roam around town trying to find the best deal.
If you know your schedule ahead of time, a great insider tip is to buy tickets for major tourist attractions ahead of time. Tiqets has entrance tickets and skip-the-line passes for major attractions in Croatia which can be a worthwhile cost for mega attractions during peak tourist season.
How to Get Cheap Flights to Croatia
If you're flying to Croatia or plan to take short flights within the country, we recommend using a few different flight comparison search engines. Kiwi is a new favourite among travellers. On average, we have found the cheapest flights to Croatia with them compared to the other websites out there.
Of course, it is always worth checking Skyscanner to guarantee you're getting the best deal. Both websites offer great flexible search options, allowing you to search the whole country of Croatia to find the cheapest airport to fly into, and also see prices for a full month if you're flexible on travel dates.
How to Travel Around Croatia on a Budget
Train and long-distance bus are the standard modes of transport for how to get around Croatia. Buses are the more economical option, nevertheless, they are well-equipped with the usual modern conveniences that expect when travelling in Europe. Train travel, on the other hand, is the fastest way between two cities in Croatia, and the train stations are conveniently located right in the center of town.
The trains are cheaper and more comfortable than the bus but are much slower. There are the faster, new 160kph tilting trains if you are travelling from Zagreb to Split.
Croatia has an excellent bus network which is reasonably priced. Service is efficient and fast with regular services to destinations all over the country.
Certain routes are better suited to one mode of transport than the other. To compare your options for journeys from A to B, you can try Omio. They compare trains, buses (and even flights) so you can decide for yourself the tradeoff between cost and travel time.
For finding a carpool option between cities in Croatia, you can use BlaBlaCar, which is a favorite mode of transport among budget-savvy locals. Just search for your destination, pick the date you want to travel and you'll see different carpool options. Some rides allow you to book instantly, while others require the driver to approve manually. The BlaBlaCar site defaults to German but you can change the language at the bottom of the page.
Croatia is a part of the Eurail network, which is a good choice if you plan to take multiple train journeys in a short period of time. If you plan on doing lots of train travel in a short amount of time, a Rail Pass from Eurail might be the right choice for you.
Ferries in Croatia
These days, ferry tickets to Croatia bring people to Poreč, Rovinj, and Mali Losinj, seaside towns that have metamorphosed into popular coastal resorts welcoming thousands of international travelers every year. Ferries link several offshore islands with major coastal towns and ports. They run from four to eight times a day depending on the season. Ferry Scanner provides further information and the schedules for the local ferries.
Driving in Croatia
You may also want the flexibility to stop in smaller towns between the major cities. If you decide you want to rent a car, you can use DiscoverCars to compare offers from the major car rental agencies in the region.
Backpacker tours in Croatia
Though part of the fun of backpacking Croatia is exploring on your own, there are situations, especially when venturing off the tourist trail, when it does make sense to go with a guide or a small group. 
The most popular option for a social travel experience is Contiki tours. Contiki trips offer more than just transportation, they are organized social group travel for travelers aged 18-35. Whether you're traveling by yourself or going with a group of friends, Contiki tours are perfect for people looking to have a blast, meet new friends, and form lifelong memories. They offer tours that travel primarily in Croatia or longer tours that cover other nearby places.
G Adventures is another great option for organized travel, but with a smaller group. It's a great choice for anyone backpacking Croatia alone who would like to meet up with like-minded travellers. It's also a practical option for exploring places where you need an experienced guide, like a long hiking adventure or visiting a place well off the beaten path. You can choose from different styles of small group tours like active, wellness, hiking trips, 18-30somethings, and more.
Health and Safety in Croatia
The standard of health in Croatia is high. There are clinics and hospitals in all of the larger cities and pharmacies and first aid clinics in all places. No vaccinations are required and tap water in Croatia is chlorinated and safe. However, it is advisable to drink bottled water throughout your stay.
Hospital, medical treatment and dental treatment are normally free on the presentation of a UK passport. Although prescribed medicine must be paid for.
As with travel to all other countries abroad, it is vital that you get travel insurance before you leave. Even for short trips, our go-to travel insurance provider is World Nomads, which is also recommended by Lonely Planet, HostelWorld, and other major travel companies.
Entry visa requirements for Croatia
For entry, a passport is required which is valid for 3 months after the date of departure from Croatia. A return ticket is usually required for entry although proof of sufficient funds may suffice. It is advisable to contact the local consulate before travelling to verify these restrictions. Visas are not required by EU or USA nationals for tourist visits of up to 30 days. If you wish to stay longer or intend to work whilst you are in Croatia you should contact the local Croatian consulate.
Foreigner work permits and backpacker jobs in Croatia
Opportunities for foreign workers in Croatia are fairly limited due to the high unemployment rates. However, the tourist industry is rapidly growing and some opportunities can be found in the coastal resorts in water sports and hospitality.
There are private language schools in Croatia which can involve work teaching English. To find such a job, the TEFL qualification is essential. Visit the TEFL website for information about these courses.
Volunteering work is available in Croatia. UNA Exchange is an independent charity which works on social, environmental and renovation projects. These are hosted by local community organisations such as Zagreb's Volunteers Centre and Green Action Workcamps. Travel expenses and a registration fee is paid by the volunteer and in return food and accommodation are provided by the host organisation.
If outdoor of work is what appeals most, WWOOF is a voluntary organisation that provides work on organic farms and includes board and accommodation for membership of €10 per year, check their website for more information.
Croatia Hostels and Budget Accommodation
The standard of hotels in Croatia is quite high, and they generally offer good value for money. The more luxurious hotels can be found in Dubrovnik, Opatija and Zagreb. Staying in private accommodation is becoming increasingly popular among tourists. Small inns and guesthouses along the coast offer visitors a real Croatian experience.
It is even possible to stay in some lighthouses. A ferry from Split to the Island of Lastovo will take you to a lighthouse located 70m above sea level at the very edge of a steep cliff. The lighthouse has one 4-bed apartment and one 6-bed apartment which have spectacular views of the surrounding areas.
For those travellers on a tight budget, there are plenty of youth hostels available in most main cities.
We have had good experiences finding hostels on HostelWorld. They have the largest inventory of hostels worldwide, and with over 10 million reviews and ratings from other travellers you know exactly what to expect.
Another good way to find accommodation in Croatia is by checking booking.com. On their site, you'll find hotels, homestays, hostels, and other unique accommodation. They have the most reviews and advanced filtering of any accommodation-booking site, so you'll be sure to find a great place in your budget. We have discovered some great finds and have appreciated the ability to book ahead. Many of the places on booking.com also offer free cancellation, which takes the pressure off the planning phase of your trip to Croatia.
If you are backpacking with another travel companion, we highly recommend booking a rental via VRBO. With a vacation rental, you'll have more space, your own kitchen, and you'll get a better feel for how the locals live. Plus, the cost of a vacation rental can be split among your group, oftentimes making it cheaper than doing individual hotel rooms. 
And lastly, CouchSurfing is a great community that connects travellers with local hosts. You can stay for free with verified hosts, who will usually show you around the locals spots.
If you fancy camping, there are also 148 campsites in Croatia with some naturist camps.
Useful links for travel in Croatia
---
There you have it, the ultimate Croatia backpacking guide. We hope you have found all the information you need for backpacking around Croatia.
Next up:
Backpacking Bosnia-Herzegovina
Liked this article? Share it with others who might be after the same information!